'Tis the season for pumpkin spice lattes, Halloween costume ideas, apple orchards, sweater weather, and our personal favorite: fall camping.
If you're on the fence about fall camping, check out our top 5 reasons why fall camping is the best.
Some highlights of fall camping include:
Warm days and cool nights. The temperatures during the day feel perfect for hiking and adventuring around, and when the sun sets, a campfire and a cozy sweater make the perfect combo.
Comfort foods. Start your hunt for a Dutch oven and bring that camping with you to cook up some of your favorite warm, hearty comfort foods over a campfire.
Harvest activities. Apples taste so much better when you pick them yourself, and we love a good corn maze and hayride, too.
Bugs be gone. As much as we love summer camping, the mosquitos can really get in the way of fun. When the cooler weather hits, the mosquitos buzz off.
Fall foliage. Nature feels like it reaches its most beautiful point in the fall when the colors wow at every turn.
Have we convinced you to give fall camping a try? We hope so!
To help make the decision even easier, we've rounded up some of the top places in the south to enjoy fall camping.
Fall is different in this part of the country, and it's a kind of different we are willing to bet you're going to love.
And, if you're already an avid fall camper, try adding some of these new southern spots to your list to experience fall camping in a way you may have never experienced it before.
Head To These Southern Spots for Epic Fall Camping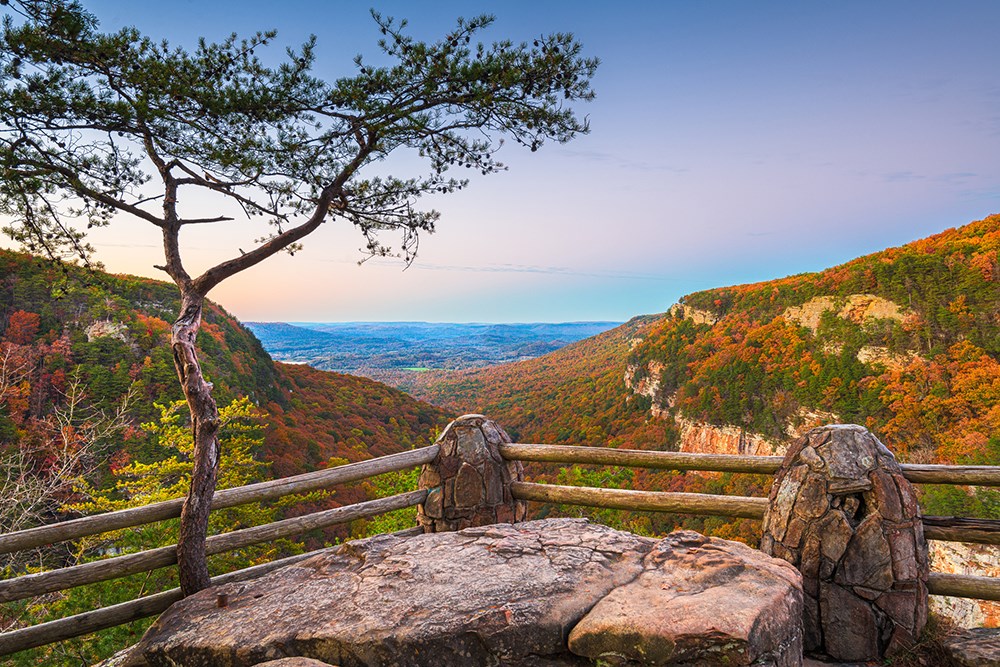 1. Cloudland Canyon State Park, Georgia
As one of the largest and most scenic parts in Georgia, Cloudland Canyon State Park is a spot you don't want to miss.
Here you'll traverse through many different kinds of geological formations, including sandstone cliffs, caves, woodlands, waterfalls, and canyons. And, you'll get to see loads of wildlife throughout the parks 90+ miles of trails.
There are hikes here for every level. If you are looking for a hike that is more scenic and less of a challenge, consider the Overlook Trails. For something that presents a bit more of a challenge, you may want to try the West Rim Loop Trail. And if you're ready to put your hiking skills to the test, consider Waterfalls Trail. Regardless of your skill level when it comes to hiking, there is a trail at Cloudland Canyon State Park for you.
If mountain biking is more your speed, this area offers more than 30 miles of biking trails. Visitors here can also enjoy horseback riding, fishing, and more while here.
Because of the variety of activities, there are to do in Cloudland Canyon State Park, many people find that it is a great place to go with family – from grandparents to grandchildren, there is plenty for everyone to enjoy.
Where to camp
Lookout Mountain / Chattanooga West KOA Holiday
Chattanooga North / Cleveland KOA Journey
Manchester KOA Holiday
Blue Ridge / Toccoa River KOA Holiday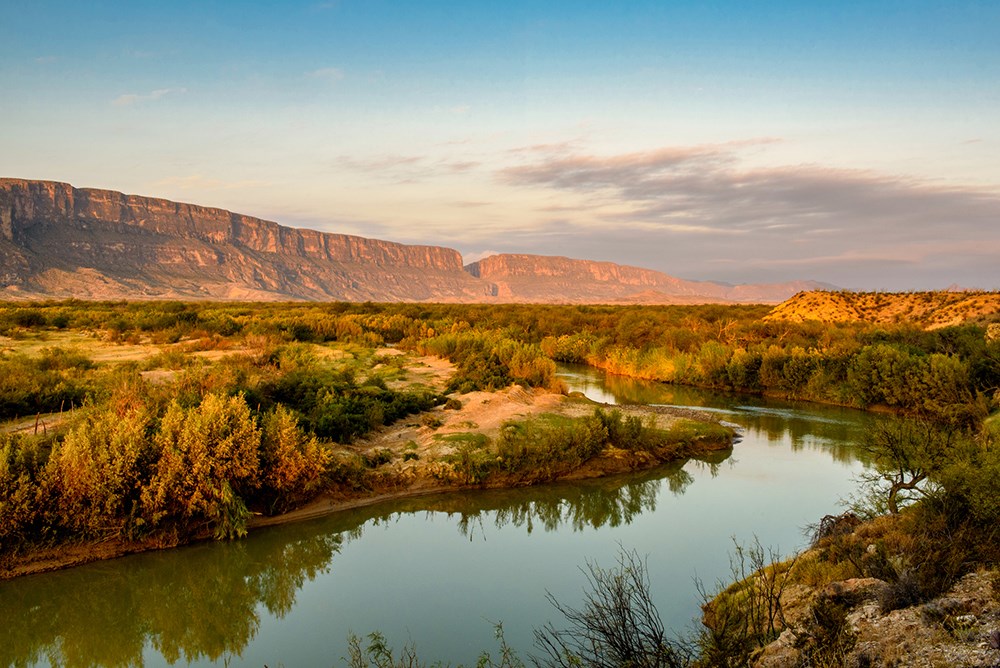 2. Big Bend National Park, Texas
This part of Texas is a hiker's paradise. From the depths of the basin, all the way up to the Chisos Mountains, Big Bend National Park offers more landscapes than you can imagine. There are countless day hikes that you can enjoy, or if you're feeling up to it, you can combine a few different hikes in the area to make a whole six-day journey.
The options are plenty here in Big Bend National Park, so you'll have no trouble finding a trail that takes you on the adventure you're looking for.
In addition to hiking, many people come to this national park to experience birding.
And once the sun goes down, you'll love seeing what the night sky has to offer. Big Bend National Park is a designated Dark Sky Park so save yourself some time at night to enjoy the view above.
And while any time of the year is good to visit here, fall is best because those hot Texas summers are in the rearview mirror. In addition to that, there are some epic meteor showers in the area during October and November.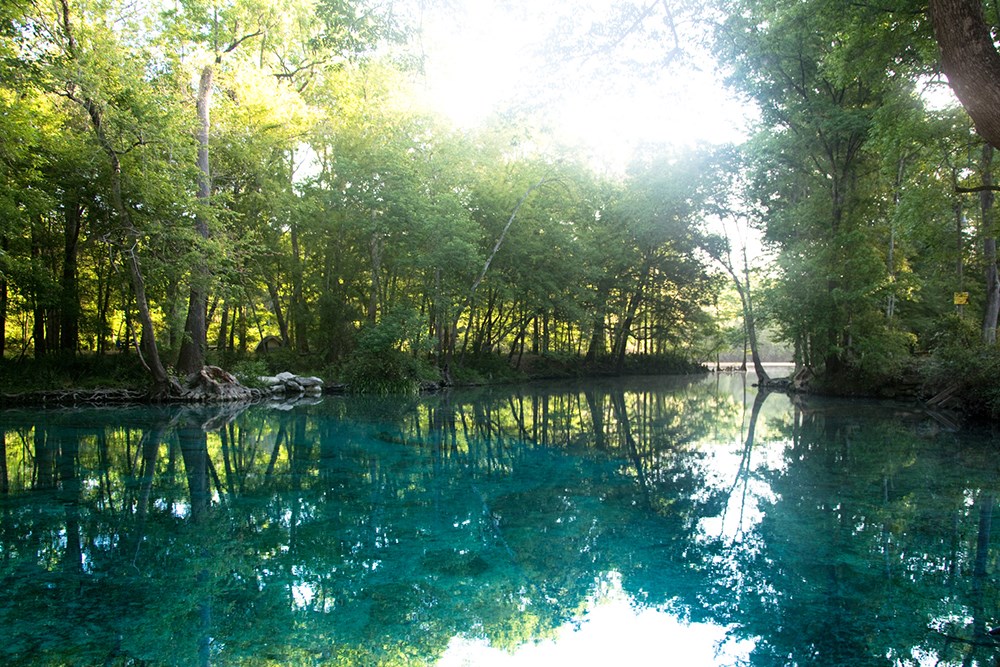 3. Ocala National Forest, Florida
North of Orlando, in a place where you least expect it, you'll find one of the most popular national forests in Florida.
Though there isn't an ocean nearby, the waters in Ocala National Forest are, in our opinion, even better. Here you'll find lakes, streams, and springs that make this forest water-filled fun. You'll want to bring your snorkel gear with you, as the clear water is ideal to get a peek at what lies beneath the surface.
Juniper Springs and Alexander Springs Creek are the two most popular spots, so be sure you don't miss out on those during your visit. The Juniper Springs Run is known as one of the best places to canoe or kayak in the entire country.
In addition to the water, you'll find yourself wandering through forests of pine, oak groves, grasslands, and, in true Florida nature, swaps.
Speaking of wandering, there are miles and miles of trails to enjoy here, most notably the National Florida Scenic Trail that spans 67 miles and bisects the park. If that sounds like a bit too much for you (don't worry, it is for us, too), then you can still enjoy the smaller loops and offshoot trails that the park has to offer.
Where to camp
Orlando NW / Orange Blossom KOA Journey
Fort McCoy / Lake Oklawaha KOA Holiday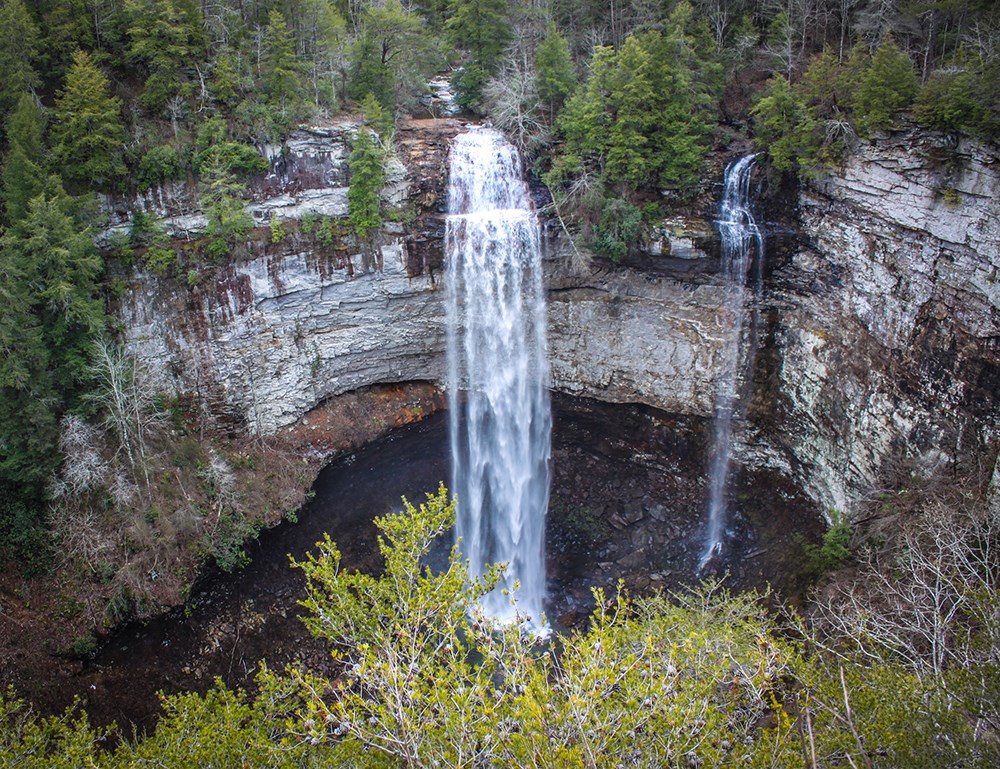 4. Fall Creek Falls State Park, Tennessee
Spanning over 26,000 acres, this state park is one of the favorites in the state, and possibly even the entire south.
Of course one of the top things to do in Fall Creek Falls State Park is experience the namesake falls, Fall Creek Falls. With a height of 256 feet, this is the tallest waterfall in the eastern United States. Though that one gets all the credit, there are other falls worth your time while in the park. Check out Piney Falls, Cane Creek Falls, and Cane Creek Cascades.
You can explore the other parts of the park via the 34+ miles of trails full of lush plant life and more. The forests here are much more diverse than you'd expect, and you'll find hemlock, poplar, beech, and oak forests to frolic through. Just think of the stunning colors those trees produce when autumn hits.
You can also enjoy swimming in some of the beautiful waters as well as boating and even golf, rock climbing and tennis!
But what we think is especially cool about Fall Creek Falls National Park is the Canopy Challenge. This is a two-and-a-half hour-long aerial adventure that takes you on a journey through zip lines, rope bridges, tree climbing, and more. Kids and adults alike love this way of seeing the park.
Where to camp
Manchester KOA Holiday
Lookout Mountain / Chattanooga West KOA Holiday
Chattanooga North / Cleveland KOA Journey
Sweetwater / I-75 / Exit 62 KOA Holiday
Crossville / I-40 KOA Holiday
5. Cathedral Caverns State Park, Alabama
Are you fascinated by caves? If so, or if you think you might be, we suggest heading to Cathedral Caverns State Park in Alabama.
This is one of the most unique places to explore in the south. What was once called the Bat Cave opened as a state park in 2000 and since then, has brought visitors from all over.
There are all sorts of natural wonders to explore here, most notably Goliath, the 127-foot wide, 25-foot high stalagmite that is one of the biggest in the entire world. In addition to that, you can experience a stalagmite forest (yes, it is as cool as it sounds), a frozen waterfall, and caves that will leave you feeling like you're ready to become a geologist.
We put this on our list of places to camp in the fall mostly because this time of year there isn't as much foot traffic. However, the temperature of the park is 60 degrees year-round, so you won't experience too much of a flux regardless of what season you opt to visit.
Where to camp
Lookout Mountain / Chattanooga West KOA Holiday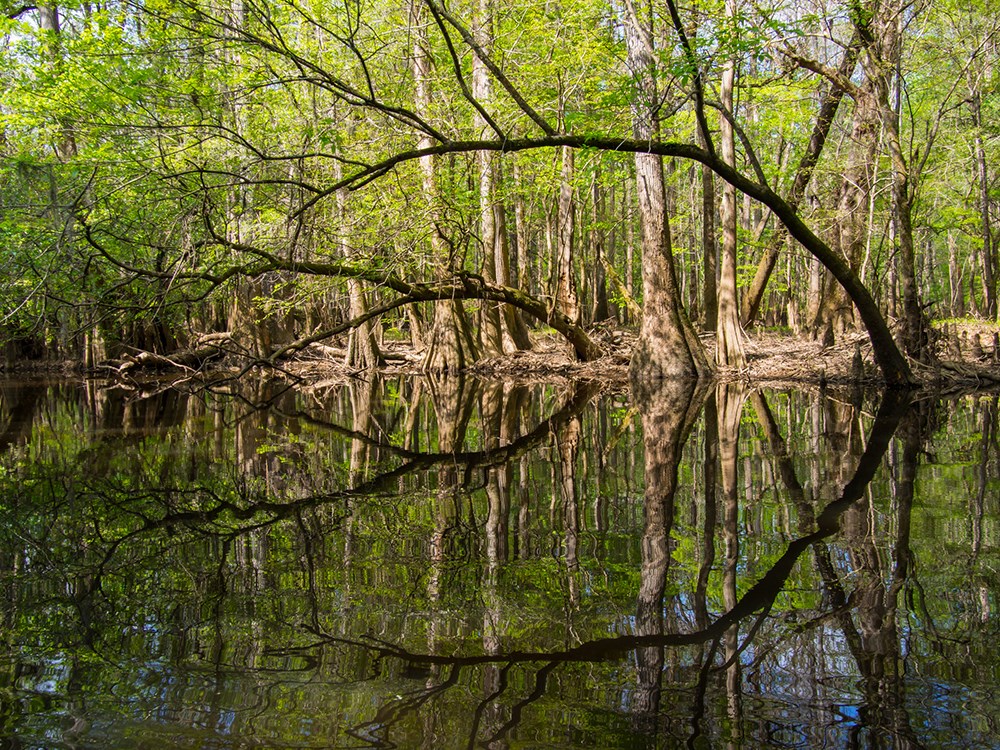 6. Congaree National Park, South Carolina
On the 27,000 acres of this national park sit the largest intact old-growth hardwood forest still alive in the United States. And it's home to some of the tallest trees in the East. Here you'll find all sorts of flora and fauna worthy of photos, and even more worthy of pictures once fall hits and those autumnal colors come out to show off.
You have a few different options when it comes to exploring the only national park in the state of South Carolina. You can see it via the Boardwalk, which is a 2.4-mile-long loop that takes you on a beautiful walk through the cypress trees and over creeks where you have the potential to see some of the park's vast wildlife which includes snakes, turtles, alligators, wild pigs, bobcats, river otters, and more.
If you're looking for something more adventurous, consider hiking part of the Sims Trail which keeps you within the boundaries of the boardwalk so you follow essentially the same path, just a bit more rugged of one. In addition to that, there are 25 miles of marked trails in the park, but note that there are no power tools allowed in the park, so often trees that fall on those trails are left.
You can also explore Congaree National Park via canoe or kayak on the 6.6-mile trail that follows Cedar Creek. This is best left to those who are up for a challenge since this trail has loads of obstacles including fallen trees, tree limbs, vines, and more. Doing this adventure in the fall is something you won't regret doing, and will likely come back every year to experience again.
Where to camp
Santee / Santee Lakes KOA Journey
Newberry / I-26 / Sumter NF KOA Journey
Charleston KOA Holiday
Mount Pleasant / Charleston KOA Holiday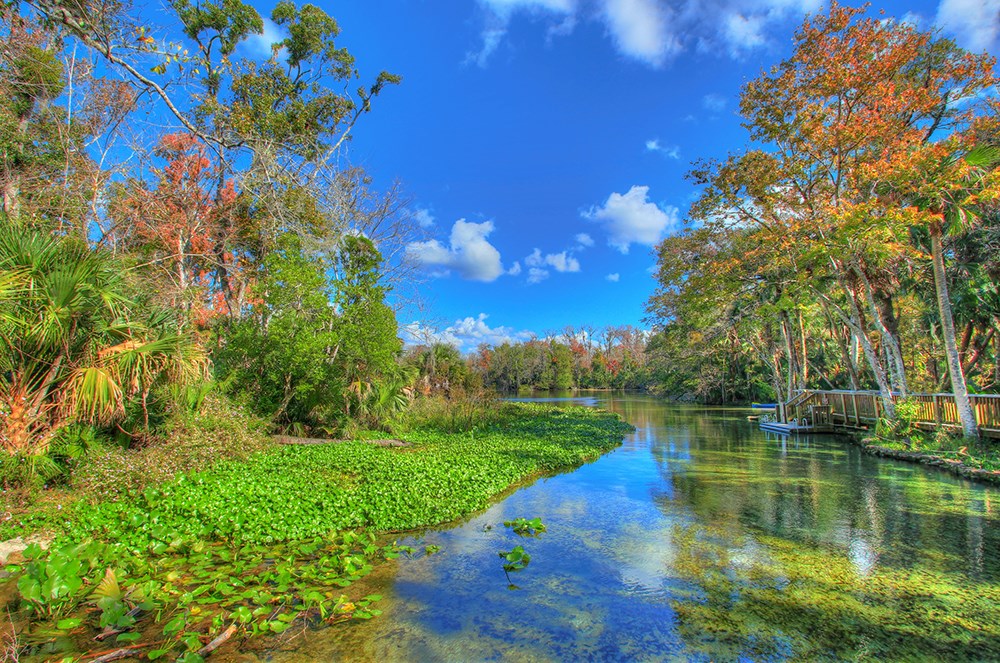 7. Blue Spring State Park, Florida
If you are an animal lover and have a particular affection for manatees in particular, then we highly suggest you visit Blue Spring State Park. This place is known for being the best place in Florida to see manatees in a wild habitat.
And don't think that your chances of seeing these aquatic creatures are slim, and you may spot one or two if you're lucky. You will have the opportunity to see hundreds of manatees in Blue Spring State Park.
The park is a designated manatee sanctuary and provides the ideal opportunity to see these animals thrive in the crystal clear waters of St. John's River, particularly in November through March as they call this their winter home.
In addition to spotting the manatees, you can also enjoy swimming, tubing, canoeing, and kayaking here as well as guided river tours and even Segway tours if that strikes your fancy.
Though hiking isn't the focus of this park, you can enjoy a 4-mile trail through the area's Flatwoods and a marsh.
Where to camp
Orlando NW / Orange Blossom KOA Journey
Titusville / Kennedy Space Center KOA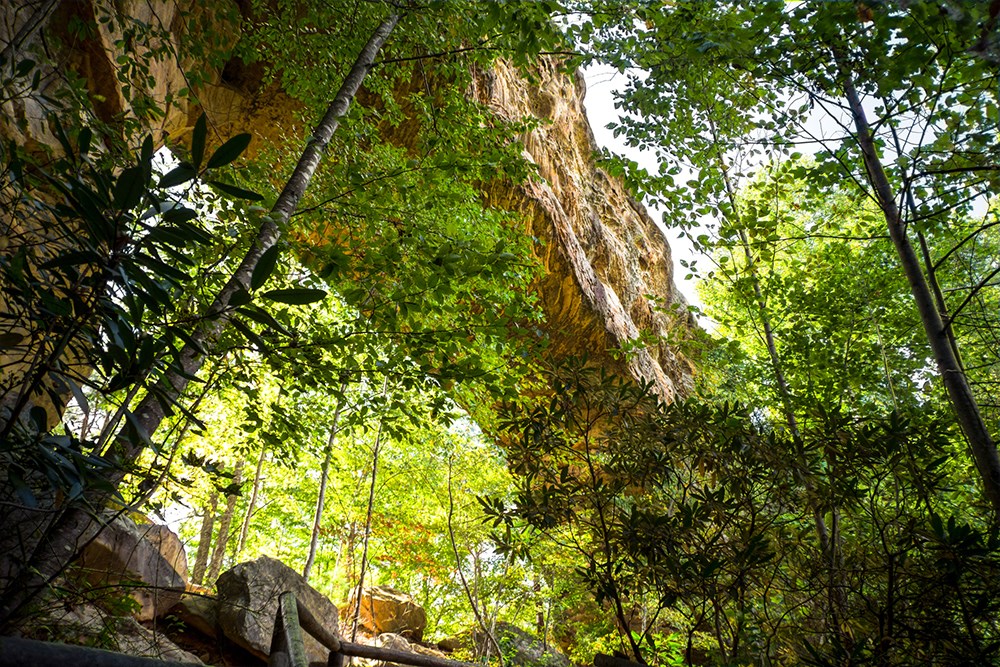 8. Natural Bridge State Resort Park, Kentucky
If you're looking for a fall camping spot that is great for the kids, be sure to check out Natural Bridge State Resort Park in Kentucky.
Chances are good that you guess the main attraction of this park is the Natural Bridge. Time has created this sandstone bridge which stands at 78 feet long and 65 feet high. You can either opt to hike the 0.75-mile trail to the top of the arch or get there via the Sky Lift, which is much like a ski lift.
In addition to checking out the Natural Bridge, the whole family will enjoy exploring hiking trails that are easy and great for all skill levels, as well as checking out some of the wildlife here. Our favorite is the Rock Bridge Trail #207. This 1.5-mile round-trip hike is relatively easy and perfect for kids to enjoy.
Other activities to get involved in here include fishing, canoeing, boating, miniature golf, and more.
Where to camp
Renfro Valley KOA Holiday
Corbin / Laurel Lake KOA Journey
9. Horn Island, Mississippi
If your idea of a fun camping trip is going somewhere away from the crowds, then you will love Mississippi's Horn Island.
One of the reasons why this spot isn't overrun by tourists is because the only way to get there is via a private boat, or by chartering a boat from Jackson County.
If you're up for the challenge of getting there, the reward will be great. On Horn Island, you'll spot all kinds of wildlife that you won't see elsewhere, including all sorts of unique sea birds like ospreys, ibises, and anhingas. You'll also spot some more typical creatures like alligators and rabbits.
There are no established activities on this land, so once you reach the shore, it is up to you to find your own adventures. For the right person, this place can be a dream come true.
Just be sure that while here (or any other spot in nature, for that matter), you respect the environment and always leave it better than you found it.
10. Stone Mountain, Georgia
As one of the most popular tourist attractions in the entire state, Stone Mountain is a place you definitely want to visit.
Located right outside Atlanta, this park is convenient and packs a lot of fun for all ages.
Here you can embark on 15 miles of hikes including the signature hike, a 1-mile trail to the summit of Stone Mountain. The 3,200 acres of this park include other activities like a lake, golf courses, the Scenic Railroad, Summit Skyride, and more.
If history is something you're interested in, there is a lot of it in this area including the 732-bell Carillon, the granite quarry, Grist Mill, and more.
Be sure to come here in October to enjoy the Harvest Festival, which is held every Saturday of the month. Not only will you get to take in the stunning fall foliage of the area, but kids can enjoy the hayrides, pumpkin activities, magic shows, and more.
Where to camp
Forsyth KOA Journey
Lake Oconee / Greensboro KOA Holiday
Commerce / Athens KOA
No matter what type of camping adventure you're looking to have this fall, there is something in the south that will give you the experience you're after. And KOA campgrounds are there to ensure that the camping part of your trip is top-notch. Our campgrounds offer a wide range of amenities and activities for you to enjoy while exploring all the best parts of the South.
---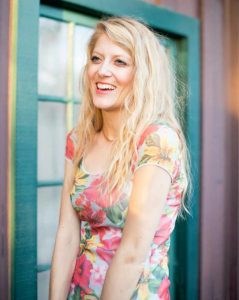 Leslie is a travel writer, copywriter, and web designer who gets butterflies from telling stories through words and visuals.
Her voice comes from a place filled with passion, dreams, and lots of sugar. "Cake over steak" is her go-to motto.
With over 10 years of experience in crafting words, and years of embarking on travels that have taken this Montana girl to some incredible places, Leslie loves the adventures of both body and mind her writing takes her on.
To see what Leslie's up to in the writing and design world, visit her website here.
---