Local Area Attractions Near Virginia Beach KOA
The Virginia Beach area boasts numerous adventure, historical, cultural, military, and marine attractions. Here is just a sampling of some favorites. Click here for a complete list.  PLEASE NOTE: DUE TO COVID-19, PLEASE CONTACT EACH ATTRACTION BEFOREHAND TO FIND OUT THEIR HOURS OF OPERATION AND ANY RESTRICTIONS.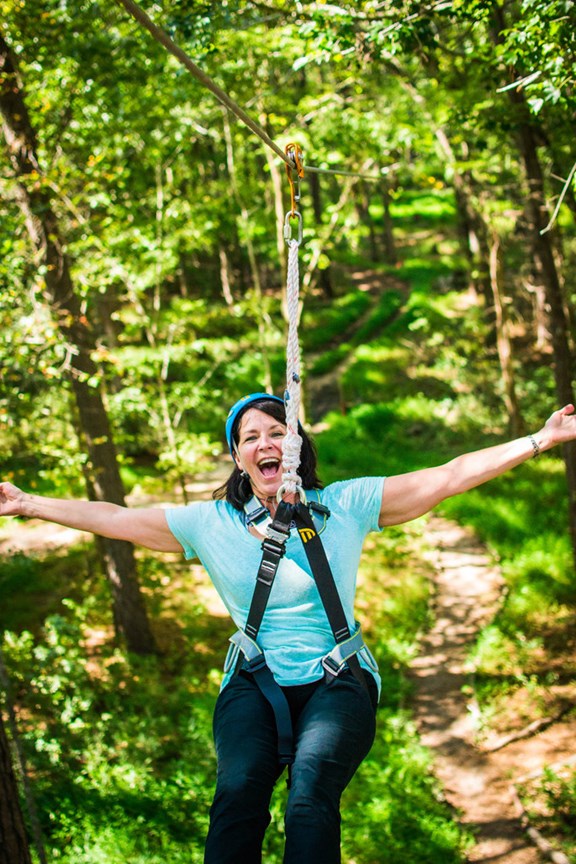 Adventure Works Zipline
This fantastic zipline tour is right on KOA property!  Full, nine-line tour through forest and wetland ecosystem, with minimal obsdtacles. Tons of fun! Discount for registered KOA campers (we'll give you the promo code when you get here), and we'll be happy to shuttle you from the campground to the zipline. Minimum weight 50 lbs; maximum 250 lbs.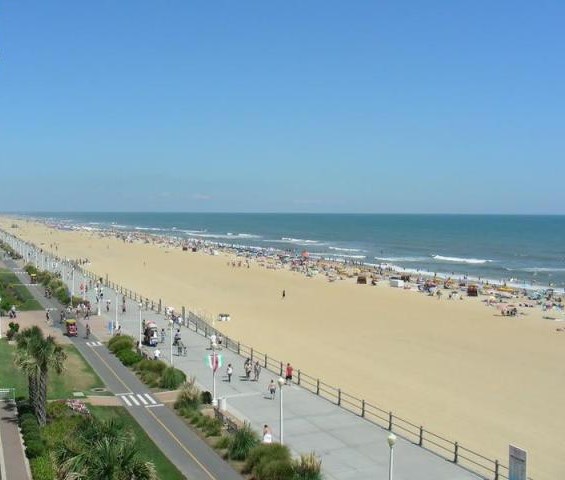 Beaches!
Head north on General Booth only 2.5 miles and you'll be at the famous and fabulous Virginia Beach oceanfront and boardwalk! Take it easy and take the trolley, which runs right from KOA to the beach Memorial thru Labor Day, or rent an electric bike or beach cruiser at KOA and ride it all the way on the local bike path!
Want a beach that's just as beautiful but more quaint? Head south 10 miles to Sandbridge Beach. Then there's Chix Beach on the Chesapeake Bay for another experience, or other local beaches our staff will be happy to tell you about.
"The Sound of Freedom"
That's what Virginia Beach locals affectionately call the Navy's F/A-18 Super Hornet fighter jets that fly overhead. The F/A-18s are the world's most advanced high-performance strike fighters, flying out of Naval Air Station Oceana, located just three miles west of KOA. If you're lucky, you'll see them flying overhead during your stay. You'll definitely hear them! They are loud, but at KOA we appreciate them and honor the servicemen and women who pilot them. While you're here, ask us for directions to the observation park where you can see them land and take off.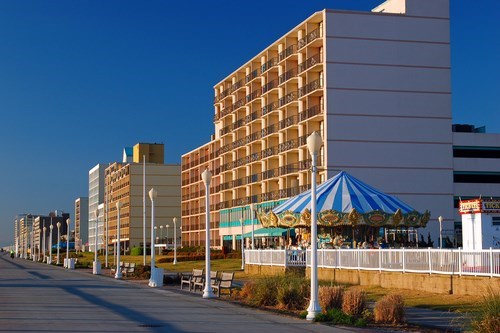 Attractions abound!
In Virginia Beach, there are so many adventure, historical, military, cultural, dining, festival and entertainment attractions that that it wouldn't be possible to list them all here. Check out the city's visitor website at www.visitvirginiabeach.com and www.beachstreetusa.com for complete lists.
Virginia Aquarium
The Virginia Aquarium, less than a mile down the road from KOA, is a outstanding attraction for adults and kids to learn about the marine life indigenous to this area. It is also a premier marine animal rescue and rehabilitation science facility (well known for its sea turtle rescues).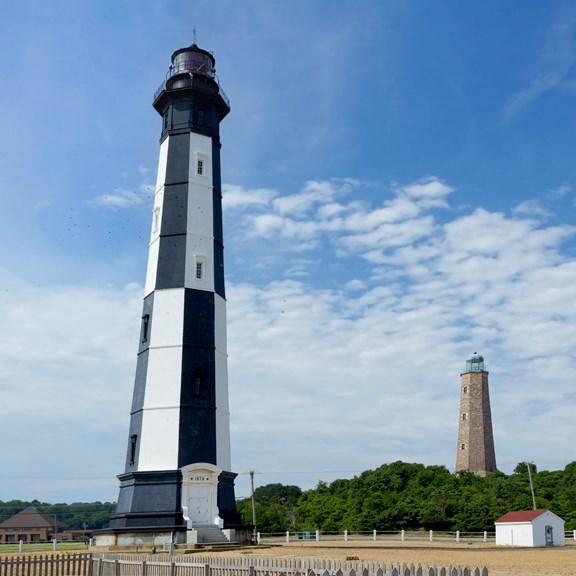 Cape Henry Lighthouses
The Old Cape Henry Lighthouse has stood watch over the Chesapeake Bay since 1792. You can climb it and get a breath-taking view of the bay and the Atlantic Ocean. A second lighthouse, built in 1881, also stands within view.Then you can walk over to see the site where the first English settlers landed on the shores of America in 1607. Cape Henry is located within the Fort Story military base, so plan ahead to make sure you have proper I.D. and vehicle registration with you.
583 Atlantic Avenue
Fort Story, VA 23459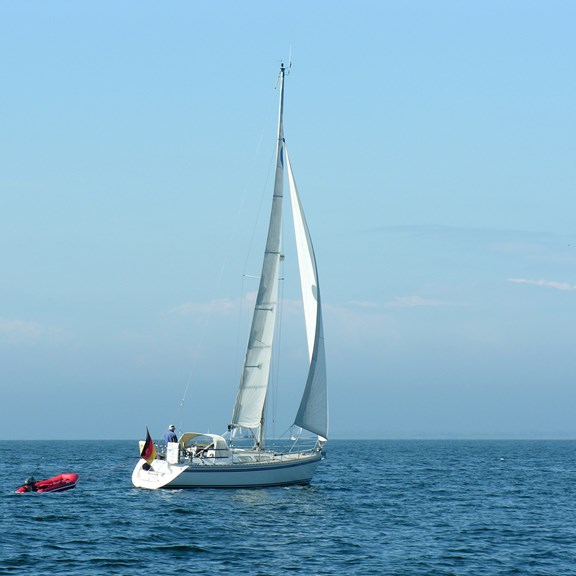 On the Water
If you're the type who doesn't just want to LOOK at the ocean but wants to EXPERIENCE it, check out these tours. Most have seasonal availability.
Parasailing, Jet Skiing, Kayaking: 757-422-UFLY
Sailing: Iggy Biggy Sailing: 757-358-5800
Deep-Sea fishing, Thrill Rides, Cruising, Dolphin and Whale-watching: Rudee Tours www.rudeetours.com 757-425-3400.
For the ultimate thrill ride in season, climb aboard a 70-foot, 2,000 hp jetboat and hit the water for a thrilling ride along the Virginia Beach Oceanfront, up to the Cape Henry Lighthouses at Chesapeake Bay. In summer, you're likely to see bottlenose dolphins! Visit www.rudeerocket.com or call (757) 425-3400.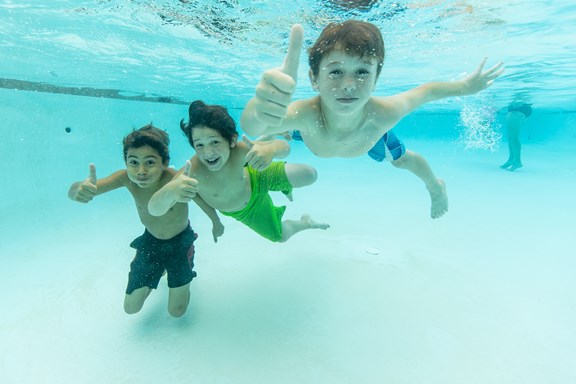 Ocean Breeze Water Park
A family-friendly, Caribbean-like destination located just a mile up the road from KOA! Featuring over 30 slides and attractions including a million gallon wave pool, the four-slide monster complex Neptune's Revenge, pirate-themed water playground for the littlest Buccaneers, and the quarter-mile Adventure River. With FREE Parking, FREE Inner Tubes and FREE Sunscreen you'll get more smiles per gallon with every visit!  Special Discount for KOA Campers!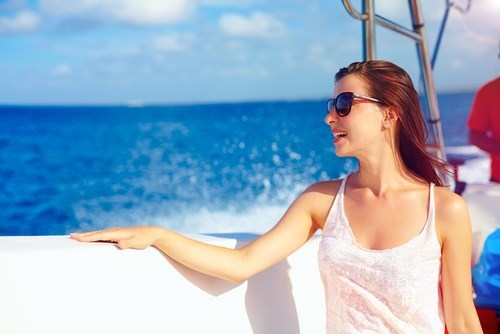 Rudee Tours
There's no better place to discover fun on the water than with Rudee Tours! Join us for Dolphin Cruises, Sunset Cruises, Fishing Trips, Speed Boat Rides and more! We are here to make sure your family and friends experience the FUN of Virginia Beach.
200 Winston Salem Ave.
Virginia Beach, VA 23451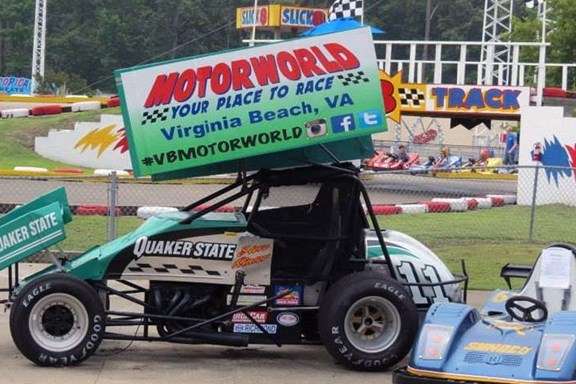 Motor World
Have the need for speed? Check out Motor World! Go-Kart racing, Mini-Golf, rides, and so much more!
700 SOUTH BIRDNECK ROAD
Virginia Beach, VA 23451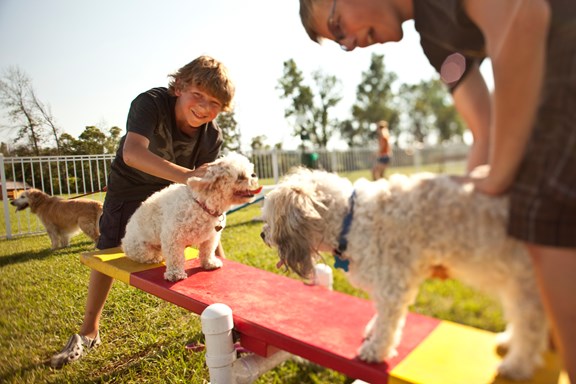 Pet Activities
With an abundance of outdoor adventures, Virginia Beach is a playground for pets and pet parents alike. Your four-legged family members are always welcomed at Virginia Beach KOA and we want them to enjoy a perfect vacation with you! From the ocean to the bay, and all the dog parks and hiking trails in between, whether swimming, hiking, fetching or joining you for a stand-up paddle (SUP) boarding lesson, we love seeing coastal pets make the most of their visit.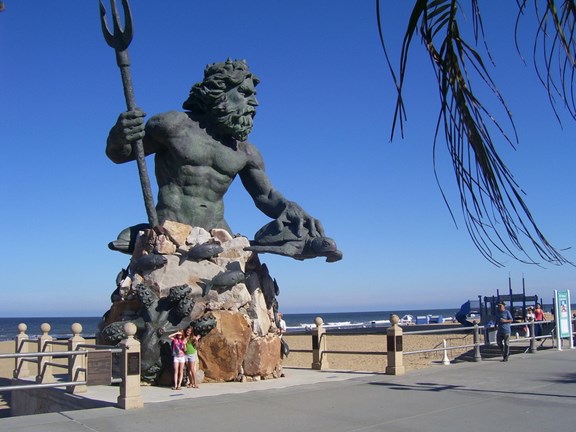 King Neptune Statue
Get your picture in front of the iconic King Neptune Statue on 31st street!