Enjoy the Thrill of Zip Lining in Virginia Beach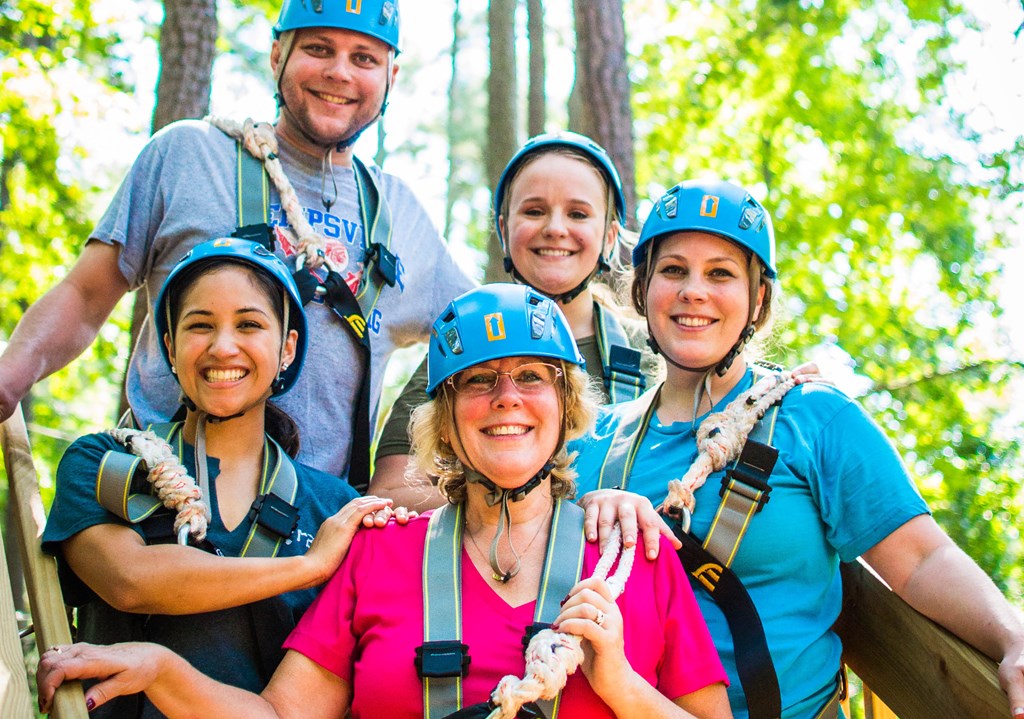 Nestled among the coastal wetlands of the Atlantic Ocean, get ready for a high flying adventure that's fun for the whole family. Adventureworks is a zip line adventure company like none other in Virginia Beach, VA. Enjoy soaring through the trees as you fly above the distinctive swampy forests this region is known for. Zip lining is the perfect way to get outside and connect with nature. If you're ready to test your own limits, get up in the treetops and let your adventure begin.
Take to the Skies With Adventureworks Wetland Ziplines in Virginia Beach
Adventureworks Wetland Ziplines is located in the back of the Virginia Beach KOA Holiday®. For over three decades, their company has brought experience-based adventures to people from around the country. Adventureworks does more than offer a few thrills, though. They create experiences that connect people to nature and inspire them to live well, do good and laugh often.
Adventureworks Wetland Ziplines in Virginia Beach is a classic zip lining experience that includes nine zip lines spread over 60 acres of maritime forest. The park is proud to be environmentally friendly, putting the health of the trees and forest first and foremost. There are no motors or electricity operating any of the ziplining elements.
Over the course of 90 minutes, you will reach heights up to 60 feet in the air as you zoom your way down lines up to 1,000 feet long. Most zip lines provide a relaxing scenic ride. Others get your heart pumping, reaching speeds of up to 35 mph. Zip line tours are fun for the whole family, so guests as young as 8 years old can enjoy this activity. There are no challenging ropes courses or obstacles — just fun and excitement gliding through the treetop canopy.
The High Flying Outdoor Trend of Zip Lining
Zip lining popularity has boomed over the last 15 years. This activity was invented by biologists in the tropical rain forests of Costa Rica who were looking for a way to cross large distances over canyons and gorges without disturbing the local wildlife and environment. Zip lining quickly spread and became one of the most fun activities you can have in nature. Today, zip line tours are considered an eco-friendly tourism experience and extreme sport.
Using a stainless steel cable, safety belt, pulley and the force of gravity, zip liners traverse over landscapes and wildlife, enjoying the incredible landscape from above. The birdseye view is unlike anything you will see from the ground below, and every zip line experience is great in its own way. The maritime forests of Virginia Beach are quickly disappearing due to development. Zip lining with Adventureworks allows you to encounter this important habitat of deciduous, coniferous, and broadleaf evergreen trees firsthand.
Take Your Next Event to New Heights With Adventureworks
While taking a zip line tour is a fun activity to do with family or friends, Adventureworks is dedicated to bringing the idea of teamwork to life as well. Zip line experiences can be personalized to fit the needs of your team or group. Teambuilding is for everyone, whether you are a corporation, a children's group or a sports team. Teambuilding activities like zip lining with Adventureworks emphasize collaboration and cooperation rather than competition.
Adventureworks helps groups reach beyond what they think is possible to accomplish the impossible. You will find an environment where your team can unleash their potential and discover hidden strengths. New communication concepts can be introduced through partner challenges and problem-solving activities. Each member of your group will find they have a vital role to play as they cooperate and delve into multiple creative solutions.
Zip lining with Adventureworks in Virginia Beach is a great team-building event for:
Birthdays
Girl Scout or Boy Scout groups
Sports teams
Holiday parties
Bachelorette or bachelor parties
Youth groups
Corporate team building
Small businesses
Adventureworks inspires and reinforces basic teamwork concepts — building relationships and reminding individuals to work together for better results. This experience can also help your company work on specific skills to achieve a distinct result, such as working out differences or making smart team decisions. At the end of the day, though, zip lining gives your group a chance to get out together and have some fun. You will find that Adventureworks Wetland Ziplines in Virginia Beach is an ideal setting for an unforgettable experience.
Book Your Zip Line and Camping Combo in Virginia Beach, VA
At Virginia Beach KOA Holiday®, we partner with Adventureworks Wetland Ziplines to give our guests an unforgettable camping adventure that is fun for the whole family. Our campground is filled to the brim with amazing amenities and activities, such as a swimming pool, family-friendly competition, a trolley ride directly to the beach during the summer season and much more. Plus, registered KOA campers get an awesome discount to experience Adventureworks Wetland Ziplines tours for themselves.
Choose Virginia Beach KOA to experience amazing camping, luxurious lodging and zip lining above the maritime forest. Book your campsite today.