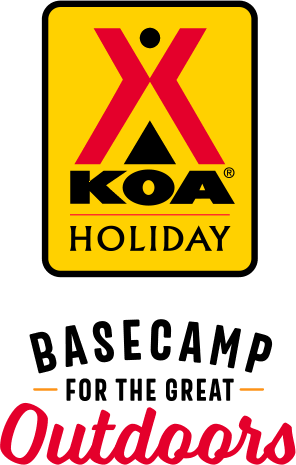 KOA Holiday Campgrounds
Whether you're exploring the local area or hanging out at the campground, KOA Holidays are an ideal place to relax and play. There's plenty to do, with amenities and services to make your stay memorable. Plus, you'll enjoy the outdoor experience with upgraded RV Sites with KOA Patio® and Deluxe Cabins with full baths for camping in comfort. Bring your family, bring your friends, or bring the whole group – there's plenty of ways to stay and explore.
KOA Holidays Feature:
RV Sites with a KOA Patio®
Deluxe Cabins with full baths
Premium Tent Sites
Group meeting facilities
Directions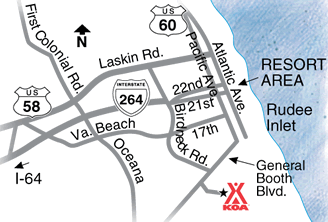 From I-264E, take exit #21A, First Colonial, and turn right. Follow First Colonial; it will become Oceana Blvd. At General Booth Blvd., turn left. Go 0.2 mile and turn in at the KOA sign on your right.
Get Google Directions
Feb 20, 2021
Our long weekend was unfortunately rained out so we didn't get to enjoy the jumping pillows or our fire pit and grill, but we still had a blast playing board games and connecting with our kids. I had read a number of reviews that said the attitudes of staff members left something to be desired and I did meet 1 like that but otherwise, they were amazing and everything was very clean!
Feb 17, 2021
Even though it rained the entire time we throughly enjoyed our stay. Cabin 609 was the perfect location. The restrooms were very clean and organized.
Feb 16, 2021
The campground and surrounding area was very nice but the heater in the cabin did not work.
Feb 15, 2021
We really liked our cabin. The one thing we noticed is our cabin didn't have hooks. Our friends were in the cabins on either side of ours and those had hooks. We didn't have a place to hang coats in family room or towels near the shower. It would be an easy and inexpensive fix and would make the cabin even better.
Feb 12, 2021
Great campground. Clean, well appointed, and well-run!
Feb 10, 2021
I just needed an overnight stay and KOA was the only place available.
Feb 09, 2021
Our site was like a swamp. They have a lot of things for the kids but how about providing a dry site. Each site could use a big pile of stones.
Feb 08, 2021
Pros: It was very nice! The scenery & location. Cons: Wasn't cleaned very well dust & random hair in the shower & queen bedroom floor. Was under the impression there would be 2 TVs in the cabin there was one. The pull out mattress was filthy & disgusting. Dust particles covered the ceiling fan had to call maintenance to remove asap. Overall it served its Weekend Purpose.
Feb 08, 2021
Nice cabin! We stayed in the 8 person deluxe. Since it was winter, there were no activities. Wish there had been something for adults. staff were nice and they excited us to the cabin.
Feb 08, 2021
Everybody was very helpful
Feb 07, 2021
Beautiful cabin ! Awesome amenities and amazing staff
Feb 03, 2021
We always enjoy staying here. It's clean and convenient to attractions and activities.
Feb 03, 2021
Very enjoyable stay. iWe are non-smoking family and cabin number 729 had a strong smell of cigarettes in a non-smoking cabin. The after hours number was called and the checkout desk was informed at check out about the cigarette smell. My wife also informed the checkout desk about trash being on the ground when you look off the balcony.
Jan 27, 2021
Easy online booking; easy check-in without needing to enter office. We will check the forecast next time and book a patio site if any chance of rain; our site was a mud pit after the rain hit.
Jan 26, 2021
Lots were flat and easy to set up on. The campground is on a main road and there is traffic noise all day and night. There are lots of full timers and stored RVs near the entrance, so there are lots of tarps, extra cars, and stuff like that out in the open. Our cable TV didn't work. We were there in the winter, when things aren't their best, but it all looked tired. There are better options nearby
Jan 25, 2021
Excellent campground. Friendly and efficient staff. Clean restrooms and showers.
Jan 25, 2021
Everyone was so helpful and nice. We had a very pleasant stay.
Jan 25, 2021
Needed a place close to our kids that could accommodate our 40ft 5vr and 2 dogs. We stayed in the deluxe patio sites. Staff is very friendly and always available for questions, park is clean and dog friendly. There are long term residents but not trashy, F/A18's overhead from the air stations nearby are fun to watch when they are active so be aware there could be loud noises.
Jan 25, 2021
Most staff were not friendly and never greeted me in passing. The bathrooms were older and the showers were rooms outside - odd.
Jan 25, 2021
Loved the cabin. I would definitely stay in one again
Jan 24, 2021
The staff responded quickly to an issue we had with the cabin. We were moved to another cabin with no problems. Friendly and accommodating staff. We will be back.
Jan 22, 2021
This KOA has a warm and welcoming staff and is beautifully maintained. It's always a pleasure to stay here.
Jan 21, 2021
Pleasurable. Sad not to see any front gate security. Everybody was extremely helpful. Will return
Jan 20, 2021
The staff was very nice, our site was a little muddy after the rain, but tolerable. The facilities were clean.
Jan 20, 2021
Great deluxe spot for the night to sleep. Did not have to unhook and everything reached. Great park.
Jan 19, 2021
We stayed there for 30 days and were put in the extended stay area. The whole area was muddy and stayed wet even when it didn't rain. There were about 50 full time people in that area and at $900/ month plus electric they should be able to improve that area with stone or pavement. We enjoyed the jets flying over and the beach area.
Jan 19, 2021
We stayed in a deluxe cabin and everything was excellent. The staff was friendly, the cabin was clean and it had all the essentials for a great stay!
Jan 19, 2021
First time staying at a KOA and a Kabin! We loved it!! Thank you!
Jan 18, 2021
It was a nice break. Heater in living room cabin 718 doesn't work. We got cold.
Jan 12, 2021
Friendly staff but issues with noise after 10pm several nights. Enjoyed the light show group.
Jan 12, 2021
Staff was very accommodating. Was raining for the first few days. Patio site was nice.
Jan 11, 2021
Very nice. Just get here before dark. Our first time rv and it was a little hard to find the site.
Jan 11, 2021
It was okay considering, it was raining and our campsite was muddy.
Jan 11, 2021
Our stay was in a deluxe cabin, we were pleased with the cleanliness, size and location. Great work team!
Jan 05, 2021
We lost power for 10 hours. Other than that, nice stay and pleasant staff who kept us informed as best they could. Lots of mud from three days of rain!
Jan 04, 2021
Stay was good. Place was pretty clean except for the ceiling fans which have accumulation of dust on them. Everyone forgets that those need to be cleaned to after a while. Just some minor maintenance issues....the microwave table did not rotate and only one burner worked on the stove top.
Jan 04, 2021
Well, we had a power outage that was outside the span of Control for the park. Still, nothing was offered for the 8 hours we were without power, nor offer to move to another site, etc (not that we would have). Staff was professional and friendly and campground was clean and the kids had fun. It was damp, but we made it work!
Jan 04, 2021
The cabin was clean and updated and had everything needed for our stay. The beds were comfortable and the fire pit patio was a great gathering spot. The kids loved the jumping pillow and playground. Already thinking about another stay during the warmer weather months.
Jan 03, 2021
I truly love this KOA. It's super clean, great customer service, and such a family friendly place.
Jan 03, 2021
Great campground and very good hosts!
Jan 02, 2021
It's a great place my family loves
Feb 08, 2021
The folks who run this KOA are some of the best in the business. We stayed there dealing with a family emergency, and they worked with our changing schedule and covid-19. The campground is very safe, clean, and is everything you could ask for.
- Stacy Freeman on Google