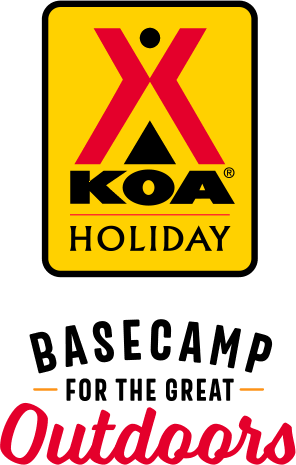 KOA Holiday Campgrounds
Whether you're exploring the local area or hanging out at the campground, KOA Holidays are an ideal place to relax and play. There's plenty to do, with amenities and services to make your stay memorable. Plus, you'll enjoy the outdoor experience with upgraded RV Sites with KOA Patio® and Deluxe Cabins with full baths for camping in comfort. Bring your family, bring your friends, or bring the whole group – there's plenty of ways to stay and explore.
KOA Holidays Feature:
RV Sites with a KOA Patio®
Deluxe Cabins with full baths
Premium Tent Sites
Group meeting facilities
Directions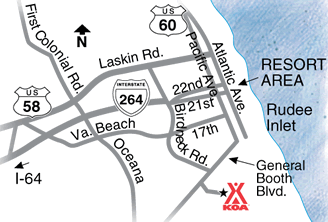 From I-264E, take exit #21A, First Colonial, and turn right. Follow First Colonial; it will become Oceana Blvd. At General Booth Blvd., turn left. Go 0.2 mile and turn in at the KOA sign on your right.
Get Google Directions
Oct 19, 2021
Stayed Friday to Sunday morning for a charity cornhole tournament. Everything was top notch from check in to check out. Staff all very helpful and extremely nice. Will definitely be back!!
Oct 19, 2021
Thank you for not only allowing us to use your facility for our event but also helping it to go smoothly. (Member of the Khedive Shriners Chevys)
Oct 19, 2021
The staff were all very friendly and Paula made sure the event that we were hosting was able to have everything we needed from KOA staff. We will definitely be back!
Oct 19, 2021
Clean and beautiful campground!! Will be coming back!! Very friendly staff
Oct 19, 2021
Campground is very nice and well kept. Plenty of entertainment on site and the beach is just a few minutes down the road.
Oct 19, 2021
This is our 3rd year staying at the Virginia Beach KOA. The staff is always pleasant. We love hearing thejets from the local navy base! Our problem was that our site was so small we could not put our 29' Camper and our short bed truck in the air without infringing on the site behind us. We were unable to have a campfire because the fire ring was too close to our truck.
Oct 19, 2021
Enjoyed our stay very much. Our campsite was wonderful. Staff was friendly and helpful. This KOA was absolutely wonderful!
Oct 19, 2021
We stayed to pitch in the Shriners cornhole tournament. Staff were so friendly and accommodating. It was a great time.
Oct 19, 2021
We LOVED this park!! Easy accessibility, great amenities, VERY FRIENDLY STAFF, close to the public beaches (approximately 15 mins away), shopping and restaurants. If you're looking for a quiet park, this one is not for you, as the Oceana Naval base is close and helicopters and fighter planes fly over a lot. We found it very interesting, so the noise didn't bother us at all. Would return.
Oct 19, 2021
Very accommodating and staff was great.
Oct 19, 2021
1st visit, nice campground, facilities and great stuff for kids. Roads were a little rough (pot holes) and a little tight for maneuvering. Requested a late check out due to military schedule, which was the reason for our stay. Staff was not accommodating even though the place was nearly empty at 4pm on a Sunday afternoon. We'll likely revert back to more military friendly campgrounds in the area.
Oct 19, 2021
We were lucky booked last minute with friends and got side by side. Great time was had by all.
Oct 18, 2021
Excellent camp grounds and good layout. Great location to access attractions and restaurants.
Oct 18, 2021
Well maintained grounds, adequate and friendly staff, shower houses 3/4 each with only 3 open shower/toilet combos with low water pressure. WiFi variable. Basic cabins could use more pegs or hooks to hang items. Host site for community charity fundraiser that caused us some angst for the last day of our stay. 3 miles to VB. Enjoyable stay!!
Oct 18, 2021
Very relaxing and enjoyable Extra benefit Cornhole tournament and bands.
Oct 18, 2021
Nice facilities. Quiet time is nice at night. Decent size lots.
Oct 18, 2021
Clean $ tidy grounds and facilities. Friendly and helpful staff. Good location; easy to get to/from and through the campgrounds.
Oct 18, 2021
Excellent as always!
Oct 18, 2021
Enjoyed the location and our stay. We both agree that we would stay there again.
Oct 18, 2021
Staff very friendly! Great stay.
Oct 18, 2021
I broke my arm when my electric skateboard due to a golf cart flying in front of me on a dirt road. I've been miserable ever since and I probably never want to go camping again. I probably will never go back to KOA
Oct 18, 2021
Facilities were very nice, staff was friendly but Wi-Fi was very spotty. All in all a very good experience.
Oct 18, 2021
Spaces way to small. Very little room to park camper and car. Lots of things to do for kids, buses to beaches. Clean and neat. For an overnight stay it was fine, long term would probably upgrade to a more premium site.
Oct 16, 2021
Very pleased with the cleanliness and overall campground, as well as friendliness of the staff
Oct 14, 2021
Friendly staff. Smooth check in. Nicely newly paved access roads. But when it rains, large puddles occurr at intersections. I hope that gets corrected which would slow down erosion where puddles occur. New gravel was also put in at sites which made them level. Some gravel could have been spread to the side where picnic table would sit. When it rains mud forms which gets into the RV by walking it
Oct 14, 2021
We had a great time! Our site (110)was good but not very level. It had ruts in the grass & a hole in it. I almost twisted my ankle. Staff was great! Facility is very nice. Unfortunately the pool was already closed! You would think it would be open a little longer in Virginia Beach.
Oct 14, 2021
New sites are beautiful and spacious, staff amazingly friendly and overall facility clean every visit. Can't wait to return for the Christmas light show!
Oct 14, 2021
Friendly staff, excellent location.
Oct 13, 2021
Worst experience we have had at a KOA. Site was on very un-level on somewhat of a slop, extremely small & left no room for parking our car; fire pit placed too close to RV parking spot making it unusable; pools closed early almost every night; lengthy power outages occurring several times during our stay; wifi pretty much non-existent, even with being right under the antenna and staff was no help
Oct 13, 2021
even on a rainy weekend it was all ok
Oct 12, 2021
We loved it. Staff was very friendly. The campground was very clean. We will definitely go back.
Oct 12, 2021
Very clean, very friendly park. Will stay again!
Oct 12, 2021
Terrible layout. Site 371. Sewer pipe so high it was uphill. Sewer wouldn't drain. The only people who obey the speed limit are the campers. Yelow golf carts driven by maniacs. Very good garbage pickup.
Oct 12, 2021
Great camp ground for a brief stay. The staff were all well informed and very nice!
Oct 12, 2021
very nice campground
Oct 12, 2021
Beautiful campground! We will definitely return!
Oct 12, 2021
EXTREMELY well run. Great Staff. Lots of amenities. Close to beach and convenient to Norfolk and Portsmouth.
Oct 12, 2021
Another great KOA, I will be back.
Oct 18, 2021
Great camping experience
- thomas honor on Google
Oct 16, 2021
Love it here!
- Eric Schmidt on Google
Oct 14, 2021
We really enjoyed our overnight stay here. The campground is clean and there's tons of friendly staff running around all day doing stuff. Definitely going back.
- Gerald Hines on Google