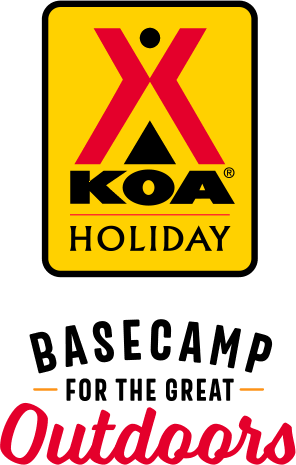 KOA Holiday Campgrounds
Whether you're exploring the local area or hanging out at the campground, KOA Holidays are an ideal place to relax and play. There's plenty to do, with amenities and services to make your stay memorable. Plus, you'll enjoy the outdoor experience with upgraded RV Sites with KOA Patio® and Deluxe Cabins with full baths for camping in comfort. Bring your family, bring your friends, or bring the whole group – there's plenty of ways to stay and explore.
KOA Holidays Feature:
RV Sites with a KOA Patio®
Deluxe Cabins with full baths
Premium Tent Sites
Group meeting facilities
Directions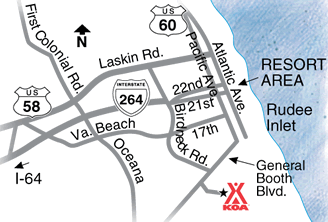 From I-264E, take exit #21A, First Colonial, and turn right. Follow First Colonial; it will become Oceana Blvd. At General Booth Blvd., turn left. Go 0.2 mile and turn in at the KOA sign on your right.
Get Google Directions
Jul 27, 2021
We enjoyed our stay. Weather was great! Staff was super helpful and friendly.
Jul 27, 2021
One of our favorite trips and we'll be coming back next year for a week or more.
Jul 27, 2021
Wonderful resort with lots to do!!
Jul 27, 2021
Had a great time. The staff was very courteous and friendly.
Jul 27, 2021
The campground was nice though the sites were very close together. I paid for a cabin in the woods with A/C and also paid a pet fee to bring my dog with us. The first day, I got several calls from the office because my dog barked inside the cabin, during the day. I booked a cabin for the sole purpose of A/C for the dog. The complainer should have been told you are a "pet friendly" campground!
Jul 27, 2021
Perfect stay! We were in a deluxe cabin and it was awesome! We were in town for a softball tournament, and enjoyed being able to cook on the grill, and not being crammed in a hotel!! The staff were amazing!!
Jul 27, 2021
Close to the beach and lots of things for the kids to do!
Jul 27, 2021
Everyone was awesome. Hospitality wad superb......thank you VB KOA
Jul 27, 2021
Good customer service, lots to do with kids, and you well taken care of by staff.
Jul 27, 2021
This was our first visit and our first time overnight in our new RV. So, we didn't really know what to expect. We were VERY pleased. The site was clean. The staff was very helpful and friendly. Every staff person we encountered was nice. The kids had so much to do and they loved it! We took the shuttle to the aquarium and the beach. We are already planning our next trip to this site.
Jul 27, 2021
It was ok, but having trees cut down early in the morning when trying to sleep is not the best. In addition some of the amenities like the slide are only available on the weekend which is not great for ppl who are staying during the week.
Jul 27, 2021
Wonderful atmosphere. Staff very helpful and friendly.
Jul 27, 2021
Excellent Service all around. Lynn and Linda were super nice and efficient at the Front Check-in Desk.
Jul 27, 2021
We had a great time! Our tent site was perfect! Live band on Saturday was awesome! (Oh how we have missed live music!) The trolly to the beach was an added bonus!
Jul 27, 2021
Fabulous campground w/ tons of activities and amenities! The giant slide was a real treat for the kids! Highly recommend!
Jul 27, 2021
Great stay for the kids with activities and pools bouncy house etc. everything was clean and well maintained
Jul 26, 2021
Fantastic in every aspect
Jul 26, 2021
We had a beautiful cabin and the staff working here was the best
Jul 26, 2021
We had a great time. Staff was great and the amenities available at the KOA were fantastic.
Jul 26, 2021
Clean cabin. Friendly staff
Jul 26, 2021
As always, no matter the location - KOA standards are top notch. From amenities, to services and staff, KOA makes your camping experience one to remember
Jul 26, 2021
We had a wonderful stay. Although the campground was busy the pools were not crowded. Great live music and fun activities for the family.
Jul 26, 2021
Check in a breeze, located was great and did a good job of locating me close to a relative that was staying there also.. entertainment was excellent also
Jul 26, 2021
Amazing so much for the kids to do ! & it was so clean , I have never been to a campground with such a clean bathroom ! So close to beach access .
Jul 26, 2021
Awesome accommodations, great staff. WE will be back next year.
Jul 26, 2021
We had a great time at the Virginia Beach KOA! We were out of towners from Wisconsin, and the staff made us feel very welcome! Clean campground, clean bathrooms, clean showers. Lots of fun activities for the kids to enjoy! Pool looked great, and crystal clear. Will definitely stay again next time we are in Virginia Beach. Thank you!
Jul 26, 2021
It was fabulous. Perfect location. Lyn was very helpful with all of our questions and fun to talk to. I did bring my own bike and asked the brown haired woman at the bike rental about a few trails. Her tone was a bit negative as she told me that the beach was very far..like at least 5 miles away. Tone plays a huge factor into your words.
Jul 25, 2021
Fantastic campground!! We had a wonderful experience for our first visit.
Jul 25, 2021
Showers/ Bathrooms, Laundry room and Pool were well maintained. The store was nicely reorganized.
Jul 25, 2021
Had a great time and thanks for the perfect weather too.
Jul 25, 2021
Campground was very clean and the staff was friendly. The pools were perfect. First time campers and we were very impressed. Thank you.
Jul 25, 2021
We absolutely loved this campground! There were plenty of things to do at the campground and in the surrounding area. Clean sites, bathrooms, and hot showers were a plus, as well as daily trash pick up at the campsite. If you are looking for non-stop activity, or just looking to sit back and totally relax and unwind, this campground is for you. We are definitely going to be back at this KOA again!
Jul 25, 2021
Very nice site. People and staff were friendly.
Jul 25, 2021
Our experience was great. Plenty of shade and activities for all. Shuttle Trolley to and from the beach was so convenient. Park was very clean and staff were very hospitable. Definitely recommend.
Jul 25, 2021
we were very impressed to having a guide to go to our site the staff are very pleasant . The campground is very well maintain we will going again.
Jul 25, 2021
Loved the amenities!! Lots to do especially for kids and families. Old folks too! ;) Very pleasant staff who helped us with our cable and in the office. Love the access to the beach via the trolley or by bike. Will definitely stay here again.
Jul 25, 2021
Enjoyed our stay. Very clean and so much for the kids to do.
Jul 25, 2021
This was the nicest and cleanest campgrounds that i've been in ! Everyone was very friendly, and very knowledgeable about the site and surrounding area ! We are already talking about our next trip down. So much to do at the campgrounds that you really don't need to leave!!
Jul 24, 2021
Lawn mowers and leaf blowers start too early! Some cool things for kids to do.
Jul 26, 2021
My first stay at the KOA, nice cabins, clean and definitely impressed with the bathrooms and pools, the activities and games, live music, nice staff, only thing I wish yall had is bingo! But definitely would recommend camping here!
- Kirsten Gant on Google
Jul 25, 2021
Other than extremely slow wifi at our cabin this place is a very cool way to vacation. Lots of amenities to keep the kids busy and having fun.
- B Green on Google
Jul 24, 2021
Fantastic campground. Plenty of activities. Reasonable prices. Shuttle to the beach ($). Restrooms are plentiful and easy to access. I will say the mattresses in the cabins left a lot to be desired, but the cabins themselves were fantastic. Great experience overall and no place is perfect.
- H C on Google