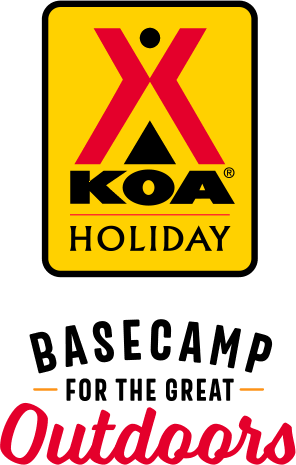 KOA Holiday Campgrounds
Whether you're exploring the local area or hanging out at the campground, KOA Holidays are an ideal place to relax and play. There's plenty to do, with amenities and services to make your stay memorable. Plus, you'll enjoy the outdoor experience with upgraded RV Sites with KOA Patio® and Deluxe Cabins with full baths for camping in comfort. Bring your family, bring your friends, or bring the whole group – there's plenty of ways to stay and explore.
KOA Holidays Feature:
RV Sites with a KOA Patio®
Deluxe Cabins with full baths
Premium Tent Sites
Group meeting facilities
Directions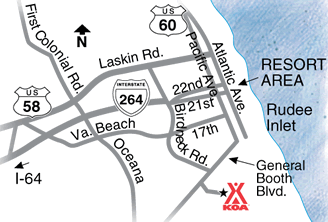 From I-264E, take exit #21A, First Colonial, and turn right. Follow First Colonial; it will become Oceana Blvd. At General Booth Blvd., turn left. Go 0.2 mile and turn in at the KOA sign on your right.
Get Google Directions
May 08, 2021
Stop weed wacking during happy hour and no mowing before 8am. Thanks.
May 08, 2021
I would definitely recommend a site away from the highway. Mowers and leaf blowers were used at inopportune times. (Very early or dinner time). Very clean camp and grounds, friendly staff, great location to beach, and lots to do at camp.
May 08, 2021
It was very good, nice site. Only complaint would be all the yard work at 7:00 AM. Also, the speed limit is suppose to be slow but all your KOA golf carts are going fast through the camp. We will be back.
May 07, 2021
Had issues with our cable. Staff very helpful even when issue was ours and not the campground. Prompt and courteous from all staff. Thank you
May 06, 2021
This is a great park, a lot of things for kids and adults alike. The staff is very friendly and ask the facilities were clean.
May 06, 2021
Really enjoyed being in the new back section. Plenty of room and felt protected by trees. Like all the new activities in the public area.
May 06, 2021
Great place to camp�
May 05, 2021
Site 203 was very small, awning of neighbor inches away from my slide out. Noise from General Booth Blvd was extremely loud although this is not controllable. Staff was very courteous and pleasant, restrooms very clean.
May 05, 2021
They had a difficult time putting us in a site that we fit into. They didn't know how big their sites were, so we got escorted around to 6 sites until we found one that worked.
May 05, 2021
We had a great stay and enjoyed the nearby activities (Adventure Zipping and Dolphin Tour)
May 05, 2021
The huge and clean campground with all the necessary facilities .The staff were nice and friendly.
May 05, 2021
One of the nicest KOA I have stayed at in a lone time
May 04, 2021
Staff was outstanding, from the office and grounds keepers. They are helpful and supportive. Their Covid19 processes were also in place. We stay every year in April and will continue in the years to come.
May 04, 2021
We had a problem as soon as we arrived. Something happened to the sewer in the cabin. The staff was quick to try to fix it. For Friday night and Saturday, the cabin had to be opened due to the smell. I totally understand that mechanical failures happen. We had air fresheners and after a day it was better. Also, we had a bundle of wood taken from our site. Other than that, it was amazing.
May 04, 2021
This is a first class KOA. Plenty of things for kids to do, more than one playground, huge field for games, good roads for safe biking. The entire property is very well maintained. The office store is well stocked. One issue: when exiting the property and making a left onto the main road there are trees/bushes blocking the view of the road to the right. Could ruin a great stay.
May 04, 2021
Great service, clean , had a Great time.
May 04, 2021
Nice. Clean. Alway cleaning up trash and people friendly.
May 04, 2021
This was one of the nicer KOAs we stayed at. Had a pull through site with nice grass and a tree. So much for the kids to do. Wish we could have stayed longer! Only downside was the site was not level -- or at least not the way the attendant had us park.
May 04, 2021
We were in spot 227 and the people in 228 were rude, loud and were up making noise past 11. Parked on grass were 2 trailers, a golf cart, bikes and numerous games that ran over on our spot. There dogs were running loose and barking. What we don't understand is why at 11 no one went around asking for Quiet Time as required on your handout. Its not our responsibility to tell them.
May 04, 2021
The Virginia Beach KOA is a flagship for KOA. The staff was very friendly, helpful, and accomodating. The campground is extremely clean, well maintained, and nicely shaded with trees. The only negative is actually not a negative at all. The campground is located quite close to the Oceana Naval Air Station. That sound of FA18 Jet Hornets is the "sound of freedom."
May 03, 2021
Loved it! Nice clean campground. Great location. Will book again.
May 03, 2021
Beautiful, clean and well-maintained campground. Staff was friendly and attentive. The Wifi didn't work and KOAs can be a little expensive, which is why I rated 9/10 instead of 10/10, but otherwise everything was great.
May 03, 2021
Great staff. Clean bathrooms. Nice sites. Large KOA, so lots of people.
May 03, 2021
Nice campsite. Clean and well maintained.
May 02, 2021
Everything worked perfectly. Sites and facilities were clean. Store was well stocked. Staff were friendly and helpful
May 02, 2021
Nice campground. Friendly staff and clean bathrooms. They will tell you about the jet noise but that's not really a problem. You will, on the other hand be praying for some jets to fly by to cover up the noise from the nearby road way.
May 02, 2021
The facility was clean with many amenities. The staff was friendly, kind and hard working.
May 01, 2021
Good location but very busy park, lots of traffic on our road in the park. Only two dog clean up stations, inconvenient. Short spaces, had to park our truck across the end of the space, partly in the grass. Lots of amenities for families. Lots of nice looking cabins.
May 01, 2021
Everything was great just wish the pool and bike riding was available
May 01, 2021
The cabin was nice... the crew and campers friendly... wish the dog park was larger we used it 1 time but with the amount of dogs there if other dogs had been in the park it would have been cramped We will stay again thank you esp since our doggies were welcome!!!!
May 01, 2021
Great location between Virginia Beach and Sandbridge Beach! Lots of amenities for the whole family, well kept lots. Very nice place.
Apr 30, 2021
Everything was clean and comfortable. We will go again soon.
Apr 30, 2021
Our go to place when in va beach, consistent and professional. Will go back.
Apr 29, 2021
The campgrounds were everything we hoped for, so clean and easy to get and out of our spot, and the staff was so friendly and helpful
May 09, 2021
Very clean and the activities for the kids was pretty sweet.
- Stuart Gaskill on Google
May 08, 2021
The deluxe sites are done very nice (could be a little cheaper as they did not have any activities going on).
- David Wingfield on Google
May 04, 2021
First class campground. Multiple bath houses. Well stocked store. Lots of things to keep kids busy. Friendly employees/volunteers all over the place. We really appreciate the lack of political signage and political flags. The roads could use some resurfacing but we've seen much worse. The campsites could be more level (packed stone, dirt) but we've seen much worse. About 10 minutes to VB ocean front.
- Josh Lucchesi on Google