Top East Coast Beaches for Camping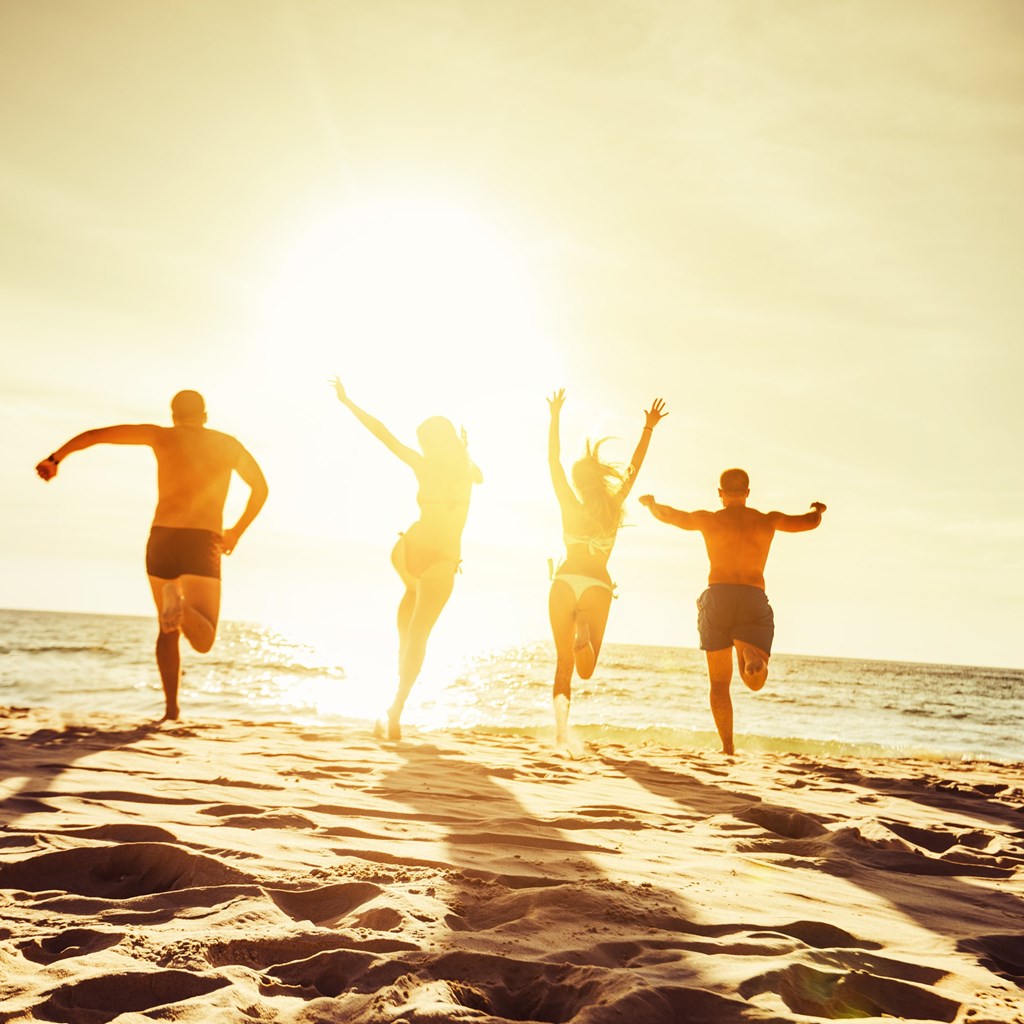 Whether you love a day of fun in the surf and sand, adrenaline-pumping watersports or relaxing by the sea, a beach camping trip has something for everyone in your family. Some of the best beaches on the East Coast are not far from campgrounds in the Outer Banks of North Carolina. Yet, just north of this incredibly well-known beach destination is a new hotspot among campers — Virginia Beach.
Whether you're planning a family vacation or a wild trip with friends, here's why you should choose beach camping along the East Coast as your next destination.
The Perks of East Coast Beachfront Camping
Beach camping is the ultimate nature experience. It combines the relaxation and fun of a day at the oceanfront with an adventure in the great outdoors. Some of the best and most popular campgrounds are located on East Coast beaches — including Virginia Beach, the Outer Banks, Myrtle Beach and ample options throughout Florida.
Here are just a few of the perks you can enjoy when you go beach camping along the East Coast:
There is something to do for everyone in your crew.
Plenty of time for relaxation and leisure.
Experience extreme water sports and new watery adventures.
More affordable than booking a seaside hotel.
Dine on the freshest seafood.
Allows you to witness epic sunrises over the water.
Puts you first in line to hit the beach.
Campgrounds in Virginia Beach, VA vs. Outer Banks, NC
While many beaches along the East Coast are well-known vacation destinations, Virginia Beach and the Outer Banks have some of the best beach campgrounds. So, if you're looking to get up close and personal with the Mid-Atlantic's coastal habitat, both of these locations are a great choice. Plus, geographically, these camping destinations give you access to some of the most popular beaches for swimming, surfing and fun on the East Coast.
If you're an avid beach camper who's looking to mix it up, forget camping in OBX this year. See what Virginia Beach has to offer campers of all kinds. While both are fantastic beach destinations, there are a lot of advantages to camping in Virginia Beach rather than choosing an OBX campground in NC.
Easy Access
Even though the Outer Banks is a top tourist destination, accessing it can be a bit tricky. This string of barrier islands sits just off the coast of North Carolina's mainland and can only be accessed by bridges or ferries. During peak vacation season, you can expect a lot of traffic. The swell of vacationers often leads to a bottleneck of vehicles trying to get in.
Virginia Beach is much easier to access. In fact, a major interstate leads directly to the oceanfront and all the top tourist attractions along the boardwalk. From there, it is easy to make your way to a nearby campground, like Virginia Beach KOA Holiday, for your unforgettable beach vacation.
Many OBX visitors attempt to avoid the busy summer months by planning their Outer Banks vacation during the off-season. However, the communities that form the Outer Banks are actually relatively small towns. Many of the best shops, attractions and activities close up if you don't come during peak season. That's not the case with Virginia Beach. No matter when you plan your vacation, most of the best local sights are open year-round, including beach access and outdoor activities like hiking and bike trails.
Less Driving to See the Sights
The Outer Banks includes nearly 200 miles of ocean shoreline dotted with a few towns and commercial areas here and there. If you want to see any of the sights outside your campsite, expect to do a lot of driving.
When you visit Virginia Beach, you can park at one of the many lots found just off the boardwalk and spend the whole day exploring all the sights and sounds this resort town has to offer. Even if you do end up driving, you won't have to go far to find some incredible attractions. Virginia Beach has a little something for everyone:
Beautiful beaches with umbrellas and beach chair rentals for luxury lounging.
One of the top boardwalks on the East Coast, complete with sweets, eats and lots to see.
Thrilling zip line tours through the local forest and wetland ecosystem.
Historical landmarks from before our nation's founding.
A world-class aquarium.
Hiking and biking along beautiful shorelines, peaceful woods and mysterious swamplands.
What to Do — Unforgettable Events
Yes, camping is usually about connecting with nature and getting a taste of the great outdoors, but that doesn't mean you can't have a little fun while you're at it. OBX may have plenty of great beaches, but their events tend to be few and far between. When you camp in Virginia Beach, you get the best of both worlds — an incredible beach camping adventure plus plenty of music festivals, family-friendly events, a restaurant week, fireworks and so much more.
Whether you are planning a camping retreat with the kids or a more grownup getaway, be sure to check out what's happening in Virginia Beach so that you can plan your vacation around one of our area's many unforgettable events. From the Shamrock Marathon in the spring to the Neptune Festival that closes the summer season, these happenings celebrate good music, good food and good old-fashioned family fun.
For Those Who Want to Avoid Crowds
If it's a summer beach vacation you want, whether you choose the Outer Banks or the Virginia Beach oceanfront, chances are you are going to encounter crowds of other beachgoers. Thankfully, Virginia Beach has several beach options with fewer crowds. Head up past 40th Street to Virginia Beach's North Shore. Or, find refuge among the kinder, gentler waves of the Chesapeake Bay at Chic's Beach. There is also a secluded beach hideaway of pristine sand dunes called Sandbridge.
Of course, if you really want to avoid the crowds, beach camping is ideal. Virginia Beach offers some of the best camping anywhere along the East Coast. These hidden gems are a natural retreat where you can escape, unwind and thoroughly enjoy your beach vacation without the hustle and bustle.
The best East Coast campgrounds like Virginia Beach KOA Holiday ensure your privacy while at the same time offering luxurious amenities to ensure an outstanding stay. There is also a wide variety of onsite activities perfect for couples retreats and family getaways alike, such as a Jumping Pillow, swimming pools, music under the stars and community bonfires.
Tips for Finding the Best Beach Camping Destination on the East Coast
Now that we've laid out the reasons why beach camping, specifically in Virginia Beach, is your best bet when it comes to a nature-inspired and fun-filled escape, your next decision is finding a location. The wrong campground can turn a fun adventure into a wet, swampy or sandy mess. Whether you're traveling with family or friends, campers who plan ahead are happy campers.
If you want to ensure your beach camping excursion is a success, here are some tips for finding the best beach campgrounds on the East Coast:
Reserve a site early: The best beach campgrounds fill up fast, so making a reservation is a must. While you may be able to get by without a booking during the winter months, it's better not to take the chance. Your best bet is to make a reservation months before your actual trip.
Prioritize cleanliness: Not all campgrounds are created equal. Whether you are searching for a natural escape or you are concerned about pests, a clean campground is essential to your overall beach camping experience. Make sure the location you choose prioritizes a clean setting.
Be prepared for sand: While you may love lounging on the warm sand, you don't want to bring it into your campsite. Find a campground with showers where you can wash up before turning in.
Keep your clothes clean: Depending on how long your beach vacation lasts, you may need a place to wash your clothes and towels. An on-site laundry facility is definitely a plus.
Make sure it's close to popular attractions: Most East Coast beach destinations are chock-full of exciting local attractions, including boardwalks, water parks, hiking trails, fishing and more. Be sure your campground puts you in the heart of everything you would like to do.
Find transportation: Many beachside campgrounds have beach shuttles that will take you to local hot spots.
Look for on-site entertainment: The best campgrounds have a little something for everyone. This could be sporty activities like horseshoes or volleyball, kids activities like playgrounds and crafts, or even a swimming pool where you and your cohorts can cool off after a long day at the beach.
Be comfortable in your surroundings: Amenities are those little creature comforts that can transform a rustic camping experience into a luxury vacation. Make sure your campground of choice has all the amenities that you value.
Make sure it's pet-friendly: If you are traveling with your favorite four-legged friend, make sure that the campground you choose allows pets and has pet-friendly amenities.
Who to Bring on Your East Coast Camping Adventure
Another big decision when it comes to beach camping is who to bring with you. There are many different kinds of camping experiences, from family holidays to wild times with friends. The important thing is to pick the people who will make this the best beach camping trip ever:
Camping with family: Whether it's a family reunion or a trip with the little ones, beach camping with your family is a great way to strengthen bonds and return home feeling more connected.
Camping with friends: Usually the most fun people to beach camp with are your friends. They're often more laid back, and you can be as loud, wild and free as you want. This type of camping experience is great if you are looking to enjoy the local nightlife and let your hair down.
Camping for romance: Camping is one of the most romantic things couples can do. Spending time together in the great outdoors brings you closer together and allows you to reconnect away from the busyness of normal life. Beach camping, in particular, offers plenty of romantic activities to enjoy together, including sunset walks on the beach, seaside dining and plenty of watery fun.
Camping solo: Camping alone can also be a fulfilling experience. It may take a bit more preparation and safety awareness, but beach camping tends to be much safer than camping in the mountains or woods. Going solo offers a much deeper connection to maritime nature free from distractions.
From RVs to Cabins — Ways to Stay When Beach Camping on the East Coast
The East Coast boasts thousands of beachside campgrounds, so you're sure to find the perfect way to stay that suits your unique style. Whether you prefer a more primitive tent camping experience or a resort-quality cabin, your choice of shelter plays a large role in your overall East Coast beach camping experience. Here are some of the most popular ways to stay when camping on the beach:
Open-air camping: Whether you bring a hammock, a sleeping bag or a blanket, many people's ideal beach camping means sleeping under the open sky.
Tent camping: Pitching a tent ensures you're safe from the elements and the cool breezes that often roll in during the night. So, it may be a good idea to reserve a Tent Site for your beach adventure.
RV campgrounds: The East Coast has many RV parks that are just a hop, skip and a jump from the gorgeous Atlantic waves. For an upgraded RV experience, choose Virginia Beach KOA. Many of our RV Sites come with a spacious KOA Patio™ and fire pit where you can relax and share stories from your day of seaside adventures. We offer back-in and pull-through options, all with full hookups and 50/30 amp.
Luxurious lodging: If you prefer beach glamping to beach camping, then elevate your beach trip in a luxurious Deluxe Cabin. These vacation rentals give you a serene space to call your own where you can rest peacefully after a day of fun in the sun.
Something for Everyone When You Book Your Virginia Beach Camping Trip
If you like camping in the Outer Banks, then you'll love Virginia Beach. We only mentioned a few of the incredible advantages a beach camping trip in VA Beach will bring your way. To really experience this beautiful destination, you'll need to plan a trip and see it for yourself. Virginia Beach KOA Holiday is your perfect basecamp for a Virginia Beach getaway. Experience the exciting boardwalk while still communing with nature during your coastal camping trip.
Whether you prefer glamping in a cozy Deluxe Cabin or sitting back at a traditional Tent Site, we have the perfect accommodations for every kind of camper. If it is one of the best RV campgrounds on the East Coast you are after, our RV Sites are an amazing option. Plus, we're chock full of fun activities for all ages and comfortable amenities you're sure to love.
Relax, have fun and get ready to explore the exciting local attractions and coastal great outdoors with your family and friends when you book your stay at Virginia Beach KOA online. You can also give us a call at 757-428-1444 to learn more about what sets our East Coast beach campground apart.