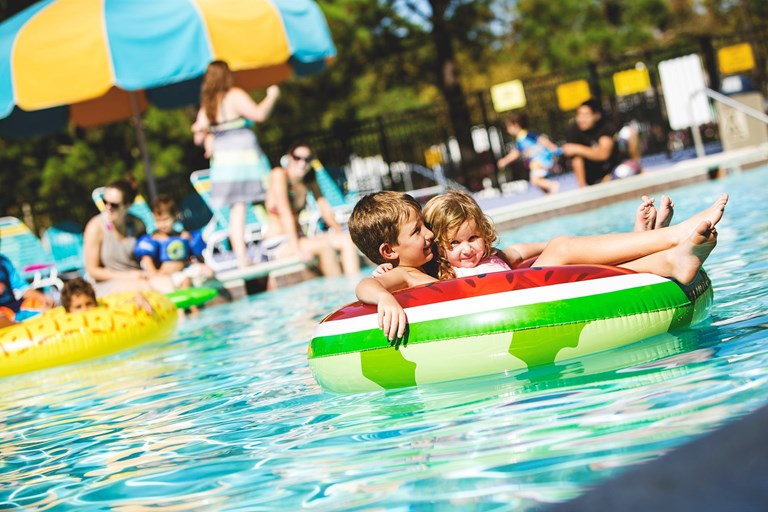 Virginia Beach KOA Recreation
There's so much to do at Virginia Beach KOA!  Many of these activities are available year 'round, while some are seasonal from Memorial Day to Labor Day. Whether staying in our Deluxe Cabins built for lodging, utlizing our great RV Park, or enjoying our Tent Camping, the Virginia Beach KOA has fun activities that the whole family will love! 
PLEASE NOTE: DUE TO COVID-19, some of these activities may be closed or restricted due to governor's orders on gathering areas. We will re-open them just as soon as guidelines allow.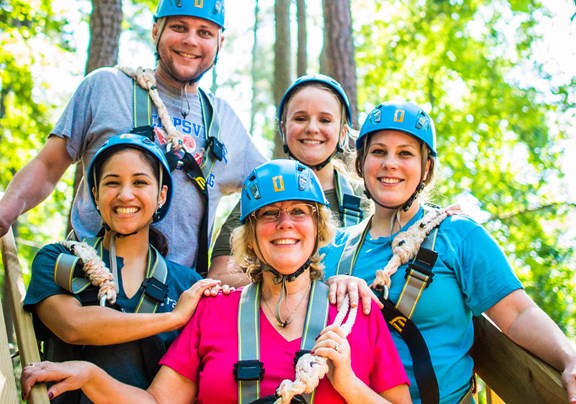 Zipline brought to you by Adventure Works
Our Zipline has re-opened!
Come ride the Adventure Works Zipline tour at KOA! Adults and kids will love the thrill of ziplining through the forest and wetland ecosystem. NINE long ziplines, minimal obstacles!  KOA Campers get $10 off!  We'll give you the discount code when you check in. Open March--November. For more information or to book your reservation, visit www.adventureworks.com. Weight limits:  Minimum 50 lbs, Maximum 250 lbs.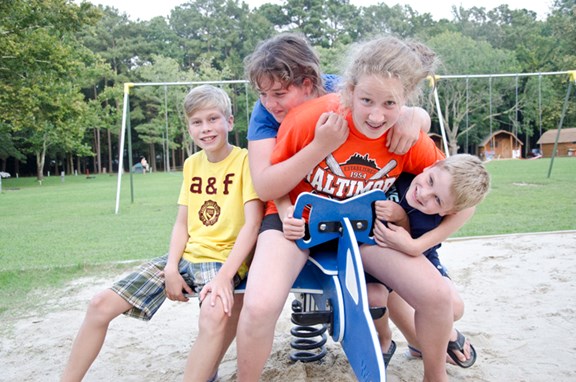 Playground
Playgrounds will re-open July 1 in keepnig with governor's restrictions. Even after a busy day of exploring the beaches and boardwalk of Virginia Beach, your kids undoubtedly still have some energy to burn. With our playground, you can sit back and relax while the kids run, jump, slide and swing until they are ready to hit the hay.
Hammocks
What better way to completely de-stress than with the gentle sway of a hammock? You will love relaxing in one of our three hammocks hung up under the shade of a beautiful, big leafy tree! Our hammocks are available April through October.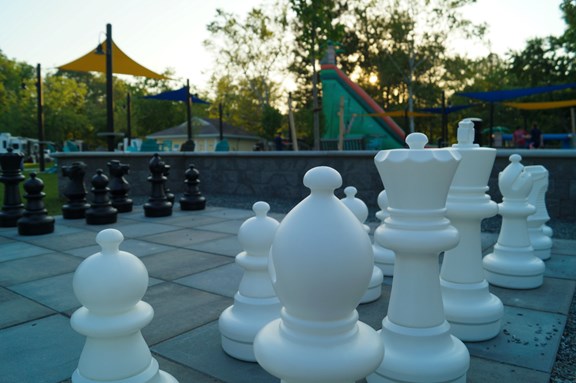 Giant Chess
Who's the best strategist? Find out with a large game of chess. Our giant chess board is a great way to introduce your kids to the ultimate battle of wits. It is available from March through November.
Horseshoes
*Disclaimer* No horses' shoes were stolen in the making of this activity. This classic throwing game comes alive at Virginia Beach KOA. You and your fellow players take turns tossing u-shaped horseshoes at stakes in the ground, and while getting points may depend on your aim, the great time times and memories do not!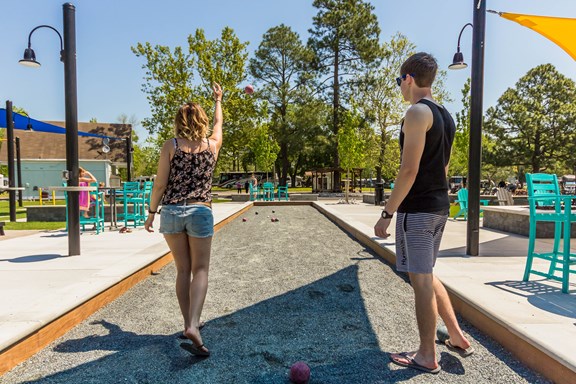 Bocce Ball
Looking for some friendly competition? Try out our Bocce Ball court to see who has the best aim and arm power! This game may have ancient roots, but it has seen a resurgence of popularity in recent years among millennials and hipsters who are bored with bowling.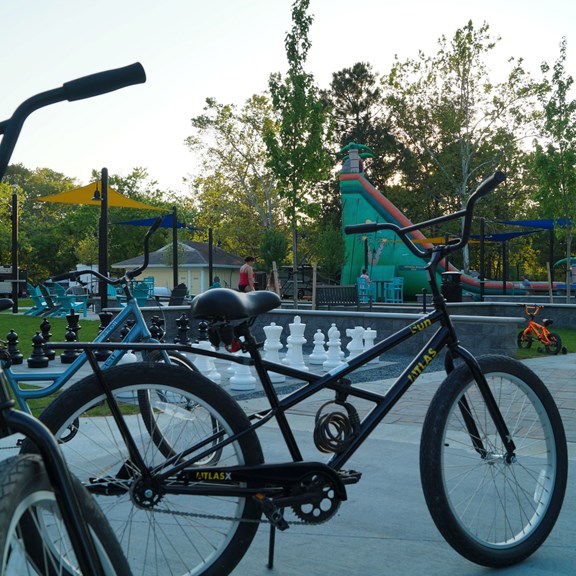 Bike & Pedal Cart Rentals
The beach is just a pedal away! Explore the Virginia Beach Oceanfront and Boardwalk, or cruise the campground on one of our beach bikes, trikes or tandem. Or you and the kids can zoom around KOA on a cool pedal cart or turbo cart, or a family-sized cart or surrey for the whole gang! Our bike and pedal cart rentals are available from Memorial Day to Labor Day, plus select weekends in April and September/October.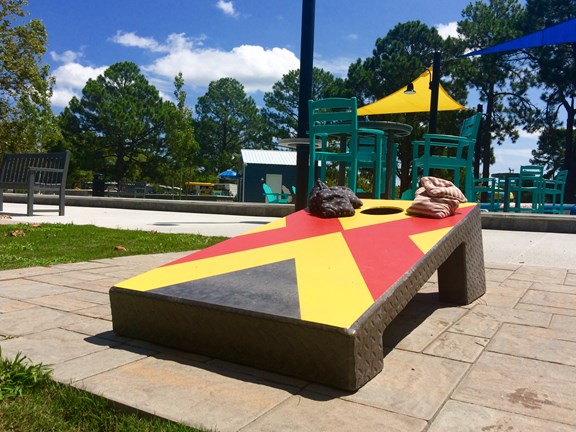 Corn Hole
Since the 14th century, people have been throwing canvas bags filled with corn at wooden boards. Why not come and try it out for yourself? Corn hole is a great way to have some down-home fun and a little laid-back competition that's easily enjoyed with a drink in hand.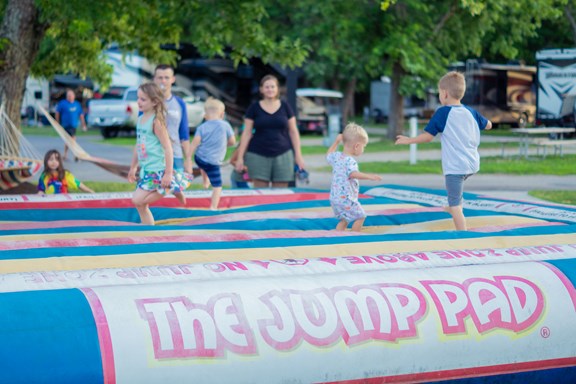 Jumping Pad
If our giant Jumping Pillow is too scary for your little ones, bring them to our smaller, but just as fun, Jump Pad! This is a great way for the smallest campers to burn some energy and have a bouncing good time.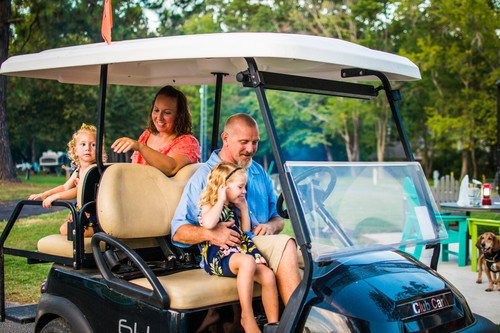 Golf Cart Rentals
Whether you rent it for a few hours or a few days, you'll be embracing the pinnacle of campground transportation in one of our stellar Golf Carts! Carts are available Memorial Day through Labor Day. Quantity is limited, so reserve ahead when making your camping reservation, or stop by the Bike Shack when you arrive. You will be chugging along our paths and byways in no time.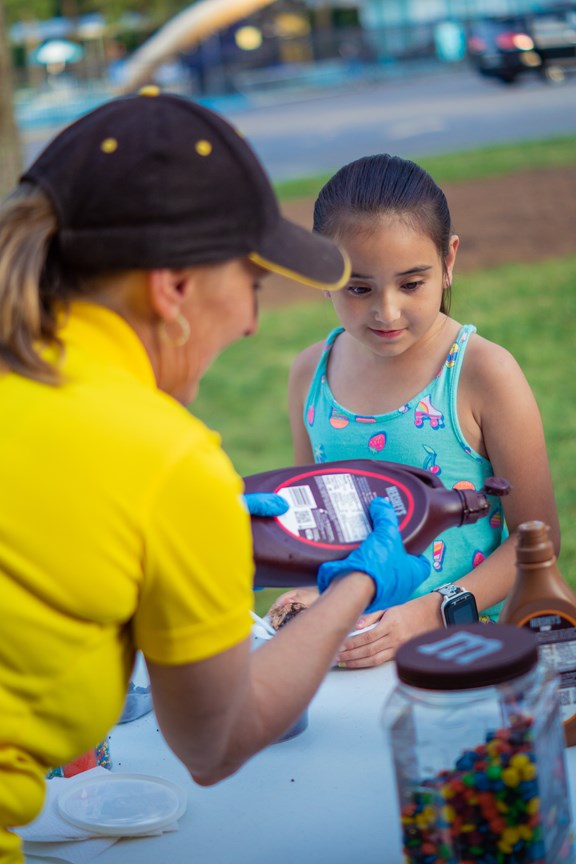 Ice Cream Social
Ice cream and friends? It doesn't get better than that! Our Ice Cream Socials allow you to enjoy a huge bowl of ice cream complete with lots of toppings. Our old-fashioned Ice Cream Socials are held most weekends from Memorial Day through Labor Day.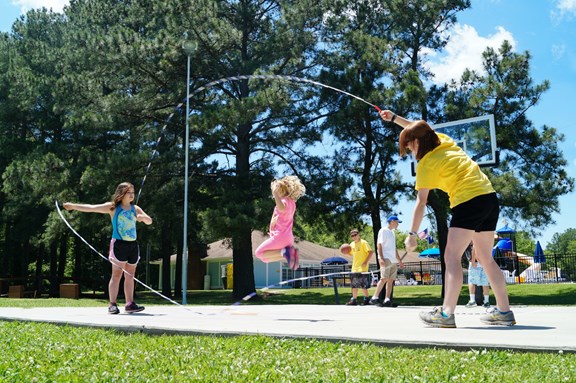 Basketball
Teach your kids the basics of this sport with a simple game of H-O-R-S-E, or enlist your fellow campers for some pick-up games on our half-court! Open year-round.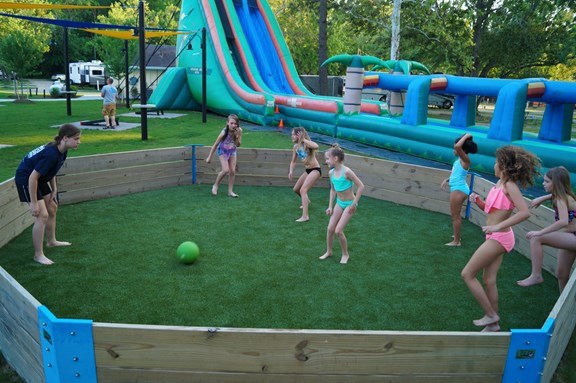 Gaga Ball
Get in the ring and try not to be eliminated with this extremely popular action game!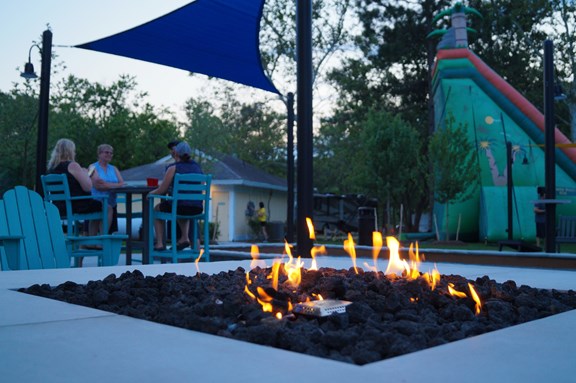 Community Bonfire
What's better than a cheery campfire and great conversation after a long day of having fun? Not much! Relax, laugh and talk with your camping neighbors at our community bonfire ring in the Pocket Park. Note: this activity is offered on a limited basis due to Covid-19.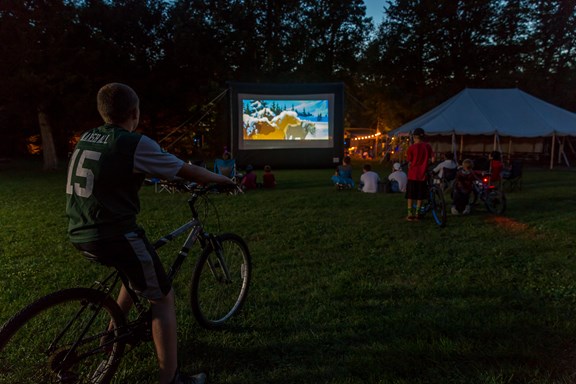 Movie Under the Stars
If you have never watched a movie in the great outdoors, then be sure to grab your sleeping bag or a blanket and claim a spot on our lawn. Our movie under the stars is every weekend from Memorial Day-Labor Day!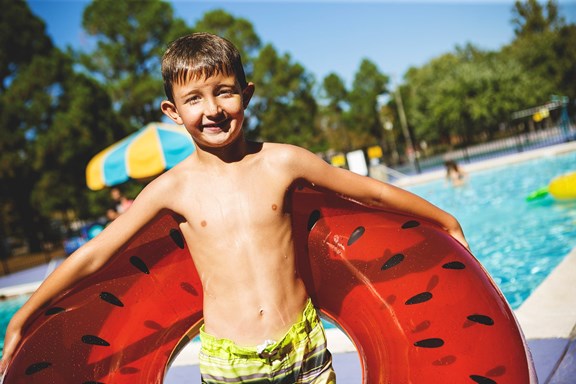 TWO Swimming Pools
Pools will re-open July 1 in keeping with the governor's restrictions. If you love camping, but you are worried about the hot coastal sun, then be sure to choose a campground with a pool for your Virginia Beach vacation. Lucky for you, Virginia Beach KOA boasts TWO swimming pools, one of which has super-fun slides for the kids! Our swimming pools are the perfect place to cool off or relax poolside. Let the kids splash and swim as you work on your summer reading list. If you have thrill-seekers in your family, our slide pool offers plenty of action-packed, watery fun. Will they have the guts to conquer our 36' waterslide affectionately known as the "Wedgie?" Both our pools are open Memorial Day through Labor Day.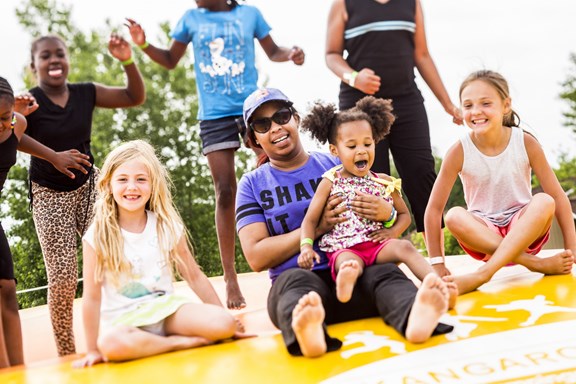 Giant Jumping Pillow
Whether you are three or 93, you are sure to enjoy jumping and bouncing on our giant jumping pillow! If your kids are hyped up on sugar from the local saltwater taffy, this is the perfect way to burn some energy.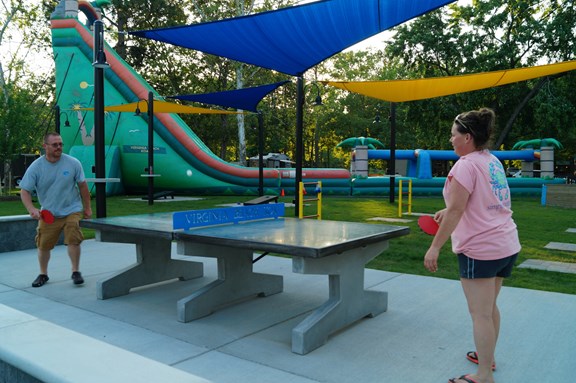 Outdoor Ping Pong
Test out your hand-eye coordination with a fun game of outdoor Ping-Pong! Enjoy a little friendly competition with your spouse, or give your kids a quick lesson on classic Ping-Pong tactics. It is available year-round.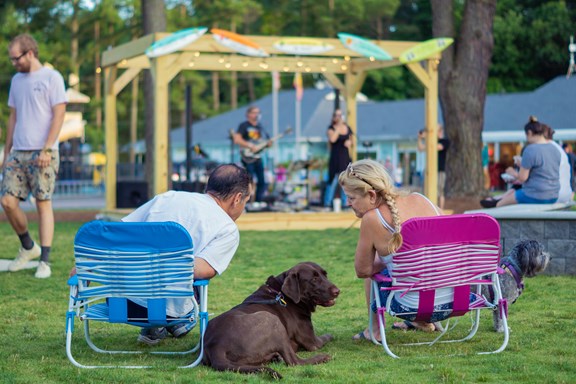 Music in the Park
Most Saturday nights, Memorial Day through Labor Day, we host live music in our Pocket Park! Bring a lawn chair and relax or groove to the music. You can also enjoy the various park activities as you listen to the sound of talented local musicians.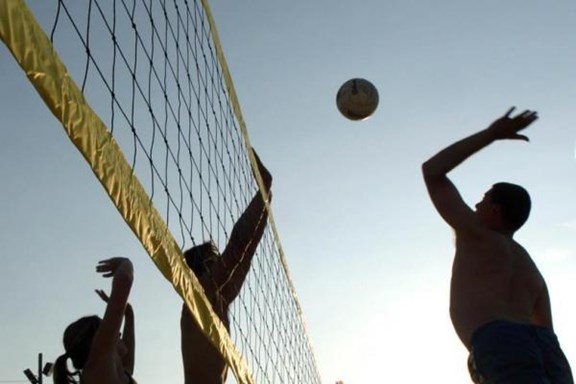 Volleyball
Volleyball is a classic beach sport. Make unforgettable memories as you gather a group to go head-to-head on our volleyball court! Open year-round.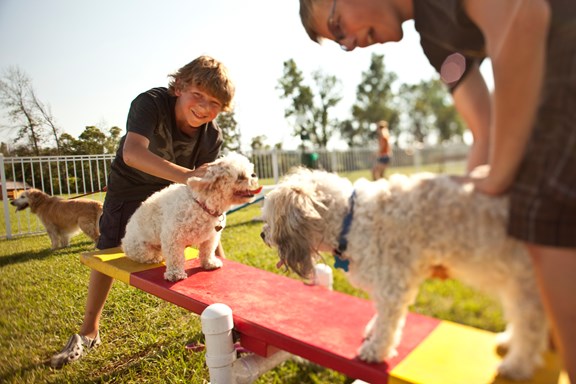 Kamp K9® Dog Park
At Virginia Beach KOA, we believe that every member of your crew should have a great time — even your furriest campers. Our KampK9® Dog Park is a great way to let your pup enjoy our campground. They can run, jump or hang out to their heart's content. We have nearby seating so that you can watch your dog play with their other four-legged friends, as well as bags for clean up. The park is open year-round.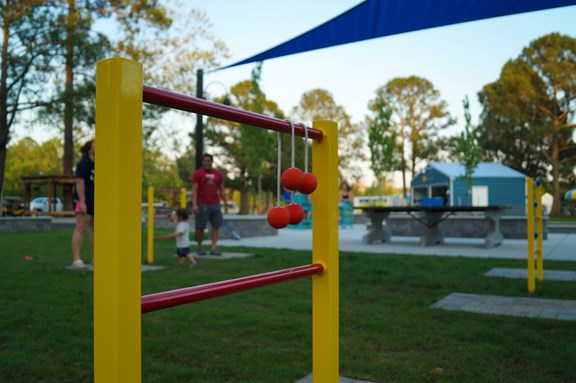 Ladder Toss
Climb the ladder of outdoor-game success with this fun activity. As you toss your bola and try to wrap it around each rung, you will discover who the ladder toss master is! Available year-round.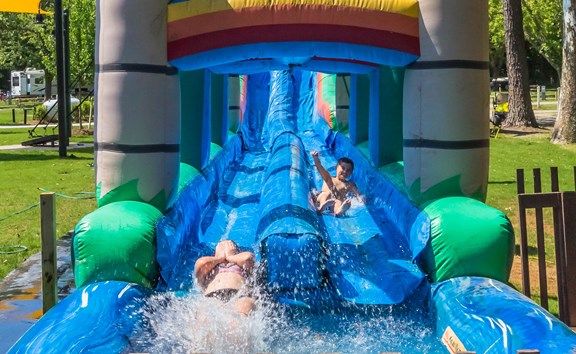 Giant Water Slide
The Giant Water Slide will be open soon!  Virginia Beach has its fair share of water parks, but our campground has a thrilling watery adventure right here. One of our two swimming pools is dedicated to the slip-slidey fun of water slides. Work up the courage to climb to the top and zip down our 36' inflatable water slide, affectionately known as the 'Wedgie!" Both kids AND adults love it! Please note, riders must be at least 42" tall to ride the slide. Operates Memorial Day to Labor Day.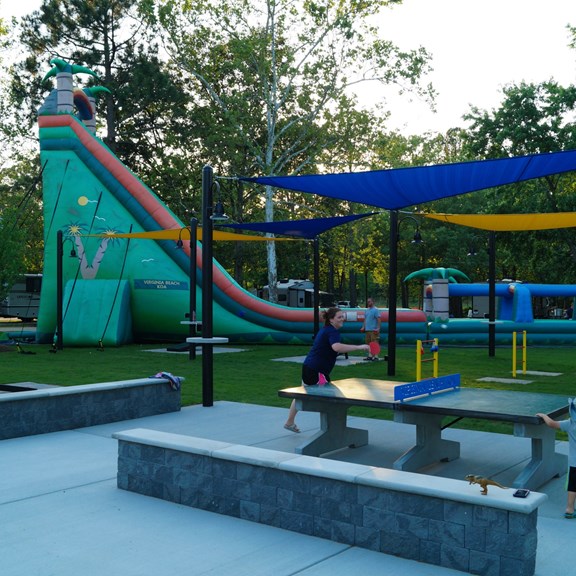 "Pocket" Activity Park
Check out our "Pocket" Activity Park! This green space is filled to the brim with fun things to do, so there is never a dull moment. Enjoy a picnic under the shade sails, gather for a campfire, play cornhole, ladder toss, horseshoes, giant chess or an exciting round of gaga ball. A few of the activities do not operate in winter months.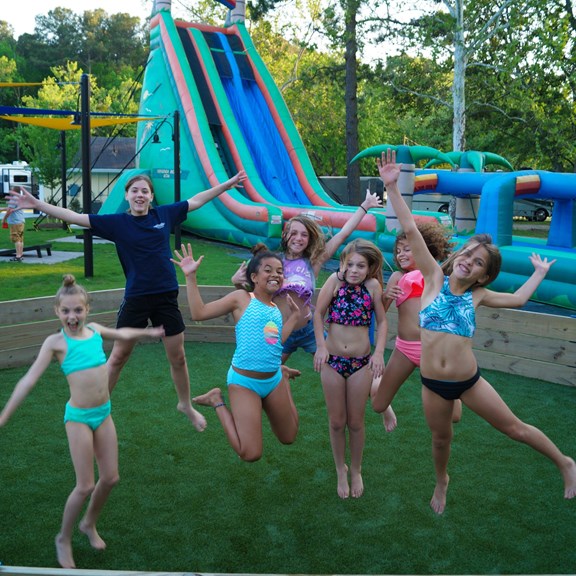 Campground Activities
At Virginia Beach KOA Holiday®, our goal is to fill your trip with amazing memories and unforgettable activities. That is why each weekend in summer, plus select weekends in April/May and September/October, we have an exciting roster of organized activities for you to participate in at the campground. Reserve your spot with us and let the fun begin!
Local Area Recreation