Directions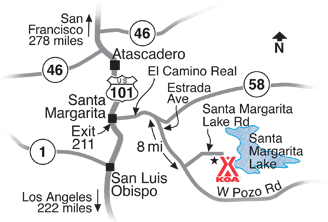 From Hwy 101 North and South:
Take Exit 211 for Santa Margarita Lake.
Go east 1.7 miles thru the little town.
Turn Right on Estrada Ave./Highway 58 East
Estrada Ave. becomes "J" St. which becomes W. Pozo Rd.
(Do not turn left on Hwy. 58 East)
Continue straight on W. Pozo Rd. for 7 miles.
Turn Left on Santa Margarita Lake Rd.
Go 1/2 mile up the hill.
The KOA will be on your right.
From East and Northeast of Santa Margarita KOA:
From Highway 41, 99 or 5...
Take Highway 46 West to US 101 in Paso Robles.
Take US 101 South to Exit 211.
No matter what your GPS, Google Maps or Mapquest says...
DO NOT TAKE HWY 58 WEST, HWY 41 south of HWY 46 or HWY 229 TO REACH US.
These roads are narrow, winding and likely to cause car sickness.
We want you to be a Happy Camper when you arrive!
Get Google Directions
Apr 06, 2021
We had a great time. We will be back
Apr 06, 2021
Our family had a great Easter getaway here. Cabin ans bathrooms were clean and the staff was very friendly and nice.
Apr 06, 2021
We had a great stay. The only complaint I have is that the picnic table was in disrepair. The finish on the table was flaking off.
Apr 06, 2021
Michelle was very helpful and was very great about answering our questions. We didn't show up until a couple hours after the store had closed and she dropped everything to assist us. Very beautiful and safe place to camp. My wife and I would love to come back! We were the happiest campers!
Apr 05, 2021
Our stay is a return trip back to Santa Margarita KOA. We love it here! Campground is 1/2 mile from actual lake. The grounds are beautiful. Plenty of outdoor activities for children and adults and Emu named Kevin to visit. Campfires are allowed. Quiet time is 10pm to 8am. And their store is such a great convenience. The KOA staff members are so wonderful and friendly and very accommodating.
Apr 05, 2021
4/2021 Female cashier @ store wasn't wearing a mask. I gave her a chance to put it on, but it took some time. She put on a face shield only. Not the safest choice for customers in such a small space. The small communal bathrooms do not have signs requesting guests to wear face masks. There was no covid safety protocols posted anywhere on site. No staff were seen wearing masks.
Apr 05, 2021
The campground was great, and the host was very friendly. Kevin the emu was very friendly and quiet. I think our only complaint was staying near the RVs and the loud groups that were there, but that's to be expected.
Apr 05, 2021
What a wonderful place, this campground is nestled into the hillside, and feels like your outdoors, and the lack of city lights make star gazing incredible, especially for someone coming up from Orange County, CA We can't wait to be back.
Apr 05, 2021
Fun for the whole family. Facilities and area were very clean. Personal were very polite and helpful.
Apr 05, 2021
The staff are very friendly and helpful. They even had the Easter Bunny stop by the site Easter morning and leave a surprise, that was a great touch. Campground was super clean as well. Would definitely stay again!!!
Apr 04, 2021
Overall great stay! Kids had a blast. Love how close it was to the Lake. Not a bad drive to the beach either. Clean cabin. Clean camp.
Apr 04, 2021
I highly recommend this KOA camp. I would rate it in the top 5 we have stayed at in the country. Wonderful helpful staff - especially Kim Anne! All the facilities were well maintained and clean. Sites roomy in a beautiful nature setting and close to the lake. We really enjoyed renting a reasonably priced pontoon boat for 2 hrs ($100)
Apr 03, 2021
The staff was extremely friendly and helpful. The campground was quiet and we had a wonderful campsite. facilities were well-maintained.The location is central to Morro Bay, San Luis Obispo and Paso Robles. Overall we had a great stay
Apr 03, 2021
This is a beautiful camp ground with lots to do, and it is only 1/2 mile from lake Santa Margarita where you can find several hikes, good fishing, and more wonderful nature!
Apr 02, 2021
WE loved this KOA so much! It was one of the best places for the entire family! The people and grounds were wonderful. The site had everything for all ages. We can't wait to come back for another wonderful stay. Kim Ann and the staff are so friendly and welcoming. The Jumping Pillow was a hit for our 9 year old son! thank you so much for making our first time at this KOA so special!
Apr 02, 2021
We had a great time. Campsites were clean and well maintained. Staff was very friendly and helpful.
Mar 31, 2021
Love this campground and have come back several times now. Great service, clean, and it's just nice to be there.
Mar 31, 2021
It was a really nice stay, peaceful and beautiful natural sites to see. If you have kids they will love to jump pillow.
Mar 31, 2021
The staff was very friendly and helpful. Love the place. The only thing that could be improve on would be the showers
Mar 31, 2021
So much fun for kids! Great playground, Charlie the emu was great and park was clean, friendly staff.
Mar 28, 2021
This was the best time my family and friends have had for spring break We have tried several times to make reservations with you all but we could never get in Our grandkids had the best time around the camp ground and riding their bikes to the lake to fish Everyone was so nice and helpful Will definilty be back Great memories were made Thank you
Mar 26, 2021
The campground is beautiful and quiet. The staff are very friendly and helpful. We will definitely be back!!!
Mar 26, 2021
The bathrooms and showers were very clean! There was also Wi-Fi, which worked pretty well as there was little/no telephone reception.
Mar 25, 2021
It was very quiet and peaceful.
Mar 25, 2021
Beautiful camp sight and camp ground. Can't wait to go back
Mar 24, 2021
We felt grateful that although this KOA has a two night minimum stay, we were allowed to stay for one night which met our needs. We wouldn't hesitate to visit again as a destination site. The location was not the usual campsite. In fact, we barely scratched the surface of what it had to offer including great running locations!
Mar 24, 2021
Beautiful setting, well maintained, very clean!
Mar 24, 2021
We rally liked our accommodations. The manager answered our call after hours which helped us SO much. Thank you! If you work remotely, you might not have good service.
Mar 23, 2021
Santa Margarita KOA never disappoints, we truly love staying here. Everyone is extremely nice, helpful and they always go out of there way to make your experience extra special.
Mar 23, 2021
Kim our host was so awesome!! We will be back!
Mar 22, 2021
Nice site with a beautiful view of the ravine and hillside, with lots of little birdies! Great to see and hear so many campers living freely and enjoying life. Full hookups/dumping at the site made it easy in and out. Staff are fabulous people! Wireless internet was sketchy but we're working on our own solution to that ;-)
Mar 21, 2021
Wonderful. Everything was awsome. Planning another trip.
Mar 20, 2021
We did "glamping" by staying in a deluxe cabin in March 2021. Beautiful time of year, but a little cold. Loved taking walks around the campground. Kids and adults liked disc golfing, basketball, feeding the emu, beanbag toss, jumping pillow, campfires, and grilling. Staff was exceptionally helpful and kind. Roads could use some repair but everything else was very clean and well-maintained.
Mar 18, 2021
Kim Anne was great to work with. She made it possible for us to park our 45 foot toy hauler and stay the night. We were having a hard time finding place that could accommodate our big trailer last-minute. We were anxious to get moving along, but the campground seemed well maintained and nice. It isn't a paved resort like some RV parks, but for the night it was fine. Thank you Kim Anne!
Mar 16, 2021
Love this campground! Pretty grounds, very well maintained, staff was very nice and super helpful. The kids had hours of fun on the jumping pillow! The sites were big, also had family in a cabin which was very clean, bathrooms kept clean, and Kevin the Emu is just spectacular! Would love to go back.
Mar 15, 2021
We had a great stay! Surprised at how much nicer than I imagined it would be! Loved our King of the Hill spot!
Mar 15, 2021
Jump pillow was sooooo fun!!! The campgrounds are clean and well kept. I appreciate the bathrooms being heated. It was an awesome trip. We will come back for sure.
Mar 15, 2021
We had a wonderful time and wish we could have stayed longer. We will be coming back soon since we live so close. Everything was clean and as advertised.
Mar 08, 2021
Campsites were clean, and there are a ton of activities to do there. Really friendly staff. It looks like they have done some major improvements over the last year or so. Being able to have a camp fire was a blast as well as feeding Kevin!
Apr 13, 2021
Very nice place.....a lot of things to do in the camp grounds....even more within a 30 minute drive..we will definitely be back!
- Jack Schwartz on Google
Apr 13, 2021
First time campers: Really liked camping here. We had three tents up with plenty of space. Proximity to the lake was great. This NYC-born&bred guy really dug the wilderness noises and peacefulness.
- jeff efron on Google
Apr 04, 2021
I would rate this KOA in the top 5 of the RV parks in the country. Beautiful natural setting, clean, roomy sites and wonderful staff especially Kim Anne! Close to many amenities- especially recommend renting a pontoon boat at Lake Margarita- 2 hours was plenty ($100) We were in a 35 ft 5th wheel in site 46 right across from the playground which includes a pillow bouncer. Our grandchildren were thrilled. We also enjoyed our daily visit to Kevin the resident Emu. We saw plenty of turkeys, deer & birds.
- Gwensibella on Trip Advisor