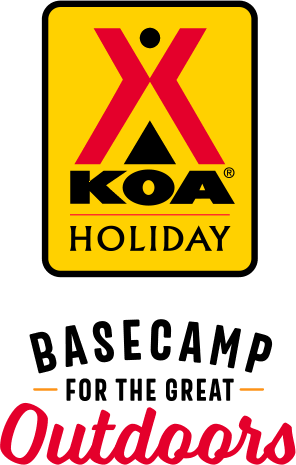 KOA Holiday Campgrounds
Whether you're exploring the local area or hanging out at the campground, KOA Holidays are an ideal place to relax and play. There's plenty to do, with amenities and services to make your stay memorable. Plus, you'll enjoy the outdoor experience with upgraded RV Sites with KOA Patio® and Deluxe Cabins with full baths for camping in comfort. Bring your family, bring your friends, or bring the whole group – there's plenty of ways to stay and explore.
KOA Holidays Feature:
RV Sites with a KOA Patio®
Deluxe Cabins with full baths
Premium Tent Sites
Group meeting facilities
Directions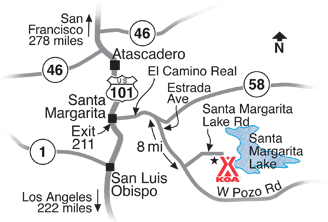 From Hwy 101 North and South:
Take Exit 211 for Santa Margarita Lake.
Go east 1.7 miles thru the little town.
Turn Right on Estrada Ave./Highway 58 East
Estrada Ave. becomes "J" St. which becomes W. Pozo Rd.
(Do not turn left on Hwy. 58 East)
Continue straight on W. Pozo Rd. for 7 miles.
Turn Left on Santa Margarita Lake Rd.
Go 1/2 mile up the hill.
The KOA will be on your right.
From East and Northeast of Santa Margarita KOA:
From Highway 41, 99 or 5...
Take Highway 46 West to US 101 in Paso Robles.
Take US 101 South to Exit 211.
No matter what GPS, Google Maps or Mapquest says...
DO NOT TAKE HWY 58 WEST, HWY 41 south of HWY 46 or HWY 229 TO REACH US.
These roads are narrow, winding and likely to cause car sickness.
We want you to be a Happy Camper when you arrive!
Get Google Directions
Jan 30, 2023
Loved the santa margarita koa. Sites we lage and the kids absolutely loved the playground.
Jan 27, 2023
Very nice koa, very well kept but such a bummer the so called manager wasn't very helpful and they have their store closed almost all day long. Being far from any stores it would be nice if they could keep that open normal hours.
Jan 23, 2023
Water was not drinkable without boiling it. No hot water in the shower. Much of the park had been ravaged by recent rain storms. The WiFi Signal was weak or nonexistent at all.Despite all rhese issues you still charge your guests $80 per night. Kevin the Emu was pretty cool.
CAMPGROUND RESPONSE / COMMENTS:
Guest, water boil notice was due to routine maint. to our water tanks the water was fine to drink and gets tested by the county, it was our decision to have a water boil for a precaution. Our park Wi-Fi is for limited use we don't recommend streaming movies. Our rates are posted on web. management
Jan 10, 2023
These cabins are very clean and functional for our family of 3. We enjoyed the hospitality the staff showed us also. Great visit!
Jan 10, 2023
Very nice campground, beautiful surrondings ,very nice people
Jan 05, 2023
The weather was raining. But the camp ground is helpful and nice. Is there shelter for Kevin the bird? Like a 3 wall sheltered spot? But all in all, great staff and nice area
Jan 05, 2023
Was absolutely wonderful just Perfect
Jan 04, 2023
Horrible. The road was washed out. Everything was closed including the office. The internet didn't work. The TV didn't work. The bathrooms were filthy. I was told that they only had pull thru and when I got there the place was nearly empty. It was the worst experience I ever had at a KOA and the most expensive at $126 with my KOA card. Stay away!!!!!
CAMPGROUND RESPONSE / COMMENTS:
Were very sorry for the roads in the park we recently received over 20 inches of rain in the last few months. Our internet is spotty due to the bad weather we use Starlink when its cloud its spotty, winter hours and rates are noted on web site. luckily there is a campground out there for everyone
Jan 03, 2023
We had another fun family vacation. We stayed in cabin 87 and it was perfect, clean and comfortable. Everyone we dealt with from checking in to check out was very kind and helpful.
Jan 03, 2023
Very friendly and accommodating
Jan 03, 2023
Excellent customer service, clean and accessible
Jan 02, 2023
This review has been removed by KOA due to profanity.
Jan 02, 2023
Had the best and most relaxing stay at Santa Margarita KOA. Thank you for maintaining cabin so well. Such an awesome experience!
Dec 29, 2022
All of the staff members are absolutely amazing,caring and professional. Thank you all.
Dec 29, 2022
First time there at Christmas and the weather and facilities and staff were spectacular!
Dec 28, 2022
The staff at Santa Margarita are very helpful and make it all worthwhile.
Dec 28, 2022
We loved it!! Warm at night in the cabins. Nice fire pits. Clean bathrooms/showers. Kevin the emu was very friendly and even let us pet him. Our daughter loved the jumping pillow. The staff was very pleasant. Great experience overall. We'll definitely camp there again.
Dec 22, 2022
It was a peaceful quiet stay & hardly any wind with all the trees and hills surrounding the RV Park. We loved our stay.
Dec 19, 2022
Great staff friendly and helpful. Nice campground everything was very clean. Great location.
Dec 19, 2022
Love the Yurt! Staff friendly and helpful as always
Dec 19, 2022
Power was out 8:30am-1:30am each night I stayed, was not notified of scheduled power outage until I arrived.
CAMPGROUND RESPONSE / COMMENTS:
Every guest was notified of the scheduled power outage at arrival and a written note was on every guest site map and the scheduled power outage was from 8am- 10 two hours each day. Sorry Staff
Dec 05, 2022
Wonderful!!!!
Nov 29, 2022
Well taken care of great people doing awesome work
Nov 28, 2022
Very friendly staff and excellent service. The jump pillow is the best!
Nov 28, 2022
Beautiful campsite, wonderful staff. A great experience.
Nov 28, 2022
Great and Friendly Staff :) We'll Kept Facilities Beautiful Surroundings
Nov 27, 2022
Cabin is clean and staffs are super helpful and kind�
Nov 26, 2022
We enjoyed our stay very much! Campsite was clean & large enough for extra tables & chairs for our group to hang out together. We also rented a cabin for my daughters & they were very comfortable, warm and slept well. Bathroom was clean & well stocked. The surrounding campers were respectful of the quiet hours & the noise level was never a problem. The hosts are very welcoming & helpful. Love it!
Nov 24, 2022
Super friendly staff. Very clean.
Nov 23, 2022
Cabins a little thread bare making value for cost less. Rules regarding pets are jumbled. Website said pets allowed in certain cabin, when we called to verify we were told no, so we took another. Folks with 2 dogs were in original cabin when we got there. Staff was otherwise terrific.
Nov 23, 2022
Great campground, really enjoyed it. I would have given it a 5 star but the wi fi was unreliable.
Nov 21, 2022
We stayed in a deluxe cabin that was almost perfect. Location was awesome, all the things provided in the cabin were exactly what was expected and needed. My only recommendation was to upgrade the mattress as it was not up to the standards of the place. The staff was top notch, extremely friendly and genuinely seemed to really enjoy their job. We will definitely be back!
Nov 15, 2022
The site was very clean and well managed. Our son loved playing on the jumping pillow and meeting the emu. Will definitely try to come back here again!
Nov 14, 2022
Family had great time. Staff very friendly and facility's super clean. Definitely go back. Thanks agian.
Nov 14, 2022
The campground was nice, everything was fun and quite. However, you all need to mount/secure the bunk beds in the cabins! Every time any one moved, it woke us all up. Very noisy bunks. And maybe get larger hot water heaters in bathrooms. The shower was hot for 5 min, then it turned cold! Ack! Otherwise, friendly service, helpful staff, good stay. Oh, and a group camp area would be wonderful!
Nov 14, 2022
Very clean. Very well kept. Super friendly staff. Most we've ever paid to tent camp.
Nov 14, 2022
We Really enjoyed our stay , the restrooms were clean and showers will definitely go back .
Nov 14, 2022
Took my grandson, he loved it and they had pizza at the store lol
Nov 11, 2022
It is a beautiful campground, a little off the beaten path, but still in reasonable proximity to Pismo, Avila, and other beaches. We also enjoyed visiting the historic district in of San Luis Obispo and Morro Bay. The campground is VERY hilly, the roads are mostly gravel, so use caution, especially after it rains. The staff was very pleasant and welcoming. Thank you.
Nov 07, 2022
Cabins is clean, good size for 2 bedrooms with mini kitchen equipped with all small appliances for making your meals. Got AC and heater. love the view and quietness of the place. The only downside is that our cabin , which is cabin # 84 dont have hot water, so were unable to get bath or shower, other than that we had a great stay and the entire facility is great and oh our cabin had great wifi and
Jan 20, 2023
Nice off the beaten path. In foothills with some nice rolling hills. Lake has some nice bike and hiking trails. Pretty in the spring and certain times of year. Can be really hot in summer at times. Staff seems friendly and helpful in summer. Quiet in winter and without much campground activities in the winter.
- C Ellis on Google
Jan 10, 2023
Wonderful service, great get a way location.
- Dr. Jasper Lowery on Google
Jan 10, 2023
Greatly enjoyed our stay at cabin site 87. Comfortable sleeping with all of the amenities. Excellent jumping off point for local wineries and/or Hearst Castle. Would gladly stay here again
- Collin McCullough on Google