Directions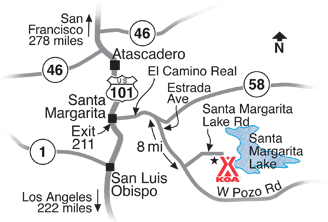 From Hwy 101 North and South:
Take Exit 211 for Santa Margarita Lake.
Go east 1.7 miles thru the little town.
Turn Right on Estrada Ave./Highway 58 East
Estrada Ave. becomes "J" St. which becomes W. Pozo Rd.
(Do not turn left on Hwy. 58 East)
Continue straight on W. Pozo Rd. for 7 miles.
Turn Left on Santa Margarita Lake Rd.
Go 1/2 mile up the hill.
The KOA will be on your right.
From East and Northeast of Santa Margarita KOA:
From Highway 41, 99 or 5...
Take Highway 46 West to US 101 in Paso Robles.
Take US 101 South to Exit 211.
No matter what your GPS, Google Maps or Mapquest says...
DO NOT TAKE HWY 58 WEST, HWY 41 south of HWY 46 or HWY 229 TO REACH US.
These roads are narrow, winding and likely to cause car sickness.
We want you to be a Happy Camper when you arrive!
Get Google Directions
Jan 22, 2021
The people are what made this experience great. Not a single employee at this location was anything less than stellar. Very kind, helpful and courteous.
Jan 19, 2021
We enjoyed our stay was very pleased staying in the deluxe cabin. Had everything we needed. Very friendly staff
Jan 19, 2021
Beautiful area. Big sites. Friendly people working there. WIFI is iffy and a slight sewer smell at times. Still... we will be back time and tile again.
Jan 19, 2021
Thank you to Kim Ann for her sweet, inviting personality. We had a great weekend at Santa Margarita KOA. Beautiful campground!
Jan 19, 2021
The staff was great and very helpful (Kim Ann). The campsite is clean, in a great location, and has amenities if that is your desire. Next time we may do a cabin but the KOA helped make our RV experience a great, memorable one.
Jan 19, 2021
We appreciate the always friendly and helpful staff!
Jan 18, 2021
We enjoyed our stay, made the best of our weekend given activities were closed due to Covid-19.
Jan 18, 2021
We stayed in a tent site and enjoyed our stay very much. The office staff was very friendly and accommodating. Would stay again.
Jan 17, 2021
Our midweek stay was super nice and quiet. Lots of deer and other wildlife to watch! Our space was nice and big with a reasonable distance to other spaces. Staff was helpful and friendly.
Jan 11, 2021
We very much enjoyed our stay! We hiked the grounds and took in lunch at that top, getting a view of the lake and the valley below. Kids loved visiting Kevin, their Emu. The grounds are well groomed, spots are good size, & the staff is beyond exceptional; especially Kim Ann. She is the absolute best. Super welcoming, knowledgeable, and so very kind. This KOA location is a hidden gem as is Kim Ann.
Jan 09, 2021
Absolutely loved this KOA!!! I have already told everyone I know I how amazing it is and we're making plans to return again soon. The office staff we're kind and helpful and the camp is well maintained and so much to do.
Jan 08, 2021
We had a piece full and great time
Jan 08, 2021
Great location, off the beaten path. Great staff and amenities. Will definitely be back!!
Jan 07, 2021
We enjoyed a relaxing stay. So much to do here. Walked to the lake for some fishing, didn't catch anything but enjoyed it. Rode our bikes. Played frisbee golf, that my son loved so much we did it two days in a row! Our dogs loved the pet area with obstacles! My son is still talking about Kevin the Emu too! Campsites were clean and all hookups worked!
Jan 06, 2021
Very clean, the cabins were warm and toasty with heaters before we arrived which was the end of December, the restrooms were also very clean with a bottle of Lysol for extra spritzing around, the staff was very helpful, i would definitely come again and look forward to renting another cabin in the future. �����
Jan 04, 2021
Very clean & quiet. Staff very friendly & helpful.
Jan 04, 2021
We enjoyed a Wonderful one week stay on the Mesa. A big shout out to Kim Ann and Daisy - both were friendly, courteous and efficient. The campground is very well maintained. The campground store was well stocked with all kinds of supplies. I would definitely stay at Santa Margarita KOA again as it is located in a very beautiful area of SLO county.
Jan 04, 2021
Great staff all around and beautiful area !! Will be staying again
Jan 04, 2021
WiFi worked off and on, park was too steep to bike and to get to the lake took $10 and a half mile down the road. The cost of the park was definitely over priced
Jan 04, 2021
It was good. Only thing I recommend is having paved rv sites instead of mud and gravel. The emu Kevin was a hit for my kids and the bouncy pillow. The scenery was nice with hills. It was very quiet when we arrived first night everyone was in trailers by 8pm. I didn't know people don't like to stay by the fire after 8.? We were the only ones up in our area lol.
Jan 04, 2021
Very friendly host, and proficient at her job. Nice, clean campsite and facilities.
Jan 03, 2021
Love the place
Jan 03, 2021
Great campground with a lot to do. Quiet and clean. Walking distance to the lake and really one of the best KOAs we have been to.
Jan 03, 2021
It was our first time staying with KOA and we were not disappointed at all. Customer service was great, noise was not an issue at all and RV sites are good sized. We will definitely be coming back!
Jan 03, 2021
Very nice clean
Jan 03, 2021
Friendly staff, clean site!
Jan 03, 2021
Park was great, everyone was nice. Pool was closed due to Covid. No bugs during winter season is a plus.
Dec 30, 2020
You have a wonderful, caring and fun team. We had a great time and we will definitely be coming back. We would like to thank: Kim Ann, Vince, Tracy and Daisy. You guys anticipated our needs and exceeded our expectations from the moment we arrived until checkout. We sincerely appreciate you all and wish you all the best for the new year. Thanks for making our vacation a great one! Mike,Maureen,Cole
Dec 28, 2020
Staff was very accommodating! So sad to be going home!
Dec 28, 2020
Lots of amenities and well maintained.
Dec 22, 2020
We camped with a group over Thanksgiving and were very impressed with the friendliness and hospitality of the employees. Thank you so much. We already have reservations for next year!
Dec 22, 2020
First time there, first time out with our trailer. I got stuck and Jonathan & Tyler (?) both came out and helped me ASAP and made feel not as embarrassed as I was feeling. Campground is super clean and staff is friendly. Will definitely visit again, but with a bigger truck LOL
Dec 17, 2020
Staff is Awesome! Tyler helped us in a bind. We were able to have my Husbands medication that was forgotten sent and office staff delivered to our site. 5 star!
Dec 16, 2020
Camp was clean and quiet, and the tent sites were spaced apart much more than expected. The facilities were clean. We didn't use the recreation items due to COVID causing them to be closed. I'd stay here again.
Dec 14, 2020
I love this place! Always so clean and comfy. The cabins are my favorite. I cannot wait to stay in a yurt the next time. You guys are awesome! We will be coming back soon! Thank you for the wonderful hospitality!
Dec 13, 2020
We had such a lovely stay! The campground was basically empty, which led to us being able to enjoy the peace and quiet of the scenery! It was absolutely beautiful! The grounds are kept very well and the staff is excellent. They were all extremely nice and accommodating. Since we stayed during COVID restrictions, amenities were closed but we still had a WONDERFUL stay!! Will be back 100%!!!
Dec 08, 2020
Loved the campground. Very clean and well kept. We enjoyed our cabin and loved hiking around the campground - even meeting Kevin the Emu!
Dec 07, 2020
Cabin was in perfect location. We arrived late and it was cold but they turned the heater on low so when we entered it was nice and cozy. Michelle in the camp store is absolutely awesome and friendly. We will be back!
Dec 01, 2020
So happy for 2night stay
Dec 01, 2020
Beautiful grounds, clean and friendly staff.
Jan 03, 2021
Grounds are groomed and place kept clean. Camp fires allowed. Staff very friendly and accommodating. Great family retreat. They have an Emu named Kevin our kids seemed to enjoy visiting. Close enough to Lake. My only downside was that people with dogs do not pick up after their business. The owners must figure the great outdoors gives them the luxury of not being responsible and anywhere is acceptable. Many step ins. Beware of where you step.
- jen westmoreland on Google
Jul 19, 2017
(Translated by Google) I loved very relaxing, the cabin very comfortable (Original) Me encanto muy relajante, la cabaña muy comoda
- Sir Peely on Google
Mar 31, 2019
Campinplatz in der Nähe der Pazifikküste. Wir nutzen diesen auf dem Roadtrip von San Fransisco nach Los Angeles. Gute Ausstattung mit Pool, Kiosk und Spielplatz.
- Patrick on HOLIDAYCHECK