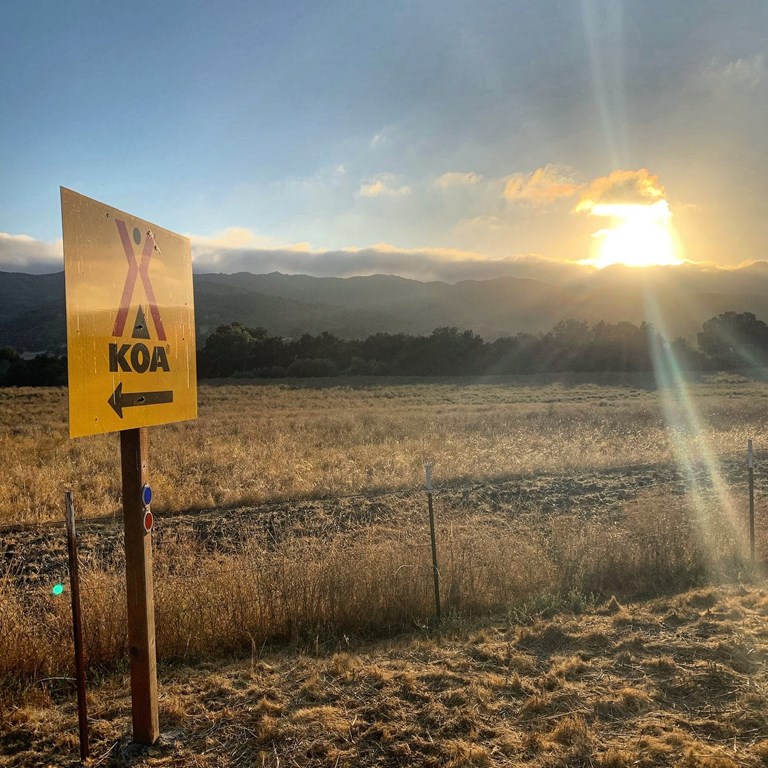 Santa Margarita KOA General Information
The Best Kept Secret in Central California!
General Campground Information
IMPORTANT DATES & TIMES
STORE/OFFICE HOURS:  May - October
8 a.m. - 8 p.m.  Fri. & Sat.
8 a.m. - 5 p.m.  Sun. - Thu.
November - April
Reduced Mid-Day & Mid-Week Hours
We still answer phones during these times.
POOL HOURS:  May - October
10 a.m. - 8 p.m.
QUIET HOURS:  10 p.m. - 8 a.m. 
(Turn off music & videos and use "indoor voices." Sound travels in these hills!)  
BRIGHT LIGHTS OUT:  11 p.m. 
(Turn off bright lights & enjoy the dark sky!)
CAMPFIRES OUT:  Midnight 
(Douse the fire with water and return to your assigned site.  Night Night!)
CHECK-IN & CHECK-OUT TIMES VARY BY SITE TYPE
CHECK-IN:
1:00 P.M.  RV & Tent Sites
3:00 P.M.  Cabins & Yurts
CHECK-OUT TIME:
NOON  All Sites
DAY-USE VISITORS:
10 P.M.  Day-Use Visitors must leave by 10 p.m.
EARLY CHECK-IN & LATE CHECK-OUT
May be available upon request for a fee.  Please call to inquire.
QUIET HOURS: 10 P.M. - 8 A.M.
A well-rested camper is a
Happy Camper
and we do our best to ensure that Quiet Hours are respected. If you are being disturbed by other Guests during Quiet Hours, please call Santa Margarita KOA at (805)438-5618, no matter what time it is.  Phones are answered 24/7. We will tactfully address the noise issue.  Please don't wait until the next morning to tell us about a noise issue that we could have resolved for you.
REGISTERED GUESTS & VISITOR POLICY
NOTE TO ALL REGISTERED GUESTS:Upon Arrival, each person and each vehicle must STOP & REGISTER in the store.
Every vehicle must display a KOA car tag while on the campground.
Please provide all vehicle license plate numbers and the number of adults & children at Check-in.
Please do not invite Non-Registered Visitors to your site.  Non-Registered Visitors must purchase a Visitor Pass in the Office.
The total of Registered and Invited Visitors, including babies and children, may not exceed the Maximum Capacity for the Site.
Maximum Capacity for All Sites is 4 - 8 People.  Please verify the Max Capacity of your site during Registration or Check-in.  
ADDITIONAL OVERNIGHT GUESTS JOINING A REGISTERED GUEST:
Additional Guests in Cabins & Yurts:  $10/Person/Night
Additional People in RV & Tent Sites:  $7/Person/Night
Additional Guests Under the Age of 7:  FREE
DAY-USE VISITOR PASS: 
$5/Person  & Children Under Age 7 FREE
TUESDAYS:  Free Swim Day for Local Residents Within 25 Miles of Santa Margarita KOA
No Day-Use Passes on Fridays, Saturdays or Holiday Weekends.
All Day-Use Visitors Must Leave the Campground by 10 p.m.
FIREWOOD POLICY
Santa Margarita sells seasoned oak and pine firewood at competitive prices.  Currently, guests may bring their own firewood to the campground; but there is a rumor that that may change in the near future.  We have firestarters, roasting forks and all the makings for S'mores in our store.  Each site comes with a fire ring on the ground with a grate over half of the grill for cooking.  Some sites have a stand-up grill for charcoal, which we also sell. 
Do not move the fire ring. 

Keep flames below 3 feet.

Fire must be attended at all times.

Please douse fire with water before checkout.

Do not put ashes in dumpster.

ALL FIRES MUST BE OUT BY MIDNIGHT

Meet Your Hosts
Santa Margarita KOA is "The Best-Kept Secret on the Central Coast!"
The Jacobsma Family and Partners have owned the Santa Margarita KOA since 1989. We love helping others enjoy the great outdoors and make memories that will last a life time. Our business is your leisure.  Please come & be our Guest.