Alert
Effective June 12, 2020: SANTA MARGARITA KOA IS OPEN FOR ALL TYPES OF CAMPING WITH A TWO-NIGHT MINIMUM STAY…BUT California is still under a Stay-At-Home Order. Please assess your health risk and ability to travel at https://covid19.ca.gov/stay-home-except-for-essential-needs/ before making a reservation. We will follow the California Department of Public Health (CDPH) Guidelines. Guests are encouraged to bring their own hand sanitizer and disinfecting products, to practice social distancing and frequent handwashing, and to not gather in groups of more than 10.

***All Summer Group Activities have been cancelled.
***Our public restrooms and showers are open.
***Our pool is open to 40 Guests at one time in two-hour sessions.
***Our Jumping Pillow and playground are officially closed.
***No linens or towels are provided in Deluxe Cabins.

*****Thank you for your patience during the COVID-Craziness. You may close this Alert box to explore our website. Please call us to check availability...even if the website says, "These Sites Are Not Available." We are still Happy Campers at Santa Margarita KOA (805)438-5618.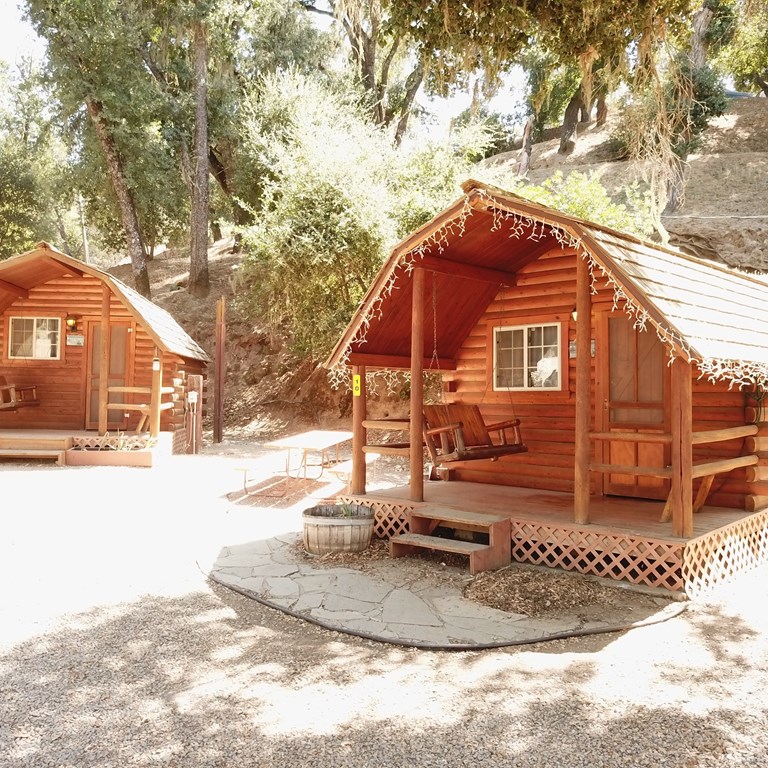 Santa Margarita KOA Map
The Best Kept Secret in Central California!
Directions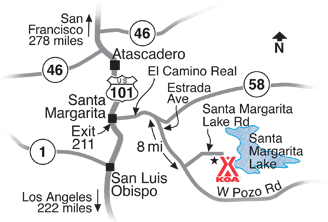 From Hwy 101 North and South:
Take Exit 211 for Santa Margarita Lake.
Go east 1.7 miles thru the little town.
Turn Right on Estrada Ave./Highway 58 East
Estrada Ave. becomes "J" St. which becomes W. Pozo Rd.
(Do not turn left on Hwy. 58 East)
Continue straight on W. Pozo Rd. for 7 miles.
Turn Left on Santa Margarita Lake Rd.
Go 1/2 mile up the hill.
The KOA will be on your right.
From East and Northeast of Santa Margarita KOA:
From Highway 41, 99 or 5...
Take Highway 46 West to US 101 in Paso Robles.
Take US 101 South to Exit 211.
No matter what your GPS, Google Maps or Mapquest says...
DO NOT TAKE HWY 58 WEST, HWY 41 south of HWY 46 or HWY 229 TO REACH US.
These roads are narrow, winding and likely to cause car sickness.
We want you to be a Happy Camper when you arrive!
Get Google Directions
Santa Margarita KOA Campground Map

Santa Margarita KOA
Open All Year
4765 Santa Margarita Lake Road
Santa Margarita, CA 93453
Check-In/Check-Out Times
Accommodations, Deluxe Cabins, Log Cabins & Yurts
Check-in: 3:00 pm, Check-out: 12:00 pm
RV Sites, Tent Sites, RV & Tent Sites
Check-in: 1:00 pm, Check-out: 12:00 pm
Operating Hours
Sunday: Open 24 hours
Monday: Open 24 hours
Tuesday: Open 24 hours
Wednesday: Open 24 hours
Thursday: Open 24 hours
Friday: Open 24 hours
Saturday: Open 24 hours
Get Google Directions

© 2020 Kampgrounds of America, Inc.