Santa Margarita KOA Holiday Recreation
MEMORIAL DAY TO LABOR DAY AND BIG HOLIDAYS:  Saturdays are "normally" BIG DAYS at the Santa Margarita KOA from Memorial Day to Labor Day Weekend. Start Saturdays with CRAFTS in the Party Yurt. Paint a birdhouse, picture frame, souvenir backpack or T-shirt ($$$). Then hang out at the pool and chill off with a snow-cone. On Saturday afternoons, watch for our GIANT SLIDE and FOAM PARTY with 4 feet of bubbles near the volleyball court. Fun for all ages and some great photo opportunities. Enjoy FREE Sunset Hayrides or on select weekends, be part of our SUPER SOAKER HAYRIDES, just be sure you are ready to get wet! End your Saturday with an outdoor movie on a giant 16-foot screen under the stars. 
The Giant Jumping Pillow is open from 9 a.m. to 9 p.m. & FREE to Guests. Tetherball and bean bag toss nearby. A Horseshoe Pit is below the Jumping Pillow. Check out disc golfs & sports balls from the store. Enjoy the non-heated swimming pool from 10 a.m. - 8 p.m. The Party Yurt is open from 8 a.m. - 10 p.m. with a big-screen TV and tables for playing board games. Holiday BINGO on Holiday Sundays in Party Yurt at 8:00 p.m.
Light up your nights with a campfire, s'mores & Mystical Fire packets that make your flames colorful for 20 to 25 minutes. Of course, we sell ice, beer, water, oak firewood, fire starters, s'more stuff & Mystical Fire in the store. Bring Your Own Ghost Stories & Ghostbusters!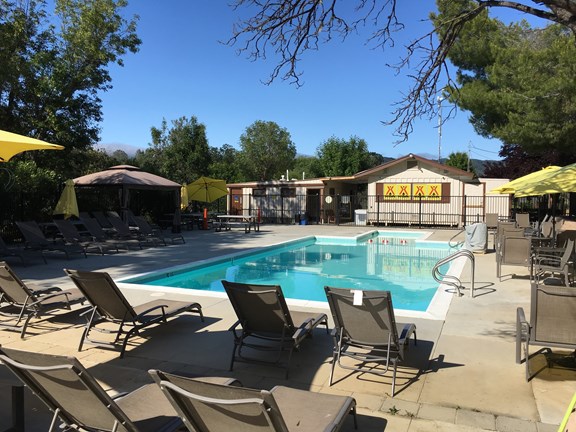 Refreshing Swimming Pool
The pool is open seasonally from May through October. Pool Hours: 10 AM - 8 PM. It is free for Santa Margarita KOA Guests.  The pool is not heated; but, you won't care on our 100-degree days!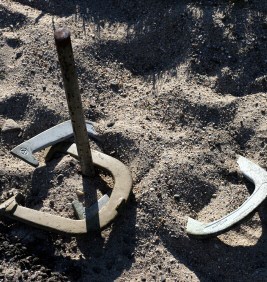 Horseshoes
Our horseshoe pit is regulation size. It is located just below the playground area. This is a great activity for parents to pass the time while their children play at the playground, or even for children to pass time while their parents play on the Jumping Pillow!
9-Hole Disc Golf Course
Enjoy our 9-hole Disc Golf Course. Installed by professional disc golfers, the course offers a gently rolling open terrain while remaining completely family-friendly. Santa Margarita KOA Guests play free and can checkout discs from the KOA Store.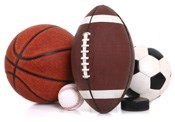 Sports and Games
We have basketballs, soccer balls, volleyballs, horse shoes, board games and more. All the fun you can imagine, and it's all FREE! Just visit the Party Yurt or the KOA Store.  Our Disc Golf Course is in sad shape; but still offers a challenge.  Campers may checkout discs from the KOA Store.  If you disc goes in the goats' pen; leave it there adn let us know.
Giant Jumping Pillow!
The Santa Margarita KOA Jumping Pillow is open from 9 AM - 9 PM and is free to all campers. Located in the center of our campground, the giant Jumping Pillow is worth the trip to our KOA alone! Enjoyed by both children and adults, the 50-ft. bounce house without walls is a camper favorite. Benches and tables are provided if you would rather sit and watch. The Jumping Pillow is located near our playground, swing set and horseshoe pit. Our Jumping Pillow makes aerobic activity as fun as can be!
PLEASE REMOVE SHOES!  Shoes damage the Jumping Pillow.  Wear socks to beat the midday heat or wait until the sun goes down for high-jumping fun!  Do not flip upside down.  Please do not walk or ride bikes on the Pillow when it is deflated.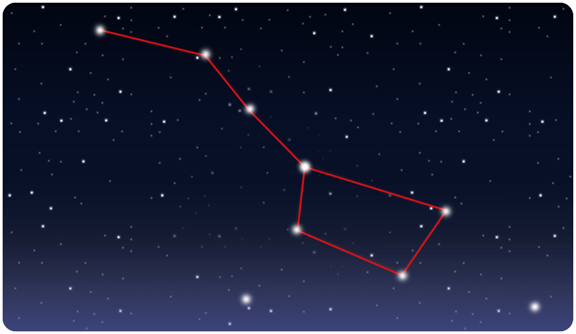 Dark-Sky Stargazing
Unplug, unwind and leave the city lights behind and stargaze on Santa Margarita KOA's hills.  No need for a telescope.  You will be amazed at how many stars you can see with the naked eye.  Come on a New Moon to see the Milky Way and the best viewing ever.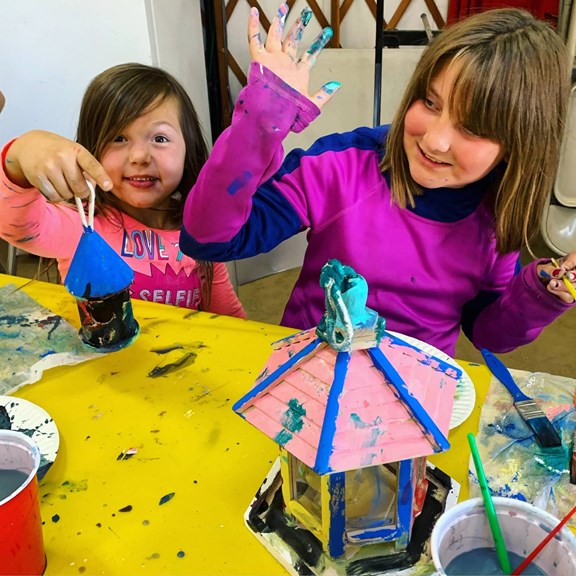 SATURDAY ARTS & CRAFTS IN PARTY YURT
ARTS & CRAFTS IN THE PARTY YURT ON SATURDAYS AT 10 A.M. FROM MEMORIAL DAY TO LABOR DAY.  Kids of all ages will enjoy our ColorTime Fabric Paint crafts  Campers can customize a Santa Margarita KOA Souvenir backpack or T-shirt with fabric paint or paint a birdhouse or picture frame.  Parents & Grandparents enjoy the Arts & Craft time as much as the kiddoes. Craft Fee:  $5 - $10.  (Free coloring activities available upon request.)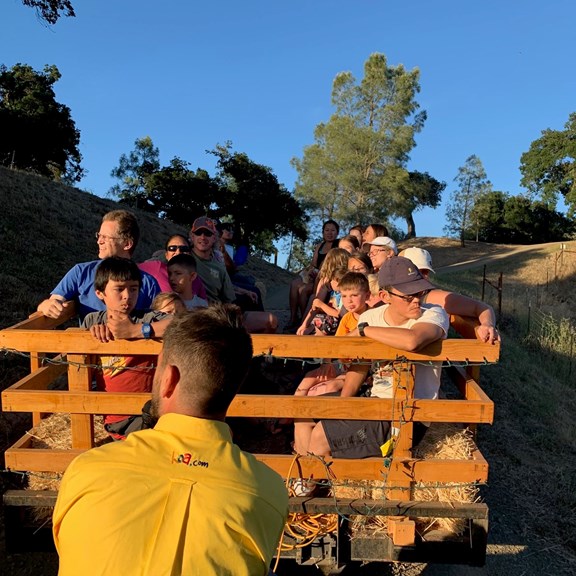 Hayrides on Saturday Evenings
Join us for Hayride Tours of our 69-acre Santa Margarita KOA narrated by the Owners.  Hayrides leave from the KOA Store at 6 p.m., 6:30 p.m. and 7 p.m. on Saturday evenings from Memorial Day to Labor Day.  Yee Haw!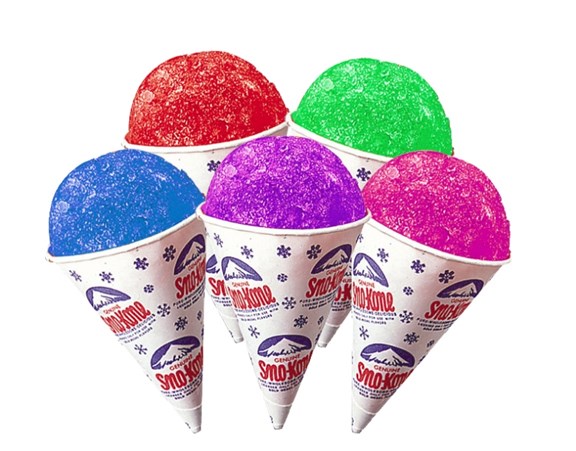 Snow Cones by the Pool - Summer Saturdays
Chill by the Pool with Snow Cones, Slushies & Iced Coffee available in the Snack Shack on Saturdays 1 - 3 p.m.  Snow Cones:  SM $2, MED $3, LG $4.  Iced Coffee: $5.  Ask for whipped cream in your slushie for a Sweet Treat to Beat the Heat!  Popcorn & peanuts available, too.  Prices subject to change without notice.
Local Area Recreation