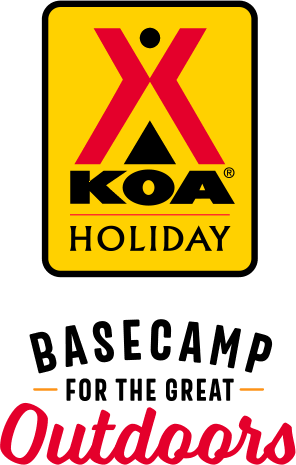 KOA Holiday Campgrounds
Whether you're exploring the local area or hanging out at the campground, KOA Holidays are an ideal place to relax and play. There's plenty to do, with amenities and services to make your stay memorable. Plus, you'll enjoy the outdoor experience with upgraded RV Sites with KOA Patio® and Deluxe Cabins with full baths for camping in comfort. Bring your family, bring your friends, or bring the whole group – there's plenty of ways to stay and explore.
KOA Holidays Feature:
RV Sites with a KOA Patio®
Deluxe Cabins with full baths
Premium Tent Sites
Group meeting facilities
Directions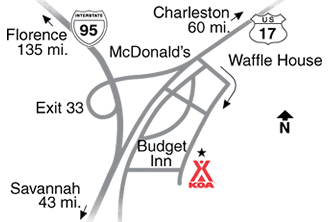 I-95 (Exit 33) at US 17 turn at the Waffle House 
GPS Info. (Latitude, Longitude): N32.625278, W80.882222
Get Google Directions
Sep 01, 2021
We had to cut out trip short and had to move our checkin date up 2 days and they were very helpful finding us room.Thank you very much.
Sep 01, 2021
Great campground! Very pleasant staff. We loved the pool. Super clean and well kept. We will be back!
Sep 01, 2021
Beautiful campground, lots to do, patio site near pool was nice, pizza delivered to your site! Very friendly staff, a little challenging dead end curvy road with our class A motor home, would stay again and longer next time
Sep 01, 2021
Exceptional layover spot during our travels north from Florida; clean and quiet; easy access on/off I95, with Exxon/Shell stations. Hungry there's a Waffle House/McDonald's at the camp entrance or a Love's truck stop with a Hardee's at the next exit north. This place was every convenient during our travels and my highest recommendation is; we'll be returning on our travels on I95 north/s
CAMPGROUND RESPONSE / COMMENTS:
Thank you for your kind review. We also serve fresh to order pizza and wings delivered to your site on property; as well as, wine flights and glasses from 6 regional wineries, a full line coffee bar and our own local craft beer on tap. Cheers. Jennifer ~
Sep 01, 2021
Very poor wifi
CAMPGROUND RESPONSE / COMMENTS:
Please let the front office know. We have 6 independent routers for our 57 site campground. You were under your own at lot 13. We let you know to pull from the closest lot number with strongest signal. We could have assisted you while you were here had we known if you even reviewed the correct park
Aug 31, 2021
Quick overnight stop. Kids enjoyed the pool. Great pizza and wings on site for dinner. Very clean campground. Friendly staff! We enjoyed walking the trail to the lake to spot an alligator!
Aug 31, 2021
Close to the interstate. Nice campground.
Aug 30, 2021
Friendly knowledgable staff, escorted to site, would recommend..
Aug 30, 2021
As always, we had a great time and will be back!
Aug 30, 2021
The staff was ultra friendly and helpful. Great food and coffee. Very clean facility. I am very impressed.
Aug 30, 2021
Nice shade. A little ponding at our site due to recent rain. Perfect location for resting from the interstate drive.
Aug 30, 2021
Nice stay, the staff is very attentive.
Aug 29, 2021
The breakfast Pizza is delicious!! Bathrooms are clean and the staff is very nice.
Aug 29, 2021
As always, super clean KOA with caring and professional staff. Always a great stay when traveling on 95. We ordereded pizza and wings for dinner and were completely satisfied with both price and taste. Office and escort staff really showed pride in their assistance and help.
Aug 29, 2021
Always a pleasure to spend a couple days here. Friendly staff and clean facilities. And the pizza is good!
Aug 29, 2021
What a great stay! Only spent one day there and my wife and I loved it. The employees are nothing less then fantastic. The grounds are well kept and the pizza was delicious. We will be back for a longer sty in the near future.
Aug 29, 2021
Made last minute reservation but got a good site, very level and with gravel, pull through so we did not have to unhook for an early departure the next day. Campground is nice and wooded easily accessible with a very friendly staff. We will certainly plan to stay there again.
Aug 28, 2021
Very convenient to I95. People were very friendly. Great shaded lots. Perfect pizza delivered to our campsite.
Aug 28, 2021
Ok for a 1 night stay. Not much to do there.. Fire Ants all over our campsite. Bit my foot and they are very painful. Wish they would do something about that.
CAMPGROUND RESPONSE / COMMENTS:
We have many who stay multiple nights as we are in the heart of historic Lowcountry with plenty to do off and onsite as the reviews have reflected. One rain shower pop ups fire ant hills. Open 8 am - 9 pm any staff member would have been More than happy to help had we known. Happy travels. Jennifer~
Aug 27, 2021
Great access. Truly a campground (not a trailer park overrun with seasonals). Enjoyed pizza, wine and a great conversation with work-campers. Thoroughly enjoyed in no small part due to the pleasant friendly time with the work-campers! A "go to" on our north/south list!!
Aug 27, 2021
The staff were friendly and very accommodating! Unfortunately we could only stay one night and the lodging was super clean and very well decorated. Loved it and we will be back!!!
Aug 27, 2021
Cleanest showers. Easy on and off I-95.
Aug 27, 2021
Been here many times, excellent friendly staff
Aug 27, 2021
Very nice campground. Pleasant and efficient personnel. Nice bas in the office building.
Aug 27, 2021
Awesome people. Easy to get to/from. Safe and secure. Could stand to mow a little more often. 51B BBQ brush and grill need work. Stinky water - backwashing helped. Self contained folks may want to come with good water in tank to use to flush lines.
CAMPGROUND RESPONSE / COMMENTS:
Beaufort Water Authority our city water company has finally resolved the sulphur issue in the water. After 38 years it was definitely an anomaly. We will look at the grill on site 51B. Thank you for choosing Point South KOA. Jennifer ~
Aug 26, 2021
Very nice CG, love the amenity of having a pizza place ON PREMISES. Their dinner pizza AND their breakfast pizza are delicious. Guide took us to site. A little drive from I - 95 with low hanging trees en route. Pretty CG, mini golf. Good hook ups. Noon check out for RV sites. Always like KOAs. You cannot go wrong.
Aug 26, 2021
Very friendly staff, nice grounds, clean and staff was extremely helpful
Aug 26, 2021
Nice folks. Good facilities. Easy in and out.
Aug 26, 2021
Was only one night while passing through but definitely would stay there again for a longer visit. Staff was friendly and welcoming. Very thorough in explaining park rules and information. Park was clean and quiet with beautiful trees and facilities. Didn't have the pizza while we were there but it smelled wonderful when we checked in!! The coffee bar was lively too!
Aug 26, 2021
Very good park with excellent staff except for one bad apple. Fortunately they also a first class competent apple ( Billy) who easily and promptly corrected the actions of the bad apple
Aug 25, 2021
We are local to the area (Bluffton). We brought the fifth wheel up to be serviced by a mobile rv guy. We really liked the campground and have decided that we will be coming for a long weekend or two in the fall. Your guy Joe is outstanding, a big reason why we will be coming back. Looking forward to seeing you again soon.
Aug 25, 2021
Too cool awesomeness
Aug 25, 2021
We were super impressed! The staff were very friendly, the facilities were clean. The camp store had a large variety of items, even made to order pizza and wings, local craft beer and wine tasting....it was a very relaxing weekend trip.
Aug 25, 2021
The campground is very clean, the sites are good size, the staff is very friendly, courteous & helpful. The escort to the site is very helpful. The pizza is delicious and very welcome after a full day of driving/traveling.
Aug 25, 2021
Smelly water no one responded to my email
CAMPGROUND RESPONSE / COMMENTS:
We are sorry for not getting back but We never received your email. The water authority for the region cleared up the issue as we are on a public system. We regret the inconvenience but the problem was resolved by our supplier. Bill O
Aug 24, 2021
The owners/staff were all friendly, helpful, and knowledgeable. The campground and all facilities were spotless, well-maintained, and full of amenities. 100% would stay again! Thank you!
Aug 24, 2021
Just a stopover one night stay, but the campground was so nice….very clean. Staff was very friendly and helpful. The added touch of a coffee/wine bar was really nice. They also had a pizza place….ours was delicious. Definitely recommend staying here!
Aug 24, 2021
It was just an overnight stay but very pleasant & professional.
Aug 23, 2021
Excellent One of the best I have stayed at.
Aug 23, 2021
rustic 2 room cabin with AC, TV, and internet. Close to bathrooms and showers. Great hospitality from office and support staff. The porch swing was the best!
Aug 23, 2021
This is my 2nd time staying at this campground and have not been disappointed. The sites are nice and not on top of one another. The campground is VERY clean and well kept. The staff here is very friendly and very nice made you feel welcomed. Will definitely be back if goi going back that way. Nice stopping point to be able to visit Charleston, SC and Savannah, GA. Overall GREAT campground.
Aug 23, 2021
Beautiful park, large sites, very friendly, great service and great Pizza! Third time here we stop on way up and back from Florida to Syracuse.
Aug 23, 2021
checked us in quickly, place was clean and nice, had great beer
Aug 23, 2021
Staff was very friendly and helpful. Our short stay was very enjoyable! Thank you.
Aug 22, 2021
Best KOA I've ever stayed at. My only complaint is minor. My Motorhome is 13 ft 2 inch's tall and the trees need trimmed. Three of them dragged across the top of my coach even though I drove as best I could to miss them
Aug 22, 2021
EVERYONE friendly very relaxing
Oct 16, 2021
This is one of the nicest KOAs we have been to. Have stopped here 3 times since May 2021. The staff is so friendly and helpful. The grounds are beautifully kept. Had a problem when we stopped in September. They offered to let us have one of the cabins for the night. Turned out we didn't need it but we're very grateful for the offer. We will stay here every time we are heading through. Customer service is A++++
- Kathy Gabel on Google
Oct 14, 2021
5-star for sure. Our RV's surge protector showed that there was an issue with the electrical connection from the park at 10:00 p.m. this past Saturday night. But, the issue was actually with our surge protector. Bill on the KOA team came out and very cheerfully and carefully tested the connection to our rig inside and out and determined that the connection from the park was safe. He spent a good 45 minutes ensuring all was in order. This kind of service late on a weekend night was much welcomed after a long day of driving.. Two thumbs up, and this park will be our stop on many future north-south trips.
- Dave Mahoney on Google
Oct 14, 2021
A three day R&R for us..shaded campsites. Gravel pad but spot on level! Watched the efficient staff prepare recently vacated sites, they sprayed the electrical boxes, water spigots and sanitary connections with disinfectant, then wiped them off. The staff was extremely friendly and cordial, stopping to chat and make one feel at home. The office is neat as a pin with a really sharp, fancy coffee machine! We will return as it's only 2 1/2 hours from home.
- dennisbH3232UE on Trip Advisor