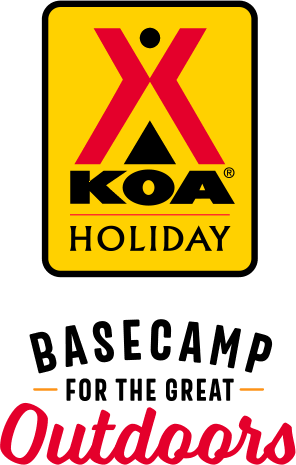 KOA Holiday Campgrounds
Whether you're exploring the local area or hanging out at the campground, KOA Holidays are an ideal place to relax and play. There's plenty to do, with amenities and services to make your stay memorable. Plus, you'll enjoy the outdoor experience with upgraded RV Sites with KOA Patio® and Deluxe Cabins with full baths for camping in comfort. Bring your family, bring your friends, or bring the whole group – there's plenty of ways to stay and explore.
KOA Holidays Feature:
RV Sites with a KOA Patio®
Deluxe Cabins with full baths
Premium Tent Sites
Group meeting facilities
Directions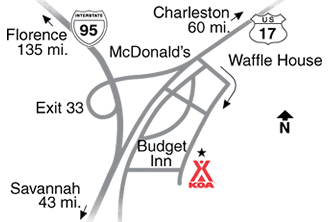 I-95 (Exit 33) at US 17 turn at the Waffle House 
GPS Info. (Latitude, Longitude): N32.625278, W80.882222
Get Google Directions
Oct 16, 2021
Very clean and the folks working there were very welcoming!!
Oct 13, 2021
Great cabin. Friendly people. We will definitely be back! It was also close to sight seeing locations for the family.
Oct 12, 2021
Wonderful team, great hospitality and beautiful lake walk with Gators:). Loved our cabin with a bathroom! Nice grill to use and fire pit too. Would highly recommend and definitely hope to visit again.
Oct 11, 2021
We stayed in the Deluxe cabin - it was beautiful - spotlessly clean and so pretty inside. Well stocked with basic supplies. Loved the fire pit and the grill. Spent most of our time outside enjoying the great outdoors. But the highlight in my mind was the staff. Every single person we dealt with was so friendly and so helpful. Definitely an outstanding KOA!!
Oct 11, 2021
The staff was very friendly and helpful. We stayed in a cabin which was very clean and ready for us when we arrived. The only thing that was a bit disappointing was that the grounds and landscaping needed a bit of attention.
Oct 10, 2021
Our second time staying there. We will be back! We love the area and the staff is first rate.
Oct 09, 2021
Very Convenient and easy to access on our trips .... Have used this campground 12+ times before and never had any issues.... Very friendly staff and facilities
Oct 04, 2021
Had a great time! Loved the Caboose! The KOA had some great stuff.
Oct 04, 2021
It was wonderful!
Oct 03, 2021
Great stay, staff was incredible. Especially Sue.
Sep 30, 2021
I was travelling with 2 small dogs and this was the perfect solution for an overnight stay. Lots of places to walk them and I even ordered pizza delivered dinner. Great staff and very clean.
Sep 29, 2021
Staff was awesome and so was the cabin we rented.
Sep 26, 2021
I have been to these koa cabins several times & will definitely be back. Staff is ALWAYS welcoming and friendly. I will say this time the cleaning was a bit lacking in the cabin. There was a pile of cigarette ash on the bed table & it smelled of cigarette though its a non-smoking facility. The floors were also not mopped & table was sticky in In these times, attention to detail is important.
CAMPGROUND RESPONSE / COMMENTS:
You are so correct, as it is all in the details. We are so sorry for this misstep and it will be addressed. As you know this is out of our norm and we are very diligent in cleaning, sanitizing and making it great as consistently possible. Thank you for your kind review and letting us know. Jennifer
Sep 18, 2021
It was a last minute thing. Mary took really good care of my and got me a deluxe cabin for the night. It was so fully stocked that, had I known that, I would not have to bring anything in from the truck. It had dishwashing liquid, pots, pans, dishes, silverware, barbecue utensils. It was great. It had a great view, was private. The grounds were great and the dog had a blast. I would rate a 6
Sep 17, 2021
We were passing through with our dogs. We stayed in a cabin and it was wonderful. Made us wish we were staying longer! The cabin was great, with a front and back porch. Long walking trail for the dogs. We had a wonderful time and would stay there again. Ben and Sue were GREAT hosts.
Sep 14, 2021
Almost magical! Everything was perfect and the staff were the best!
Sep 09, 2021
We had a one night stay and liked the campground amenities and wanted to return. Our next stay was for three nights and it was great. Great customer service, a nice pool, an espresso machine, smooth jazz playing in the bathrooms, a life size chess board! Additionally, it is close to the lovely city of Beaufort, SC
Sep 07, 2021
Great staff and clean restrooms
Sep 06, 2021
Loved this stay, cabin was well stocked and clean. The staff was polite and friendly. The only concern was after a few days there was ants on the counter. We would stay here again and recommend this KOA to everyone
CAMPGROUND RESPONSE / COMMENTS:
We will call the exterminator in the morning when they open from the holiday to deal with the sugar ants. Thank you for your kind review. Jennifer~
Sep 01, 2021
the full service cabins are amazing...so much nicer than staying in a hotel when traveling
Aug 27, 2021
The staff were friendly and very accommodating! Unfortunately we could only stay one night and the lodging was super clean and very well decorated. Loved it and we will be back!!!
Aug 23, 2021
rustic 2 room cabin with AC, TV, and internet. Close to bathrooms and showers. Great hospitality from office and support staff. The porch swing was the best!
Aug 22, 2021
Stayed in K3, was very clean, employees were all polite and attentive. Excellent place to stop for our one night passing through.
Aug 18, 2021
Though the purpose of my stay at Point South was personal business as opposed to vacation, I wished it was vacation. This is a very nice KOA with many activities to provide a great time. The staff members were quick to offer any assistance needed to make my stay perfect. The deluxe cabin I stayed in was well-maintained and comfortable. Additionally, linens were provided, simplifying my visit.
Aug 17, 2021
Perfect way to beat the heat in the south? Stay in the comfortable Frampton Lodge at Point South KOA & enjoy quiet relaxation in the pool! Order a tasty breakfast pizza & scrumptious iced coffee to start any day at The Swimming Mermaid Coffee House & Wine Bar. Enjoy pizza or wings for lunch or supper & finish the day off with a delicious wine flight, or local beers on tap. Hope y'all enjoy!
Aug 15, 2021
Cabin was nice and maintained, the water in bathroom had a strong sulfur smell and taste while brushing teeth & showering. Other than that we would love to visit again.
CAMPGROUND RESPONSE / COMMENTS:
This anomaly is lingering as is for a week with the aquifer being below level. We are diligently working with our city water and sewer authority on a solution. Thank you for being understanding and the kind review. Jennifer ~
Aug 15, 2021
We love everything about KOAs! This was our second time at Yamesse & we will be back for sure! I forgot I booked a cabin with a loft & that was a nice surprise. The only thing that bothered us was the pluming smell when we ran water.
CAMPGROUND RESPONSE / COMMENTS:
Thank you for your kind words. We are on city sewer and are working feaverishly with Beeaufort Water Authority to rectify this issue. The water has dropped below the aquifer creating the sulpher smell. So sorry for the inconvenience. It is an anomaly and doing everything to fix it ASAP. Jennifer~
Aug 14, 2021
Very clean cabin. Very nice campground too. Excellent lighting and signs. We definitely plan to return To this campground!
Aug 14, 2021
We loved our stay! It was awesome. The grounds and cabin was extremely clean . Definitely coming back
Aug 12, 2021
Loved it! Gave us the chance to earn a Girl Scout Badge and have fun too!
Aug 10, 2021
we had a wonderful time. Really enjoyed the caboose.
Aug 09, 2021
The staff was warm, inviting, and helpful right off the bat and throughout our stay. The campground was organized and clean. Our fellow campers were open and nice. Overall we enjoyed our stay and would stay there again - no doubts!
Aug 08, 2021
Myself and 6 grandkids..wonderful. lake and surroundings..spotting alligators.. swimming pool..doggy park.. Landry Mat..wonder, and amazing. Thank you.
Aug 08, 2021
My family and I stayed here and we had an amazing time. The staff is great, the place was clean, cozy, and quiet. I would highly recommend other people staying here, it is by far the best place I have stayed away from home. We have been to this KOA multiple times, and everytime we have stayed, we have always left with a wonderful experience. I am very thankful to have found KOA.
CAMPGROUND RESPONSE / COMMENTS:
Thank you for continually choosing to camp at Point South KOA. We enjoy having you as you travel through our beautiful Lowcountry. Happy Camping. Jennifer~
Aug 06, 2021
We stayed in a great cabin and the kids really enjoyed it!!
Aug 06, 2021
Cabin was clean and well stocked! Campground was shady, well maintained and all the staff were very friendly!! Clean pool area. Kids loved the playground. Doggie walk was fun for the kids to go too ! Will definitely go back!! �
Aug 05, 2021
Our stay at this campground was great! The staff and host were all very friendly and helpful. The campground is beautiful. Our cabin we rented was very cozy and comfortable. The bathrooms and showers were very clean. We also ordered a pizza, it was convenient and delicious. We will definitely be back!
Jul 28, 2021
Nice people and very nice cabin. Definitely recommend
Jul 22, 2021
The Yemassee KOA is lovely! It is conveniently located off of 95, and the campground amenities are excellent.
CAMPGROUND RESPONSE / COMMENTS:
We are so glad you enjoyed our honeymoon lodge at Point South KOA in Yemassee. It was a pleasure hosting your stay. Happy camping. Jennifer ~
Jul 20, 2021
Cabin was spotlessly clean and well equipped. Cheri in office went out of her way to get our day started with a latte and coffee
Jul 19, 2021
My family and I were there for the weekend ... we had a little problem with the electric on our campsite but it was attended to right away ... staff is always pleasant when we're there ... we love staying at this koa!
Jul 07, 2021
This is our second visit here. It's a wonderful campground. Out little cabin was spotlessly clean, and cooled by air conditioner so when we arrived it was like walking into our own little oasis! The staff was friendly and helpful. Love the wine bar!
Jul 06, 2021
It was wonderful amazing ppl
Jul 06, 2021
A lot of potential but needs cleaning and maintenance.
CAMPGROUND RESPONSE / COMMENTS:
Sorry we weren't a match. As reflected in the reviews we are known for our cleanliness. The kaboose has new a/c, clean small fridge, newly painted. Awards 2021: Founders, President, Luxe Tourism, Travelers Choice, Jasper Co Business of the Year proves our continued dedication to world class service.
Oct 16, 2021
This is one of the nicest KOAs we have been to. Have stopped here 3 times since May 2021. The staff is so friendly and helpful. The grounds are beautifully kept. Had a problem when we stopped in September. They offered to let us have one of the cabins for the night. Turned out we didn't need it but we're very grateful for the offer. We will stay here every time we are heading through. Customer service is A++++
- Kathy Gabel on Google
Oct 14, 2021
5-star for sure. Our RV's surge protector showed that there was an issue with the electrical connection from the park at 10:00 p.m. this past Saturday night. But, the issue was actually with our surge protector. Bill on the KOA team came out and very cheerfully and carefully tested the connection to our rig inside and out and determined that the connection from the park was safe. He spent a good 45 minutes ensuring all was in order. This kind of service late on a weekend night was much welcomed after a long day of driving.. Two thumbs up, and this park will be our stop on many future north-south trips.
- Dave Mahoney on Google
Oct 14, 2021
A three day R&R for us..shaded campsites. Gravel pad but spot on level! Watched the efficient staff prepare recently vacated sites, they sprayed the electrical boxes, water spigots and sanitary connections with disinfectant, then wiped them off. The staff was extremely friendly and cordial, stopping to chat and make one feel at home. The office is neat as a pin with a really sharp, fancy coffee machine! We will return as it's only 2 1/2 hours from home.
- dennisbH3232UE on Trip Advisor