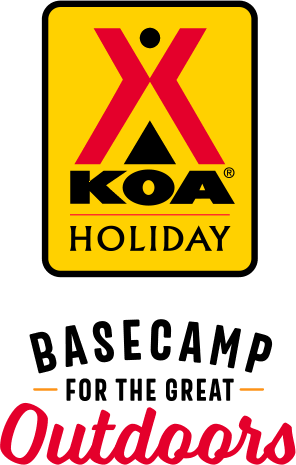 KOA Holiday Campgrounds
Whether you're exploring the local area or hanging out at the campground, KOA Holidays are an ideal place to relax and play. There's plenty to do, with amenities and services to make your stay memorable. Plus, you'll enjoy the outdoor experience with upgraded RV Sites with KOA Patio® and Deluxe Cabins with full baths for camping in comfort. Bring your family, bring your friends, or bring the whole group – there's plenty of ways to stay and explore.
KOA Holidays Feature:
RV Sites with a KOA Patio®
Deluxe Cabins with full baths
Premium Tent Sites
Group meeting facilities
Directions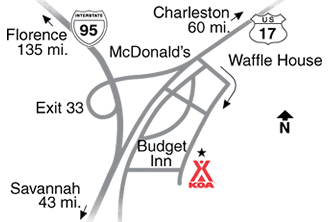 I-95 (Exit 33) at US 17 turn at the Waffle House. GPS Info. (Latitude, Longitude): N32.625278, W80.882222
Get Google Directions
Dec 02, 2020
Great place. Wonderful staff!!
Dec 02, 2020
Very nicely run. Great snack bar!!
Dec 02, 2020
Our stay was only an over gibt but we have stayed here before and will likely stay here again. Location is convenient, WiFi is fabulous and folks we have dealt with have all been friendly and helpful!
Dec 02, 2020
We arrived later in the evening and had a friendly escort to our site! Park is beautiful and wish we had longer to enjoy. The pizza was just great too!
Dec 01, 2020
This is the second time we stayed here in the last two weeks. Very nice place and the pizza is excellent.
Dec 01, 2020
Wonderful campground. Staff was excellent. Very nice and friendly. Wine tasting was a great idea.
CAMPGROUND RESPONSE / COMMENTS:
We thoroughly enjoyed hosting your three day stay. Thank you for choosing Point South KOA. We wish you the best on your journey. Jennifer ~
Dec 01, 2020
Very accommodating, was nice to be able to order pizza and wings at checkin and have delivered to our site after a long drive
Dec 01, 2020
Train noise and traffic noise all night. Nice enough park if you don't mind the noise...pricey.
CAMPGROUND RESPONSE / COMMENTS:
We are sorry you were not satisfied. As you can see by the reviews not all find the noise as you had. We would have been happy to refund your money within an hour of check in no questions asked. Happy travels. Jennifer ~
Nov 30, 2020
Staff is Great. Always a pleasure to visit.
Nov 30, 2020
Spent a week at the Point South KOA in the cotton hall lodge. Great camp ground super attentive staff and they hosted wonderful Thanksgiving lunch with social distancing of course. My son and I fished at the lake they have and enjoyed campfires and very night. The pizza is great facility is very clean and the cabin we rented has all the comforts of home. We'll be back again soon.
Nov 30, 2020
J and the rest of the staff were super friendly and helpful. My family had a great stay and the pot luck dinner arranged by the staff made our Thanksgiving really special. The campground couldn't be cleaner and it's in great shape. We felt really safe as the staff and patrons were totally on top of Covid. Frequent patrols by the local sheriffs dept. Made for a relaxing worry free experience.
Nov 30, 2020
I feel almost 70.00 for one night is a little pricey.
CAMPGROUND RESPONSE / COMMENTS:
Your 50 amp full hook up pull through with discount and tax with 62 channels of cable and high spied wireless internet for up to 4 was $66.74. We are happy to refund your money within an hour if you do not fine value in your stay. We wish you well on your travels. Jennifer~
Nov 29, 2020
The bathrooms and showers were always clean. The staff is friendly and prompt. The only complaint I have Is that the campsites are so close together. We were very excited the first 2 nights because there was no one on either immediate side, but the last 2 nights there were people on both sides. (Very, very close)
Nov 29, 2020
I throughly enjoyed my stay.. you can't beat having your firewood and ice delivered not to mention fresh pizza and wings! This place was immaculate, spacious sites with beautiful potted plants and the staff was second to none. They also had a wine tasting and I came home with two bottles. Highly recommend these guys... theyre the best!!!
Nov 29, 2020
Everyone is so friendly and accommodating. Had an issue with our site and the staff bent over backwards to work it out for us.
Nov 29, 2020
People are great. The site was very close to a house
Nov 26, 2020
Friendly and helpful staff. Very nice camp sites.
Nov 26, 2020
The campground was very tidy, the staff were energetic and happy, and the pizza was surprisingly great! Just what I needed at the end of a long drive. Thank you.
Nov 25, 2020
We were warmly welcomed to this KOA and shown to our camping spot. We watched as their crew wiped everything down with disinfectant and assured we were set before they left. Wine tasting was great... (wife had wine, I was offered a beer thankfully) loads of fun, great staff, can't wait to go back through.
Nov 24, 2020
Very welcoming folks in the office. They suggested that we take a walk around the lake and look for alligators, we were not disappointed! Nice quiet campground. Order pizza, it was good.
Nov 24, 2020
Very nice facility. No surprises as usual. Great employees. And it is wonderful to be able to grab a pizza and not have to cook on an overnight stay. Keep up the good work. Thank you.
Nov 24, 2020
All went well. All employees were very kind and helpful. The park it self was very clean and well maintained. The Hunt Brothers Pizza shop on site was outstanding and delivered to your site. There was a small bar with draft beer and a wine tasting by appointment. The only thing I thought was it was a bit expensive for a site with no sewer hookup. However, they do have a dump station with a wait.
CAMPGROUND RESPONSE / COMMENTS:
We are middle of the road rate wise for KOA. Our sewer and 50 amp sites are always the first reserved. We are glad you enjoyed our amenities and 62 channels of cable plus high speed wifi at your site. We appreciate you choosing Point South KOA. Happy camping. Jennifer~
Nov 22, 2020
Very friendly provided all information that we needed to stay in the area very clean check in and check out was very easy
Nov 22, 2020
We were warmly greeted, escorted to our pull thru site and assisted with setup. Trash was collected daily within 5 minutes. General campground maintenance was done daily. Work campers were pleasant and asked several times if we had needs. As a bonus, pizza, drinks and other food stuffs are timely delivered to your site if chosen. Thank you for a great three night stay.
Nov 22, 2020
It was a great visit, love the wine bar and pizza delivered right to our door! The work campers were so helpful - we will be back!
Nov 22, 2020
The coffee and wine bar are a nice touch. We didn't eat the pizza but was nice to know if we needed food.
Nov 22, 2020
Great place to stop on our way to Florida !
Nov 21, 2020
Great staff. Well maintained/clean. Great location to explore area or just to stop on way south. Will definitely stay again.
Nov 21, 2020
The staff was excellent. They were pleasant, friendly, and helpful. My furnace went out on the first night and it's was cold. Four different male employees there worked on it until they got it to heat. They wouldn't give up. The grounds were beautiful and well kept. It was a relaxing stay in a beautiful setting.
Nov 21, 2020
Just a quick overnight stay on the way back to Florida. We did the same thing a couple of months ago. So much better than a hotel when one takes pets with them! Thanks again!
Nov 19, 2020
Fantastic hosts and manager. Helped us out with RV mechanical problems even driving us to a service station down the road for coolant lost due to loose hose clamps. Bought some great wine and enjoyed it with their on site pizza restaurant. There is craft beer available as well.
Nov 19, 2020
Beautiful park - conveniently located off of I-95. Our stay was supposed to be for two nights, but we had to leave after one. I assumed that we would be charged for the 2nd night, but....unexpectedly (and grateful), we received a refund. The staff was great, even gave us a jump for a dead battery on our tow vehicle. We love the quiet area, but close to Savannah and Beaufort.
Nov 19, 2020
Very enjoyable. Clean bathroom. Very lovely people to interact with. I'll be back soon.
Nov 18, 2020
Perfect stopping over campground, nice amenities, friendly staff
Nov 18, 2020
We arrived only to find out that the site they assigned us was too short for our rig and tow vehicle. The "guides" tried to find a spot for us. We had a dead battery on our toad, so we couldn't unhitch it. One guide went into the office, explained the situation, the owner was called and we were put in a patio site for the same price!!! That was perfect as was the wine tasting! We will be
Nov 25, 2020
This is the best KOA RV Park we have ever stayed at, and we have stayed at quite a few. To begin with, it is conveniently located about a mile off I-95 (far enough from the highway so we do not hear the traffic). We arrived after dark and were guided to our spot by staff . The hook ups were individually lighted for convenient access. The sites are spacious and level gravel with lots of trees. One the unique features of this KOA is the small restaurant swerving pizza and the more than adequare grocery store that stocks things that you forgot or ran out of. In addition, they sell wine and beer, both bottles and draft! The rest rooms are bright, spacious and clean with two enclosed showers. The pool is large, and the playground is very nice. The whole area is very well maintained. In the morning there is "breakfast pizza" and every flavor of coffee you can imagine (the same as Starbucks). You can order and they will deliver to your RV. The staff is very friendly and helpful - they immediately made us feel welcome. As you can tell, we have only superlatives to describe this RV park.
- 938tomy on Trip Advisor
Nov 22, 2020
We really enjoyed our stay. The campground was clean, well laid out and the staff is very friendly. The campground is conveniently located just off I-95 and has very easy access. We are looking forward to our rerurn trip.
- Camp4funn on Trip Advisor
Nov 11, 2020
Beautiful campground, great amenities and wonderful staff..we'll return
- Kevin N on Google