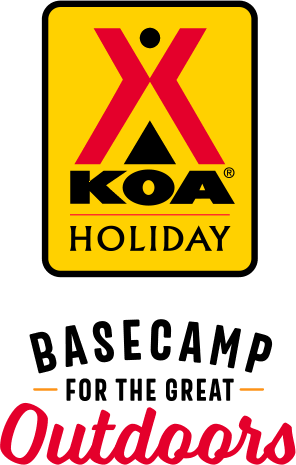 KOA Holiday Campgrounds
Whether you're exploring the local area or hanging out at the campground, KOA Holidays are an ideal place to relax and play. There's plenty to do, with amenities and services to make your stay memorable. Plus, you'll enjoy the outdoor experience with upgraded RV Sites with KOA Patio® and Deluxe Cabins with full baths for camping in comfort. Bring your family, bring your friends, or bring the whole group – there's plenty of ways to stay and explore.
KOA Holidays Feature:
RV Sites with a KOA Patio®
Deluxe Cabins with full baths
Premium Tent Sites
Group meeting facilities
Directions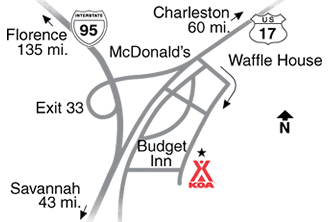 I-95 (Exit 33) at US 17 turn at the Waffle House 
GPS Info. (Latitude, Longitude): N32.625278, W80.882222
Get Google Directions
Jul 26, 2021
They were a very friendly staff. All of the amenities were kept clean and user friendly. They helped me prevent a leaky water hook up and helped me hook up the cable.
Jul 26, 2021
Wonderful 2 day stay in route back to Sarasota. Staff is wonderful, very helpful and fun to deal with. Sue and Ben made the stay quite nice. Enjoyed meeting the owners and great neighbors.
Jul 26, 2021
had an enjoyable stay. The staff were very friendly.
Jul 26, 2021
This is the second time we have had a stop over here and they are really awesome!!! The staff is super kind and we will stay here again! Thank you!!!
Jul 26, 2021
Very unwelcoming. Sheriff patrols the property in the evenings for no apparent reason, as it is a quiet family campground. Sheriff sat in his vehicle shining his brights into my tent from 8-11pm. I am a single female who travels solo often and has stayed at all sorts of campgrounds....I rarely encounter things that make me this uncomfortable.
Jul 26, 2021
we try and stay here when in the area, love this KOA, friendly staff and kept neat
Jul 25, 2021
Easy to get to, super friendly and helpful staff. Nice facility
Jul 25, 2021
Enjoyed our stay very much would definitely stay again,
Jul 24, 2021
This is one of our favorite koas in all our travels. Great sites, great staff!
CAMPGROUND RESPONSE / COMMENTS:
Thank you so much for taking time to give us such a wonderful review. We truly appreciate you choosing to camp at Point South KOA and enjoyed your two night stay.. It was a pleasure serving you. Jennifer `
Jul 23, 2021
What a beautiful, relaxing campground with spacious sites! We will stay here again!
Jul 23, 2021
The Point South KOA is our "Go To" campground when we are visiting the Beaufort area. The access to major hwys in any direction make it convenient. The staff are very courteous and helpful. The services and availability of various recreation activities are a bonus to a family passing thru. The squirrels were my only problem. You can't leave a food item unattended for a minute.
Jul 23, 2021
Maybe consider an extra coffee maker to handle the early morning rush of people requesting their caffeine fix!
CAMPGROUND RESPONSE / COMMENTS:
Our amazing staff is working doubly hard as we are short staffed along with the rest of the country. We are thankful for all who are gracious to understand and enjoy their journey. Thank you for your 5/10 and be a promoter of Point South KOA. Jennifer ~
Jul 23, 2021
Staff are very friendly. Liked the campground and loved the Bistro in the office. Pizza and wine was very good. A pleasant end to a day of traveling! We have stayed there twice and look forward to staying there again.
Jul 23, 2021
Great park and people. Very friendly. Thanks Ben!
Jul 23, 2021
Staff was friendly and helpful with questions. Love the idea of wine tasting/purchase and pizza although we did not partake this trip. It is now our go-to KOA on eight hour leg of trip to and from homes. Thank you!
Jul 22, 2021
The staff was great! Rained too much to rate amenities, no one's fault. Bathrooms could have been a little cleaner but again that could have been due to rain. Great stay!
CAMPGROUND RESPONSE / COMMENTS:
We are open 8 am - 9 pm daily. PLEASE let the front desk or guest services on the golf cart outside know if the bathrooms need attention. Our goal is to go in there every 2 - 3 hours to spruce them up however we are understaffed. Thank you for choosing Point South KOA. Jennifer ~
Jul 22, 2021
The Yemassee KOA is lovely! It is conveniently located off of 95, and the campground amenities are excellent.
CAMPGROUND RESPONSE / COMMENTS:
We are so glad you enjoyed our honeymoon lodge at Point South KOA in Yemassee. It was a pleasure hosting your stay. Happy camping. Jennifer ~
Jul 22, 2021
Everything was flooded.
CAMPGROUND RESPONSE / COMMENTS:
You were here one night with 4" of rain in a short period of time. It all drained quickly and by the morning. We wish you well on your travels. Jennifer~
Jul 21, 2021
We had a great time relaxing by the pool in our nearby tent site Also the restrooms were very clean even with all the rain still a nice place
Jul 21, 2021
EVERYBODY ON THE STAFF WAS SUPER NICE AND FRIENDLY, THE PLACE WAS CLEAN AND WE FELT SAFE AND COMFORTABLE STAYING THERE
Jul 20, 2021
We were only there for one night. Just passing through. It was conveniently located off the interstate. The campground was very shady and the spaces were large. Restrooms were clean. The lounge in the office looked fun and had food to serve also. Definitely a place to stay if in the area again.
Jul 20, 2021
Cabin was spotlessly clean and well equipped. Cheri in office went out of her way to get our day started with a latte and coffee
Jul 20, 2021
We have stayed here quiet a few times over the last several years and watched the improvements being made to the campground and even though there is a pandemic going on we have noticed that the service and campground seems to be slipping. Note everyone is friendly and helpfull but at the same time the more personal service that we have had other times was not there except for the pizza lady.
CAMPGROUND RESPONSE / COMMENTS:
Ronald, As is the majority of the country, we are understaffed and fully booked. Our stellar staff is working overtime to keep up with the demand. We are so thankful for all who have the grace to enjoy life as we know it at the moment and appreciate those who show up. Happy travels. Jennifer ~
Jul 20, 2021
We had a great stay were able easily see the sites both north and south of camp ground. The only recommendation is that more gravel needs to be on site 51 under the picnic table
CAMPGROUND RESPONSE / COMMENTS:
That's an easy fix. We will look into that site set up. Thank you for choosing Point South KOA. Jennifer ~
Jul 19, 2021
Just a quick over-nighter but very pleasant and our granddaughter enjoyed the pool. Thank you.
Jul 19, 2021
Clean bathroom and the pizzas are very good.
Jul 19, 2021
My family and I were there for the weekend ... we had a little problem with the electric on our campsite but it was attended to right away ... staff is always pleasant when we're there ... we love staying at this koa!
Jul 18, 2021
Very friendly staff and helpful . The mining was fun. Thanks again
Jul 18, 2021
nice location, friendly staff, clean and well-maintained. sites were all level with a gravel or crushed stone surface. the facility had a nice pool and some trails for exploration around their lake. the staff worked hard to ensure the bathrooms were clean; even at 9:15pm a team member was checking on the condition of the men's room. i thanked him for taking good care of the guests.
Jul 17, 2021
Very cute campground! Site 15 was a beautiful end site with picnic table and little dinette table and chairs.
Jul 16, 2021
This is a very well run campground weather you stay is long or short. Sites were all spacious and the park was very clean. Not to mention a great staff all the way around.
Jul 16, 2021
As always the people were very Friendly and courteousThis is why I stopped there stop there
Jul 16, 2021
Nice campground with friendly and helpful staff. Sites are level, gravel and easy to maneuver. Nice areas to walk and the wine bar, coffee bar, and food availability are nice pluses. They even sanitize the electric, water, and cable hook ups when showing you to your site. We will return.
Jul 16, 2021
Very nice place, and most importantly, the staff. We only stayed one night as were just passing through on our way home. Debbie and Joe were very accommodating putting us in a spot where we did not have to unhitch, and could get an easy, early start. It is a beautiful campground.
Jul 16, 2021
We just stayed overnight in our tent on a primitive tent sight. We've been doing this almost every year for over 30 years on our way to see a relative in Florida. The hosts are always friendly and helpful and the facilities well maintained.
Jul 16, 2021
Sites are a bit small based on todays standards of size of RV's, campground was built in 1972. Very friendly staff, and go out of their way to assist you.
CAMPGROUND RESPONSE / COMMENTS:
Ronald, We have many sites for big rigs which Always get rented first. Be sure and secure an advanced reservation far ahead. Will give you 100% money back if you are not satisfied within an hour of check in. Jennifer~
Jul 15, 2021
Dry friendly staff. Super clean bath house. Just a few miles off the highway. We will be going there again.
Jul 15, 2021
What a lovely place. It started as a port in the storm, as we needed to stop and didn't get in until very late. We woke in the morning to find an oasis and a future destination. We'll definitely be back!
Jul 15, 2021
Staff was very friendly.
Jul 15, 2021
We arrived in the evening to meet a very nice and accommodating staff who helped us get set up. We are new RVers and they were very helpful. I was amazed by the cleanliness of all the facilities, especially the bathrooms and showers. The grounds were well kept and our stay was quiet in this peaceful wooded setting. We will definitely return!
Jul 14, 2021
Overnight stop. Great staff and service. One of our favorite places.
Jul 14, 2021
Site was shady and level. Campground was very accommodating. On the day we were leaving we had a flat tire on our RV and they assisted us in finding a service and let us stay over an extra 3 hours while being repaired.
Jul 23, 2021
Loved this beautiful and peaceful campground! We loved the spacious, level, and generous shaded sites! We will stay here again!
- Kathy Villeneuve on Google
Jul 23, 2021
This KOA is a hidden gem. We had a wonderful stay! It was raining when we arrived so we enjoyed wine and pizza in the Swimming Mermaid wine bar and coffee house. Wine and pizza were delicious. Sue and Ben were welcoming and so friendly. We loved site 16 when has a view of the pool. Laundry facility was excellent, camp store had adorable gifts. Our daughter loved the gem mining. We will definitely be back as this is a good place to stay that is central to Savannah and other locations.
- Road748093 on Trip Advisor
Jul 21, 2021
We rented a cabin for a night. Had all the amenities we needed. Late check in not a problem. Breakfast pizza available. Friendly people.
- Christine Stevens on Google