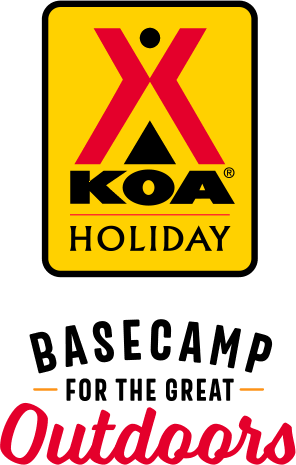 KOA Holiday Campgrounds
Whether you're exploring the local area or hanging out at the campground, KOA Holidays are an ideal place to relax and play. There's plenty to do, with amenities and services to make your stay memorable. Plus, you'll enjoy the outdoor experience with upgraded RV Sites with KOA Patio® and Deluxe Cabins with full baths for camping in comfort. Bring your family, bring your friends, or bring the whole group – there's plenty of ways to stay and explore.
KOA Holidays Feature:
RV Sites with a KOA Patio®
Deluxe Cabins with full baths
Premium Tent Sites
Group meeting facilities
Directions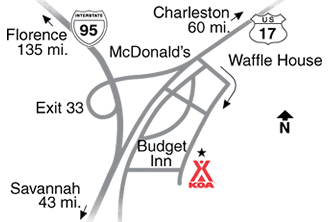 I-95 (Exit 33) at US 17 turn at the Waffle House 
GPS Info. (Latitude, Longitude): N32.625278, W80.882222
Get Google Directions
Mar 01, 2021
Excellent place to stay! Loved the location and pizza and bar!
Mar 01, 2021
This place was incredible from the people, to the sites and cleanliness of the facilities!
Mar 01, 2021
Beautiful, well-maintained grounds. I especially liked the trail around the lake. All facilities were clean and worked well. I was pleasantly surprised by the extent and quality of the amenities. Staff was helpful and friendly. We had a great time. Our site was right next to the playground which was perfect for our 5yo. We'll definitely be back!
Mar 01, 2021
Another great visit at on of our favorite KOA's. Loved the wine bar!
Mar 01, 2021
Nice except the site was muddy.
Mar 01, 2021
Stayed in Cabin KL3. Was clean, roomy and very nice! Staff was friendly and very helpful. Will definitely stay there again as we travel down 95.
Mar 01, 2021
This a very nice campground. I had a pull though site (11?) that was spacious. Utilities all worked correctly.
Mar 01, 2021
Another great stay at this KOA.
Mar 01, 2021
It was only overnight but relaxing after a long day on the road. Restroom was clean and sites were well cared for
Mar 01, 2021
Pizza was excellent
Mar 01, 2021
A bit tight for big rigs. Pizza delivery was great idea!
CAMPGROUND RESPONSE / COMMENTS:
Our core customers arrive in big rigs 40 - 45 + tow giving us content responses and perfect scores. I am sorry you felt tight. Thank you for choosing Point South KOA. We wish you well on your travels. Jennifer ~
Feb 28, 2021
We loved it. This was the destination for us as we drove down from Chicago for some much needed sunshine and warmth! Stayed in the Twickenham Lodge, hubby and I and 2 med to large sized dogs. Plenty of room and the huge deck was wonderful. I watched the sun rise each morning with a cup of coffee. It was nice having the French style doors to lodge open so the fresh air just floats in from outside
Feb 28, 2021
We had an excellent visit. We stayed in deluxe cabin it was very clean. The whole campground is very well kept and tidy. We will be back.
Feb 28, 2021
All staff was very professional. Clean campground. Sites are roomy
Feb 27, 2021
Very friendly staff - they showed us right to our site. Loved the fact that all staff members were very Covid aware and compliant with all regs. Also loved the local brews on tap and wine tasting!!!
Feb 27, 2021
Very clean and nice bath house, cafe with espresso machine, wine tasting, beer on tap and pizza. Pull through sites are very close together. #53 a pull in is very private and convenient to building. Very nice people. They are putting fresh gravel on sites now, feb 2021
CAMPGROUND RESPONSE / COMMENTS:
We lay gravel throughout the year to replenish and rebuild what wears with continual use. However are working on a big job now with sod, drainage and 100 tons of gravel. We have many sites with large front yards you must have missed from your view. We are so glad you enjoyed your stay. Thanks for choosing Point South KOA. Jennifer~
Feb 26, 2021
We had a great stay at Point South Accommodations are very nice. Staff very helpful and friendly nice campsite, clean bathrooms. We ordered the pizza and hot wings they were awesome didn't expect that quality of pizza at a campground I'll see you again thanks for this stays.
Feb 26, 2021
Very convenient off the freeway. Friendly staff! Always ready to help.
Feb 26, 2021
Cabin and the camp sites were super clean, staff was very friendly. Great place for a quick stop off 95, enjoyed the lake too.
Feb 25, 2021
Ordered pizza and wings, was told it would be ready in 20 minutes after 45 minutes went to office to check on my order, it was sitting under the warmer for at least 20 minutes. Sites are small and close together.
Feb 25, 2021
great service, They even delivered dinner and parts from their store to my campsite
Feb 25, 2021
Great people, nice park.
Feb 25, 2021
We loved everything about this KOA. The staff was so friendly and made our stay perfect.
Feb 24, 2021
Our site was very wet from rain, and the Koa staff should have offered an alternative site to us since we made the reservation far in advance and they knew we were staying for 3 nights. We would have gladly paid a bit more for a site that was not as wet since we have 2 dogs. The wine tasting was a nice touch, bathrooms are spotless, and staff are very nice. The noise from I-95 is very loud.
CAMPGROUND RESPONSE / COMMENTS:
You are welcome to ask as we can not know what your needs are unless you communicate while you are with us. Some are bothered by I95 noise and many are not as you can see by the 1000 reviews posted. Torrential rain like snow to the north is disheartening. 40 tons of gravel has been laid since.
Feb 24, 2021
We just stayed one night while on the road to FL. This is the nicest KOA's we have ever stayed at and we have stayed at quite a few traveling coast to coast..
CAMPGROUND RESPONSE / COMMENTS:
Thank you for your gracious review with all of our incessant rain. We appreciate your kindness. Jennifer ~
Feb 24, 2021
Standing Water everywhere
CAMPGROUND RESPONSE / COMMENTS:
Like our neighbors north of us with 30" of snow we have had the equivalent rain. Sorry for your inconvenience. We would have been happy to refund your money within an hour. Jennifer~
Feb 23, 2021
Awesome as usual. Friendly staff, clean facilities
Feb 23, 2021
We were just using it as a midway point for our return from Florida. All was good. Provided the service we needed and we were on out way. Thank You.
Feb 23, 2021
Kids loved mining for gems, the walk around the lake is beautiful, the coffee bar and pizza are such a nice option! And the staff were unbelievably nice and helpful.
Feb 23, 2021
We simply needed a place to stay one night en route to Florida but it was very dark, difficult to find our site and was a muddy mess. Fortunately we were self contained so no need to use any of the facilities.
CAMPGROUND RESPONSE / COMMENTS:
As our rivers are near flood level and the rain is the bottom end of 30" of snow our northern neighbors are experiencing we are aggressively bringing is sod and gravel between the rain by our construction company. The last handful of sites should be done in a week. Jennifer~
Feb 22, 2021
Amazing staff! Very friendly and helpful.
Feb 22, 2021
Easy online check-in. Food delivered to our rig. Very nice pull through sites. Did not have to disconnect our trailer. Site was long enough to accommodate our rig and our dolly with our car. Always enjoy our stays in KOAs!
Feb 22, 2021
This was our first camping experience and we were very pleased! There had been a lot of rain leading up to our stay but all the sites were graveled, the staff was helpful and friendly. Very pet friendly and super clean restrooms!! Will stay again.
Feb 22, 2021
We stayed for one night on our way up 95N. These guys are great. The staff is very friendly, they have wine tastings and craft beer as well as pizza delivered to the camper. We were shown to our site and everything worked perfectly. I will say that the trees may make it tricky for rigs over 30' if the campground if full but we had no trouble navigating in our 25.
CAMPGROUND RESPONSE / COMMENTS:
We easily host 45' motorhome by specific allocations with every reservation as well as 40' rigs plus tows. That is actually our core customer. So glad you enjoyed your stay! Jennifer~
Feb 21, 2021
We love the wine tasting and the pizza was great. Employees are very friendly and are always there for you.
Feb 21, 2021
Arrived after hours, but reservation was ready, and up front. Easy to get in, hook up, and be quiet for the night. Will definitely keep this location in mind on more East Coast trips. Liked the Underground themed bathrooms.
Feb 21, 2021
Very friendly staff. Excellent pizza and wings!
Feb 21, 2021
Stopover due to weather, with abundance of rain campground was wet with standing water in roads and sites, a little difficult in getting around on foot and setting up.
CAMPGROUND RESPONSE / COMMENTS:
We strive to keep ahead of the rain and impending weather. We will have another 20 tons of gravel spread next week. Thank you for choosing Point South KOA. Jennifer~
Feb 19, 2021
Only stayed one night but everything was great! Highly recomend the breakfast pizza, tasty and delivery was spot on time!
Mar 02, 2021
We stayed at this campground on the way to Florida and again on the way home it was one of the best campgrounds we have stayed at our trip was almost 2 years ago and have been thinking of this koa eversince planning on going back soon gotta say this koa is worth the trip.
- Lynn Longacre on Google
Feb 28, 2021
Relaxing! Well, except for some I-95 noise... Home base for a week as we travel the local area. Quiet, comfortable camp; we've got the best spot here; way in the back but can see most everything happening. Thank Teresa!
- William Settles on Google
Feb 28, 2021
We were looking for a campground to meet and camp with friends and I picked this one because it was close to a distillery. Unfortunately, the distillery was closed during stated business hours and we weren't able to go any other time. However, the Point South KOA was so wonderful, we weren't even disappointed by having the main attraction of a distillery let us down. The folks who operate it were super friendly and helpful. They even have a pizza parlor (with wings and breakfast pizza) that's pretty good and they will deliver to your campsite. They'll also deliver firewood. They have a great playground, a pool, cabins and tent sites. There's even a lake with a walking trail. Our grandson had blast and thought it was the best camping trip ever. Hunting Island State Park is a beautiful beach and maritime forest with lighthouse and is only about an hour away. There's not much to the town of MAC and the closest grocery store is 15 miles away. However, you don't really need anything much once you get there. It's the Lowcountry, so be sure and bring bug spray.
- Rebibga on Trip Advisor