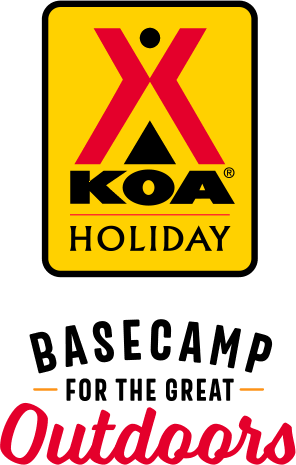 KOA Holiday Campgrounds
Whether you're exploring the local area or hanging out at the campground, KOA Holidays are an ideal place to relax and play. There's plenty to do, with amenities and services to make your stay memorable. Plus, you'll enjoy the outdoor experience with upgraded RV Sites with KOA Patio® and Deluxe Cabins with full baths for camping in comfort. Bring your family, bring your friends, or bring the whole group – there's plenty of ways to stay and explore.
KOA Holidays Feature:
RV Sites with a KOA Patio®
Deluxe Cabins with full baths
Premium Tent Sites
Group meeting facilities
Directions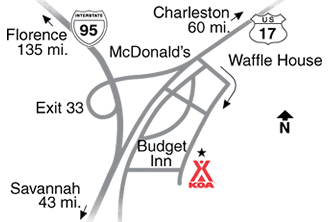 I-95 (Exit 33) at US 17 turn at the Waffle House 
GPS Info. (Latitude, Longitude): N32.625278, W80.882222
Get Google Directions
May 04, 2021
One of our favorite KOA's. Always stay on our way to Florida when traveling on 95. Beautiful grounds and great people.
May 04, 2021
First time there won't be the last awesome!!
May 04, 2021
Staff was very friendly and also very helpful. Love the idea of having pizza delivered to out site!
May 04, 2021
I've been RVing for some time now and this KOA is easily the best. Plenty of very helpful staff and great facilities. Could use more sites with sewer though.
May 04, 2021
Nice level sites and a friendly helpful staff. Some road noise from I-95.
CAMPGROUND RESPONSE / COMMENTS:
Sadly we can not move the interstate. There are pros and cons to being 1/8 of a mile from I95. As you can see from the reviews most people are not bothered. Thank you for choosing Point South KOA. Jennifer~
May 04, 2021
A pleasent surprise on every front. Coffee bar, wine bar, pizza, pool, VERY well staffed all made for a great weekend for us.
May 04, 2021
It's a really nice campground. The only thing is I wish they would have told me about the awful smell in the kaboose Kabin. I would have picked a regular kabin.
CAMPGROUND RESPONSE / COMMENTS:
It is a real railroad kaboose that has run behind the cars on the rail for decades. The coal smell is embedded and does not bother most after the 25 years it has been on rental. We would have been happy to help had we known while you were here. Jennifer~
May 03, 2021
Great campground super resort we had pizza and chicken nuggets with beer and wine staff were all great �
May 03, 2021
We always stay here on our trip to and from Florida. Well maintained, friendly staff and we love that we can get pizza, wings and a beer or wine after a long day of driving.
May 03, 2021
We were spending the weekend there just to get away. It was clean, well kept. Mostly quiet. We enjoyed our stay and we will be back
May 03, 2021
One of the nicest KOA's we've stayed at super friendly and courteous staff, well cared for grounds, and having local beer on tap and wine bar and gourmet coffee bar. Conveniently located right off rte 95, makes this a great stop after a long day of driving
May 03, 2021
We had great time. Our son was kept busy with playground, swimming pool, big chess, horshoes. He also did fossil dig and painted his backpack. We took our bikes on little ride around the lake. We saw alligator there. We also enjoyed the pizza and delivery to our tent was nice touch. Our son said that your campground is his favorite. That is the highest rating. Our stay was great. We enjoyed it.
May 03, 2021
The campground is beautiful and very well maintained. The staff is extremely friendly and helpful. The lodge is quaint and perfect for a getaway. We will definitely be back.
May 03, 2021
Love this campground Cean friendly well-kept grounds. Nice shady trees and super nice pool!
May 03, 2021
Great, friendly place to stay with excellent amenities (especially for the kids) and clean facilities.
May 02, 2021
Lots of friendly staff abound.
May 02, 2021
Very nice campground. Office staff very friendly and helpful. Cabin very clean.
May 02, 2021
What a great staff! We were only there for one night but if we would have had a couple more days we would have stayed. Pizza and wings delivered to our site! They have a coffee bar where I had an excellent iced mocha. We enjoyed a walk around the lake.it's a nice campground but it was the staff that made it even better.
May 01, 2021
A very clean an friendly campground located right off of 95! Have stayed here many times and plan to come back soon!
May 01, 2021
This campground is OK it you like being pack like camper to camper. When you can't even site outside on your table or have a campfire without the next camper being 1 foot away.�� I will say that the staff was very friendly.�
CAMPGROUND RESPONSE / COMMENTS:
This fall we are getting rid of site 27 and reducing the back row to 4 from 5 sites to allow for more room. As rigs get bigger yards get smaller. So sorry for your inconvenience. We try to keep small campers in there for this reason and turn others away as we are full. Thank you for trying Point South KOA. Jennifer~
Apr 30, 2021
Great CG, friendly staff an lots of things to do and see locally.
Apr 30, 2021
staff were friendly, the bathroom were kept clean. we will stay there again when we are back in the area.
Apr 30, 2021
Great place and great service. Would definitely stay there again - 5 stars
Apr 30, 2021
Great coffee bar and pizza delivered.
Apr 30, 2021
One of the nicest campgrounds we have stayed in. Neat,clean and staff very accommodating.
Apr 30, 2021
Only an overnight stay in our roof top tent but our one complaint is the office closed at 5 and if not for a fellow camper walking by we never would have known our paperwork was located across the lot in a wooded box with other campers as well. Hope they change this tactict in the future for those that check in late or the office hours extended.
CAMPGROUND RESPONSE / COMMENTS:
You have reviewed the Wrong Campground. We are open daily until 9 pm and have been for decades. Our night registration is by the front door with late night arrivals posted visibly at the marked kiosk. Sorry for your inconvenience wherever you were camping when this occured. Jennifer~
Apr 29, 2021
Campground was clean and staff was excellent. Very helpful and so friendly!!
Apr 29, 2021
It was great. Clean and nice
Apr 29, 2021
Always enjoy our stay when traveling back and forth to Florida
Apr 29, 2021
The staff were very friendly, helpful, courteous and delightful to deal!! The campground was beautiful, clean and had fun things to do!! The wine & beer bar was a very nice amenity, as well as the coffee bar. Loved my morning cappuccinos!! Pizza and wings were delicious, especially the breakfast pizza!! Thank you to everyone for a wonderful time!!! Will be back in the Fall.
Apr 28, 2021
Loved the camping cabin, and especially loved that my pet could be with me. Staff is very friendly. Pizza was great. Will definitely stay there again.
Apr 28, 2021
Staff was super friendly, cabin was very clean and comfortable, pizza and wine were delicious ... can't wait to visit again!
Apr 28, 2021
really frendley staff and really were helpful
Apr 28, 2021
We have been using this camp grounds for five years love the place,we now has five of our friends using this park now
Apr 28, 2021
Just plain great
Apr 28, 2021
Staff was very friendly and informative. The facilities were neat, clean and inviting to use. We took advantage of the food service and had two great pizzas along with wings. The wine and beer offerings were a welcome treat. The walking trail was very nice. When traveling south in the future we will try to stay at this campground again.
Apr 28, 2021
All was fine , pizza great and quick. Very clean everywhere and neat.
Apr 28, 2021
Sites are very small
CAMPGROUND RESPONSE / COMMENTS:
Most find our sites spacious. Site 26 fits a 45' plus 20' tow. We are sorry you weren't satisfied in your 36' motorhome site placement. Thank you for trying Point South KOA. Happy camping. Jennifer~
May 06, 2021
Always friendly. I buy all my propane there.
- Greg Ferris on Google
May 06, 2021
Stayed for one night on our way home to NC from FL. Wish we could have stayed longer. Very friendly staff and a great place to stay. We will definitely go back. The sites are beautiful and roomy. Loved the dog park. Would definitely recommend staying here.
- pattiannh2021 on Trip Advisor
May 06, 2021
Only stayed one night but it's a beautiful campground with great people
- Missy Fower on Google