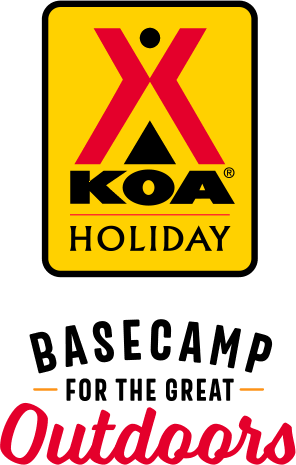 KOA Holiday Campgrounds
Whether you're exploring the local area or hanging out at the campground, KOA Holidays are an ideal place to relax and play. There's plenty to do, with amenities and services to make your stay memorable. Plus, you'll enjoy the outdoor experience with upgraded RV Sites with KOA Patio® and Deluxe Cabins with full baths for camping in comfort. Bring your family, bring your friends, or bring the whole group – there's plenty of ways to stay and explore.
KOA Holidays Feature:
RV Sites with a KOA Patio®
Deluxe Cabins with full baths
Premium Tent Sites
Group meeting facilities
Directions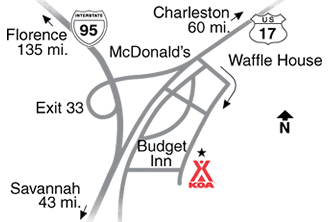 I-95 (Exit 33) at US 17 turn at the Waffle House 
GPS Info. (Latitude, Longitude): N32.625278, W80.882222
Get Google Directions
Sep 15, 2021
Tent site #56 was the perfect location for Jeep camping! The friendly staff, pool, and exceptionally clean facilities were beyond my expectations.
Sep 13, 2021
I hesitate to tell the truth because I don't it want it to be all booked up when I want to go back, but this place is absolutely wonderful! Feels like you're in some nice family's back yard - it's very well-cared for with little garden accents everywhere. Lots to do, beautiful pool, great staff - and they deliver pizza to your site. Love, love, love this KOA!
Sep 07, 2021
Unfortunately, this was our last camping fishing trip of the season. Info showed fishing and other KOASweve gone to recently in SC, have fishing on site. Staff was very helpful. Arrived Friday afternoon and left Sunday morning. Disappointed.
CAMPGROUND RESPONSE / COMMENTS:
Sorry we weren't a match for you. Google would have revealed places in Beaufort, Hilton Head and Bluffton beyond the pier/boat launch I mentioned in Yemassee 5 minutes away. We offer a lot as noted in our reviews but can't be all to everyone. Happy travels, Mr. and Mrs. Davidson. Jennifer~
Aug 08, 2021
Very well maintained grounds. Excellent customer service. Spacious campsights
Aug 04, 2021
Great first time camping experience. Great amenities...bathroom was clean; appreciated the water and electrical outlets at each site. Well spaced. Recommend everything possible is done to ensure both showers are fully operational. Very nice, and pleasant staff.
CAMPGROUND RESPONSE / COMMENTS:
We have had the contractor on schedule to fix the shower for three days now since there was damage done to the floor by a guest. As the rest of the world response is arduous. Open 365 days a year bathrooms open 24 hours a day repairs happen. We are doing our absolute Most to get this done. Jennifer~
Aug 03, 2021
The place is great , very clean , great customer service . The time we went was at the end of July so this year it was real hot and a lot of bugs so we got chewed up but if it wasn't for the pool we would have left over all it's a great place �
Aug 03, 2021
Awesome campgrounds and great service!
Jul 26, 2021
Very unwelcoming. Sheriff patrols the property in the evenings for no apparent reason, as it is a quiet family campground. Sheriff sat in his vehicle shining his brights into my tent from 8-11pm. I am a single female who travels solo often and has stayed at all sorts of campgrounds....I rarely encounter things that make me this uncomfortable.
Jul 21, 2021
We had a great time relaxing by the pool in our nearby tent site Also the restrooms were very clean even with all the rain still a nice place
Jul 16, 2021
We just stayed overnight in our tent on a primitive tent sight. We've been doing this almost every year for over 30 years on our way to see a relative in Florida. The hosts are always friendly and helpful and the facilities well maintained.
Jul 15, 2021
Staff was very friendly.
Jul 09, 2021
My stay was absolutely wonderful. The only discrepancy I have is the group of children chirping at me while swimming in the pool.
Jul 02, 2021
Just s great facility and staff.
Jun 27, 2021
Sue was awesome! Really enjoyed her hospitality and knowledge of wines.
Jun 22, 2021
This is a great camp ground with very friendly & helpful staff. The store is good and they even have pizza! The tent sites seem to need some maintenance though. My site was low and held water when rained. I'd recommend boxing off the tent sights with new timber's and filling with small river gravel so water drains away from the tents. There is a great kids area and alligator habitat, be carefu
Jun 19, 2021
Awesome place good people. Very clean.
Jun 07, 2021
Enjoyed our 2 night stay at the tent site. Accommodations were very nice.
Jun 02, 2021
Everyone was super friendly. I'm not a "regular camper" but wanted to try something new. I will definitely be back.
CAMPGROUND RESPONSE / COMMENTS:
So happy your family of five enjoyed your time tenting at Point South KOA. We wish you well on your journey and look forward to seeing you all again. Jennifer ~
Jun 02, 2021
The officers are so nice and helpful. But it took me a long time to find my site of camping since I arrive late at midnight. One suggestion: email the assigned campsite number and detailed map to the guests in case they arrive after office hour!
CAMPGROUND RESPONSE / COMMENTS:
The map is located at the night registration kiosk by the front door directing you to your site which we let you know when we are advised of after hour check in. This has been our protocol for 37 years and has worked well. Our office hours: 8 am - 9 pm daily. Thank you for choosing to camp with us.
May 24, 2021
Very friendly and good service.
May 23, 2021
Loved the wine tasting and campfire in the evening. Pizza on-site was tasty and convenient. Enjoyed the walk to the lake. Camp was beautiful and in great shape. My only issue was the amount of noise from the interstate. Nothing you can do but kept my "likely to recommend" score down a bit.
CAMPGROUND RESPONSE / COMMENTS:
You are correct there is nothing we can do about that which is sad we were docked two points for a non controllable although everyone loves us being convenient to I95. Staying in a tent lends to more ambient noise overall. We hope you find a spot perfect for your enjoyment. Jennifer ~
May 17, 2021
Place was cool, but tent sites were a bit loud from road noise. The store lacked basic camping-useful items like towels for swimming or showering, but had plenty of overpriced chachki items that wouldn't be of much use until you got home. They don't seem to answer the phone or return calls as promised on their voicemail, which made our after-hours arrival confusing and somewhat difficult.
CAMPGROUND RESPONSE / COMMENTS:
Open 13 hours a day we do our best to return calls in a timely fashion. Your name was clearly marked with route to your site after 9 pm upon closing. Most KOA stores do not have towels and larger household items including a NC KOA we are enjoying now. You're the first in 37 years to complain about it selling towels.. Jennifer ~
May 12, 2021
It met my limited needs. But it felt like I was parked in a parking lot decorated to look like a campground. Less is a lot.
CAMPGROUND RESPONSE / COMMENTS:
Not sure what you are referring to as you had a woodland view with trees. Tent sites are near the building, bathroom, pool and playground. We would have Happily given you back 100% within an hour if you were not happy. Hope you find a better match for your needs. 91% of 1000 reviews gave us 5 star satisfaction out of 5. Jennifer ~
May 10, 2021
Awesome! Cleanest campsite I've ever used. Super friendly staff and very well tended grounds.
May 09, 2021
It was wonderful. Everyone was so kind and helpful. I haven't stopped sharing about this place.
May 06, 2021
Great staff and very nice tent site. The grounds are lovely!
May 04, 2021
A pleasent surprise on every front. Coffee bar, wine bar, pizza, pool, VERY well staffed all made for a great weekend for us.
May 03, 2021
We had great time. Our son was kept busy with playground, swimming pool, big chess, horshoes. He also did fossil dig and painted his backpack. We took our bikes on little ride around the lake. We saw alligator there. We also enjoyed the pizza and delivery to our tent was nice touch. Our son said that your campground is his favorite. That is the highest rating. Our stay was great. We enjoyed it.
Apr 30, 2021
Only an overnight stay in our roof top tent but our one complaint is the office closed at 5 and if not for a fellow camper walking by we never would have known our paperwork was located across the lot in a wooded box with other campers as well. Hope they change this tactict in the future for those that check in late or the office hours extended.
CAMPGROUND RESPONSE / COMMENTS:
You have reviewed the Wrong Campground. We are open daily until 9 pm and have been for decades. Our night registration is by the front door with late night arrivals posted visibly at the marked kiosk. Sorry for your inconvenience wherever you were camping when this occured. Jennifer~
Apr 25, 2021
Very clean, wonderful experience. The owner, sorry I didnt get her name, was very helpful with information. She even credited our last night when we had to leave early. Wine tasting and good beer enhanced our experience. And the pizza was really good, saved us going out to look for food!
Apr 17, 2021
Hands down the best Koa we have come across. Beautiful grounds. So many amazing amenities. The bathrooms were cleanest ive seen. Showers great. We enjoyed every part of our stay! Lovely staff everyone was so kind and helpful! We will be back soon.
Apr 14, 2021
The bathrooms were very clean! But when we went off for the day, someone broke off and stole a door to our gas hose on our pop up . Also, someone went inside our camper and changed the way we had the door locked. The men helping me park my popup were very helpful in backing into the small space. I appreciate their help.
CAMPGROUND RESPONSE / COMMENTS:
This is an anomaly that we have never heard of happening before. It is extremely odd thing. Other than a possibly errant kid it is unexplainable. We are glad that we exceeded your needs through our service and facilities. Jennifer~
Apr 07, 2021
We loved the Swimming Mermaid and enjoyed both beer and lattes during our stay. Everyone was kind and helpful.
Apr 06, 2021
Loved the staff. Very pleasant surroundings. Would stay there again.
Apr 06, 2021
We stayed in the tent area behind the pool. We were in our new pop up and it was just a mid point stop. One night. We ordered the pizza and wings, it was good. And the next morning what a treat. Hot fresh coffee and hot chocolate for the kids, before we got on the road. The staff were super helpful and very friendly. Bathrooms were very clean and laundry area.
Apr 06, 2021
The staff was very helpful and helped me get a late reservation. My pass and a map were pinned to the board out front. Thanks Again!
Apr 05, 2021
People were so friendly and nice! Everything was clean and welcoming! Will definitely stay here again!
Apr 05, 2021
Such a cute place! Staff is friendly. Lovely attention to detail, it's the little things that make this place so charming like the phone booth library, giant chess set, and resident cat! Can't wait to come back when I have kids
Oct 16, 2021
This is one of the nicest KOAs we have been to. Have stopped here 3 times since May 2021. The staff is so friendly and helpful. The grounds are beautifully kept. Had a problem when we stopped in September. They offered to let us have one of the cabins for the night. Turned out we didn't need it but we're very grateful for the offer. We will stay here every time we are heading through. Customer service is A++++
- Kathy Gabel on Google
Oct 14, 2021
5-star for sure. Our RV's surge protector showed that there was an issue with the electrical connection from the park at 10:00 p.m. this past Saturday night. But, the issue was actually with our surge protector. Bill on the KOA team came out and very cheerfully and carefully tested the connection to our rig inside and out and determined that the connection from the park was safe. He spent a good 45 minutes ensuring all was in order. This kind of service late on a weekend night was much welcomed after a long day of driving.. Two thumbs up, and this park will be our stop on many future north-south trips.
- Dave Mahoney on Google
Oct 14, 2021
A three day R&R for us..shaded campsites. Gravel pad but spot on level! Watched the efficient staff prepare recently vacated sites, they sprayed the electrical boxes, water spigots and sanitary connections with disinfectant, then wiped them off. The staff was extremely friendly and cordial, stopping to chat and make one feel at home. The office is neat as a pin with a really sharp, fancy coffee machine! We will return as it's only 2 1/2 hours from home.
- dennisbH3232UE on Trip Advisor