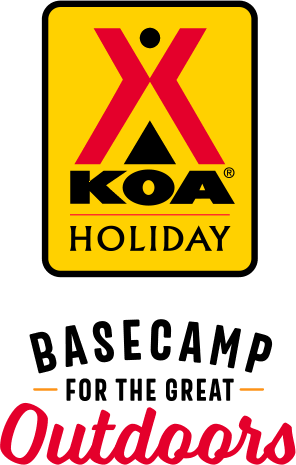 KOA Holiday Campgrounds
Whether you're exploring the local area or hanging out at the campground, KOA Holidays are an ideal place to relax and play. There's plenty to do, with amenities and services to make your stay memorable. Plus, you'll enjoy the outdoor experience with upgraded RV Sites with KOA Patio® and Deluxe Cabins with full baths for camping in comfort. Bring your family, bring your friends, or bring the whole group – there's plenty of ways to stay and explore.
KOA Holidays Feature:
RV Sites with a KOA Patio®
Deluxe Cabins with full baths
Premium Tent Sites
Group meeting facilities
Directions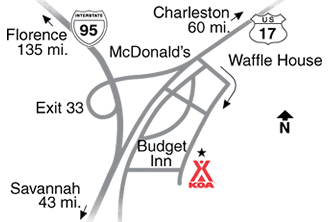 I-95 (Exit 33) at US 17 turn at the Waffle House 
GPS Info. (Latitude, Longitude): N32.625278, W80.882222
Get Google Directions
Oct 02, 2021
Laundry hours need to be extended. Store did not have bread
CAMPGROUND RESPONSE / COMMENTS:
Laundry as well as the office is open 13 hours a day 365 days a year. Sadly, bread does not sell fast enough before it expires. Quick 15 min will get you to a full grocery store. Happy Camping. Jennifer ~
Oct 02, 2021
Every thought has been given to making this a lovely stay. From all the amenities, to wine sipping and home made pizza, this place is a winner. Also, the bathrooms were IMMACULATE!!! The only suggestion I have, is to perhaps point out to guests that there are complimentary doggy bags, rather than telling guests they are expected to clean up after their pups ( mine hadn't gone potty). Small thing
CAMPGROUND RESPONSE / COMMENTS:
Thank you for the kind review. We have three puppy stations throughout our campground that all have rolls of potty bags for the pups as well as cans underneath for convenience. Jennifer ~
Oct 01, 2021
Welcoming staff. Clean
Sep 30, 2021
Everyone was so nice and polite, clean facilities Great R&R exactly what we were looking for!! We will definitely be coming back. Thanks Much
Sep 30, 2021
Stayed for 6 nights, great location to see savannah, Charleston and Hilton Head from. Pizza and Wine flights are great. Dog park and lake for our Fur babbies.
Sep 30, 2021
We love this place We stop in for overnighters and longer stays. Love the staff and amenities Very well taken care of.
Sep 30, 2021
I was travelling with 2 small dogs and this was the perfect solution for an overnight stay. Lots of places to walk them and I even ordered pizza delivered dinner. Great staff and very clean.
Sep 30, 2021
Easy to check in and setup. Great shaded area.
Sep 30, 2021
Such a relaxing and well kept campground. Staff is wonderful. Delivery of tasty pizza, wings and drinks was a real plus. The location is a plus too. Easy to spend a day in the lovely town of Beaufort. This was our second time and won't be the last!
Sep 29, 2021
Staff was awesome and so was the cabin we rented.
Sep 29, 2021
Overnight stay, very nice park and people were very friendly and helpful
Sep 29, 2021
Very clean and well maintained. Was escorted to my site and helped with parking camper. Main office has a pizza parlor, coffee shop and wine that can be delivered to your site. Overall a nice place to stay even though in an unusual location and very close to interstate 95.
CAMPGROUND RESPONSE / COMMENTS:
We are in the heart of historic Lowcountry. Nestled between Charleston, Beaufort, Hilton Head, SC and Savannah, GA. This KOA has been here 48 years and we have owned it 38 of those. We are centrally located for an easy drive to Orlando, FL. Jennifer ~
Sep 29, 2021
Exceptional camp, people services! The best ! We love it
Sep 28, 2021
Semi rustic park. Well maintained, solid gravel pads and lots of amenities.
Sep 28, 2021
Arrived a little early. Site was already clean and ready for us. Staff was amazing! Very friendly, helpful. Will definately stay again.
Sep 28, 2021
We just stayed overnight but everyone was just awesome and we had a good time
Sep 27, 2021
The staff is very friendly, attentive and accommodating. Most definitely going to camp there again.
Sep 27, 2021
Best KOA, in fact better than private resorts.
CAMPGROUND RESPONSE / COMMENTS:
We are so thankful to be a part of your getaway for a two day stay. It was a pleasure hosting your stay. Happy Camping and we hope to see you again. Jennifer ~
Sep 26, 2021
My husband and I were unable to visit because of COVID. My son and his family used our RV and reservations so they could attend Marine graduation. Your staff was extremely kind and helpful
Sep 26, 2021
Great place friendly staff. Just off the interstate but very little traffic noise
Sep 26, 2021
I have been to these koa cabins several times & will definitely be back. Staff is ALWAYS welcoming and friendly. I will say this time the cleaning was a bit lacking in the cabin. There was a pile of cigarette ash on the bed table & it smelled of cigarette though its a non-smoking facility. The floors were also not mopped & table was sticky in In these times, attention to detail is important.
CAMPGROUND RESPONSE / COMMENTS:
You are so correct, as it is all in the details. We are so sorry for this misstep and it will be addressed. As you know this is out of our norm and we are very diligent in cleaning, sanitizing and making it great as consistently possible. Thank you for your kind review and letting us know. Jennifer
Sep 25, 2021
Beautiful and clean campground. The staff couldn't have been any nicer and friendlier. The bathroom and showers were spotless. My wife and I loved the coffee bar. We didn't try the pizza but it looked really tasty. If we travel down to the area again we'd definitely stay at this campsite again. I'd rate it an 11 but that's not possible.
Sep 25, 2021
Nice campground. Friendly staff. Easily accommodated our 40ft motor home and tow behind. We have marked our logbook to stay again.
Sep 25, 2021
We stayed 5 days and 4 nights. From the time we stopped at the gate the staff was extremely helpful and friendly. This is exactly how our entire stay was.Site was level and the entire park was clean.My wife really enjoyed the wine bar and all the little decorations around the park. We will definitely stop here again.
Sep 25, 2021
Very friendly and helpful staff.
Sep 24, 2021
Clean! Very friendly, great amenities and good rv sites
Sep 23, 2021
This KOA has really figured out what people like. They have good pizza and wings, a wine bar, draft beer and an exceptional coffee machine.
Sep 23, 2021
Great friendly staff. Wonderful wooded campground. Easy on and off the highway great place to stay when traveling
Sep 23, 2021
Third time we stayed overnight. We were either very unlucky or this place is always muddy with standing water.
CAMPGROUND RESPONSE / COMMENTS:
You were unlucky as we had just had around 5" of rain in a short period of time. It was enough rain to top our 55,000 gallon pool to the top rim. We added 3 French drains, 55 tons of gravel and 25 pallets of sod since this spring alone. Jennifer~
Sep 22, 2021
We had a great overnight stop! The KOA team was so very friendly and accommodating. We'll definitely stay again as we travel through SC!
Sep 21, 2021
We Just stayed for one night, but was very impressed with the easy check-in and being personally guided to our spot by a nice man in a golf cart : ) After a long day of driving the front desk even delivered pizza to our RV site…was a perfect stay overall.
Sep 21, 2021
Nice stay. Friendly Staff. Great pizza!
Sep 20, 2021
Beautiful well kept park. Friendly helpful staff.
Sep 20, 2021
Super friendly staff! Great iced coffee. Only stayed 1 night passing through but it was quiet and comfortable. Sites are mostly open and close together but full hookups are great. LP on-site. Would stay again.
Sep 19, 2021
Very friendly and helpful staff -- great pizza -- well kept grounds -- fun amenities
Sep 19, 2021
Very happy with our stay at this KOA. Very Clear, Well Maintained, Friendly Staff. Great Experience
Sep 19, 2021
Great people and great service. Very nice KOA!
Sep 19, 2021
We saw this KOA in the app and realized that we were going to need a night in between our destination and home, so we made the reservation at Point South! It was a wonderful experience! The staff was very helpful and they had an especially delicious pizza service so we wouldn't have to cook dinner the night that we arrived! We will definitely plan to stop here again!
Sep 18, 2021
We stayed in #24 drive thru for 4days. Convenient to many locations and attractions. The Owner/manager has put together one of the friendliest teams that can't do enough for you! Beer and wine tasting along with pizza is convient to meet other friendly rvr's! No issues with hook ups. A lot of nice touches like table and chairs along with a picnic table and plants throughout. We willbe back shortly
Sep 18, 2021
It was a last minute thing. Mary took really good care of my and got me a deluxe cabin for the night. It was so fully stocked that, had I known that, I would not have to bring anything in from the truck. It had dishwashing liquid, pots, pans, dishes, silverware, barbecue utensils. It was great. It had a great view, was private. The grounds were great and the dog had a blast. I would rate a 6
Oct 19, 2021
Beautiful well appointed campground, just off I95 SC exit 33, easy in easy out. Great for a overnight passing through, or stay a few and explore Beaufort, Charleston, Hilton Head, Savannah Ga., and surrounding areas. The Swimming Mermaid offers a lovely cafe, Speciality Coffees, Local Wines, Pizza, Wings, and Gifts
- carmellab219 on Trip Advisor
Oct 19, 2021
Absolutely loved it and will be back for a longer stay. Clean level sites. Extremely friendly staff that take great pride in this park. Good pizza and upscale beer and wine served at the cute bar. Clean pool and gem mining for the kids. This is how all koa's should be run.
- cindywM319XO on Trip Advisor
Oct 16, 2021
This is one of the nicest KOAs we have been to. Have stopped here 3 times since May 2021. The staff is so friendly and helpful. The grounds are beautifully kept. Had a problem when we stopped in September. They offered to let us have one of the cabins for the night. Turned out we didn't need it but we're very grateful for the offer. We will stay here every time we are heading through. Customer service is A++++
- Kathy Gabel on Google