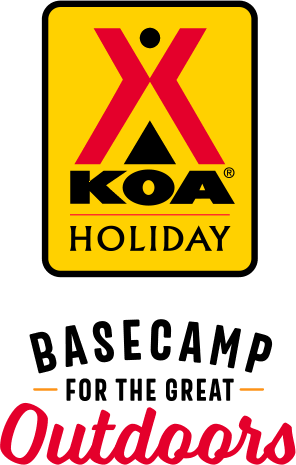 KOA Holiday Campgrounds
Whether you're exploring the local area or hanging out at the campground, KOA Holidays are an ideal place to relax and play. There's plenty to do, with amenities and services to make your stay memorable. Plus, you'll enjoy the outdoor experience with upgraded RV Sites with KOA Patio® and Deluxe Cabins with full baths for camping in comfort. Bring your family, bring your friends, or bring the whole group – there's plenty of ways to stay and explore.
KOA Holidays Feature:
RV Sites with a KOA Patio®
Deluxe Cabins with full baths
Premium Tent Sites
Group meeting facilities
Directions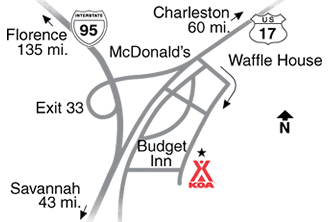 I-95 (Exit 33) at US 17 turn at the Waffle House 
GPS Info. (Latitude, Longitude): N32.625278, W80.882222
Get Google Directions
Oct 19, 2021
Very nice facility, friendly and helpful staff......
Oct 19, 2021
Great and friendly service. Carmella is terrific!
Oct 19, 2021
The friendliest people you could possibly meet!! VERY clean facilities, also.
Oct 19, 2021
Very friendly personnel. They even deliver Pizza �
Oct 19, 2021
Beautiful park. Tried a return visit on the way home and they were so expensive i refused.
CAMPGROUND RESPONSE / COMMENTS:
Thankfully there is a campground within budget for everyone. Our rates have not gone up that much within the last year. We are happy to refund you within an hour with 100% money back. 87% of 1600 reviews find 5 star value in their experience. Happy travels. Jennifer ~
Oct 18, 2021
Always happy to stay at this KOA! We really like how the KOA folks leave us alone for a quiet stay! We also like that the campground still makes pizza and wings! They are so good! Love the beer and wine tasting too!! Keep up the GREAT work!! See y'all soon!
Oct 18, 2021
Very nice campground, the food offerings were greatly appreciated!
Oct 18, 2021
Even though it was only an overnight stay pool Ave was great!!! Will be staying again on our way back home !
Oct 18, 2021
Staff was amazing, quiet little campground, easy to get in and out of. Centrally located for Hilton and Charleston.
Oct 18, 2021
The BEST KOA we have EVER stayed at! We will be back! We had a wine flight and did a craft project on Saturday night! We loved the coffee shop and beer too! The pizza was yummy and the campsites so nice! We loved everything about this place!
Oct 18, 2021
This was a very cute KOA, we stayed in the Caboose and my kids loved it. The staff was very friendly and the place was very clean. The only downfall is that on the map it appears to be a lot closer to the beach than it actually was (at least to me). It would be a great "passing through" type of campground. It took us an hour to get to the beach.
CAMPGROUND RESPONSE / COMMENTS:
We can not control what Google maps or others appear. Sorry you misunderstood. We are 30 min to historic Beaufort, 40 min to historic Savannah and an hour to the first plantations in Charleston. 50 min to the beach. We host many multiple nights with great satisfaction to see our beautiful lowcountry
Oct 17, 2021
Entire staff goes above and beyond to make a stay there enjoyable! From check in to site guide to pizza delivery, all was awesome. Beautiful campground with many amenities and activities. Trees and level sites, wifi and cable were great! Will return for a longer stay next time!
Oct 17, 2021
Great stay nice sites and super friendly staff
Oct 17, 2021
Seven days of pure enjoyment! All of the staff members are so awesome and friendly. The grounds are beautiful and clean, so are the bathrooms and the pool area, etc. Our assigned travel trailer spot was perfect! The pizza and chicken wings were a great addition to our stay. We'll be back next month - thank you for consistently being fabulous!!
Oct 17, 2021
Overnight but friendly and efficient staff
Oct 17, 2021
Good location for traveling up or down I-95. Not far from Savannah or other low country landmarks. Very cute coffee/wine/beer bar in the office with friendly service. Good pizza and wings. The store itself was pretty bare, mostly empty freezer, beverage cooler and shelves. Strong Wifi.
CAMPGROUND RESPONSE / COMMENTS:
Our freezer is for our pizza supply only and is filled and emptied weekly with sales. It is not for inventory to purchase. Our shelves are full of sundries like condiments, water, cereal, soups, spaghetti, etc and cooler filled with milk, soda and beer. Please inquire at the desk for any needs. JDM
Oct 16, 2021
The staff is very courteous and helpful. The grounds are pretty and well kept.
Oct 16, 2021
Great, we stopped overnight on our way back to Florida.park was clean and staff were friendly.
Oct 16, 2021
One of the friendliest campgrounds we have used. Great pizza shop and wine bar. A regular travel stop for us.
Oct 16, 2021
Very clean and the folks working there were very welcoming!!
Oct 16, 2021
Had a wonderful time, Jimmy was extremely courteous and helpful.
Oct 16, 2021
Why do all KOA put you in the most expensive site they have even if there are less expensive sites available.
CAMPGROUND RESPONSE / COMMENTS:
All you need to do is scroll down to all of the options or Better yet call and get exactly what you want. We are open 365 days a year 8 am - 9 pm. Happy Camping! You were in our regular full hook up 50 amp site. Jennifer ~
Oct 16, 2021
Generally Dirty, and in need of maintenance, and upkeep, throughout Friendly hosts …
CAMPGROUND RESPONSE / COMMENTS:
I think you have us confused with another park. As you see from our reviews and staying we are open 365 days a year 13 hours a day with multiple staff working in and out every shift cleaning. If you were this unhappy you should have let them know while you were wherever you were staying. Jennifer
Oct 15, 2021
Very welcoming staff. Well maintained, with a great variety of special attractions on site.
Oct 15, 2021
Stayed one night on our trip from CT to FL. We have stayed here four times in the last five years, and the sites are very clean and the employees are helpful and friendly. Sorry I missed the wine bar but I did get pizza and wings delivered to our site. Plenty of room to walk our two corgis. Restrooms and showers are clean, and they also have a dedicated handicap shower. Easy on and off I-95.
Oct 15, 2021
We will be back! The crew there is FanDamTastic, the facilities are clean and they sanitize the water spigots, electric boxes and sanitary connections when a site is vacated. Nice level shady sites. We are 2-1/2 hours away and it's a great getaway!! We enjoyed ourselves and never left the campgrounds
Oct 15, 2021
Staff very friendly,courteous and helpful. Campground was clean and orderly, camp store was clean and stocked with essentials. Enjoyed the wine tasting and local beer. This was our second stay and we are sure there will be otgers.
CAMPGROUND RESPONSE / COMMENTS:
What a pleasure it was to host you during your stay. Thank you for your kind review We look forward to seeing you again. Jennifer ~
Oct 15, 2021
Beautiful location. KOA hosts are helpful and really care about their guests and property.
Oct 15, 2021
Although it was only one night, the campground was clean, amenities were numerous, and the staff was friendly and accommodating to their guests. They work very hard to keep this a place I will visit again, and for hopefully a longer period of time! I would give them more than five stars if I were able. Thank you KOA Point South!!!
Oct 14, 2021
It is an exceptional campground it's worth staying there We will be back
Oct 14, 2021
Love this KOA
Oct 14, 2021
It's perfect as a stop-over campground. Staff is mostly friendly and willing to answer questions. Wine bar is an interesting touch. TV service was '90s style - many channels, none real clear with a lot of snow. Big rigs could have trouble in the somewhat tight quarters.
CAMPGROUND RESPONSE / COMMENTS:
Open 13 hours a day during your 2 night stay we would have been happy to fix any issue had we known. 62 channels of clear cable is on each site Your 17' travel trailer was in the section for smaller rigs. We host 45' rigs towing with no problem. Coffee/wine bar have been a great hit for 18 years.
Oct 14, 2021
This is our second visit. The park is lovely with a lot of nice touches: wine bar, pizza delivered to your site (very good!) attentive staff. Although the highway is nearby, it feels like you are in the forest. They have a couple of unique ways to stay, you can rent a caboose or a trolley car converted for a sleepover. So cute! We will be back! Easy daytrip to Charleston was great!
CAMPGROUND RESPONSE / COMMENTS:
Thank you for being a promoter of Point South KOA. Hope you continue to have an enjoyable journey. Jennifer ~
Oct 13, 2021
Great cabin. Friendly people. We will definitely be back! It was also close to sight seeing locations for the family.
Oct 13, 2021
It was wonderful. the staff was so friendly and helpful, and the coffee/wine bar and beer selections were such a nice addition!! We had a great quick overnight stay.
Oct 13, 2021
Spent 1 night there on the way to Outer Banks. Great staff, neat facility and park. Security is good, no issues at all.
Oct 12, 2021
The location is great for visiting Savannah, Charleston and Hilton Head. Very friendly staff,nice sites and so clean.
Oct 12, 2021
What a lovely campground. Local wines, craft beer, pizza, wings, coffee bar and pool. What more could you want. Also very nice people!
Oct 12, 2021
Wonderful team, great hospitality and beautiful lake walk with Gators:). Loved our cabin with a bathroom! Nice grill to use and fire pit too. Would highly recommend and definitely hope to visit again.
Oct 12, 2021
Campground is clean and quiet and the staff was very friendly and accommodating! Big shoutout to Kate and Ally who welcomed us, checked us in quickly and escorted us to our site. I love that they have pizza and wings there and they deliver!!
Oct 12, 2021
As always, our stay was perfect from check in to check out. Always friendly service with a smile. We appreciated the pizza delivery even during busy check in time!!
Oct 12, 2021
We had a great stay, nice park! Had some amazing employees, but two stood out to us they were kind off and on the clock, great to be neighbors too!! Kate and Ally we genuine and very sweet! We would definitely stay again!
Oct 19, 2021
Beautiful well appointed campground, just off I95 SC exit 33, easy in easy out. Great for a overnight passing through, or stay a few and explore Beaufort, Charleston, Hilton Head, Savannah Ga., and surrounding areas. The Swimming Mermaid offers a lovely cafe, Speciality Coffees, Local Wines, Pizza, Wings, and Gifts
- carmellab219 on Trip Advisor
Oct 19, 2021
Absolutely loved it and will be back for a longer stay. Clean level sites. Extremely friendly staff that take great pride in this park. Good pizza and upscale beer and wine served at the cute bar. Clean pool and gem mining for the kids. This is how all koa's should be run.
- cindywM319XO on Trip Advisor
Oct 16, 2021
This is one of the nicest KOAs we have been to. Have stopped here 3 times since May 2021. The staff is so friendly and helpful. The grounds are beautifully kept. Had a problem when we stopped in September. They offered to let us have one of the cabins for the night. Turned out we didn't need it but we're very grateful for the offer. We will stay here every time we are heading through. Customer service is A++++
- Kathy Gabel on Google