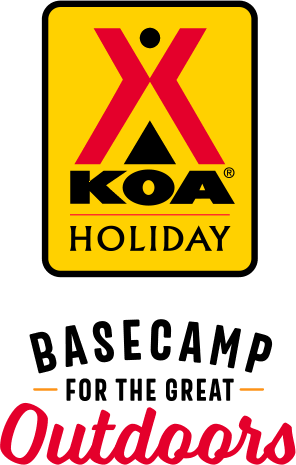 KOA Holiday Campgrounds
Whether you're exploring the local area or hanging out at the campground, KOA Holidays are an ideal place to relax and play. There's plenty to do, with amenities and services to make your stay memorable. Plus, you'll enjoy the outdoor experience with upgraded RV Sites with KOA Patio® and Deluxe Cabins with full baths for camping in comfort. Bring your family, bring your friends, or bring the whole group – there's plenty of ways to stay and explore.
KOA Holidays Feature:
RV Sites with a KOA Patio®
Deluxe Cabins with full baths
Premium Tent Sites
Group meeting facilities
Directions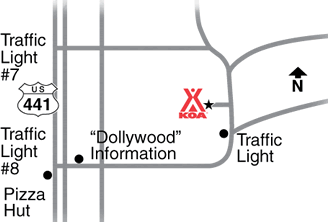 Directions from I-40: Take exit 407 and go south on Highway 66/Winfield Dunn Parkway for 8.4 miles.Turn left on 411 north/Dolly Parton Parkway.Continue on Dolly Parton Parkway and turn right on 449/Veterans Blvd.Go 5.8 miles and KOA is on the right.
Directions from Cherokee, North Carolina: Take US 441 North through the Great Smoky Mountains National Park for 31 miles. Continue straight through Gatlinburg for 5 miles. Once in Pigeon Forge, turn right at traffic light #8 onto Dollywood Lane, go through the next traffic light and KOA will be on the left.
In Pigeon Forge: Turn east off US 441 at traffic light #8 onto Dollywood Lane, go through the next traffic light and KOA will be on the left.
GPS: N35.786321. W83.550096
Get Google Directions
Jan 23, 2021
The heat didn't work. I had complained when I left and the very rude lady at the front desk told me she would look into it. Also none of the plugs worked. Maintenance came out and he couldn't fix the plugs. Very unhappy I paid extra for a cabin with a heater that didn't work 20 degree weather. My 7 year old froze.
Jan 23, 2021
The cabin was wonderful and very close to everything
Jan 23, 2021
It was great we love to stay with your koa the heated lazy river was a blast . It's friendly and great for kids ..Your koa is our 1st choice..
Jan 23, 2021
This was our first time staying in one of your cabins. We usually bring our camper. It was perfect for our much needed weekend getaway.
Jan 23, 2021
Campground is clean quite great cabins and rv sites construction and night highway traffic was noticeable
Jan 22, 2021
The cottage was very clean and very comfortable. I had everything I needed!
Jan 21, 2021
Thing where a little muddy due to the rain. Maybe installing dry pits could help. our cable connection was very cloudy.
Jan 21, 2021
Perfect! As always!
Jan 21, 2021
the KOA was a beautiful place to stay. it was close to all the places we wanted to visit. The place was very clean and the staff was wonderful.
Jan 21, 2021
Nice clean cabin and bathrooms. Close to everything you need in terms of bathrooms and attractions that are local.
Jan 20, 2021
Arrived after 7p.m. and only the security guard was there but he was extremely helpful with finding our site and even helped me back in..
Jan 20, 2021
Amazing playground, nice dog parks, the kids enjoyed the heated pool while it snowed. We took a last minute trip to see snow and it turned out perfect.
Jan 19, 2021
Our stay was great. We love Gatlinburg/Pigeon Forge and this is our 7th stay here. This Deluxe Cabin had ants though. Our friend made reservations as well but the front desk was very unaccommodating given they were in quarantine and didn't want a refund. Just a change of dates which they were told no to. So be aware of that when you make reservations.
Jan 18, 2021
Restrooms are out dated so are the sites electric
Jan 18, 2021
The cabin was very clean and it was very peaceful there. Staff was very nice!
Jan 18, 2021
Everything you could possibly need. Very thoughtful touches
Jan 17, 2021
Why are there two gatlinburg koas? Go's took me to pigeon forge when I had called to reserve at gatlinburg! Too confusing & disappointing. Pigeon forge still put us in a spot, next to highway & in the muddiest lot they had! So disappointed! So many empty lots & that was where they put us? Won't be back to either! Thanks, no thanks! Worst lot in a Koa across to Az & back.
Jan 16, 2021
We stay here every time we come to the Pigeon Forge. Great people, great place.
Jan 15, 2021
The showers by the camping cabins weren't very clean but overall we enjoyed our stay and would stay again.
Jan 14, 2021
Very friendly & helpful staff.
Jan 13, 2021
The tiny house's are perfect very nice and clean my family had a ball
Jan 12, 2021
Beautiful park, will definitely stay again in the future
Jan 11, 2021
We have stayed with you many times and it has been a very good experience. Wish the rates were the same as other campgrounds in the area. Other KOA campgrounds do not charge for extra children. But we love staying there.
Jan 10, 2021
We loved our stay..very clean
Jan 09, 2021
The campground amenities were wonderful and more than we had time to enjoy. The hot tub especially!! The only downside we experienced was the noise from the busy road we were parked next to. We loved our site, but it would have been even better if the site was closer to the river, which seemed quieter�
Jan 09, 2021
The location is great and convenient to town. The campground is tight and hard to drive around with a travel trailer in tow. Each campsite is on the smaller side with no yard. The water pipes froze one morning, leaving us with no water until around lunch. Backing the unit in the tight spot would have been a nightmare for an amateur. Will be looking elsewhere for next trip.
Jan 08, 2021
Friendly staff, clean cabin over looking Patriot Park. Will definitely stay at this KOA again in the near future.
Jan 08, 2021
The store should stay open up to ten because the email didn't worked at all.
Jan 08, 2021
I got in after hours so it was a bit dark. The pathways aren't too well lit so I had a hard time finding my cabin. Some pathway lights would really help.
Jan 07, 2021
Nice campground but it's tight getting in and out. Public park right next door. Never did get WIFI connectivity.
Jan 07, 2021
I have three large German Shepherd Dogs which is why I love coming to your campground. I always enjoyed having access to Patriot Park to allow my dogs off leash twice a day for much needed exercise. I was upset when I saw the construction closed the 2 entrances. I quickly realized you opened up the fence down by the river and even gravel Ed the park. Your incite to this saved the day! �
Jan 07, 2021
Best KOA ever! Thank you for having us as your guest! Clean, Heated Lazy River, Very close to all attractions and National Park. Staff is very friendly. We will be back.
Jan 07, 2021
Amanda and Katlyn are always so helpful. It's great to see them time and time again. Thanks ladies!!!
Jan 07, 2021
great cabins
Jan 07, 2021
Just too close to other campers. I got the cheapest spot for 2 days. $180.
Jan 07, 2021
You should add some lights in the back parts of the campground.
Jan 07, 2021
Everything was great except the mud. But we got a mat and fixed that too.
Jan 06, 2021
Your staff was so friendly and provided excellent service. In a time when Covid-19 is always on our mind, your outdoor and masked check-in service was fantastic. We truly appreciated being told that if we needed anything from the camp store, just simply text you and they would deliver the item to our site. Again, able to keep our distance was appreciated. Your facility is beautiful!
Jan 05, 2021
Every employee was helpful! We had some problems with the internet but figured it was just a busy weekend. Our site was a bit short, and it was hard to park our truck but managed. But had a GREAT STAY. The grounds and area were clean and our pups enjoyed the dog park areas! The river was very nice, the bathhouses were clean and seeing the Dollywood fireworks from our campsite was an added treat!
Jan 04, 2021
We had a great stay! As always, the staff was top notch! � We LOVE staying here, we have camped and rented cabins both. As a dog owner, I pick up & properly dispose of my pups waste. It was really Disgusting this time tho how many people had not picked up after their pets!��Is there any way, KOA can encourage or help to improve compliance on a problem that you shouldn't really need to addr
Jan 04, 2021
This isn't our first time camping at the pigeon forge KOA. Would have given 5 stars, as I have done before if the showers would have been cleaned a little more regularly. We travel with a handicap parent, and every time they would go to take a shower in the handicap shower it was filthy. This is our first time having issues with anything (other than WiFi) at this campground.
Jan 08, 2021
Friendly staff, clean cabin overlooking Patriot Park. Will definitely stay here again in the near future!!
- James Gregory on Google
Jan 04, 2021
Friendly staff. Beautiful cabins. Very clean.
- Kristie Dixon on Google