Alert
We OPEN for Kamping! Our Office, General Store, Restrooms, Mini-Golf, & Paddle Boats are open with enhanced Covid-19 procedures. Our Playground is open and disinfected daily. You can fish in our lake - no license needed! Our Organized Activities are suspended until further notice. Happy Kamping!!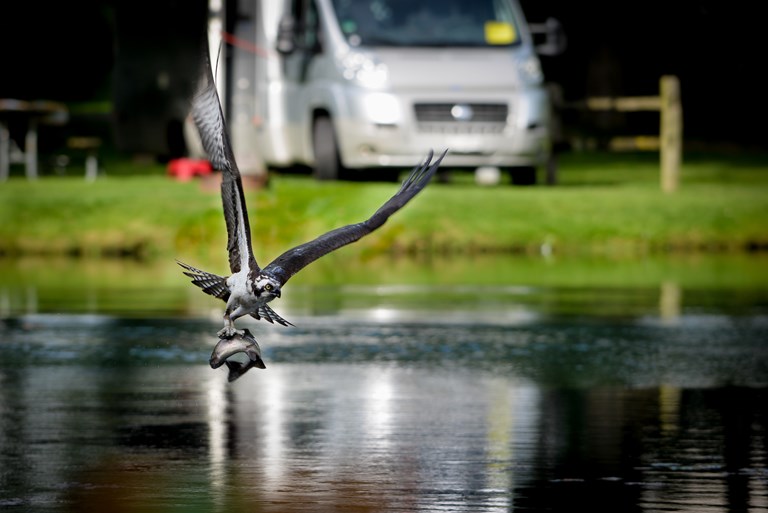 Lynden / Bellingham KOA Reviews
Spring into Summer!
Directions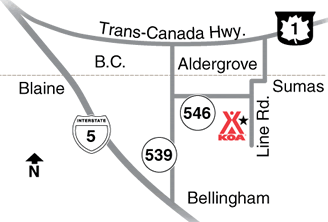 From I-5 N take Exit 256, Hwy 539, Guide Meridian. Travel 15 miles to Hwy 546, E Badger Rd, turn right. Travel 5 miles, turn right on Line Rd.
Get Google Directions
Sep 05, 2019
The Lynden KOA is our favorite campground. We love the many things kids can do there, the ponds, the pool, putt putt golf, paddle boats, and the organized activities. It's close to town and a beautiful area.
Sep 05, 2019
The campground if great but the office staff need to get on the same page and trained, even after confirming my site 2wks before I was still booked into and charged for the wrong site, issues with charging and crediting my credit card. Our group was charged different prices per night from each other, I have been coming here for over 40yrs but something needs to be done with their office process.
Sep 04, 2019
The Lynden KOA is the best way to kick off the camping season and wrap it up as we head back to school. The lynden staff plan and execute so many fun activities for the kids. We've been coming for 9 years and now have 3 other families join us. Thank you for your hospitality and beautiful facility... we are grateful! � The Keller Family
Sep 04, 2019
Exceptional as always.
Sep 04, 2019
We had a lot of fun. The site is very family friendly, and lots of activities planned for the long weekend.
Sep 04, 2019
Great camping for the family and friends. The grounds and cabins are kept very clean. The staff was very friendly with fun amenities like the pool, cafe & miniature golf. The 80's dance was really a lot of fun. I would definitely recommend your campground. Thank you!
Sep 04, 2019
Very enjoyable. Calm, quiet, clean... next time we hope to stay longer.
Sep 03, 2019
Awsome as usual.
Sep 03, 2019
Had a great time as always. See you next year. Thanks Deirdre
Sep 03, 2019
Great family camp ground run by a great family
Sep 03, 2019
We like the Lynden campground, it's our favorite, but this time was not great. The number of kids roaming the campground on bikes, unsupervised was overwhelming. They were rude and had no regard for foot or car traffic or the grounds. Parents didn't seem to care and often were drunk. Hoping this changes before our next visit, or we'll have to find a new favorite.
Sep 03, 2019
This campground and staff are top notch!! Cant wait to rebook for our 3rd year for next summer
Sep 03, 2019
I wish there was a second pool or that the pool was bigger as the pool and pool deck area felt very crowded. We were also there on the long weekend so maybe it was busier than normal?? Everything else was wonderful!
Sep 03, 2019
We had an amazing trip and everyone there was amazing!!! Great activities for all ages, our favorite was the 80's dance lots of laughs and memories made.. Thank you so much!!�ϋ��ϋ�
Sep 03, 2019
As always my family and I always have a great time. All the staff is really nice the camp is always kept nice and clean and its always improving..we Will always come back every year. Thank you
Sep 03, 2019
Stayed Labor Day weekend so camp was full! Enjoyed all the activities and our tent site nicely shaded. Only issue was the bathroom condition. The paper towels were out in the ladies room for over 24 hours from Sunday mid morning to Monday mid morning. Toilet paper was out in one of the stalls on Saturday. When camp is full, bathrooms need to be cleaned and replenished more often!
Sep 03, 2019
A few loud guests until midnight and a few kids running through cam site but slept well after the noise stopped. People banging and washing pots at public sink near tent sites. Is probably nice inside an RV. Facility is clean and charming. Would definitely stay here again.
Sep 03, 2019
This is the best KOA ! We love all the features & activities. Our only request would be to consider adding another hour of adult swim time early in the morning: Thanks for a great stay !
Sep 02, 2019
We stay here several times a summer and always have a great time . The staff are awesome and so helpful . They work hard so we can have a really great camping experience
Sep 01, 2019
Was KOA of year and it shows. Congrats.
Aug 31, 2019
KOA Lynden feels like our summer home. We instantly unwind, the kids have freedom to bike all day and just be kids in a safe environment where everyone looks out for each other. The grounds are well maintained, the staff are helpful and the events on long weekends are a blast for young and old! Eddie and Todd both go above and beyond to make sure you're taken care of during your stay. Thanks KOA!
Aug 31, 2019
The only reason why I didn't give it a 5 star rating was because how close you are to others. I would have no problem going back. Alicia, in the office, and one of the grounds crew named Hannah made our stay great by making sure we had a fire pit. For my professional smore crew. You are close to town and close to the border. Grounds are very clean. Very family friendly.
Aug 30, 2019
We had so much fun. This KOA has so many activities for the kids and we love the option to buy food/snacks!
Aug 30, 2019
Pricey campground. I was denied a late check out for only 30 min or an hour even though I checked out on a Wednesday and the Campground was maybe 20% capacity no where near full, There was NO recycling for any plastic, paper etc... No compost. The garbage was not changed and flies all around and inside the garbage. I wanted 2 register to be a mbr and the lrg dark haired clerk said "go online".
Aug 30, 2019
Awesome! Stayed in 88b and loved the cleanliness, the quiet. Staff was super friendly. Wish there was more adult time at the pool, like noon to 2 and 5 to 7. Other than that, we will definitely be back!
Aug 30, 2019
Very nice! Some campers in the full book ups ran their generators all night making it difficult to sleep.
Aug 29, 2019
Our stay was awesome. Can't wait to go back.
Aug 29, 2019
Great locations. We visit every year.
Aug 29, 2019
My kids and I stayed in a cabin and had a wonderful two days! The campground is beautiful and clean! The staff were all very helpful and nice. We will be returning for sure!
Aug 29, 2019
The campground is clean and kid oriented. Really enjoyed the extra activities at a price that allows you to do all the activities. The store is well stocked and again VERY well priced. My 7 old loved it all of it!
Aug 28, 2019
Wish we had internet at the site
Aug 28, 2019
Beautiful park and very friendly person in the office but not big rig friendly. We can't come back. Too many low hanging trees, narrow sites, narrow roads.
Aug 28, 2019
It is a nice camp site, but Wi-Fi is not to good, more full service sites would be better.
Aug 27, 2019
Camp is clean. Site very small. Arrived at 2pm and noticed site was very small our party of 6. Asked if we could switch with empty site directly next & was told that causes chain reaction/ no switching. She stated "don't know what our neighbors would have so couldn't switch. It was 3 people, tiny tent. Cant reserve specific spots when making reservation, and you're stuck with what you get.
Aug 26, 2019
Our first time staying at a KOA campground and it was awesome! So many activities for the kids and well laid out for the kids to bike around.
Aug 26, 2019
We enjoyed our stay. Would have liked to have the loud music from another site dealt with per the rules of the campground after bringing it to someone's attention however.
Jul 06, 2020
Clean, Very Friendly and great customer service 👌
- Kristal Gollihar on Google
Jun 11, 2020
Great place. Friendly stuff. Loved our stay.
- Natalia V on Google
May 17, 2020
This place is so clean. Beautiful grounds. Customer service is 💯. We will for sure be back!
- Sarah Sonnentag on Google

Lynden / Bellingham KOA
Open All Year
8717 Line Road
Lynden, WA 98264
Check-In/Check-Out Times
RV Sites, Tent Sites
Check-in: 1:00 pm, Check-out: 12:00 pm
Accommodations, Kabins
Check-in: 2:00 pm, Check-out: 12:00 pm
Get Google Directions

© 2020 Kampgrounds of America, Inc.