Alert
We OPEN for Kamping! Our Office, General Store, Restrooms, Mini-Golf, & Paddle Boats are open with enhanced Covid-19 procedures. Our Playground is open and disinfected daily. You can fish in our lake - no license needed! Our Organized Activities are suspended until further notice. Happy Kamping!!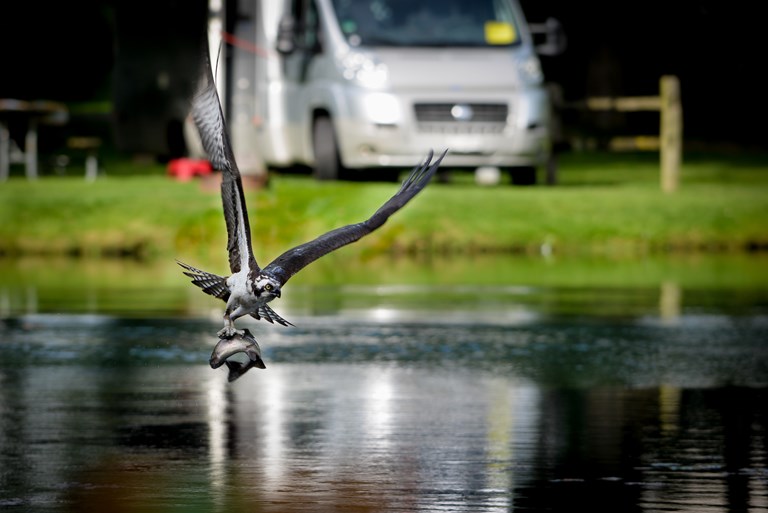 Lynden / Bellingham KOA Reviews
Spring into Summer!
Directions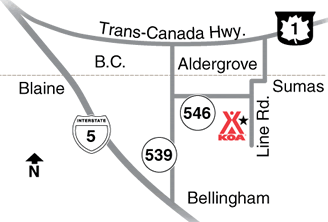 From I-5 N take Exit 256, Hwy 539, Guide Meridian. Travel 15 miles to Hwy 546, E Badger Rd, turn right. Travel 5 miles, turn right on Line Rd.
Get Google Directions
Jul 08, 2020
Came in late and got set up with no problems. Thanks Dan
Jul 07, 2020
Best camping trip ever. Great amenities. Loved feeding the ducks. Only criticism is please check the bathroom toilet paper more than once a day. I have no complaints otherwise! We will be back.
Jul 03, 2020
I stayed at a tent site for two nights. The staff are very accommodating and friendly, I can't say it was very clean, And the view is amazing. The only complaint I have is that the fishing lake has a lot of plant life, and so you can only fish in shallow areas. Other than that I had an amazing time!
Jun 29, 2020
My partner and I did a long term stay and fell in love. Very safe, very clean, dog friendly, and close to grocery stores! Not to mention the staff is the sweetest and you can tell that they care for the grounds and the people. See you again!
Jun 29, 2020
It was great other than the muddy camp site which you can't really control the rain. =0) staff was friendly and cleaning often!
Jun 26, 2020
The property is beautiful and well maintained but the spots are small and stacked in. The staff is mostly young kids who need general guest service lessons like don't rent out 6 paddle boats if you only have 4 & dont make sassy comments about guests when working because I heard the snotty ice cream girl make a comment and called her out- told her she should've made sure I couldn't hear her.
Jun 24, 2020
Everything was great! Clean, friendly, great amenities! We had a great time.
Jun 24, 2020
Beautiful and well maintained campground, one of my grandkids favorite campgrounds, However, with COVID-19 in mind, the safety measures do not appear to be enforced. Although signs are posted that the pool is closed until Phase 3, people were swimming. Arcades were sectioned off but kids were playing games. Maybe after this pandemic is over we will be back but for now we will keep our distance.
Jun 22, 2020
We absolutely love coming here! The staff are friendly, the grounds are clean and there's so much to do!! Lynden KOA is our favorite part of summer!
Jun 22, 2020
We love Lynden KOA. Some improvements that need to be made are, update the dish washing station by campground 111, go through all playground equipment hardware and tighten (there are loose bolts on the slide), enforce the no fishing from road and dock rules.
Jun 22, 2020
Great place and great employees
Jun 17, 2020
We are very disappointed in the lack of enforcement of quiet hours on the campsites. The group of campers who were camped right next to us were partying it up Saturday night until past 11 pm. Puked next to our site. No one from the campground patrolled. Other campers were yelling at the group to shut up. I send an email directly to Lynden KOA with my complaint, yet no response.
Jun 15, 2020
Very polite employees and very well maintained campground would difinitley recommend
Jun 08, 2020
We had a great time! So much fun stuff for the kids to do... mini golf, swimming pool, paddle boats, fishing, biking. Awesome!
Jun 06, 2020
Had lots of fun on the paddle boats feeding the ducks! Mini putt was fun, beautiful camp site overlooking a pond. Everything was very clean, friendly staff, Great camping experience!
Jun 01, 2020
The final night was rough. The campsite party near us was up until 4am with loud music and noise. But other than that, our stay was five-star. The staff was excellent. The campgrounds were immaculate. Fun activities like the pool, put-put golf, and paddle boating. We couldn't have had a better time!
Jun 01, 2020
Awesome campgrounds! The amenities were clean and well maintained, the ground were very beautiful! The staff was helpful and friendly. Lots to do and a perfect place for kiddos to play! We were very happy with our stay and cant wait to come back!
May 31, 2020
Had a great visit!
May 31, 2020
Great place. Peaceful place and friendly stuff.
May 28, 2020
I mentioned to the girls that only 2 sinks were adequately functioning Not allowing enough water to properly hand wash A vital part of our live today
May 27, 2020
Only 2 bathrooms for the entire camp ground. Bathroom closest to our site was often dirty and out of Soap / Paper towels / Toilet paper.
May 26, 2020
The owner was very abrasive and rude, we payed ahead of time for 2 sights next to each other and then somone book over one of the sights and the owner wasn't willing to do anything about it luckily the girl at the front counter worked to figure it out. On the last day it rained all morning and our sight had 0 water dispersion and we woke up in deep puddles of water all in all would not recommend
May 12, 2020
We enjoyed our stay very much. Would have been nice if the bathrooms would have been working, but we do understand of plumbing repairs.
May 12, 2020
Campgrounds were clean and attractive. Staff was exceptionally friendly. We wanted to go back as soon as we got home.
Sep 25, 2019
One of the nicest KOAs I've stayed in. Excellent tent sites, restrooms, and showers. Hosts very pleasant and helpful.
Sep 25, 2019
Arrived late and left early, stayed in tent, but from what we saw it seemed like a campground we might want to spend more time in the future at.
Sep 15, 2019
They were very kind and accommodating. I called to say I was on my way but would be there after office hours and they stayed to wait for me. Very kind! Thank you!!
Sep 09, 2019
Pool-awesome (adult). tenting site nice, but VERY close. bathroom (men+women) needed attention. mens had a flood/clog during our stay. Neither had soap available on Fri + most of Sat. Loved the ducks! A credit to one staff member (dont know her name-young girl with long blond hair). She was AWESOME! Fri night party until about 2 am with nobody to tell them to quiet it down
Sep 06, 2019
The organized activities were great. The bathrooms however we're not so great. The garbage in both washrooms were constantly overflowing. Sometimes there was no toilet paper nor paper towels available. This was a regular issue during our 3 day stay. Obviously they need to be tended to more than once per day. Very loud groups until 1:30 AM. No staff patrolling??
Sep 04, 2019
We had a lot of fun. The site is very family friendly, and lots of activities planned for the long weekend.
Sep 03, 2019
We had an amazing trip and everyone there was amazing!!! Great activities for all ages, our favorite was the 80's dance lots of laughs and memories made.. Thank you so much!!�ϋ��ϋ�
Sep 03, 2019
As always my family and I always have a great time. All the staff is really nice the camp is always kept nice and clean and its always improving..we Will always come back every year. Thank you
Sep 03, 2019
Stayed Labor Day weekend so camp was full! Enjoyed all the activities and our tent site nicely shaded. Only issue was the bathroom condition. The paper towels were out in the ladies room for over 24 hours from Sunday mid morning to Monday mid morning. Toilet paper was out in one of the stalls on Saturday. When camp is full, bathrooms need to be cleaned and replenished more often!
Sep 03, 2019
A few loud guests until midnight and a few kids running through cam site but slept well after the noise stopped. People banging and washing pots at public sink near tent sites. Is probably nice inside an RV. Facility is clean and charming. Would definitely stay here again.
Aug 30, 2019
Pricey campground. I was denied a late check out for only 30 min or an hour even though I checked out on a Wednesday and the Campground was maybe 20% capacity no where near full, There was NO recycling for any plastic, paper etc... No compost. The garbage was not changed and flies all around and inside the garbage. I wanted 2 register to be a mbr and the lrg dark haired clerk said "go online".
Aug 29, 2019
Great locations. We visit every year.
Aug 27, 2019
Camp is clean. Site very small. Arrived at 2pm and noticed site was very small our party of 6. Asked if we could switch with empty site directly next & was told that causes chain reaction/ no switching. She stated "don't know what our neighbors would have so couldn't switch. It was 3 people, tiny tent. Cant reserve specific spots when making reservation, and you're stuck with what you get.
Aug 26, 2019
It was great as it always has. Great staff .. My family and I always have a great time and will always keep coming back.
Aug 25, 2019
We come from Canada to camp at Lynden KOA every summer. It is a family tradition we will never stop. We love everything about this place, and the renovation to the games room is lovely. Another memorable summer... can't wait to come back next year.
Aug 22, 2019
While overall a good experience, the camp sites we were at have a lot of loose dirt and make everything so incredibly dirty and dusty. It was super bad– my tent is now covered in dust and it was really hard to not track it into the tent. Lots of rocks and such that needed to be cleared to set up camp.
Aug 22, 2019
Great! So glad to have all the nice amenities available such as pool and paddle boating. Play ground and mini golf �.Restrooms very clean and well maintained. We'll definitely be back again as a family yearly vacation.
Aug 20, 2019
We have a neighbourhood camping trip here every year. This was our 4th year. Yet again the shower handle is almost falling off. One of the taps doesn't work in the women's bathroom. The pool is so cold the kids hate going in it. The facility is very poorly maintained. We go because it is close to home, the kids have fun, but for the price I'll be looking for somewhere new to stay in 2020.
Aug 20, 2019
Stay was good but the pool was a lot smaller than we thought and the site we stayed at was still occupied past 1pm.
Aug 18, 2019
I have always avoided the campground chains preferring a more spacious rustic setting. The Lynden KOA surprised me; from the incredible genuine friendliness of the staff to the spacious campsites, the fun and clean facilities and their flexibility around rules, especially where our dog was concerned, while still respecting the needs of other campers. They have perfected the art of catering to all.
Jul 06, 2020
Clean, Very Friendly and great customer service 👌
- Kristal Gollihar on Google
Jun 11, 2020
Great place. Friendly stuff. Loved our stay.
- Natalia V on Google
May 17, 2020
This place is so clean. Beautiful grounds. Customer service is 💯. We will for sure be back!
- Sarah Sonnentag on Google

Lynden / Bellingham KOA
Open All Year
8717 Line Road
Lynden, WA 98264
Check-In/Check-Out Times
RV Sites, Tent Sites
Check-in: 1:00 pm, Check-out: 12:00 pm
Accommodations, Kabins
Check-in: 2:00 pm, Check-out: 12:00 pm
Get Google Directions

© 2020 Kampgrounds of America, Inc.