Alert
We OPEN for Kamping! Our Office, General Store, Restrooms, Mini-Golf, & Paddle Boats are open with enhanced Covid-19 procedures. Our Playground is open and disinfected daily. You can fish in our lake - no license needed! Our Organized Activities are suspended until further notice. Happy Kamping!!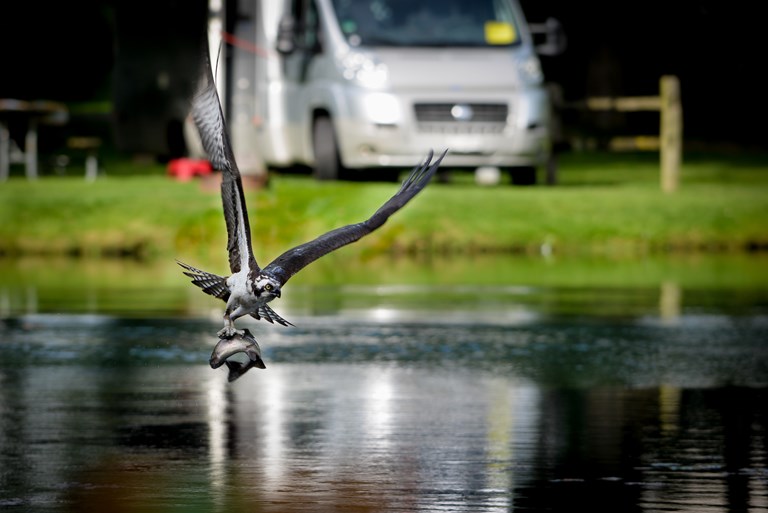 Lynden / Bellingham KOA Reviews
Spring into Summer!
Directions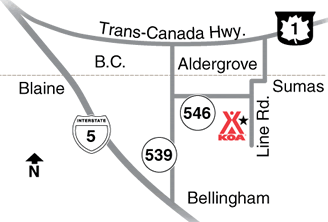 From I-5 N take Exit 256, Hwy 539, Guide Meridian. Travel 15 miles to Hwy 546, E Badger Rd, turn right. Travel 5 miles, turn right on Line Rd.
Get Google Directions
Jul 11, 2020
Beautiful, well maintained oasis with helpful staff and lots of fun to be had. My kids especially loved the ducks and paddle boats! Bring ear plugs for the bull frogs! Such a picturesque setting if you camp right beside the lake. We had a blast.
Jul 10, 2020
clean , quiet, nice people. had a beautiful time. I will go back again and again .
Jul 10, 2020
We had a good stay. They did a great job putting on a 4th of July fireworks display for their guests while observing social distancing. The staff was great, as always! I love that the little store is stocked well. Space #23 --- Our neighbors had their large slide out extended into the small grass area by table. This gave us very little room. There was also a large stump in the way of our door.
Jul 08, 2020
Always a great time. Love the ponds and ducks. Love to see the Eagle fly over. We especially like it in site B. Thank you
Jul 08, 2020
Great place to stay and relax... Great Customer service, clean facilities and campground. Will stay at again.!!!!!!
Jul 08, 2020
Enjoyed it very nuch. Nice facilities and plenty of privacy even though it was full for the holiday weekend.
Jul 08, 2020
Pretty Place. Clean and well maintained. Really nice and helpful people working there.
Jul 07, 2020
Awesome campground ! Might be our new favorite !
Jul 07, 2020
We love coming to the Lynden KOA. It's our favorite campground. Vickie and the team are always a delight! Thanks for another fun visit!
Jul 07, 2020
I originally booked a site 90B on 5/31 and was charged for one night. This was for my stay July 2-5. When we got to check in on the 2nd of July you had switched us out of ur site. We were put in 85 E... For one it's really noisy there, for two it's a smaller site and for three the manager wanted to know what I wanted her to do. It would of been nice for a little reimbursement.
Jul 07, 2020
We really enjoyed our stay and the kids had so much fun. The campground was very well maintained and clean. Will definitely come back again.
Jul 07, 2020
We had a great time!! The campground was extremely clean and all of the staff were very friendly.
Jul 07, 2020
We enjoyed our stay very very much, as did our grandchildren in spite of a couple days of rain. Owners and workers were very accommodating and kind.
Jul 07, 2020
Everyone was nice. Fun things to do for kids. The grounds were maintained and it was pretty. Only issue is that the sites are really close and right together
Jul 06, 2020
A large number of our family came to stay with you for the 4th of July weekend and we had 6 spots reserved for all of us. We had a wonderful time staying with you. We've stayed with you in the past and the staff is always so friendly and helpful. We had a wonderful time and made some more great memories. Thanks so much for providing such a wonderful experience!
Jul 06, 2020
It was great, despite the rain!
Jul 06, 2020
What a clean, safe-feeling place to stay! The staff were professional and work hard to keep the place in tip-top shape.
Jul 06, 2020
We did not receive the passcode upon entry.
Jul 02, 2020
We stayed seven days, our second time this year. Daughter, husband two children joined us for two days. We all had fun. We told two others after our first stay and they also came, for five days in their motor homes.
Jul 02, 2020
Beautiful facility with fantastic customer service. Will be back very soon!
Jul 01, 2020
Every one was very nice. Very well maintained. We will back soon. Thank you.
Jul 01, 2020
Beautiful facility and a great staff.
Jul 01, 2020
Mix up a n my site # site 6 was occupied so I took site 9. Very crowded. No one wearing masks at check in or when I let them know That I was in site 9. Very few people were wearing masks as I walked around the property in my mask
Jun 30, 2020
Love this campground, it is always so neat and clean. The employees are very friendly too.
Jun 30, 2020
Fun clean friendly
Jun 30, 2020
Very clean and the staff are so friendly! Will definitely be back!
Jun 29, 2020
Always a pleasure
Jun 29, 2020
Me and my other parties really enjoyed our stay! The whole weekend was full of rain, but we still had an amazing time. We enjoyed the paddle boats, mini golf, arcade and the cold iced coffee & ice cream, general store and most of all the terrific costumer service and cleanliness of the bathrooms. We will be coming back soon ! Thank you.
Jun 29, 2020
Great to get out, even if only for a weekend. Kids really liked casting the fishing rods riding their bikes and hiding around in the bushes. Only thing that would've made the trip better is if there was less weed/algae growth in the fish pond.
Jun 29, 2020
I would love to come back it was a very fun place to stay and had lots of activities. However there was absolutely no social distancing being followed; kids all over the playground, too many people in the pool, indoors almost no one was wearing masks. I only saw one staff member with a mask on. There were hand sanitizing stations everywhere and signs on the floor at check in, that was about it.
Jun 29, 2020
I loved all the activities, staff was friendly, everything was easy and it's only 20 minutes from home. We'll definitely be back.
Jun 29, 2020
We always reserve by the pond so our grandsons can fish. My very large issue I have is that other children/adults tend to walk through our site even when we are sitting right at the waters edge. I pay for this extra privilege and do not feel that it is ok for them to walk through, maybe ropes or extend fence between sites will help this issue. I am going to make my own fence next visit for sure
Jun 29, 2020
We had such a fun family camping trip. It was nice to get away right now. Definitely, a place for the whole family. We stayed in site 9 and it was a perfect area close enough to the park and the pool. The kids had fun riding bikes around everywhere, playing at the playground, renting paddle boats. playing mini golf, and fishing. Next time we want to try the spots around the lake. Staff was awesome
Jun 29, 2020
One of the nicest KOA that we have stayed in. We will be back for sure
Jun 27, 2020
everything was great, nice place - would definitely return. very quiet which was nice - but then again it was the middle of the week and 2/3 the camp was empty.
Jun 26, 2020
This was our 6th Annual Camping Trip with our young granddaughters to the Lynden KOA and it was a great time just like the others. During this Covid-19 pandemic it was sad that I was not allowed to let them make new friends among the other campers but hopefully next year we can go back to that. Otherwise we had a wonderful time..
Jun 26, 2020
Your Staff was the most skilled in Customer Service. Their willingness to help in every detail, especially their friendliness was much appreciated. The Grounds were immaculately maintained and the peace nature of the setting was perfect. We Will be Back, Thank You, Ken & Ann Pierson
Jun 24, 2020
It was a clean and well kept campground. The people who worked there were nice.
Jun 23, 2020
We enjoyed our stay at the Lynden KOA. It's a very clean park and was very convenient for us since our son and family live within walking distance.
Jun 23, 2020
Beautiful site, friendly staff, and lots to do. We loved it and definitely will be back.
Jul 06, 2020
Clean, Very Friendly and great customer service 👌
- Kristal Gollihar on Google
Jun 11, 2020
Great place. Friendly stuff. Loved our stay.
- Natalia V on Google
May 17, 2020
This place is so clean. Beautiful grounds. Customer service is 💯. We will for sure be back!
- Sarah Sonnentag on Google

Lynden / Bellingham KOA
Open All Year
8717 Line Road
Lynden, WA 98264
Check-In/Check-Out Times
RV Sites, Tent Sites
Check-in: 1:00 pm, Check-out: 12:00 pm
Accommodations, Kabins
Check-in: 2:00 pm, Check-out: 12:00 pm
Get Google Directions

© 2020 Kampgrounds of America, Inc.