Alert
We OPEN for Kamping! Our Office, General Store, Restrooms, Mini-Golf, & Paddle Boats are open with enhanced Covid-19 procedures. Our Playground is open and disinfected daily. You can fish in our lake - no license needed! Our Organized Activities are suspended until further notice. Happy Kamping!!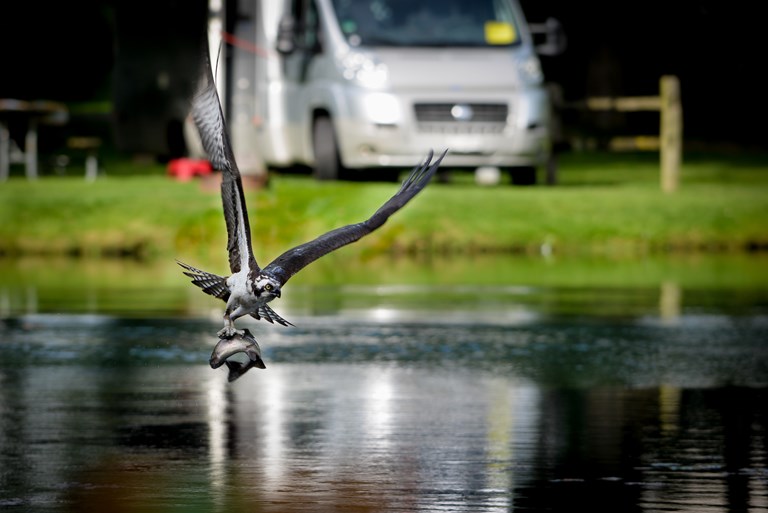 Lynden / Bellingham KOA Reviews
Spring into Summer!
Directions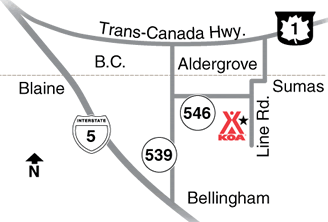 From I-5 N take Exit 256, Hwy 539, Guide Meridian. Travel 15 miles to Hwy 546, E Badger Rd, turn right. Travel 5 miles, turn right on Line Rd.
Get Google Directions
Jul 11, 2020
lots to do there,able to social distance,grounds beautifully kept.loved all the trees,pool very nice,great place for kids.
Jun 29, 2020
We love this camp grounds we go every year
Jun 22, 2020
Wonderful family atmosphere. The staff was very friendly and helpful.
Jun 21, 2020
Beautiful grounds. Nice amenities. Wish the grounds were bigger because it looked way larger on your map. Lots of kids and definitely family friendly.
Jun 18, 2020
Always love staying with you guys.. feels like home. Thank you for such a beautiful stay.
Jun 15, 2020
The staff was wonderful. The kids and I had an amazing time and will be back.
Jun 08, 2020
It was fun. Family had a blast. There was one camp that was pretty loud til midnight but it definitely didn't ruin our weekend. Olive and Alicia's customer service was pretty dope/awesome. They did great. Appreciate the memories.
Jun 02, 2020
This place is GREAT!!! Clean, friendly staff and they mostly were teenagers, super helpful. This place has a lot to do. I appreciate a place to go when most places are closed. I would go back in a split second if I could. My only con would be - your side by side with your neighbor. This is not much of an issue for us, but FYI. Highly recommend!!!!
May 31, 2020
Campground was clean. Staff was friendly. After adult swim there were intoxicated adults who lingered in the pool with open wine bottles at the pools edge. Unattended kids under age 10 in the pool. It just felt a little out of control.
May 26, 2020
This was the first time we have ever stayed at a KOA and it was wonderful! My husband and I along with our three children (11,7,3) had a wonderful time! The staff was hands down amazing and the amenities were awesome! We will be back! We stayed in a cabin and it was just what our family needed! THANK YOU!!!
May 19, 2020
Everyone was very helpful, the park was clean.
May 19, 2020
So refreshing to be out camping! The staff did an incredible job keeping this place clean and sanitized. Outstanding!
May 18, 2020
Park was an oasis in the middle of town. Once in the park, it was really difficult to imagine you were in the middle of a residential area. The mature trees, ponds, and overall grounds created an idyllic environment. Store and park staff were generally friendly and helpful. Primary disappointment was the condition of the lake(s), which were extremely shallow and had no fish. Would stay again.
May 11, 2020
The staff were all so very friendly and helpful! Definitely will be returning soon
May 11, 2020
All staff members were great! Very friendly and helpful. Great amenities and the children loved the pond and fishing in it.
May 05, 2020
Our stay was great! It was a bit disappointing that the bathrooms closest to our cabin were not in a functioning state and had to be locked, but we made do and had a great and relaxing weekend.
Oct 02, 2019
Beautiful camp site.Easy and convenient to get to.The lake is very pretty & has ducks.The only thing I would suggest is, it needs free Wi-Fi access for guests. We arrived late (from Canada) and wanted a recommendation for a place to eat out and we also needed a map of the local area. The office was closed and we weren't able to get this info as we didn't have international roaming on our phones.
Sep 23, 2019
We had a fantastic time! The Kamper's Den was great, and I loved being able to get a good coffee :)
Sep 23, 2019
pretty grounds. Convenient location.
Sep 21, 2019
Very friendly staff - grounds were neat and clean. One suggestion -- a drop box for the cabin keys for use by those guests who wish to leave before the office opens. We had to leave before the office opened and my son left his key with another camper to return to you.
Sep 19, 2019
Unfortunately it was raining very hard, but the facility was great, we were in a RV site. I enjoyed the frogs and ducks. Everyone in the office was very welcoming.
Sep 18, 2019
The fishing ponds are great. The grounds are beautiful and well laid out. The cabins were nice. The playground was fun for the kids.
Sep 11, 2019
Amazing staff and campground! Our new go to camping spot. Great place for kids to be kids!
Sep 10, 2019
It was understaffed. The bathrooms weren't cleaned the whole time we were there. I felt bad for the 2 women working,but the one had an "oh well"attitude. Very disappointed. Also ,men's urinals were leaking there was water everywhere and no caution sign up. Worst Koa I've ever been at. I feel like I should at least get some kind of a refund.
Sep 04, 2019
Great camping for the family and friends. The grounds and cabins are kept very clean. The staff was very friendly with fun amenities like the pool, cafe & miniature golf. The 80's dance was really a lot of fun. I would definitely recommend your campground. Thank you!
Sep 03, 2019
Awsome as usual.
Aug 30, 2019
We had so much fun. This KOA has so many activities for the kids and we love the option to buy food/snacks!
Aug 29, 2019
My kids and I stayed in a cabin and had a wonderful two days! The campground is beautiful and clean! The staff were all very helpful and nice. We will be returning for sure!
Aug 26, 2019
Our first time staying at a KOA campground and it was awesome! So many activities for the kids and well laid out for the kids to bike around.
Aug 26, 2019
Everything was great except for food availability (pizza) and service in the Den - the staff have little sense of urgency. We will be back! the Party was a wonderful event!
Aug 26, 2019
The staff is professional and friendly. The activities are fun and well-run. The grounds, pool, and bathrooms are very well-kept. The store is well stocked and reasonably priced. We always have fun at this KOA!
Aug 25, 2019
We had a wonderful stay! The only issue we had was one cabin beside us decided they would play movies on a projector outside. The movie was so loud you could hear it at the washroom area. Kinda ruined our last night of relaxation. But other than that the staff and accommodations were great!
Aug 23, 2019
We love this place!
Aug 21, 2019
Great people running the place. The atmosphere was fun festive and the weather was great. One of our top camping experiences in this type of campground ever!
Aug 20, 2019
It was great. Relaxed with plenty to do. One problem with this KOA is the temperature of the pool. It is far too cold. In past years I have requested that they turn up the heat but they don't.
Aug 19, 2019
Great staff great location great time
Aug 16, 2019
Our Stay was one of many for the last 15 years. The reasons why we kept returning to this campground was because it was professional managed, always clean, and the settings has been very well maintained to allow us to enjoy the surrounding, the peace and relaxing atmosphere that prevails through the campground.
Jul 06, 2020
Clean, Very Friendly and great customer service 👌
- Kristal Gollihar on Google
Jun 11, 2020
Great place. Friendly stuff. Loved our stay.
- Natalia V on Google
May 17, 2020
This place is so clean. Beautiful grounds. Customer service is 💯. We will for sure be back!
- Sarah Sonnentag on Google

Lynden / Bellingham KOA
Open All Year
8717 Line Road
Lynden, WA 98264
Check-In/Check-Out Times
RV Sites, Tent Sites
Check-in: 1:00 pm, Check-out: 12:00 pm
Accommodations, Kabins
Check-in: 2:00 pm, Check-out: 12:00 pm
Get Google Directions

© 2020 Kampgrounds of America, Inc.