Directions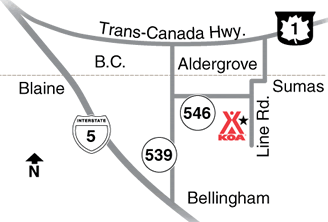 From I-5 N take Exit 256, Hwy 539, Guide Meridian. Travel 15 miles to Hwy 546, E Badger Rd, turn right. Travel 5 miles, turn right on Line Rd.
Get Google Directions
Apr 06, 2021
Absolutely incredible. Very clean and safe and organized. Staff is very friendly and kind respectful.
Apr 06, 2021
Good: Campground was clean and well maintained. Bad: Nicer spaces used by long-term residents. Short-term reservations get smaller spaces. Took 3 days to get a working wifi voucher No off-leash dog area The campground was 3/4 empty, yet everyone who arrived was placed right next to each other. Stayed for a week, and they wouldn't allow a 2-hour late checkout. Had to pay for an extra da
Apr 06, 2021
A reservation does not reserve a site. We arrived at 4pm to a taped map on door for site 27 - it was occupied. No voicemails returned calls nothing. Picked an open site - told next morning at office I can't just do that site was reserved. 17 supped to be empty 2 days. They leave a note on it. Later cars come and take up space next to 17. RV arrives cars in its space they won't move. sad
Apr 01, 2021
The park itself presents a clean, natural image, with a medium sized pond sprawled across the campground. There are a lot of ducks and other wildlife that you can watch for hours. Wifi was untested, as the three passwords we got from the host did not work. It's not a bad campground, but I would caution anyone with a larger rig to use caution. Very tight turns!
Apr 01, 2021
Probably the best KOA! Thank You.
Mar 31, 2021
We come every year, and look forward to all the activities to keep the kids occupied, golf & especially the paddle boats. We checked the website and Facebook to make sure those things were open and there is a pop-up window describing Covid procedures and stating that all those things are open. When we arrived this time Activities were closed and we had some very sad kids. Very disappointing.
Mar 24, 2021
Beautiful location in a beautiful part of Washington!
Mar 24, 2021
We didn't have enough room for our tow vehicle. Fortunately, the park was nearly empty in March. In the future we will hold out for 50 amp power. Overall the park is very nice and I'm sure the amenities are great in the summertime.
Mar 22, 2021
clean, friendly and a beautiful park
Mar 22, 2021
Beautiful setting, quiet (winter stay), but disappointed that fire pits were not provided for pull through trailer spots. Campfires are one of our favorite parts of camping!
Mar 19, 2021
We enjoyed our 2nd stay at this KOA. The grounds are clean. The lady in the store was helpful with our questions about a possible long term stay while we find a house to buy. We loved listening to an owl in the evening. The pond with geese & ducks is delightful. The only reason for a 4 star is that there was no connection for the TV cable. That is not important to us but it might be for someone.
Mar 11, 2021
We made reservations online for Lynden KOA 10/2020. We arrived to find no spots big enough 36' 5th wheel and PU. Curbs everywhere. Electrical did not work.Garbage cans overflowing. Vagrant living in one of the cabins. Office remained locked our entire stay (4days). The kicker? They are SO mismanaged, they didn't run my card till 5 months post stay! We have RV'd 40 yrs. & have never seen the
Mar 11, 2021
Beautiful large duck pond! Tons of sociable birds. There were no staff on site, either due to COVID-19 or winter, but they welcomed us online and said to make ourselves at home.
Mar 10, 2021
Picking up new Escape, very handy location, clean and very friendly staff.
Mar 10, 2021
We really enjoyed your campground. It was conveniently located to many of the area places we wanted to visit. The campground is beautiful and well maintained. We will be back again soon.
Mar 10, 2021
Needed a place to camp the night before crossing into Canada. We arrived late but had an easy self-check-in. Campground is very clean, well organized and well marked.
Mar 10, 2021
Great park with lots of space; very beautiful.
Mar 10, 2021
Was late fall and no one was there from site. Still nice place. A little tighter than I liked for a 36 foot 5th wheel but liked place.
Mar 10, 2021
Stayed 12/1/20 - no toilets, anywhere on site, were open during the 1-night's stay - how crazy is that!!!
Mar 10, 2021
The campground was fine. There was Nobody at the office. We found our spot but the water was turned off. It was peaceful and quiet winter camping.
Mar 10, 2021
The place is really nice and clean. A place where you can spend some quality time and enjoy with your love ones.
Jan 27, 2021
We enjoy staying at this campground ground and will definitely be back
Jan 16, 2021
Was disappointed that it wasn't more clear that things were closed up for the winter. We stayed at the Astoria KOA in October and it was fantastic. In Lynden the "welcome store or registration building" was dark and just had directions on the door. Services such as ice and propane not available. Paid for a nicer site and got there only to realize regardless of what you paid for you could pic
Oct 21, 2020
I enjoyed the campground. Very pretty and well kept. The check in process was a little strange given I had made a reservation. There was no paperwork for me so did the generic "fill in the envelope". It was a little unsettling but everything turned out ok. I received a receipt today!
Oct 12, 2020
We had a great time. One problem, however, was one of the cabins had a bunch of very loud teens. I phoned the KOA phone number to see if I could get in touch with a staff member but there was just an answering machine. By 12:15 am, the teens were running around the resort pulling tree branches off of trees for the fire they had in the fire ring at their cabin. I had to call Lynden Police.
Oct 11, 2020
Very clean site..
Oct 06, 2020
Incredibly difficult to maneuver RV's in the tight streets/lots. No assistance with parking rigs. No internet though they claim to have, no TV. Beautiful property. No fire rings.
Oct 03, 2020
Cannot wait to return to this clean, friendly campground where everyone is treated special. Thanks for a wonderful summer of camping. Stayed 7 times and all were the best!!!!!!!!!!!!!!!!
Oct 03, 2020
Nice stay in a grass meadow. Close to town. Well kept facility.
Oct 01, 2020
Wifi did not work. Need to fix it. Our campsite was under water when it rained. We had to broom out the water before we could attach our trailer to our truck to leave. Campsites need to have way of controlling runoff from water, so people dont have to wade thru water.
Oct 01, 2020
Very nice but our spot flooded from rain. Asked employee to help resolve it but didn't help. Had to continually use my broom to get rid of the water. Took hours
Oct 01, 2020
A very nice KOA in a more than nice town. Mount Baker was the best part of the trip. The drive from Lynden to Picnic Point on Mt. Baker was great. We will return.
Oct 01, 2020
Great clean place with polite helpful staff
Oct 01, 2020
Our grandkids were excited that they were able to play miniature golf and swim and ride the paddle boats.
Sep 29, 2020
The only real issue I have is no one answers the phone or returns calls. I asked to be next to my daughter and when we got there we weren't , This has happened before - and I called and left 3 messages. Also the hand santizer at the playground wasn't working. Other than that its a great place to camp the the staff are very friendly!
Sep 28, 2020
We loved the campground! Was not thrilled with my space next to the pool. Had a hard time getting in as the campers on the end were blocking the road to turn in with 2 huge trucks. We arrived around 6:30, and had to drive around the park to get back up front. We had to then move the cones and back in. Also wish more people wore masks. But park is beautiful and clean. We will return. Thank you!
Sep 27, 2020
The place is perfect in every way EXCEPT the electrical grid is lacking and they know it and they have failed to fix it. It's also unacceptable they don't tell you about it when you book it, but the first thing you see when you walk in the door to check in is a big sign that tells you that you shouldn't run your AC or it can cause problems for the entire KOA. That is bullshit when it is 90+ temp
Sep 27, 2020
Great camp ground. Very clean. Lots of things for our kids to do.
Sep 27, 2020
Very clean campgrounds, very friendly staff. Great experience.
Sep 27, 2020
Great place for families. Kids all over the place. We stayed here 31 years with our kids and now grandkids.
Sep 27, 2020
Very enjoyable
Sep 27, 2020
We really loved the pool, mini golf, and paddle boats! There was so much for kids to do! The camping store was fantastic! We were a little disappointed that the website said there was hiking trails on site and we didn't find any. The spaces were a little close together too.
Sep 27, 2020
Thank you for keeping the pool open!!!
Sep 27, 2020
Wonderful for the whole family it being Holiday. Grounds were kept clean and restrooms clean. Hats off to the staff. Leland jeffress Leland.jeffress@gmail.com
Sep 27, 2020
Sites were to close together. Very few of the staff were wearing masks. Playground crowded. Pool crowded. Everything crowded.amenities not large enough to accommodate # of campsites/campers. Puts everyone at risk.
Sep 27, 2020
Lost my debit card while there and thought I might have throw it away on accident in a small yellow KOA bag. When I approached the garbage truck a young man named Mica was manning the back. We looked a bit but no luck. A few hours later Mica came walking up to our campsite and said he dug threw the garbage and found my yellow bag but no debit card. Thank you for trying! You made my trip. :)
Nov 17, 2020
Awesome place clean and its nice to talk to conservatives
- Tim The Truck Man on Google
Oct 21, 2020
Great park. Clean. Staff is friendly and will help with any issues that arise
- Tyler Ackerson on Google
Sep 20, 2020
For our busy lives this place is the best! We love the lake and the fishing, and people are very respectful and courteous. Ooh and the pool is open!
- Shanna Scadding on Google