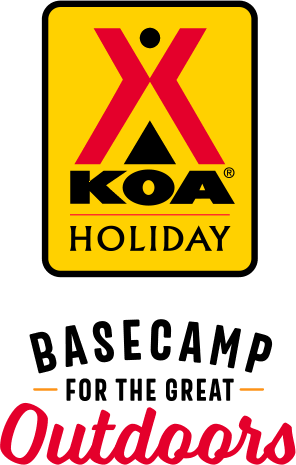 KOA Holiday Campgrounds
Whether you're exploring the local area or hanging out at the campground, KOA Holidays are an ideal place to relax and play. There's plenty to do, with amenities and services to make your stay memorable. Plus, you'll enjoy the outdoor experience with upgraded RV Sites with KOA Patio® and Deluxe Cabins with full baths for camping in comfort. Bring your family, bring your friends, or bring the whole group – there's plenty of ways to stay and explore.
KOA Holidays Feature:
RV Sites with a KOA Patio®
Deluxe Cabins with full baths
Premium Tent Sites
Group meeting facilities
Directions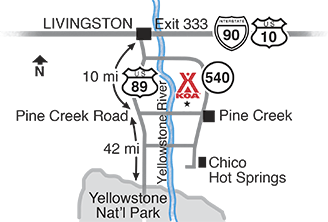 From I-90 Exit 333: Head south for 10 miles towards Yellowstone Park. Turn left on Pine Creek Rd. Drive slightly more than 1 mile, our KOA is on the left just across the bridge.
From Yellowstone Park: Take Hwy 89 north towards Livingston. Take a right Pine Creek Rd between mile marker 43 and 44. Drive just over one mile. 
The road getting to our KOA is at times a little rough. The state is planning to redo the road, but that project is a few years out. Please take your time and drive slowly. 
GPS: N45.51206. W110.57971
Get Google Directions
Aug 23, 2020
Our campsite was right next to the pool. I think the constant smell was leaking propane. It was a bit unpleasant and we were concerned about starting a fire.
CAMPGROUND RESPONSE / COMMENTS:
Thankfully, it's not leaking propane. The site you were in is right next to the pool heater. Every time it kicks on, there will be an exhaust smell. A leak would have been very dangerous, and something would have been done about it. Our guests enjoy fires on a nightly basis so long as there is not a
Aug 23, 2020
Place was nice, just very disappointed when I ask thst our rv site to be near the cabin I rented for our daughter and granddaughter. We were about as far away as could be �� For the amount of money I spent, not a happy camper!
CAMPGROUND RESPONSE / COMMENTS:
Thanks for the review. Unfortunately this season has been very busy so moving a site for guests has been very difficult. The way that another guests stay overlaps your own often prevents us from being able to move guests to a different site. We suggests booking a year out as we are very busy.
Aug 22, 2020
Beautiful park and very staff
Aug 22, 2020
Quiet campground far enough off the main road so that you don't hear it, all you hear is the river which runs right by it. Good clean sites, not cramped or like some parking lot KOA's. good store and friendly staff.
Aug 22, 2020
Very pretty, great staff.
Aug 22, 2020
Beautiful location, very nice staff. Thank you!
Aug 22, 2020
This campground is in dire need of updating and cleaning. Virtually everything needed power washing. Even though it's next to a river, a little more gravel would help. Bathrooms were never actually cleaned (with bleach). Someone had left a sanitary napkin in one of the showers. Mildew everywhere. Basically, the best thing for this campground would be a D9 Caterpillar and start over.
CAMPGROUND RESPONSE / COMMENTS:
The shower is unfortunate and due to no staff being on the clock form 10PM to 8AM. 8AM is when we start cleaning bathrooms again. Then we clean them mid day and have the night staff check them in the evenings. We have been understaffed due to COVID. Our limited staff has been working very hard.
Aug 21, 2020
Such friendly staff, fantastic location and quiet spot. We couldn't have asked for a more relaxing and friendly place. Our grandson LOVED the playground and our puppies loved the freedom of the pet walk area. We will definitely be back.
Aug 21, 2020
First time at a KOA, and was pleasantly surprised. Providing own sheets/amenities was different but we had it all with us anyway since we had been camping. Definitely will be on the lookout for more KOA places in the future to see how they compare. Gone Fishin cabin on the river was clean, quiet, and beautiful.
Aug 21, 2020
Used this as a hub for yellow stone. About an hour drive. Campsites were clean and staff was friendly. Internet was so slow they may as well have not even had it. If you depend on WiFi while traveling it could be an issue. They have river access onsite and the town of Livingston was charming.
Aug 20, 2020
We had a quiet stay for a week. At First the lady at counter gave us the wrong site, just like a few weeks earlier on our stop over for 1 night. Grounds are in much need of trimming. We have camped 2 months in KOA out west and no other campground was in such bad shape. Could be a gem! Mountain View sites are blocked by trees and brush. Flower pots full of weeds. Average WiFi.
Aug 20, 2020
Nice campground, a little tight in some places. We had a 35' Class A. Our site was ok. It was private on the awning side. We were very close to a cabin (Site#64). I would not want to stay in that site again but overall a nice place. Staff was extremely friendly and helpful. We were escorted to our site and the gentleman that took us stayed until we were all set.
Aug 20, 2020
Beautiful campground! Friendly staff. Clean facilities.
Aug 20, 2020
Pool wasn't open on time.
Aug 20, 2020
We had a wonderful time. The facility is clean and the staff are welcoming, friendly and will go out of their way to make your stay with them as pleasant as possible. We sat out every night and were amazed at how the staff would greet newly-arriving guests, guide them to their camping spot and assist them with parking. We'll be back again next year!
Aug 20, 2020
It was everything we needed. And when we saw another spot we preferred the staff very easily helped us and changed our site. A+ staff this makes the trip experience memorable. The view and location was perfect.
Aug 19, 2020
9 day stay was perfect. Found something new to explore in the area every day. Koa was quiet and spacious.
Aug 19, 2020
We generally prefer more private, wooded campgrounds. It was a good place in our trip to have access to full hookups and laundry facilities though. Would have appreciated staff wearing face masks and more efforts to have guests wear them as well.
Aug 19, 2020
The spaces are too packed in. Trees and stumps make it difficult to navigate through, and the spaces are too close together.
Aug 19, 2020
The reservation and check in process was great. The people were helpful and friendly. The site was very clean. My only issue is that we were in a site that was packed in super tight and close. Our fire pit and picnic table were basically at the other sites sewer hose connection. Not all sites were this way, we just got one that was. Lots of fun things to do in the area! Very enjoyable!
Aug 19, 2020
I was very impressed with how nice and accommodating the staff were. I chose the KOA during covid, so I could bring my own bedding. The cabin was so clean and located in one of the world's most beautiful locations. Thank you KOA!
Aug 18, 2020
The front desk called us to come in and grab our new vehicle tag. When I arrived at the desk there was no one else in front of me in line. The desk worker picked up a phone call right as I walked in and then spent 24 minutes working on ONE reservation. I had to stand there for 24 minutes wasting my day and she clearly could have put the call on hold to take 5 seconds to hand me my tag.
Aug 18, 2020
The views are remarkable The staff is top notch They go out of their way to make your stay enjoyable Wonderful location 1 hour drive to Yellowstone
Aug 18, 2020
Beautiful setting. Close to the commerce so we could buy food. The hosts were helpful, friendly, and knowledgeable. We enjoyed our stay immensely. Too bad it was only for one night. Thank you KOA
Aug 18, 2020
Ya'll were very nice! The bathroom wall and door could stand to get cleaned; otherwise it was nice.
Aug 18, 2020
Great campground with friendly staff!
Aug 17, 2020
Beautiful park with a friendly, helpful staff. Our site, #1 was about as easy to get in and out of as you can imagine, and had a great mountain view out the front. Close to Yellowstone. Far enough from town to be remote, but not so far as to be isolating.
Aug 17, 2020
Our camp site was awesome. Great KOA on the Yellowstone River. Would recommend this KOA for sure!
Aug 17, 2020
The spot we were in worked for one night , if we were to stay longer not so much, seemed awfully cramped with in the cabins . The rest of the park spaces didn't seem to be as tight. Would definitely stay again, I have a park map so I would request a different area.
Aug 17, 2020
I cannot say enough great things about this place!! Staff was very friendly and helpful. Place was clean and well maintained. For being first time campers this was definitely the way to start what is surely to become a habit, especially if it is always this enjoyable. We recommended this to our daughter and her family and she had reserved her spot before we had even left. We will be back!!
Aug 17, 2020
We had a great time staying here in the deluxe cabin on the river ! Very clean , the staff was very inviting and friendly. Campground has a fun playground for the kids, lots of beach access to fish, swim and play on plus extra public showers and restrooms for tent camping sites Look forward to staying here again in the future.
Aug 17, 2020
The cabin we stayed in was nice and the staff were friendly. The bathrooms and showers were fine. It was nice to be right on the river so that I could let my dogs in to splash around a bit. Unfortunately, it was pretty noisy at night in general (and someone shot off fireworks at about 2am). I am glad that I brought some ear plugs!
Aug 17, 2020
Was so nice to be able to get away during this Pandemic and enjoy some normalcy. This KOA is very clean and the worker's seem to be very busy keeping it that way and we thank them and our Hosts for their extra efforts during this time. It had been awhile since we had been in a camping cabin though it did not disappoint. Everything was quite enjoyable. Thank you!
Aug 17, 2020
It is a really nice park. We enjoyed our stay there. The only complaint I have is the bathrooms. They were dirty most of time. The park needs to stay on them. other than that it was great.
Aug 17, 2020
This KOA location is located in a beautiful area, we've stayed here before during trips to visit Yellowstone. The cabin was clean, however the women's bathroom had a strong mildew odor. Also, the two showers that were working were not clean-- giant hairball in the drain as well as a wad of paper towels cemented to the floor of one of the showers that appeared to have been there for awhile.
Aug 17, 2020
I was disappointed in the lack of green grass. Very dry and brown! The restrooms were clean but smelled! Staff was very friendly. Play area looked great for the kids. Liked the exercise course.
CAMPGROUND RESPONSE / COMMENTS:
Dear guests. Montana is a very dry and sunny place. It is very hard to water sites in between guests as no one wants to show up to a wet site. We are more of a campground and not so much of a highly manicured KOA. Most of our guest appreciate our KOA. If brown grass bothers you, consider other KOAs.
Aug 16, 2020
While the sites are close, I was pleasantly surprised by how quiet it was. The park and facilities were very clean.
Aug 16, 2020
Great place right on the Yellowstone River. Staff excellent. Spaces were a little small for my 40'. Very clean. Definitely stay again. The town of Livingston was vet nice and of course Yellowstone down the road.
Aug 16, 2020
Beautiful setting! We haven't been to this campground for several years, and were glad to see more bathrooms in the area we camped. Staff was accommodating when making reservations as my daughter and her family were meeting us there-they put us as close together as they could. It was disappointing that we couldn't have a campfire-no fault of KOA-state fire restrictions. We will be back.
Aug 16, 2020
Great stay at a really nice park. Although the park is a good 40 minute drive from the north entrance of Yellowstone, the beauty of the Paradise Valley makes it worth the trek. Riverfront location is Beautiful and fun. Thanks to staff member Dave for his help and advice.
Feb 07, 2021
Great service, good time. Liquor store has great selection.
- W Newhouse on Google
Jan 27, 2021
We stay here for 2 weeks in August of 2020 in order to get away from the brutal summer heat in Texas. Weather was perfect! We loved out site. The park was very quiet and peaceful. All the hookups for our Airstream were great too. We used their laundry rooms and it was fine. I couple of dryers didn't work, but that seems to be a common issue in RV parks all across the nation. We plan on returning again late this summer.
- Kev Lee on Google
Jan 25, 2021
We were lucky enough to go to Yellowstone the weekend it opened its Montana entrances after closures happened for Covid. I think it was the opening weekend for the Livingston/Paradise Valley KOA as well. It was a fabulous location - about 45 minutes from Yellowstone, so an easy morning drive before entering the park, and not too far away at night. Prices were incredible for the area - but the service and facilities were fabulous. Bathrooms are a little dated, but that is not an issue for my family. We enjoyed it so much, we came back and stayed again in September!
- cebaldwin on Trip Advisor