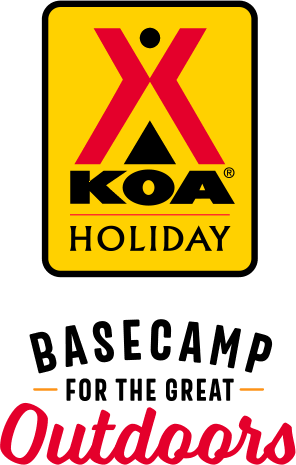 KOA Holiday Campgrounds
Whether you're exploring the local area or hanging out at the campground, KOA Holidays are an ideal place to relax and play. There's plenty to do, with amenities and services to make your stay memorable. Plus, you'll enjoy the outdoor experience with upgraded RV Sites with KOA Patio® and Deluxe Cabins with full baths for camping in comfort. Bring your family, bring your friends, or bring the whole group – there's plenty of ways to stay and explore.
KOA Holidays Feature:
RV Sites with a KOA Patio®
Deluxe Cabins with full baths
Premium Tent Sites
Group meeting facilities
Directions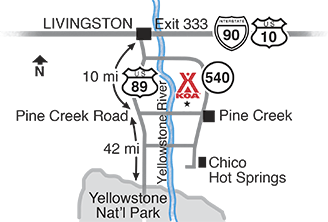 From I-90 Exit 333: Head south for 10 miles towards Yellowstone Park. Turn left on Pine Creek Rd. Drive slightly more than 1 mile, our KOA is on the left just across the bridge.
From Yellowstone Park: Take Hwy 89 north towards Livingston. Take a right Pine Creek Rd between mile marker 43 and 44. Drive just over one mile. 
The road getting to our KOA is at times a little rough. The state is planning to redo the road, but that project is a few years out. Please take your time and drive slowly. 
GPS: N45.51206. W110.57971
Get Google Directions
Sep 01, 2020
The lady at the front desk was awesome! We requested spots next to each other and we were separated when we arrived but she moved things around to accommodate us. I wish I'd gotten her name. Great service!!!
CAMPGROUND RESPONSE / COMMENTS:
Thanks for the review. We do have outstanding team members here. I am glad she was able to help you.
Aug 31, 2020
We really enjoyed out stay. Close enough to Yellowstone National Park but not too crowded. Staff was helpful and friendly. Showers were clean. A little dated but they are kept clean. We enjoyed our time and would stay again.
Aug 31, 2020
site 58 was outstanding
Aug 31, 2020
Great property right on the river. A lot of privacy too
Aug 31, 2020
this was our fourth trip here this summer ( we love it here) best staff ever, Gregory (manager ) always stops by to visit with us and make sure we have what we need , the campground is close to everything we like to do from fishing and hiking and great food and live music up the road at pine creek lodge . we will keep coming back here again and again.
CAMPGROUND RESPONSE / COMMENTS:
Thanks folks. We always enjoy your visits! We look forward to seeing you next season. Have fun at the VKR weekend!
Aug 31, 2020
This view is unreal! Having arrived after driving across the plains of eastern Montana and North Dakota, we appreciated this location among the mountains. We would absolutely stay here again.
CAMPGROUND RESPONSE / COMMENTS:
This is a great review. If you spent any time in either N. D. or eastern Montana, you will appreciate this sentiment. We look forward to seeing you again soon!
Aug 31, 2020
What a wonderful place to stay. We rented a cabin that faced the Yellowstone River. We had traveled by airplane and only brought linens and towels. That is all we needed. They supplied the rest. Even outside chairs that we took down to the river during the day and then up to the campfire at night. You could not ask for a better location. Not only would we recommend, we are coming back
CAMPGROUND RESPONSE / COMMENTS:
Thank you for the appreciation. We look forward to seeing you again soon!
Aug 31, 2020
The only negative comment would be that the shower curtain did not stay inside the shower stall which made the floor covered in water all the time. This was the bathrooms on the south end of the site. The curtain rod was too high. Also, there was no shower head or a very poor one. It shot out a single stream of water making it hard to wet and rinse during the shower.
CAMPGROUND RESPONSE / COMMENTS:
Thanks for the review! I appreciate your input. We are planning on remodeling those bathrooms before next season. Your input helps. Thanks again.
Aug 31, 2020
Campground was nice in a good location. Bathrooms could use better cleaning and bug control.
CAMPGROUND RESPONSE / COMMENTS:
Thanks for the great review. We are constantly working to improve our KOA. I will look into what we can do to try to have fewer bugs in the bathrooms overnight when we do not have staff around to clean.
Aug 31, 2020
Great place, however things need to be wiped down better in cabins. I wiped the bed rails down and towel was black. Bottle of water under the bed so cleaning people need to look and sweep under them.
CAMPGROUND RESPONSE / COMMENTS:
Thanks for the helpful review. I have spoken with our housekeeping team and showed them this review. We are constantly working to improve our performance. We hope that your next stay will be up to your expectations.
Aug 30, 2020
Thank you for a lovely stay! Everything was perfect. The staff very friendly!
Aug 30, 2020
Kim was friendly and helpful and Dave and Diane were simply great hosts. We really enjoyed our stay and your wonderful staff.
CAMPGROUND RESPONSE / COMMENTS:
Thanks for the review. We will let the staff know that you really appreciated their help. We hope to see you again soon.
Aug 29, 2020
Beautiful facility, loved our stay. And your wifi was the strongest we jave seen in 9 other states, 15 other campgrounds.
Aug 29, 2020
I was celebrating my birthday with my three sons. We had a great time!
Aug 29, 2020
Helpful staff, clean services, nice little sites
Aug 29, 2020
The grounds and staff were wonderful. The Yellowstone River runs along the boundary of the KOA. Great for fishing or just viewing. We had a situation come up while staying there. The General Mgr went above and beyond to help us resolve our problem. He was terrific.
CAMPGROUND RESPONSE / COMMENTS:
Thank you folks for the great compliment. We try to ensure that all guests enjoy their stay. If you have an issue and bring it to our attention, we will do everything that we can to address the issue. We hope to see you again soon!
Aug 28, 2020
Nice park, great people, quiet, out of town so no huddle.
Aug 28, 2020
Beautiful campground, great pool, lovely folks who run the campground! One of our favorites!
Aug 28, 2020
This KOA seriously needs to address signage issues. If there is an exit sign, we never found it.
Aug 28, 2020
We are repeat visitors. The people are so friendly and the campground is very well kept and clean. We highly recommend this campground. See you next year!!
Aug 27, 2020
We had a great time . Everyone was friendly from the staff to our RV neighbors .
Aug 27, 2020
Not a bad camp site. I was very disappointed that your business is being the governments enforcer of dictatorial mask mandates. Being an American citizen means that you have rights. Our form of government does not allow governors to make laws, only elected officials. Just remember this, your favored party will not always be in power. What kind of country do you want your children to live in?
CAMPGROUND RESPONSE / COMMENTS:
A lot of guests appreciate the masks. It seems like such a small thing that we can do to help each other. We want to live in a country where we care for and look out for each other, which is what we do here. These ratings are supposed to reflect your camping experience. Not a political platform.
Aug 26, 2020
Unfortunately we lost a day their.. We look forward to putting this campground on our normal rotation. Great Customer Service!!!
Aug 26, 2020
Great site and very quiet campground. Wonderful stay.
Aug 25, 2020
Great place. Next I would get a spot on the river. Space 72 had two dumps. Great for larger trailers with two separate gray tanks.
Aug 25, 2020
The RV park itself is pretty nice, but the road leading to it is like driving on the surface of the moon - very poor shape.
Aug 25, 2020
Very nice clean cabin. Bathrooms are clean and showers are great. Staff is very friendly.
Aug 25, 2020
Very crowded. Men's restroom counter and sink area covered in dead gnats at 7:30am. Had to clean small space with tp. in P.M. when taking shower, still not cleaned next morning in AM. before leaving.
CAMPGROUND RESPONSE / COMMENTS:
We are a very busy KOA. It does get crowded when we are completely booked. Unfortunately, we do not have housekeeping staff on after 3pm. Maint. does check the bathrooms and gives them a wipe down in the evening. But the gnats come back every night and will be there before we start the day at 8AM.
Aug 24, 2020
Although I did not get spot 58 like I had reserved a year in advance, a new computer system for the KOA did not lock in my requested camp site. We relocated to spot 60 and had a nice stay. However, I now know about locking in my site when I reserve in advance. The management and staff (Gail) were very professional and pleasant to us. your KOA is certainly one of our favorites.
Aug 24, 2020
Great for families, lots to do, great service with good prices. We will be back to visit.
Aug 24, 2020
Needing able to take a shower a plus!
Aug 24, 2020
Excellent location great restroom facilities
Aug 23, 2020
Nice clean quiet place on the Yellowstone close to lots of places
Aug 23, 2020
Love the cabin. The restrooms aren't very clean.
Aug 23, 2020
Quiet area for the night. Enjoyed the friendliness service from the workers. Neighbors were also friendly walking by. Clean and cabin was in excellent shape as well.
Feb 07, 2021
Great service, good time. Liquor store has great selection.
- W Newhouse on Google
Jan 27, 2021
We stay here for 2 weeks in August of 2020 in order to get away from the brutal summer heat in Texas. Weather was perfect! We loved out site. The park was very quiet and peaceful. All the hookups for our Airstream were great too. We used their laundry rooms and it was fine. I couple of dryers didn't work, but that seems to be a common issue in RV parks all across the nation. We plan on returning again late this summer.
- Kev Lee on Google
Jan 25, 2021
We were lucky enough to go to Yellowstone the weekend it opened its Montana entrances after closures happened for Covid. I think it was the opening weekend for the Livingston/Paradise Valley KOA as well. It was a fabulous location - about 45 minutes from Yellowstone, so an easy morning drive before entering the park, and not too far away at night. Prices were incredible for the area - but the service and facilities were fabulous. Bathrooms are a little dated, but that is not an issue for my family. We enjoyed it so much, we came back and stayed again in September!
- cebaldwin on Trip Advisor