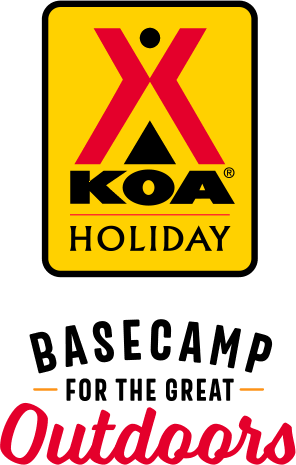 KOA Holiday Campgrounds
Whether you're exploring the local area or hanging out at the campground, KOA Holidays are an ideal place to relax and play. There's plenty to do, with amenities and services to make your stay memorable. Plus, you'll enjoy the outdoor experience with upgraded RV Sites with KOA Patio® and Deluxe Cabins with full baths for camping in comfort. Bring your family, bring your friends, or bring the whole group – there's plenty of ways to stay and explore.
KOA Holidays Feature:
RV Sites with a KOA Patio®
Deluxe Cabins with full baths
Premium Tent Sites
Group meeting facilities
Directions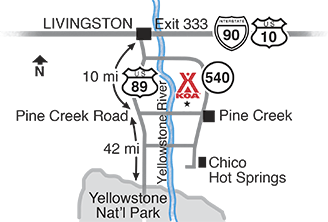 From I-90 Exit 333: Head south for 10 miles towards Yellowstone Park. Turn left on Pine Creek Rd. Drive slightly more than 1 mile, our KOA is on the left just across the bridge.
From Yellowstone Park: Take Hwy 89 north towards Livingston. Take a right Pine Creek Rd between mile marker 43 and 44. Drive just over one mile. 
The road getting to our KOA is at times a little rough. The state is planning to redo the road, but that project is a few years out. Please take your time and drive slowly. 
GPS: N45.51206. W110.57971
Get Google Directions
Sep 13, 2020
Beautiful location on Yellowstone River. Amazing star-gazing. Friendly and helpful staff. Well-stocked store. Sites not very level. Not as well maintained as other KOAs but fine.
Sep 13, 2020
I liked the convenience of be close to Yellowstone Park
Sep 11, 2020
Nice, neat and clean but sites are too close together which means your neighbors sewer connection is too close to your picnic table and vice versa. Hate the crowded feeling!
Sep 11, 2020
Great stay! Clean, courteous staff, and fun!!!
Sep 11, 2020
The cabin was great for our needs. The campground itself was clean, not noisy at night. Lots of bunnies running around. Every morning at 6:30am we had a wake-up call "Moo" from a cow that was in the field across the road. It was great. The second morning that it happened my husband heard it and asked me if it was my phone. I told him that it was the "cow alarm clock" across the road.
Sep 11, 2020
Love this campground!!
Sep 10, 2020
Our only real complaint was all the floaters blocking the road and partying!
Sep 10, 2020
Nice K9 pet area.
Sep 10, 2020
We enjoyed our one-night stay. Things that we liked - friendly staff, right on the river, good wifi, nice playground, fairly private campsites (in the area we stayed), nice size indoor pool. Things that could be improved - bathrooms had warm showers and were pretty clean, could have been cleaned more frequently. Pool was fun to swim in but heating it would have made it a little better.
Sep 10, 2020
My daughter and her boyfriend and I rented Mouse Meadow a deluxe cabin that faces the Yellowstone River. It is a perfect setting and a cozy comfortable cabin with inside and outside amenities. We floated down the river on their raft and ended up right at our front door. We have stayed at this KOA before in the smaller cabins and always enjoyed the location and hospitality. We will be back!
Sep 10, 2020
Very disappointed that we were told a site would be available on our second night by moving to another site as the result of a breakdown to our camper
Sep 10, 2020
Beautiful location, friendly, helpful staff; I very much enjoyed my stay.
Sep 09, 2020
For 18 years we've looked forward to our stay at KOA! Our cabin is great & the scenery is incredible!
Sep 09, 2020
Outstanding location. Great views. Perfect facilities. 5 stars, am planning on staying again.
Sep 08, 2020
Excellent customer service from office to facilities
Sep 08, 2020
Great crew very crowded but everyone stayed in their lane
Sep 08, 2020
Our site near the river was wonderful. We will try to book ahead and get a premium riverfront site next time, but we were very thankful to be able to get the site we did! The staff was friendly, and the park well kept!
Sep 08, 2020
It has a lot of good but needs work on trees an camp sites and fire pits need replaced but we do like the service and our stay NO CAMP FIRES that OK we will stay again.LOTS OF TREE WORK NEEDED .
Sep 07, 2020
We had a lovely cabin right on the river it was a great location. The cabin itself however was full of cobwebs, we had to clean them from every single corner on the ceiling, walls and from every doorway.
Sep 07, 2020
Everyone was helpful and friendly. Our site was well shaded making it perfect. The views were spectacular. The only thing I didn't like was the far distance to the dog park
Sep 07, 2020
Deluxe cabin was nice, but the floors weren't very clean and sofa bed was disgusting. Surprised at what was included and what wasn't - dish soap but no scrubber, TP but no hand soap. No rugs or towels, even paper. Expected more for $200. Campsites are very close - 10' to neighbors' cabins & had an RV parked 3' from us. Pool smelled horrible. Front desk ladies were very nice. Kids loved p
Sep 07, 2020
Very nice place to stay.
Sep 07, 2020
Cabin was clean and the grounds were well kept
Sep 07, 2020
It was very clean and easy to check in. Gave it 3 stars because it was quite loud ( trucks hauling rock), otherwise the campground was well taken care of and conveniently located close to Yellowstone Park. We were tent camping.
Sep 06, 2020
Sites are close together. Our spot had a very old and tired picnic table that really wasn't inviting to use. It was a holiday weekend and this, very noisy until the early morning hours. Staff was very friendly. Great location right on the river.
Sep 06, 2020
Short stay for us, noisy lots of trucks coming & going -spot was tight but did manage to back into
Sep 06, 2020
So retro...camping the way we remembered. The staff took quick action to any issues also. Highly recommend this "second US KOA" Kampground.
CAMPGROUND RESPONSE / COMMENTS:
Thanks for the great review! While we would love to claim the "2nd KOA", we were more like the 4th or 6th. Cody was actually #2! ;) We do appreciate the age of the campground too. It does create issues but it feels more like a campground than a parking lot.
Sep 05, 2020
Very friendly people. We had a deer sneak thru our campsite. Very clean.
Sep 05, 2020
Though the site was very clean and well organized and the staff was great, we were expecting a little more scenery as shown on the website. We did not get the views of Spokane. We did not get a space with trees. We did get a beautifully maintained concrete slab. Good for one night but not more.
CAMPGROUND RESPONSE / COMMENTS:
It would be pretty impressive if you could see Spokane from anywhere around us. Must have meant another KOA. :)
Sep 04, 2020
Very friendly staff, and clean.
Sep 04, 2020
Our stay was good campsite 61 is great pool good
Sep 04, 2020
Had a patio Mountain View site. Some had table and chairs and some picnic tables. All patio sites should have table and chairs.
CAMPGROUND RESPONSE / COMMENTS:
Thanks for the review. KOA requires the Deluxe Patio Sites have a table and chairs but not the rest of the sites. With that being said, we are constantly working to improve our KOA. We plan on upgrading seating at some sites once the economy and reservations go back to normal. Hope to see you again!
Sep 03, 2020
We stayed a couple of nights and traveled into Yellowstone NP. The campground was nice, but the spaces were too tight. We probably would not stay again.
Sep 03, 2020
staff was friendly and helpful. location is handy - on the yellowstone river and close to yellowstone park. easy to find shade.
Sep 02, 2020
Clean facilities. Campgrounds too close together.
Sep 01, 2020
Very nice workers and the cabin was perfect for us. We can't wait to come back . Very clean �
Sep 01, 2020
We had a very relaxing time with relatives and classmates. We loved our spot #74..always good to see everyone.
Feb 07, 2021
Great service, good time. Liquor store has great selection.
- W Newhouse on Google
Jan 27, 2021
We stay here for 2 weeks in August of 2020 in order to get away from the brutal summer heat in Texas. Weather was perfect! We loved out site. The park was very quiet and peaceful. All the hookups for our Airstream were great too. We used their laundry rooms and it was fine. I couple of dryers didn't work, but that seems to be a common issue in RV parks all across the nation. We plan on returning again late this summer.
- Kev Lee on Google
Jan 25, 2021
We were lucky enough to go to Yellowstone the weekend it opened its Montana entrances after closures happened for Covid. I think it was the opening weekend for the Livingston/Paradise Valley KOA as well. It was a fabulous location - about 45 minutes from Yellowstone, so an easy morning drive before entering the park, and not too far away at night. Prices were incredible for the area - but the service and facilities were fabulous. Bathrooms are a little dated, but that is not an issue for my family. We enjoyed it so much, we came back and stayed again in September!
- cebaldwin on Trip Advisor