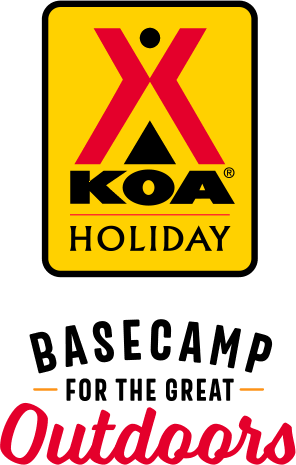 KOA Holiday Campgrounds
Whether you're exploring the local area or hanging out at the campground, KOA Holidays are an ideal place to relax and play. There's plenty to do, with amenities and services to make your stay memorable. Plus, you'll enjoy the outdoor experience with upgraded RV Sites with KOA Patio® and Deluxe Cabins with full baths for camping in comfort. Bring your family, bring your friends, or bring the whole group – there's plenty of ways to stay and explore.
KOA Holidays Feature:
RV Sites with a KOA Patio®
Deluxe Cabins with full baths
Premium Tent Sites
Group meeting facilities
Directions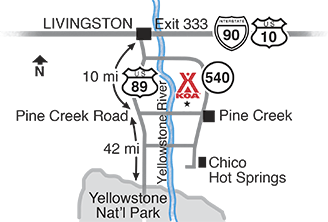 From I-90 Exit 333: Head south for 10 miles towards Yellowstone Park. Turn left on Pine Creek Rd. Drive slightly more than 1 mile, our KOA is on the left just across the bridge.
From Yellowstone Park: Take Hwy 89 north towards Livingston. Take a right Pine Creek Rd between mile marker 43 and 44. Drive just over one mile. 
The road getting to our KOA is at times a little rough. The state is planning to redo the road, but that project is a few years out. Please take your time and drive slowly. 
GPS: N45.51206. W110.57971
Get Google Directions
Sep 22, 2020
Beautiful setting for campground next to Yellowstone river
Sep 22, 2020
It's a very nice park and the camp workers we're very nice
Sep 21, 2020
Very nice place to stay. Clean. Noise went til 4 in morning with loud music and voices. Not happy with that.
Sep 21, 2020
I just love this KOA! Close to Yellowstone and Livingston, MT in case something is needed- yet far enough to feel like I have "gotten away from it all". I appreciate the staff and cleanliness of the facilities. Definitely will stay again!!
Sep 21, 2020
The campground was awesome, clean and quiet. Beautiful surroundings, didn't want to leave.
Sep 21, 2020
Great central location to fishing around Livingston, only downside was that our spot was adjacent to a cow pasture and the cows were mooing at all hours.
Sep 21, 2020
A great place to stay. camp and cabins are nice and clean.
Sep 21, 2020
Beautiful area, cute and clean KOA, close to Pine Creek Lodge!
Sep 21, 2020
Nice place want to come back sometime.
Sep 21, 2020
We were across from the ice machine and office and it was very bright. #31 shouldn't really be a spot. The neighbors were so loud, partying until 1 am and letting their dogs bark. And no one did anything
Sep 20, 2020
We really enjoyed our stay. The campground folks kept every site in immaculate condition and the bathrooms were kept very clean. The location along the Yellowstone River was beautiful with a great view of the mountains. Thanks for a great visit to Paradise Valley!
Sep 20, 2020
We had a one night stopover meeting friends on the road. We really appreciated the layout of the sites. Even though there are many sites you felt like you had privacy and plenty of "yard" space. No cramped or crowded feel. Was very nice. Everything was very clean. Staff were super friendly
Sep 20, 2020
We love this please we love it for camping and we love the little cabins. Very clean very friendly thank you for another great stay!
Sep 19, 2020
Very crowded layout. Dated and dirty facilities. Ambivalent staff. Poor wifi.
Sep 19, 2020
We love the deluxe cabin rental. It was perfect for a family of four and had everything we needed for a great weekend!
Sep 19, 2020
Beautiful setting, cabin was great. Wish we could have stayed longer.
Sep 19, 2020
Nice location. Too bad that forest fire smoke obscured the awesome scenery.
Sep 18, 2020
Two night stay. Nice hot shower and great water pressure!
Sep 17, 2020
Sewer dumps right beside the picnic tables (yuck) Very difficult to work w/on sites when they have others that were open and would accommodate the big rigs vs squeezing into a small and ill fitting one or even setting up one night and then having to move for rest of stay based on how sites are assigned which makes no sense. Size of rig doesn't seem to be taken into account even though disclosed
Sep 17, 2020
Beautiful park. We used this spot as our base camp as we explored Yellowstone. Beautiful valley area. Very kind and friendly staff. Great end of year deals on Yellowstone items in the store. Thank you for helping us to make great family memories.
Sep 17, 2020
Had a great stay and the staff were very friendly.
Sep 16, 2020
Just average. Stayed 2 nights. Did not use any of the amenities. One night we lost power 2x because of rain and wind.
Sep 16, 2020
Absolutely wonderful time, simple, clean close to town.
Sep 16, 2020
Bathrooms old and not super clean. Dogs barking a lot. Safe place to stay just not as nice as other KOAs we have stayed at
Sep 15, 2020
great location so we could walk with the dog within the campground , close to great hiking trails, close to shopping very friendly staff, great shower/restroom facilities
Sep 15, 2020
Great location
Sep 15, 2020
Relaxing and uplifting, would recommendthis to everyone.
Sep 15, 2020
What a beautiful and peaceful location! I would have loved to stay longer, but you were full! We stayed in 2 different locations, first not right on the river What a beautiful spot my first choice �ϋ�the next time! We also stayed just caddy corner right by the horses! I got my horse �ϋ� fix for the day too! The east side has the mountains �ϋ� There isn't a bad spot great location!
Sep 15, 2020
Cabin was more than we expected, we booked it last minute and for 60.00 we weren't expecting a cabin with heat or electricity so we were pleasantly surprised when we arrived to a preheated cabin with outlets and lights after a long day fishing to reset. Also the staff was very nice, and the late check in worked out great for us! Would definitely stay again!
Sep 15, 2020
We stayed one night in the Bear's Den Cabin for my girlfriend's birthday. I ordered flowers from a florist in Livingston and a KOA employee delivered the flowers to the cabin before we checked in. Seeing her face light up when she got inside saw the flowers on the kitchen table was worth the entire stay. Thank you so much for helping make her day special. Also right on the Yellowstone River!
CAMPGROUND RESPONSE / COMMENTS:
Thanks for great review. We love helping our guest in any way that we can. We hope that you folks come back soon.
Sep 15, 2020
closed pool should have been noted on the website; indoor pool looked gross anyway; very haphazard sites; restrooms were not very clean.
CAMPGROUND RESPONSE / COMMENTS:
Our pool is open from Memorial Day to Labor day. You can find this information in two places on our website. Under "Amenities" and "Info" tabs. You can find that and a lot of other helpful info on our website.
Sep 14, 2020
Beautiful spot on the Yellowstone River The faculties are old and aging plus the place was crowded and packed in. Very little room between spots
Sep 14, 2020
Beautiful setting. Off leash dogs scary. Floor of camper cabin was filthy. Bathrooms very clean. Smoke was terrible. Too many fires in too small amy area. Could not breathe.
Sep 14, 2020
Awesome staff and a close to river. Amazing sunset!
Sep 14, 2020
My boyfriend and I loved our stay here - so much that we stopped again on out way back home! It was quiet, clean, well maintained, and an excellent location! They were very pet friendly. Highly recommend it!
Sep 14, 2020
Beautiful site, wish I could of stay longer.
Sep 14, 2020
The location and views are great. There are some nice sites but we didn't get one! The section we were in was considered deluxe pull thru but I'm not sure what the deluxe was. Our neighbor's sewer outlet was placed right next to our picnic table and beside where we would sit outside because so many sites were squeezed into a small space. Ours was site 11. Employees were very friendly. Subpar
CAMPGROUND RESPONSE / COMMENTS:
Our KOA was built in 1967. There are areas that have not been updated yet as we are updating septic, but we are updating sites as the budget allows. These sites are on our radar. But I'm not sure why they thought 11 is supposed to be a "deluxe" site. We do only have 4 deluxe patio sites. 58 - 61
Sep 13, 2020
It turned cold so we only stayed one night but cabin I had was warm enough thanks to space heater. Glad I had indoor toilet. Staff were very nice and helpful.
Feb 07, 2021
Great service, good time. Liquor store has great selection.
- W Newhouse on Google
Jan 27, 2021
We stay here for 2 weeks in August of 2020 in order to get away from the brutal summer heat in Texas. Weather was perfect! We loved out site. The park was very quiet and peaceful. All the hookups for our Airstream were great too. We used their laundry rooms and it was fine. I couple of dryers didn't work, but that seems to be a common issue in RV parks all across the nation. We plan on returning again late this summer.
- Kev Lee on Google
Jan 25, 2021
We were lucky enough to go to Yellowstone the weekend it opened its Montana entrances after closures happened for Covid. I think it was the opening weekend for the Livingston/Paradise Valley KOA as well. It was a fabulous location - about 45 minutes from Yellowstone, so an easy morning drive before entering the park, and not too far away at night. Prices were incredible for the area - but the service and facilities were fabulous. Bathrooms are a little dated, but that is not an issue for my family. We enjoyed it so much, we came back and stayed again in September!
- cebaldwin on Trip Advisor