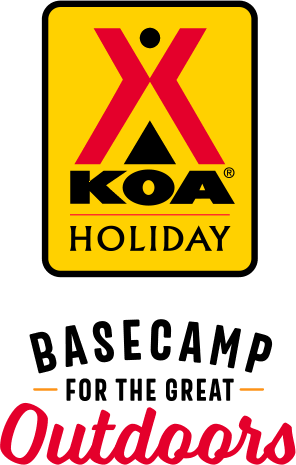 KOA Holiday Campgrounds
Whether you're exploring the local area or hanging out at the campground, KOA Holidays are an ideal place to relax and play. There's plenty to do, with amenities and services to make your stay memorable. Plus, you'll enjoy the outdoor experience with upgraded RV Sites with KOA Patio® and Deluxe Cabins with full baths for camping in comfort. Bring your family, bring your friends, or bring the whole group – there's plenty of ways to stay and explore.
KOA Holidays Feature:
RV Sites with a KOA Patio®
Deluxe Cabins with full baths
Premium Tent Sites
Group meeting facilities
Directions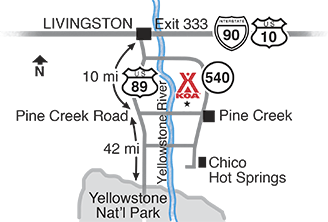 From I-90 Exit 333: Head south for 10 miles towards Yellowstone Park. Turn left on Pine Creek Rd. Drive slightly more than 1 mile, our KOA is on the left just across the bridge.
From Yellowstone Park: Take Hwy 89 north towards Livingston. Take a right Pine Creek Rd between mile marker 43 and 44. Drive just over one mile. 
The road getting to our KOA is at times a little rough. The state is planning to redo the road, but that project is a few years out. Please take your time and drive slowly. 
GPS: N45.51206. W110.57971
Get Google Directions
Oct 04, 2019
Park was nice, scenery was beautiful. Spot assigned was not easy to get in with a 46 ft trailer. But due to time of year other spaces were available so I parked in one of them.
Oct 03, 2019
Very cozy and beautiful. Very accommodating people.
Oct 03, 2019
Very nice and quiet place. Love the area, it is so beautiful there. Hope we can come again when the weather is a bit warmer!
Oct 01, 2019
Surprise snow storm and we stayed a night longer! Great people and very helpful! I'd recommend them to anyone.
Sep 30, 2019
I stayed at this KOA three separate times during my travels out West this fall. I highly recommend it. The staff are friendly and very accommodating, it's in a great location to visit Yellowstone NP from. The bathrooms are modern and clean. There is an indoor pool. I will definitely stay there again when in the area.
Sep 29, 2019
Wonderful KOA in a spectacular location! Staff were friendly and helpful. Campground was clean, beautiful and well maintained. The bathrooms were very clean and well appointed. This is why I choose to stay at KOAs when I travel!
Sep 29, 2019
A beautiful, picturesque, clean, quiet campground Friendly staff
Sep 28, 2019
First day in RV ever. The RV had problems so it took four hours getting it from the agent. We came at 20:15, it was dark, no idea where to go. There was nothing on the office door. In the morning I understood a note was left to me in the box near the door. But I couldn't guess it. . Felt lost. On the other hand the facilities were great. I think better instructions for late comers are needed.
Sep 28, 2019
Beautiful campground at the base of the mountains. Breathtaking views, perfectly groomed grounds with many trees, spacious sites, only about 40 miles from the Gardenier entrance to Yellowstone. The staff was wonderful, the store was well-stocked. If there hadn't been a snowstorm coming, we could have stayed a while!
Sep 28, 2019
Beautiful, quiet (we could hear the cows from nearby ranches and The Yellowstone River rushing by). Maybe a little more clarity on no pets in the cabins - that was a surprise to us and our little dogs needed to sleep in their carriers in the car. Very nice facilities, bathroom was clean and in good repair, nice playground, lots of shade. Very nice (the road in is very bumpy though).
Sep 27, 2019
We enjoyed the beautiful, peaceful setting. Very relaxing.
Sep 27, 2019
We rented the Nest Cabin by the River. Very nice!
Sep 26, 2019
we stayed in space 61, right on the Yellowstone River. It is an excellent site
Sep 26, 2019
Beautiful setting! Bathrooms need some deep cleaning, shower water pressure is real week. KK was comfy.
Sep 26, 2019
We had a terrific experience. Great staff and beautiful campground.
Sep 26, 2019
Personnel great. Only wish showers have hot water in the morning
Sep 25, 2019
The staff was incredible! My first time out with an RV and they helped me get settled and I enjoyed my stay tremendously! Beautiful camp sites- I don't think there is a bad one in the bunch!
Sep 25, 2019
Very tranquil. Wonderful staff.
Sep 24, 2019
Just finished a 3 night stay in a kamper kabin-- second year in a row. I love this campground and have recommended it to several, although I am not sure I really want to share! This campground is in a somewhat secluded rural area on the banks of the Yellowstone River in the Paradise Valley. It is wooded and shady and quiet. Facilities are good, hosts friendly. Definitely hope to stay here again!
Sep 24, 2019
Very quiet. Showers were very clean. Everyone friendly and helpful
Sep 24, 2019
Very nice grounds, quiet, quiet night.
Sep 23, 2019
River spectacular. Nice dog park. Toasty bath house and clean.
Sep 23, 2019
Conscientious staff, great amenities.
Sep 23, 2019
very clean and friendly. I am looking forward to our next stay. You even trusted me with a cup of coffee because I forgot to bring my purse with me. Don't see that much. Thank you for trusting me. Our grand daughters enjoyed the play ground. See you next year.
Sep 22, 2019
Beautiful camp ground. Very clean and friendly staff.
Sep 22, 2019
Staff was very nice, friendly, helpful. Firewood delivery was such a nice surprise staff wouldn't allow me to carry it ,even being less than 100 yrds from my spot. The location of this koa is amazing the river and mountains within minutes of the campground , beautiful surroundings . I will be staying at the Paradise valley koa again, adding to my favorites list.Was a great stay!
Sep 22, 2019
This koa spaces are really close together when your eating or around a fire you can see and hear neighbors conversation maybe take out a every other space ??
Sep 21, 2019
stayed for a weekend 9/12-14 had a great time campground is great lots of fun to be had in the area
Sep 21, 2019
The Good: Nice sites with concrete in appropriate place and table and chairs, also had firepit. Park had all the amenities and was right on the river for early morning fishing. Nice folks in the front office! Came and trimmed the tree on our site as the branches were touching our very tall trailer. The Bad: Only thing I can think of were sites a little close together. The Ugly: None!
Sep 21, 2019
Nice staff. Clean facilities in an older park.
Sep 21, 2019
It is a very pretty and peaceful campground. The roads are a bit tight for a big rig towing but it was not a problem. They were very helpful.
Sep 20, 2019
Everything was clean, staff was helpful and friendly
Sep 20, 2019
Very nice Campground accommodations are great and they were very helpful
Sep 20, 2019
We loved our cabin and even extended our stay because it was so quiet, peaceful and clean! The river was so beautiful! Definitely coming back!
Sep 20, 2019
Friendly, helpful staff. Wonderfully quiet.
Sep 20, 2019
very nice place on the Yellowstone river. Quiet, shady.
Sep 19, 2019
One of the best campgrounds in the United States. It's clear that the owners and staff care about this campground and their guests. THANK YOU!
Sep 19, 2019
Very nice along the river. I'm bringing my fly pole next time!
Oct 20, 2020
I enjoyed the place its everything you expect from a campground
- ww2 history boii on Google
Sep 27, 2012
Excellent. Very friendly, nice wood tent sites/no hook ups. It's not like some KOA's that are like parking lots. The washroom and shower were excellent.
- Acoustic Chris on Google
Oct 02, 2020
Great campground with level sites. Ready in and out.
- The Autry Experience on Google