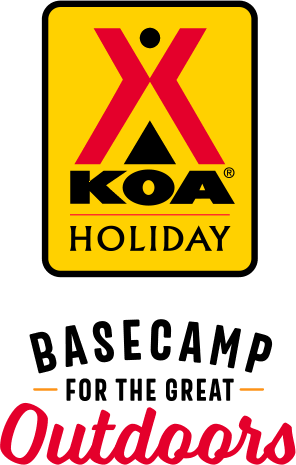 KOA Holiday Campgrounds
Whether you're exploring the local area or hanging out at the campground, KOA Holidays are an ideal place to relax and play. There's plenty to do, with amenities and services to make your stay memorable. Plus, you'll enjoy the outdoor experience with upgraded RV Sites with KOA Patio® and Deluxe Cabins with full baths for camping in comfort. Bring your family, bring your friends, or bring the whole group – there's plenty of ways to stay and explore.
KOA Holidays Feature:
RV Sites with a KOA Patio®
Deluxe Cabins with full baths
Premium Tent Sites
Group meeting facilities
Directions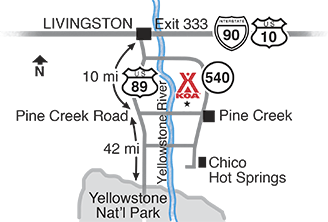 From I-90 Exit 333: Head south for 10 miles towards Yellowstone Park. Turn left on Pine Creek Rd. Drive slightly more than 1 mile, our KOA is on the left just across the bridge.
From Yellowstone Park: Take Hwy 89 north towards Livingston. Take a right Pine Creek Rd between mile marker 43 and 44. Drive just over one mile. 
The road getting to our KOA is at times a little rough. The state is planning to redo the road, but that project is a few years out. Please take your time and drive slowly. 
GPS: N45.51206. W110.57971
Get Google Directions
Nov 14, 2020
Nice clean place right on the river. The manager does a really nice job, and keeps the place nice.
Nov 06, 2020
We were in cabin 18 and really enjoyed being back in the woods. We liked the mini electric fireplace. It was nice to have a couple's cabin. Although, we don't know if we'll ever get your way again, we certainly would stay at your KOA if we do.
Oct 22, 2020
Top notch as always!!
Oct 18, 2020
Very nice park next to a stream. Only stayed one night as we were headed to Glacier. Easy to get to for big rigs and off the highway so it was quiet.
Oct 16, 2020
This is a great KOA to stay, if you're only staying as an overnighter or an extended stay. I knew right away this was going to be good by adding 4 more nights to my original 4. There are a lot of things to do and see within a hour ride. The town has much to offer. The campground is beautiful,spacious and well maintained. The people working there will go out of their way to make sure you're hap
CAMPGROUND RESPONSE / COMMENTS:
It was our pleasure to have you here. We hope that you had a safe trip home and that you might get to come back for another visit some day.
Oct 07, 2020
Awesome stay, great place
Oct 06, 2020
We couldn't be happier. Sadly our 7 day trip was cut short to a two day trip due to family emergency. The team at KOA was so helpful, we would come back again
Oct 03, 2020
We had to cut our stay short. Had a death in our family and had to go home...no refund for the nights we could not stay because we paid cash... guess credit wouldn't have mattered? This was our second visit and never coming back
Oct 03, 2020
This is a beautiful campground, with lots of trees, sitting next to the Yellowstone River. I would rate it higher, but the downside is that some of the campsites are a little too close together. In my case, my neighbor's campfire was only about 8 feet from the nose of my trailer. Aside from that, we'll probably stay there again if we pass through that area in the future.
Oct 03, 2020
Thank you for letting us change our reservation on the last day from a lot to a cabin. Staff was friendly, we were in and out most the time viewing Yellowstone, this is the 2nd time we stayed here.
Oct 03, 2020
one night in a 40-ft class A motorhome with full hook-ups.. Easy to get into a pull through.Near the river, lots of trees. Very peaceful.
Oct 02, 2020
Staff was very nice and helpful. When they walked by our campsite, they would chat and that was refreshing. The bathrooms were always clean. The campground was quite with the amount of campers. I enjoyed being able to walk down the the Yellowstone river.
Oct 02, 2020
Nice people, clean restrooms and grounds. Will be back again.
Oct 01, 2020
River was beautiful. Staff friendly and helpful. Bathrooms clean. It was great!
Oct 01, 2020
Nice place. Will stay there again.
Sep 30, 2020
Quiet, quaint. Clean with nice amenities. Pads were a little uneven. Nice location off the beaten path.
Sep 30, 2020
Very impressed with the staff and the facility. Location is excellent and perfect setting. Thank you.
Sep 29, 2020
Great location next to the river and of course the area is just beautiful. Love Livingston. Will stay more days next time!
Sep 29, 2020
We are local to the area, but we love taking a quick camping trip! The employees are very helpful and friendly!
Sep 29, 2020
Very pretty location.
Sep 28, 2020
It was okay. Occasionally I could smell sewer gas from somewhere. I was not using the sewer connection and the cap was on it. It made sitting outside unpleasant.
Sep 28, 2020
Had a fun time with kids there, nice to have fenced area to let dogs off leash and wander.
Sep 28, 2020
The staff was helpful and friendly. We enjoyed our time here at KOA.
Sep 28, 2020
Amazing views, clean park & great staff.
Sep 27, 2020
This is a nice KOA that was quiet, with level & wide sites. The road to the campground is very rough so you need to drive slow to get to it. Check-in was fast and friendly. We highly recommend the deluxe back-in sites (only 4 available) as they are right by the river & ours had a stone patio with a table & chairs and a nice fire pit. We enjoyed our one night stay.
Sep 27, 2020
The setting is beautiful & the folks at the front desk are very nice.We had a deluxe cabin-it was just ok.The sofa bed was extremely uncomfortable and the mattress pad on it was covered with dog hair and dirty. Also the coffee maker was very dirty, and I was disappointed there was no TV..The back porch was wonderful though with a table and a picnic table looking out over the river.
Sep 27, 2020
Had great time on Yellowstone River with drift boat guide trip. Friendly camp host and convenient RV Park! �
Sep 26, 2020
"Off the Beaten Path" but not too far off. Easy drive just ten miles or so south of Livingston, MT and right on the Yellowstone River. Gorgeous views, well stocked store, playground for the kids, dog friendly and so much more. We'll be back again.
Sep 26, 2020
Shocked at close proximity of site, told 10 miles from Yellowstone, closer to 50. Asked for refund, told no refunds given. Manager is rude. Returned later Lisa helped us relocate to better site in park. Did not spoil vacation, but sure was a hiccup, other KOA much better. Support staff was great.
CAMPGROUND RESPONSE / COMMENTS:
We do not put up guests abusing our staff here. When you decided to start yelling at me the second time in the evening, I let you know that it was not up to me to refund you. Those policies are set by the owner. If you would have talked to me like a human, I would have been happy to find a new site.
Sep 25, 2020
Cozy KOA in a beautiful setting! Highly recommend!
Sep 25, 2020
Originally we had reserved a tent site. The sites were too close together with little privacy. We decided to stay in a cabin which was very nice.
Sep 24, 2020
We had a fantastic week long stay at this KOA. All of the staff was amazing! Would definitely stay there again!!
Sep 24, 2020
We loved the Livingston KOA! The staff was so friendly and helpful. The drive into Yellowstone is gorgeous! Facilities felt clean even during a global pandemic. Definitely want to visit again!
Sep 24, 2020
Great KOA overall. I liked the smaller size and relaxed vibe. Great location on the Yellowstone River.
Sep 24, 2020
Long wait for check in. Need more help.
Sep 24, 2020
Great location. Clean, convenient friendly staff. Love that it is on the River.
Sep 24, 2020
All staff was friendly and helpful. Was a little noisy at night with late partiers
Sep 24, 2020
Friendly staff, clean campground. We used it as a base to explore Yellowstone National Park. If you are a fisherman the campground is right on the Yellowstone river.
Sep 23, 2020
Very clean. Very helpful staff. Planning on booking to stay here again soon.
Sep 22, 2020
Our cabin right by the river was very cute and comfortable. It was quiet except for one night when people were coming into the camp quite late and our friend's trailer had a group move in who partied and played music until 4AM. I would stay there again if ever in the area. The location is very beautiful and close to Livingston as well as Yellowstone.
Feb 07, 2021
Great service, good time. Liquor store has great selection.
- W Newhouse on Google
Jan 27, 2021
We stay here for 2 weeks in August of 2020 in order to get away from the brutal summer heat in Texas. Weather was perfect! We loved out site. The park was very quiet and peaceful. All the hookups for our Airstream were great too. We used their laundry rooms and it was fine. I couple of dryers didn't work, but that seems to be a common issue in RV parks all across the nation. We plan on returning again late this summer.
- Kev Lee on Google
Jan 25, 2021
We were lucky enough to go to Yellowstone the weekend it opened its Montana entrances after closures happened for Covid. I think it was the opening weekend for the Livingston/Paradise Valley KOA as well. It was a fabulous location - about 45 minutes from Yellowstone, so an easy morning drive before entering the park, and not too far away at night. Prices were incredible for the area - but the service and facilities were fabulous. Bathrooms are a little dated, but that is not an issue for my family. We enjoyed it so much, we came back and stayed again in September!
- cebaldwin on Trip Advisor