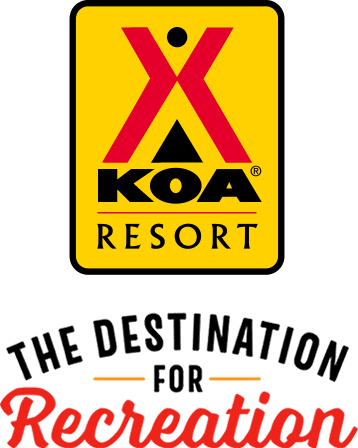 KOA Resort Campgrounds
KOA Resorts offer a carefree vacation in the great outdoors. Enjoy robust recreation and staff-led activities, kick back and relax by the resort-style pool, or grab a bite to eat, all while never leaving the campground. And with plenty of RV Sites with KOA Patios® and Deluxe Cabins with full baths to meet your needs, it's the ultimate camping getaway.
KOA Resorts Feature:
RV Sites with a KOA Patio®
Deluxe Cabins with full baths and linens
Premium Tent Sites
Resort-style pools
Indoor and outdoor group facilities
Directions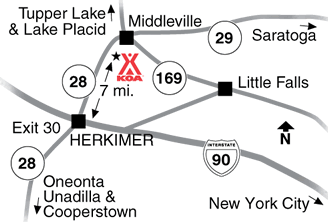 I-90 Exit 30: Follow Rt 28 signs north. Go 7 miles north from Herkimer. KOA is on the right.
If you plan to use GPS, please call the campground first. GPS: N43.127047, W74.975852
Get Google Directions
Oct 26, 2020
We had an excellent time, the staff are friendly and helpful and the facilities were clean and well maintained. The tent sites are huge, they're bigger than most tent campsites by at least double.
Oct 26, 2020
Not properly set up for tent campers Not comfortable site with facilities that campers need Left after one night
Oct 25, 2020
A place where a very kind, quiet and beautiful river flows, I will come again next year~
Oct 06, 2020
Everything was great, except the constant sewage smell in the bathroom.
Sep 26, 2020
My family (and friends) of 8 enjoyed a 2-night stay as part of the member appreciation weekend. We had a fabulous time. The staff was very helpful, coming to our campfire and letting us know that our car lights were on late one evening. While my kids are too old for the playground it was still lovely, as well as the other amenities.
Sep 24, 2020
24hr. bathrooms are super far from the tent sites. 2 stalls=long lines. Definitely need to add another bathroom building near the tent sites or have the pavilion ones open 24 hours. They close them at 9pm which is not listed anywhere online. Dirty more often than not, dangerous loose toilets. The rest of the property was nice as well as staff.
Sep 22, 2020
What a beautiful place and so clean. staff is wonderfully kind and grounds are absolutely gorgeous. I look forward to going back here again, again and again.
Sep 20, 2020
I arrived early and got a different spot, I was at the mine and forgot to check out and check into my week long spot. The mine desk clerk called and asked if I had to come switch my spot immediately and they said no, take your time. So I stayed for a few more hours. I went to check into my new spot a little late and when I got to my tent, it had been rummaged and my tent and bed were tossed.
Sep 19, 2020
Our site number was 100 which at the time of booking was listed as a grassy pad WELL our site was a sandbox and once it rained, a mud pit. Our children, 6 and 7 year old boys were absolutely filthy. We spent 4 hours checkout morning (followed by several hours at home) trying to rid all of gear from the sand/mud,
Sep 15, 2020
Our site was smaller than we hoped and neighbors on both sides had hammocks and tents on our site when we arrived. Asking them to move off didn't get us off to a great start. Facilities and personnel were excellent, but the place was packed and we would have preferred fewer people and less noise. The neighbor's dog pooped on our side and we stepped in it and got it on our tarp... what a me
Sep 14, 2020
My daughter and I had a nice stay. The tent site was great and the scenery was beautiful. We found the facilities to be nice too. We wish the weather had been a bit warmer to partake of the pool & Splash Alley. We will come again to try those amenities. Found some nice diamonds too. My daughter made a nice necklace to keep. Two thumbs up!!
Sep 10, 2020
I loved it. Stayed from Sunday to Tuesday very quiet sound of the creek put me right to sleep very friendly staff.
Sep 09, 2020
Comparing KOA from NYS campgrounds, the rate for the tent sites are a little pricey and sites are too open and you'll be able to hear the cars on the roads. But other than that the campgrounds offers a lot of amenities and activities. Bathrooms are cleaned regularly and camp store is well stocked. The Diamond Mines is also a fun activity that should not be missed. Overall, it was a great stay!
Sep 09, 2020
Staff was awesome. VERY TIGHT camping quarters/sites. Amenities were awesome. Would like to see more "activities" geared toward the little ones. (tractor rides, art or face painting, etc) Super creek, view and clean campgrounds. Some rowdy loud evening (drunk) campers here and there but over all - enjoyed our time. Thank you for asking :)
Sep 09, 2020
Loud drunks all night.
Sep 04, 2020
The best camp site. Nice and clean. Stuffs friendly. Next to a river and of course the 'demand' mine
Sep 02, 2020
The campground is beautiful and beautifully maintained. The staff is amazing. We'll be back. Thank you.
Aug 29, 2020
�����
Aug 28, 2020
We had a wonderful time. Tenting by the creek with the playground just across the street was so relaxing. The restroom was very clean. And, of course, we went to the Diamond mine!
Aug 27, 2020
We had an absolute blast! The friendliest staff work there. Super clean bathrooms. Beautiful pool and the creek! The gift shop was beautiful. You really didn't have to leave for anything. The creek was our favorite ! We will without a doubt be back!!!
Aug 27, 2020
I believe that the staff for the most part was very friendly. We did get a warning in the start of our trip to make sure we were not loud and partying at night. I believe that was a remark aimed at our age which I did not care for. The campsites are too cramped. We did enjoy the water and how clean everything was.
Aug 27, 2020
I paid for a tent campsite that included a bbq stand and a fire pit. My site was the crazy not one without a bbq stand and I told two workers on the first day. They said they will take care of it. 5 days later nobody came back with a bbq stand or ever said anything to me. Very unhappy. How was I am supposed to cook??? Nobody said anything or helped me. Thanks
Aug 27, 2020
I went with my daughter. She enjoyed the activities and meeting other kids
Aug 25, 2020
First time place was awesome love it
Aug 21, 2020
I'm disappointed with my stay in that the campers next to us. To over my campsite used our electricity. They played music into the late night hour. Then played a game till 11 at night screaming and going on. The only thing done by the sight manager is as to have them move their car. They literally ruined our second day. It was a beautiful spot. The bathroom were not clean.
Aug 21, 2020
We had a wonderful time, the sites were well spaced out, and all of the employees were very nice and super helpful. The bathrooms and showers were impeccably clean, and were clearly cleaned multiple times a day. I did request we be as close as possible to the bathroom, and I dont think we could have been any farther away, which was unfortunate. But we will definitely be back!
Aug 21, 2020
The cleanest campground I have seen, both the grounds and bathroom! Tent sites are decently spaced out and a well-stocked store on site. Beautiful, clear creek for swimming, fishing and more!
Aug 21, 2020
Beautiful camp
Aug 19, 2020
Everyone was friendly, the side activities were so much fun. It was very clean. I would recommend everyone with a family visit this place! It made our summer:)
Aug 17, 2020
I love the Activities for the family and kids you had on the camp site. I also enjoyed the big breakfast that was offered. Very convenient if you're leaving Sunday morning
Aug 17, 2020
The only complaint I had is that the water in the bathroom shower was too hot (by the cabins). I got burned. I used the shower at the pavillion the second time and the water was great.
Aug 16, 2020
Overall the campground has a lot to offer especially to keep the children happy and entertained, but our camping spot was less than ideal, with no even surface, lots of rocks, barely any grass and no privacy space between adjacent spots
Aug 16, 2020
We really enjoyed our stay, especially the river tubing. Great staff. When we arrived and discovered that we were missing a vital part of our tent, rendering it unusable, the front desk clerk lent us one that we could use the night of our arrival until we could make other tent arrangements. It was very nice of her and was much appreciated. Can't wait to return again next year.
Aug 16, 2020
The Herkimer Diamond Mines KOA exceeded all our expectations in every great way! The park, play areas, store, grounds, bathrooms,sites, pool were excellently maintained and very very clean throughout. Above all the staff you have there are the best, attentive, helpful, very knowledgeable, friendly, they go above and beyond in making everyone feel welcome, safe, comfortable. Wonderful vacation!!!
Aug 16, 2020
The activities were good. The diamond mining is hard work but after a long day we found a few great Herkimer diamonds. Creek is a bit Too shallow for tubing. My biggest complaint about the facilities is that the bathrooms were not well taken care of. Though almost every site was being used, the bathrooms were only cleaned once a day. Most of the time the showers and floors werereally dirty.
Aug 16, 2020
Loved the creek and the people were great. The campsite was not great- so small and the neighbors tent was partially on our site. Wish there was more then 1 bathroom area near us. I know they cleaned it every am but it got VERY gross by the end of the night.
Aug 14, 2020
We loved the location and having the river there. The kids there were having a blast on the lazy river but it doesn't work as well for adults. Also needs more bathrooms. We're older and had to drive to one or we wouldn't have made it.
Aug 14, 2020
Tent sites were too small, other tents were right on top of us. Grass pads by the river really didn't have any grass at all. We were on mud and dirt. The grass was were you had to park your car. Other campers kept walking through our site to get to the river. Camp facilities were clean and pool and bathrooms were maintained.
Aug 11, 2020
Besides a female employee who was a bit rude, our stay was excellent as always. Really important to attempt to get people to social distance etc. Really important. It can be done in a respectful manner though.
Dec 30, 2020
Good place found diamond(quartz) in rocks. Fun summer camp and shallow swimming creek, no leeches, heh.
- Santiago Gollarza on Google
Nov 06, 2020
This Park is Amazing i would recommend 1000% the staff is so helpful and friendly they helped me with everything I needed, Will definitely be back again.
- Elijah perry on Google
Oct 30, 2020
Weather was not the best but experience was great. Will go again in late Spring or early Summer of 2021.
- Patricia Mattucci on Google