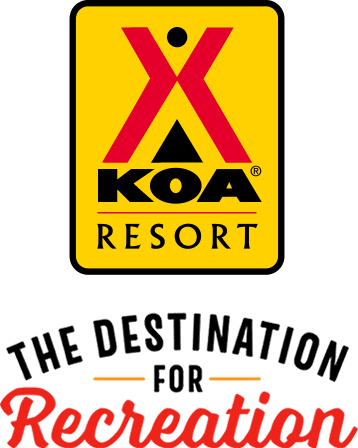 KOA Resort Campgrounds
KOA Resorts offer a carefree vacation in the great outdoors. Enjoy robust recreation and staff-led activities, kick back and relax by the resort-style pool, or grab a bite to eat, all while never leaving the campground. And with plenty of RV Sites with KOA Patios® and Deluxe Cabins with full baths to meet your needs, it's the ultimate camping getaway.
KOA Resorts Feature:
RV Sites with a KOA Patio®
Deluxe Cabins with full baths and linens
Premium Tent Sites
Resort-style pools
Indoor and outdoor group facilities
Directions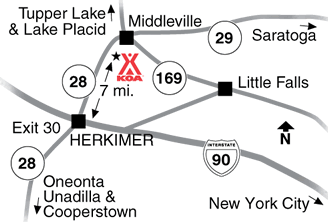 I-90 Exit 30: Follow Rt 28 signs north. Go 7 miles north from Herkimer. KOA is on the right.
If you plan to use GPS, please call the campground first. GPS: N43.127047, W74.975852
Get Google Directions
Oct 14, 2021
Enjoyed staying in October, beautiful fall weather, however river too fast for fishing but enjoyed the Diamond Mine and truly appreciated the military discount. Site #82 on the river was very spacious.
Oct 14, 2021
Nice campgrounds. Friendly staff. The staff were especially accommodating when our truck broke down and we could not tow our fifth wheel home. We had to have our son come get our camper and tow it home. The staff let us leave our camper there past checkout and blocked the site until we were able to pick up the camper later in the day.
Oct 14, 2021
Delightful stay camped on the banks of the creek listening to the rushing water.
Oct 14, 2021
We really liked the campground and the staff was very friendly.
Oct 14, 2021
Liked the CG, liked the amenities, Only dislike is the configuration of the short sites along the river (across from the cabins). Half the sites are configured backwards, so you end up with a neighbor facing you... never been to a campground with this setup. I understand that it's easier to share the wiring and plumbing that way, but a traditional back-in setup would be a big improvement.
Oct 14, 2021
Very nice. Enjoyed our 2 days traveling through.
Oct 14, 2021
The campground was lovely. The Diamond mine was fun. It would be nice to have Vegan snacks/ice cream or healthy options like salads and wraps at the snack bar or the camp store. All in all we had a really nice time and would recommend.
Oct 14, 2021
The place is clean, friendly, well managed. Only problem I have is paying $1/piece of pine (not hardwood) firewood. $30/nite for a campfire is too much.
Oct 14, 2021
The area was beautiful with the river running around the campground and all the places for the kids to play. We will definitely be back!
Oct 14, 2021
We had a beautiful stay on the creek. Clean and quiet campground. We look forward to our next return!!
Oct 13, 2021
You had reservations and sights all mixed up between us and our son and daughter in law. They were put on our sight which was more expensive and the office staff seemed confused as to if I was billed correctly even though they said we were. I Am still not convinced that I was not over charged for sight 105 when I was supposed to be on waterfront sight 61.
Oct 13, 2021
We had a pull in which is ridiculous. The sites should have been ALL set up as back-ins. Sunday night someone close to us had a huge, LOUD party that went well past quiet time. It seems like there should be someone who maintains the rules of quiet time by going around in one of your carts.
Oct 13, 2021
The cable was not good. Had only 4 channels, other wise everything was great.
Oct 13, 2021
Great place to stay. We will be back
Oct 13, 2021
There was a mess up with the reservations for our group of 3 RVs. However, the staff bent over backwards to find spots for us. Kudos!
Oct 13, 2021
Had a lovely time. Loved the activities for the kids.
Oct 12, 2021
Nice clean place with lots to do. Our family had an awesome time. The only issues were that the TV's did not work and the one of the AC's in our cabin did not work. We called maintenance and when he came and checked it out he said "I think you should just open a window for tonight and we will have someone come and look at it tomorrow. No one came back but it was cool out so we "roughed it"
Oct 12, 2021
A little disappointed at $200+ per night we couldn't get the cable tv to work for any local channels, even after 3 employees tried to figure it out.
Oct 12, 2021
Had an absolute wonderful time. Friendly staff. Clean sites. Can't wait to visit there again.
Oct 12, 2021
We have stayed at the KOA for years. However, this time there were several issues. At the Aries Astrology lodge the bedroom TV wouldn't work at all. The living room TV wouldn't get any internet and any images just glitched. A person did come but it was not resolved. The toilet ran constantly, the pull out sofa had VERY dirty soiled sheets and the telescope never worked even after someone came.
Oct 12, 2021
This is a beautiful campground with many family activities. The restaurant food is excellent. The creek nearby adds beauty to the scenery.
Oct 11, 2021
Wished there were bathrooms closer to creek side tent sites since most others have a restroom. The site was clean and beautiful. Staff was friendly and helpful. Will definitely stay again!
Oct 11, 2021
Just an overnight visit but we loved the camp and especially our camp site which was by the river. We will be back.
Oct 10, 2021
Rented one of the deluxe cabins. Love the porch. Pros: Grounds are lovely. We enjoy being on the river and close proximity to the mines is great. Cons: the wifi is unreliable, hot water wasn't really hot, and cooking in the tiny cabin kitchen was interesting. All in all we had a good time.
Oct 10, 2021
This was the first time out in our camper.Everyone was very nice and helpful. We will be back in the future. Thank you very much.
Oct 10, 2021
Everyone was very nice. Food across the street was 4 star
Oct 09, 2021
We enjoyed our visit at the KOA and would come again.
Oct 09, 2021
we camped along the river, fall colors were starting campground in great shape and clean only stayed 1 night
Oct 09, 2021
Exceeded our expectations. Sparkling clean, friendly and accommodating staff. We can't wait to come back!
Oct 08, 2021
Could have had sheets with less stains. One burner on grill was out. Need new shower head. Sofa bed was hard to open and close and so uncomfortable slept on the floor. But would definitely come back. Beautiful location! Amazing campfire next to river!!!
Oct 08, 2021
Enjoyed our stay. Very clean and lots to do.
Oct 07, 2021
Awesome campground right on the West Canada Creek (river).
Oct 07, 2021
Had a great time! clean establishment, friendly workers and guests.
Oct 07, 2021
Very clean and well kept. We really enjoyed our visit!
Oct 07, 2021
It was very nice. We were only there overnight, but the entire grounds were clean and well-kept. The sites were spacious and level. The staff were great!
Oct 06, 2021
Beautiful place and non sewer site was perfect.
Oct 06, 2021
Very best campground we have ever stayed at! A million thoughtful touches, great walking trails, super clean and spacious facilities, gorgeous setting, and incredibly nice staff! Just amazing!!
Oct 06, 2021
A wonderful weekend away!
Oct 06, 2021
Great staff! Loved my conversations with many staff members. This is our second visit that this campground. We already have another stay booked for next year. We live somewhat local. Herkimer KOA will be our new local campground.
Oct 06, 2021
Great campground with so many activities offered. I only wish we were staying longer. We did get to enjoy the ice cream social and free movie night. The Diamond mines across the street were awesome, but harder work than I had imagined. Much fun, though and we did find diamonds. The grandchildren loved it!
Oct 06, 2021
it was very relaxing. next time we would like a creekside site.
Oct 06, 2021
Staff wonderful. This was our third time here. Love the creek side location!
Oct 06, 2021
Fantastic staff...a great location and the facilites were extremely well kept.
Oct 05, 2021
Beautiful surroundings and very pleasant site.
Oct 07, 2021
It was a lot of fun
- Jill Quell on Google
Sep 29, 2021
We had a very nice stay. The employees helped us to our site and even helped guide my husband back in the lot. The grounds are very nice. We had a back in right on the river, which is gorgeous.
- Shanna Mayfield on Google
Sep 28, 2021
Loved it,
- Donna Pollard on Google