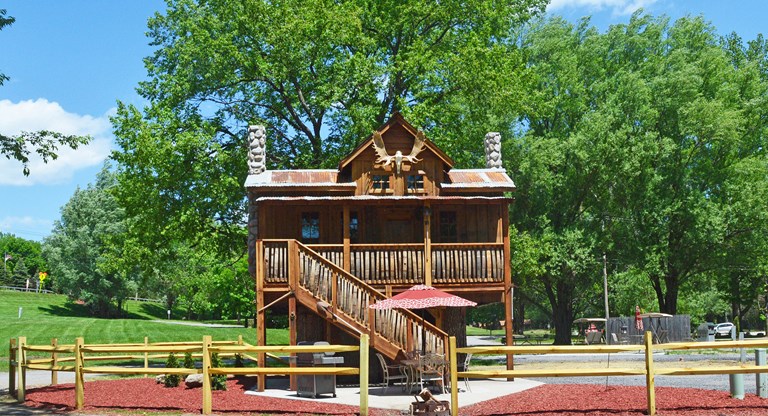 General Campground Information
Registration Hours
Herkimer Diamond Mines KOA Registration Hours
May 1st - November 1st:
Sunday through Thursday 8:00am - 9:00pm
Friday & Saturday: 8:00am - 10:00pm
Pool Hours
Open DAILY from 10:00AM to 9:00PM, Memorial Day weekend through Labor Day weekend.
Quiet Hours
Quiet hours are from 10:00PM to 8:00AM
Reservations, Deposit, Cancellations and Refunds
A credit card deposit equal to your first night stay is required and will be charged at time of reservation. If you are unable to honor your reservation, call and cancel prior to these deadlines: RV/Tent sites – 48 hours, Cabins – require 7 days and Lodges and Cottages require 2 weeks. Reservations made and cancelled within these timelines have a non-refundable deposit. A $10.00 cancellation fee will be charged prior to these timelines. Cancellations after these timelines will result in forfeiture of all deposits. Holiday and Special Events requiring a minimum 3-night stay are excluded; there will be no refunds.
Tents
Tent sites may have a maximum of two tents per site. The only exception would be a screen tent or a pop up tent for additional storage.
Firewood Policy
New York State Law: No wood may be brought into any campground that is NOT within a 50-mile radius of that campground. You may purchase a bundle of wood at the KOA Office.
Visitor Policy
A nominal visitor's fee of $10.00 per vehicle applies.  All visitors to the KOA Campground must check in at the front desk and receive a vehicle tag and parking options.
Pet Policy
A. A copy of the rabies certificate must be given to the KOA office upon arrival per NYS Law.
B. Aggressive dogs of any breed are not welcome at any KOA. If your dog shows behavior that is protective and unfriendly to strangers, please leave it home. If you decide to bring your dog and it exhibits this type of behavior the owner or management of the KOA will ask you to please find other camping accommodations.
KOA Campgrounds are individually owned and operated and some campgrounds may have policies against accepting certain breeds that have been identified by the major insurance providers as having a history of unfriendly and aggressive behavior to other dogs and to humans. These breeds are Pit Bulls and Pit Bull mixes, Rottweiler's and Dobermans.
C. All dogs are required to be under control and visual observation of their owners at all times. A 6' (six foot) leash rule is in effect whenever the animal is outside the owner's camping trailer, vehicle, cabin, or motor home. No dog should be tied up and unattended outside the owner's camping equipment.
D. Allowing your pet to bark uncontrollably day or night will be not be permitted and you may be asked to leave if you are not able to control your pet's barking behavior.
E. Pet rules unique to the location will be addressed at the time of reservation or registration. We encourage all dog owners to call in advance to inquire about any specific rules that might apply to their situation. Our KOA Campground does not allow pets inside any building except for the following approved buildings: KL63, KL64, DK5, K09, K10, K18, K19, KT1 and SL3. A pet fee of $7.00 per pet, per night is required for our Pet Friendly buildings.
F. Dogs are allowed on the Diamond Mines property, but not in the actual rock quarry, gift shop, or café/eating area. Please clean the area after your pet has visited. Pet must be on leash at all times.
G. Service dogs of any breed are welcome at our KOA Campground. However, these animals must follow leash restraint policies and may not exhibit aggressive behavior. Comfort/Therapy/Emotional support pets will still have to follow our pet policy and a $7.00 per pet per night fee will apply in our pet friendly lodging.
Splash Alley
The West Canada Creek is subject to sudden water surges from the upstream power dam. Wading anglers, Kayakers, and tubers must be careful to watch for rising waters and then quickly move to shore.
Laundry
Open 24 hours. Please no clotheslines on trees or at the Camping Cabins, Deluxe Cabins, or Specialty Lodges.
Motorcycles and Golf Carts Welcome
Motorcycles and Golf Carts are welcome on site. Off road motorized vehicles (ATV/Dirt Bikes) are prohibited.
Meet Your Hosts
.
"Some days I wake up and I'm a leader, trying to develop strategy and vision. Some days, I get up and I'm a manager and I try to develop a mission. But every day I am an educator.
"I like to use our vision and focus on experiences. I don't want to just own a campground, or a diamond mine. I want to create an experience for the customer to take away. For us, work is theater but it is also our passion. We take it to a more authentic investment of time.
"When a little girl comes into the diamond store and finds a diamond and makes a piece of jewelry with it, that is a memorable experience for her; that is what I find rewarding. Or a little boy who has never camped or fished before and we show him what a trout looks like or he finds a crayfish – that is memorable.
"Despite the changing economy, we have had steady incremental growth in all four of our businesses the last 15 consecutive years. I think the reason is we lead, we manage, we educate. No matter where we are, we are utilizing our distinctions, our diamond mines, the West Canada Creek, the Erie Canal and our KOA family. We leverage that every day of the year," says Renée.
"Taking experiences to a whole new level is extremely rewarding for both us and our customers."