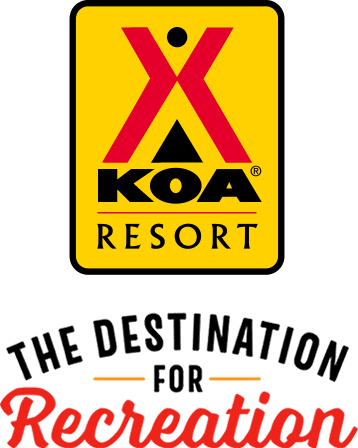 KOA Resort Campgrounds
KOA Resorts offer a carefree vacation in the great outdoors. Enjoy robust recreation and staff-led activities, kick back and relax by the resort-style pool, or grab a bite to eat, all while never leaving the campground. And with plenty of RV Sites with KOA Patios® and Deluxe Cabins with full baths to meet your needs, it's the ultimate camping getaway.
KOA Resorts Feature:
RV Sites with a KOA Patio®
Deluxe Cabins with full baths and linens
Premium Tent Sites
Resort-style pools
Indoor and outdoor group facilities
Directions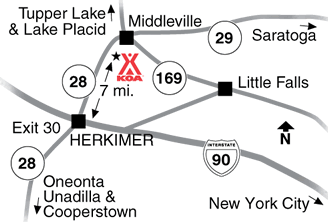 I-90 Exit 30: Follow Rt 28 signs north. Go 7 miles north from Herkimer. KOA is on the right.
If you plan to use GPS, please call the campground first. GPS: N43.127047, W74.975852
Get Google Directions
Dec 08, 2020
The stay was good. There needs to improvements to the play ground. Basketball hoop was broken and had not been replaced in months. I also do not like their new policy regarding reserving a certain site. I book every year and want same site, now you have to pay $25 for that. Also you could be booking with a group and not even be with them because of that new policy.
Nov 30, 2020
We absolutely LOVE it their! We go every year and bring new people with us each year
Nov 02, 2020
We loved the campground, the playgrounds, the access to the creek and the Diamond Mine. Being able to walk to all of those things was great and the staff was super kind. We will definitely be coming back again next season!
Nov 01, 2020
Easy check in and set up. Liked the escort to our camping spot. Facility was welcoming and clean. There's lots of choices here for camping if you don't have your own RV. Pet friendly. Keep up the good work. We enjoyed our stay.
Nov 01, 2020
Had a great time fishing and diamond hunting. The Miners Table restaurant was great. Look forward to returning next year!
Oct 29, 2020
We are fortunate to have a nice KOA close to our home. We will be back!!
Oct 29, 2020
Excellent stay. Staff are extremely responsive and very accommodating.
Oct 26, 2020
Had a wonderful time,
Oct 26, 2020
We always have a great time. The campground is very clean and peaceful. Our kids love riding their bikes and playing on the playgrounds.
Oct 26, 2020
We had a great time. The staff are very friendly and accommodating!! The facility is top notch!!! We have made this an annual weekend for our family. Thank you and see you next year!!!!
Oct 26, 2020
VERY clean.. Staff was EXCELLENT... Location was great. FAMILY campground. Don't come here if you want a wild party place.
Oct 26, 2020
Great. The staff very accommodating and helpful.
Oct 26, 2020
Everyone at the Campground was friendly and helpful. The facilities were immaculate. We've already booked a stay for the spring.
Oct 26, 2020
great stay!! staff always wonderful.....also great service form the team at Miners table!!! Thank you !
Oct 25, 2020
wonderful place to stay and very friendly staff
Oct 25, 2020
Nice park but $80/night out of season is pricey.
Oct 24, 2020
very maintained and clean. friendly and helpful staff. great location for mining
Oct 24, 2020
Nice campground, good proximity to town and activities, restaurants, etc. Fly Creek orchard a nice visit. Clean campsites.
Oct 20, 2020
I've stayed there several times a year for the past couple of years. I was very surprised to learn that I would have to pay an extra $25.00 for a guarantee that my family who also books a site to be next to me. Didn't find out until check in....wasn't happy about it, it's easier to book a site elsewhere when I can have side by side with family...my brother was told that it was a new rule....
Oct 19, 2020
We had a great time. Camp was very well-kept and the staff went above and beyond.
Oct 19, 2020
Very nice site along river. Met after-hours by employee in a golf cart for site escort. Don't know that we would have found the site easily without help! Pull-in site was tricky to disconnect and maneauver out - set up that way to share utilities. Packed in next to one another, but plenty of open area along the river and behind site. A selling point is the convenience to the Diamond Mines.
Oct 19, 2020
First time staying at this location. Beautiful park with lots to do and the Herkimer Diamond Mine across the road was lots of fun with very good food. The Fall colors were amazing.
Oct 19, 2020
We have stayed at quite a few KOA's in the past, we have even stayed here before. The new updates and amazing staff are hands down the best we have stayed and dealt with!!! Herkimer KOA is beautiful in the fall, and I will miss it when we move in the future. Thank you for a great stay!!
Oct 19, 2020
A very nice park, obviously well-managed. Staff were polite and helpful; full hook-up sites level and nicely spaced. Needed a place to overnight off the NY turnpike and was glad to find it in a beautiful natural area (riverside sites) within 17 mins of I90. Paid $85 for that convenience, however, plus $12 for two small bundles of wood. A bit pricey for those traveling on a modest budget.
Oct 18, 2020
Great atmosphere, nice people. My family had so much fun and we will definately revisit there soon.
Oct 18, 2020
Very clean and people were very nice
Oct 18, 2020
We booked fairly late and sites were very limited. We just stayed one night. Bathrooms were clean. Everyone was very friendly and the grounds were quiet at night. We will be coming back next summer.
Oct 18, 2020
The campground is beautiful with fun things for the kids and adults at the diamond mine. The creek would be great in the warm weather for tubing and just having fun cooling off. There are not many sites for large rvs.
Oct 17, 2020
it changed to a resort KOA but there are no additional amenities just the price of our usual area we camp in went up $20 a night. I think it is ridiculous I have to pay more for nothing wjat so ever. Also, I do not think the campground owners know what they are doing when it come to check in. They employees seem to be confused and unsure of what to do.
Oct 17, 2020
We really enjoyed our stay at Herkimer KOA. We were in a beautiful buddy site on the river with friends. I can't say enough about Renee the owner. She is wonderful! The time she took with my boys evaluating their finds made their whole year!! They also had a blast meeting "the human calculator". Thank you for a great trip! We will be back!
Oct 17, 2020
The man who backed us, in backed us into a tree ripping the roof open. The staff was not up to date on our reservation of June 9, 2020, nor even the day before when we requested our son move over one site and were granted that. We were bullied, lied to and our children were bribed with candy. Very poor customer relations and really bad manners.
Oct 17, 2020
I will send an email direct, I have sent and called KOA Corp a few times to no avail. Customer service and pricing was an issue
Oct 17, 2020
We had a great stay. The only issues we had were with the cable not working and the wifi wasn't very good.
Oct 17, 2020
The staff here couldn't be more accommodating!!! Beautiful campground on West Canada Creek Sites a little too close but plenty to do for the kiddos
Dec 30, 2020
Good place found diamond(quartz) in rocks. Fun summer camp and shallow swimming creek, no leeches, heh.
- Santiago Gollarza on Google
Nov 06, 2020
This Park is Amazing i would recommend 1000% the staff is so helpful and friendly they helped me with everything I needed, Will definitely be back again.
- Elijah perry on Google
Oct 30, 2020
Weather was not the best but experience was great. Will go again in late Spring or early Summer of 2021.
- Patricia Mattucci on Google