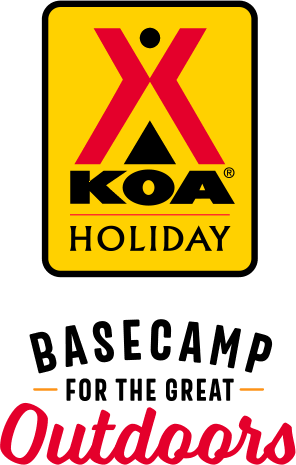 KOA Holiday Campgrounds
Whether you're exploring the local area or hanging out at the campground, KOA Holidays are an ideal place to relax and play. There's plenty to do, with amenities and services to make your stay memorable. Plus, you'll enjoy the outdoor experience with upgraded RV Sites with KOA Patio® and Deluxe Cabins with full baths for camping in comfort. Bring your family, bring your friends, or bring the whole group – there's plenty of ways to stay and explore.
KOA Holidays Feature:
RV Sites with a KOA Patio®
Deluxe Cabins with full baths
Premium Tent Sites
Group meeting facilities
Directions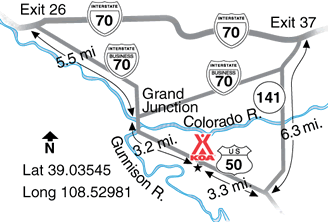 I-70 East Bound (from Utah)  Exit 26.  Right on Highway 50 also the I-70 Business loop.  Stay on Highway 50 (it could be US 50 on your GPS) by following the road signs to Montrose.  After you cross the Colorado River the KOA is about 3 miles on the right.
I-70 West Bound (from Glenwood Springs)  Take exit 37.  1 mile on the I-70 Business loop.  Left on Highway 141 (by Wendy's) it is about 5.5 miles to Highway 50. Right on Highway 50 (this could be US 50 on your GPS).  It is about 3.5 miles to the KOA we are on the left.  Go past us, make a u-turn at the Fair Grounds entrance
GPS: N39.034728, W108.529683
Get Google Directions
Oct 04, 2021
Nice location, good space between sites with great water pressure and a little bit of grass to relax on. Friendly staff.
Oct 04, 2021
Friendly staff willing to go the extra mile to help. Very quiet, clean facility with lots of shade
Oct 04, 2021
Check in was easy, staff was friendly, and it was clean. Easy to get to. From a scale 1-10 it is an easy 10
Oct 04, 2021
Very clean facilities, safe environment, and great service!
Oct 03, 2021
Great staff & excellent location. Great for one night stay or exploring Grand Junction area. Clean restrooms & excellent WiFi
Oct 02, 2021
Friendly, helpful. Clean Park.
Oct 02, 2021
A major issue is the route from the interstate to the campground. The notifications about our stay should make it clear that we should arrive by a different route than the most direct GPS route. This is not all the time - but there is serious construction that makes travel on the arrival route extremely challenging. We have had other campgrounds provide such information.
Oct 02, 2021
Nice park large sites and friendly staff
Oct 01, 2021
We enjoyed our stay! The campground was very clean and quiet, the staff were friendly. The site we had felt really private. We would likely stay again!
Oct 01, 2021
Nice location for resupplying. Lacey was extremely helpful. Would stay again!
Oct 01, 2021
Very nice park like setting. My only complaint was that it was so dark when I went to walk my dogs before bed. It was a little too dark.
Oct 01, 2021
Charming cabins, with our own patio, grills and yard. Staff was super friendly and helpful. It was very dog friendly. We would stay there again.
Oct 01, 2021
Good restrooms great laundromat clean environment
Sep 30, 2021
Quiet, clean and very helpful and friendly staff!
Sep 30, 2021
I got there late, so i didn't interact with the staff, but the facilities were clean and the tent site in good order. The wifi connection was very strong.
Sep 30, 2021
Everyone was very helpful and friendly.
Sep 30, 2021
Nice level pull thru did not have to unhook. We have a 45 ft coach towing a GMC 1500. Only used electric was just overnight stop. Rained all nite park had good drainage. Site was gravel with patio and grass area. Well kept park.
Sep 30, 2021
Clean, friendly staff, very level pad, visited during our trip just for an overnight, 25' travel trailer APex Nano 213 RDS pulled with Tacoma
Sep 29, 2021
It is clean and quiet. Good facilities and friendly staff.
Sep 29, 2021
The employees were very friendly and helpful about the local area. All the amenities were clean and working condition. It was a great experience and we would stay at this KOA again if passing through Grand Junction.
Sep 28, 2021
Friendly staff, great facilities.
Sep 28, 2021
Grand Junction KOA is our absolute favorite RV park in which to stay. It is clean, well maintained and the staff is incredible.
Sep 28, 2021
Facilities were very nice and kept clean. Hosts were friendly and accommodating. We were in a small trailer but were especially impressed with the very nice tent sites.
Sep 28, 2021
Always a pleasure staying with you. No surprises.
Sep 28, 2021
Other campers vehicles parked in road and not on there site, tree overhanging our assigned site scratched our coach, split rail fence made site much tighter making it harder to put out our wall slide and when it was out, difficult to access bays. Would not recommend this campground for large rigs.
Sep 28, 2021
Not long but very nice park and camp sites. Love the fences around each site, gives a lot of privacy when so close.
Sep 28, 2021
Very nice, well-maintained RV park. The staff was extremely professional and helpful. I hoped to stay at the park again the following weekend but it was entirely booked because of an event in the Grand Junction area. We will definitely stay here again!
Sep 27, 2021
Exceptionally nice KOA. Nice special touches throughout.
Sep 27, 2021
We needed 2 night stay for the bike race "tour the moon" in grand junction. We rented a little Kabin and it was perfect. The staff was very friendly and helpful. The kabin was perfect for my wife and I. We will definitely be staying here again next year for the race!
Sep 27, 2021
Great cabin. Friendly staff
Sep 27, 2021
Worst Koa ever. A super 8 motel is cleaner and better than this trash stop. I regret wasting my money.
CAMPGROUND RESPONSE / COMMENTS:
The circumstances around this review is not ideal for anyone involved, it is always sad for management when a guest is asked to leave for any reason. We hope to those reading this review you take the moment to read our other reviews about how hard the staff work to keep the grounds nice and clean.
Sep 26, 2021
This is our third time here and every time staff is very friendly and professional. The grounds are clean along with the bathrooms. Nice and close to the National Monument.
Sep 26, 2021
Well kept and clean park.
Sep 26, 2021
Very nice. Extremely clean. Had grass and was well maintained.
Sep 26, 2021
Friendly & accommodating staff, very clean & very nice amenities!
Sep 25, 2021
Site 1 was very nice
Sep 25, 2021
We stayed only one night. Everything and everyone was perfect. Would stay there again.
Sep 24, 2021
So clean! So friendly! We have already recommended this KOA to several people. Thank you Grand Junction KOA!
Sep 29, 2021
My first time ever at a KOA. Nice cabin, excellent staff, kind service, pet friendly.
- Charlino K on Google
Sep 18, 2021
The Campground is well maintained and clean. You have a little traffic noise but not bad. Check in was very easy and informative with maps of the area. Really good water and pressure. You have access to a lot of rv supply stores, so if you are in need of parts or repair this is a good location. The only downside and it's not the Campground fault is how fast some Campers come through the park. Slow down people. We'd camp here again.
- George Borman on Google
Oct 04, 2021
Oh yes it was so nice at the campsite we picked
- Trudy butcher on Google