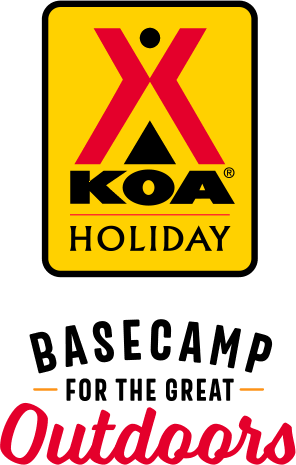 KOA Holiday Campgrounds
Whether you're exploring the local area or hanging out at the campground, KOA Holidays are an ideal place to relax and play. There's plenty to do, with amenities and services to make your stay memorable. Plus, you'll enjoy the outdoor experience with upgraded RV Sites with KOA Patio® and Deluxe Cabins with full baths for camping in comfort. Bring your family, bring your friends, or bring the whole group – there's plenty of ways to stay and explore.
KOA Holidays Feature:
RV Sites with a KOA Patio®
Deluxe Cabins with full baths
Premium Tent Sites
Group meeting facilities
Directions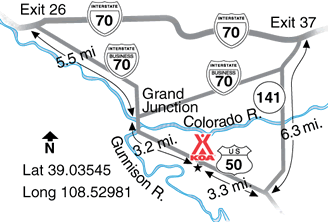 I-70 East Bound (from Utah)  Exit 26.  Right on Highway 50 also the I-70 Business loop.  Stay on Highway 50 (it could be US 50 on your GPS) by following the road signs to Montrose.  After you cross the Colorado River the KOA is about 3 miles on the right.
I-70 West Bound (from Glenwood Springs)  Take exit 37.  1 mile on the I-70 Business loop.  Left on Highway 141 (by Wendy's) it is about 5.5 miles to Highway 50. Right on Highway 50 (this could be US 50 on your GPS).  It is about 3.5 miles to the KOA we are on the left.  Go past us, make a u-turn at the Fair Grounds entrance
GPS: N39.034728, W108.529683
Get Google Directions
May 07, 2021
Great, except the water hook up, which leaked. No problem for us.
May 07, 2021
Great little stop to our next destination. Great customer service and the game room was the highlight of our stay.
May 07, 2021
The deluxe cabin was really comfortable and had everything I needed for a short stay. The grounds were nicely maintained, it was quiet, and the team was so friendly. Would recommend!
May 07, 2021
Great people to work with. Park is clean and well laid out. Will stay again.
May 07, 2021
Campground was well maintained and staff was friendly
May 06, 2021
Friendly staff. Very clean park, good internet
May 06, 2021
Bathrooms/showers were spotless! Staff was friendly and went out of their way to help. Sites along the fences were spacious and gave a nice sense of a little privacy.
May 06, 2021
Loved the deluxe patio site. Site was amazingly clean. Great wifi even though we were at the far end of the park from the office.
May 05, 2021
Spent 2nights here. Staff were wonderful and even suggested a great restaurant for our birthday celebration. The campground was clean and some, like our back in site had a fence that separated it from the units on both sides making a private yard!
May 04, 2021
Traveled to Grand Junction to attend a 3 day conference. The grounds are well kept and spaces not too close together. The bathroom and accommodations for all types of campers/rvs is well thought out and accommodating. The only thing I would bring to anyone's attention is the fairground is VERY close to the KOA. The weekend we stayed, it was Monster Truck weekend.
May 04, 2021
Awesome spot!
May 04, 2021
We were only there for 1 night. The site was good and it was level. The only drawback were the dog runs. There are 2 of them but they don't have much room for the dogs to run and play.
May 03, 2021
Great spaces clean and large driving aisles for getting large rigs in. Staff very friendly. We will stay there again
May 03, 2021
A couple of the best camp managers we've ever had.
May 03, 2021
Within the boundaries of the campground, I rate as 5 star. The unfortunate part is that the campground is located next to a road that seems to be a de facto raceway most of the time
May 03, 2021
Staff were nice. The amenities were clean and well kept. The location is right on a busy road, but the noise wasn't too bad.
May 03, 2021
Our packet with our name wasn't there so someone who was staying told us where the overflow was. Otherwise everything was fine. Thank you so much
May 02, 2021
This is an older KOA and could use some additional maintenance (picnic table was unusable). It is located on a busy highway next to fairgrounds, very easy in and out, but quite noisy until late at night. Overall a good stay, good space and easy check-in.
May 02, 2021
Every thing was great.
May 01, 2021
Well kept campsite, & park as a whole. We had an enjoyable,& pleasant stay.
May 01, 2021
Very nice and friendly staff!
May 01, 2021
Friendly staff. Great facilities and location
Apr 27, 2021
Clean and easy with nice front office help
Apr 27, 2021
Good location and site! Cabins were very clean and easily accessible to showers and restrooms. Great stop off the I-70 before hitting Moab or the National Reef...
Apr 27, 2021
awesome stay, because of the experience that we have had with the KOA we will be staying more often. loved having our privacy and just being in a campground. The People at the campground were terrific.
Apr 27, 2021
Peaceful, friendly, and clean
Apr 27, 2021
My five start rating is for the park itself, everything was clean and well kept. The person who checked us in was friendly, professional and very helpful. WEOnly concern is that a lot of people appear to live there and leave small noisy dogs in their campers. The two next door to us barked at us the entire time we set and up and when ever we were outside of our trailer.
Apr 26, 2021
Everything was wonderful. Clean and tidy. I appreciate that every space has its own privacy and a small lawn area. We will be sure and stay with you again.
Apr 26, 2021
Excellent place to stay. Easy to find campground and campground layout is definitely RV friendly. Great staff and service. Will return. Should be campground of the year.
Apr 26, 2021
Cabins were great, No coffee in the AM, she said the coffee was from yesterday. Not a big deal
Apr 26, 2021
Everyone was friendly and helpful. Tent sites and bathrooms were clean. I would definitely stay here again.
Apr 25, 2021
Friendly staff, clean and well maintained campground. Extremely clean bathrooms and showers. Thank you!
Apr 25, 2021
There were undisclosed fees assessed when I arrived, pay per car (even though there wasn't enough space for our 2 cars). Surprise additional pet fees. Filthy restrooms with overflowing trash bins and dirty sinks and grimy doors, floors and walls. It is located on a busy highway on one side and new subdivision building noise on the otherLoud, tons of dust from vehicles going too fast.
Apr 24, 2021
This is our go to stay in Grand Junction. Such nice staff and clean facilities. The trees are beautiful.
Apr 24, 2021
Best KOA so narrow on this trip. Lots of amenities including gas grill.
Apr 24, 2021
Great park, friendly staff. The giant checker board was a hoot.
Apr 24, 2021
It was fine. We were only there one night. It was a bit noisy with cars on the hwy, etc. The park itself was quiet after ten.
May 10, 2021
Beautiful and clean!
- Jessica Hinde on Google
May 07, 2021
Great laundry facility LOL, the staff were super friendly, in the town of Grand junction has everything you need
- Allison Cook on Google
Apr 28, 2021
I have stayed here twice, both times as a full-time RVer when my truck had to go into a dealer for work. The hwy 50 noise is close but gets quiet late at nite when it counts. Everyone there working was friendly and accommodating.
- Greg Lind on Google