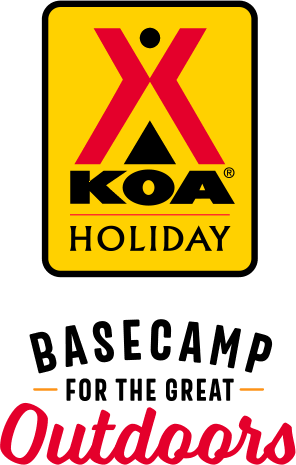 KOA Holiday Campgrounds
Whether you're exploring the local area or hanging out at the campground, KOA Holidays are an ideal place to relax and play. There's plenty to do, with amenities and services to make your stay memorable. Plus, you'll enjoy the outdoor experience with upgraded RV Sites with KOA Patio® and Deluxe Cabins with full baths for camping in comfort. Bring your family, bring your friends, or bring the whole group – there's plenty of ways to stay and explore.
KOA Holidays Feature:
RV Sites with a KOA Patio®
Deluxe Cabins with full baths
Premium Tent Sites
Group meeting facilities
Directions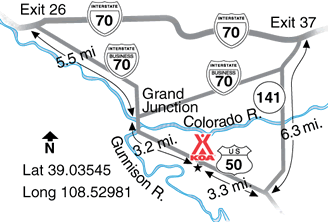 I-70 East Bound (from Utah)  Exit 26.  Right on Highway 50 also the I-70 Business loop.  Stay on Highway 50 (it could be US 50 on your GPS) by following the road signs to Montrose.  After you cross the Colorado River the KOA is about 3 miles on the right.
I-70 West Bound (from Glenwood Springs)  Take exit 37.  1 mile on the I-70 Business loop.  Left on Highway 141 (by Wendy's) it is about 5.5 miles to Highway 50. Right on Highway 50 (this could be US 50 on your GPS).  It is about 3.5 miles to the KOA we are on the left.  Go past us, make a u-turn at the Fair Grounds entrance
GPS: N39.034728, W108.529683
Get Google Directions
Feb 20, 2021
thank you for making such a nice clean cabin available and for being open in February. I appreciated the privacy and easy accessability of the cabin i was assigned! The dog run is such a nice feature at your park.
Feb 04, 2021
Great management. And the location has views galore.
Feb 04, 2021
Nice KOA . We just stopped for the night but it was clean and convenient for our travels
Jan 16, 2021
We had a great time visiting the Colorado National Monument. The park staff were great and we loved Grand Junction. We asked to be close to the playground so they upgraded our spot for free so our kids could play and we could watch them from the RV. Definitely recommend the park, and I recommend Mountain Air Roasters in town for a great cup of coffee!
Jan 13, 2021
Interesting there was a mini fridge and tv. I'd be more interested in a mini fridge and microwave.
Jan 09, 2021
Enjoyed our stay here. NIce campground!
Jan 03, 2021
Everything was great!!! The woman that checked me in was super friendly and helpful. The cabin and the bathrooms were extremely clean!! I will be back!!
Dec 31, 2020
Super staff! Could not have asked for a better experience! We stayed from Oct 1, thru Dec 27, 2020 reasonable pricing, clean park. Thanks Jon, Carly and Tina!
Dec 31, 2020
Very accommodating, friendly and helpful staff.
Dec 22, 2020
Traveling through and was completely satisfied.
Dec 20, 2020
Very friendly staff. Well maintained facilities. I did an extended stay for 13 weeks and was never disappointed.
Dec 20, 2020
Bathrooms were so clean. Plenty warm, so convenient & easy.
Dec 18, 2020
The owners/staff were super friendly and helpful. The facilities were the cleanest weve seen at a KOA. And they are open in the winter which helps spontaneous travelers like us.
Dec 12, 2020
Was just passing through, but looks like a fun place to stay for a few days. No contact check in, easy to find spot, everything worked great!
Dec 12, 2020
Friendly staff very clean. Good location.
Dec 07, 2020
Clean facility and friendly staff.
Dec 03, 2020
Nice and quiet. Internet was very fast.
Dec 01, 2020
Good location, haven't really used most of the amenities, we always seem to visit in the colder months, but from what we have seen ans used this is a very nice place to stay.
Nov 30, 2020
Nice wide sites, clean and well maintained grounds. Staff was friendly and helpful. Put us where we had plenty of parking as we were traveling with our unit /'s 2 Jeeps to park. Also put us near the dog run since we had a hound with us. Will definitely come back!
Nov 30, 2020
Check in after hours was easy and the cabin was clean.
Nov 26, 2020
Very clean and peaceful, super friendly staff. Thank you for everything!
Nov 25, 2020
This has been the best so far. What a great stay! Everything I needed and such a nice staff. Thank you!!!!
Nov 25, 2020
Very friendly front staff. great pull through spot for my 39' RV. nice dog runs
Nov 24, 2020
Nice campground but the K-9 dog runs we're not very nice. Would like to see a larger area where dogs could run and play. Also it looks and feels like a lot of full time camper at this location. We really felt like outsiders.
Nov 23, 2020
Third stay this year at one of their cabins and we'll keep coming back. Clean, well maintained, property with excellent customer service. Close to many SW attractions.
Nov 23, 2020
This KOA was perfectly adequate for our 4-night stay. Sites are a bit too close together. A gentleman in the main office (maybe the owner) was very helpful in assisting us to get our cable TV set up (we were in a brand new travel trailer with a TV completely dominated by Roku). Restrooms/showers were very clean and well maintained. Would stay there again if we happen through Grand Junction.
Nov 22, 2020
Awesome KOA with super nice staffers and clean grounds with nice sites great WiFi and cell signal. Only negatives are minor, Mini golf needs to be re-turfed, and water source was strange for row C, and shop was being redone. Also, there is a gate at the back of the KOA that is open and people seem to come and go to the neighborhood behind which was unexpected. Regardless, very nice KOA.
Nov 18, 2020
We had a very nice, peaceful stay at the Grand Junction KOA. The lady that checked us in was very kind, courteous and helpful.
Nov 16, 2020
I love this KOA, I have stayed there many times. I do have a small complaint or two and I thought I would pass along the feedback. First, the cabin I stayed in needed some repairs. The hot water handle in the shower was broken, and fell off. Second, the bed in the "master" suite is really, truly, awful. A slightly softer mattress would make us want to return. A lovely atmosphere and good people.
Nov 15, 2020
Excellent location, well managed campground, clean and quiet. I will definitely return.
Nov 13, 2020
I've been touring for 4 months staying mostly at KOA's and occasionally GoodSams. The Grand Junction KOA was beyond doubt the best of them all. Everything was great including the WiFi. I was most impressed with the showers. The best I encountered anywhere. Quick response, great volume, and hot hot hot. None of this barely above lukewarm crap that one often encounters. Hurray & three cheers.
Nov 11, 2020
A return stay because we liked it so much last August. Best showers with nice lip so no water goes on floor! Wonderful people and very clean park.
Nov 10, 2020
We stayed one night on our way through the state. Nice smaller campground, but a great place for our needs. Is a little bit off the interstate. Would stay again!
Nov 10, 2020
Great location. Been there twice and will return again. Friendly staff, clean park with not-to-narrow sites like other KOAs.
Nov 10, 2020
Disappointed on no channels, WiFi was so so
Nov 13, 2020
Very nice and friendly staff Very nice sites
- Keith Kibel on Google
Nov 10, 2020
Great location and has a friendly, knowledgeable staff. Park is clean and has not-too-narrow sites which is not the norm for many KOAs. Clean bath house and TWO dog parks. 👍👍👍
- Steven Wheeler on Google
Oct 28, 2020
So cute. Love the cabin that sleeps 8. We had such a relaxing time here.
- cheyenne Mccormack on Google