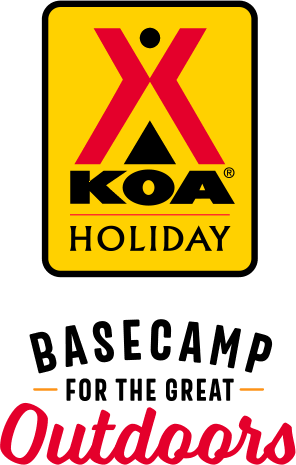 KOA Holiday Campgrounds
Whether you're exploring the local area or hanging out at the campground, KOA Holidays are an ideal place to relax and play. There's plenty to do, with amenities and services to make your stay memorable. Plus, you'll enjoy the outdoor experience with upgraded RV Sites with KOA Patio® and Deluxe Cabins with full baths for camping in comfort. Bring your family, bring your friends, or bring the whole group – there's plenty of ways to stay and explore.
KOA Holidays Feature:
RV Sites with a KOA Patio®
Deluxe Cabins with full baths
Premium Tent Sites
Group meeting facilities
Directions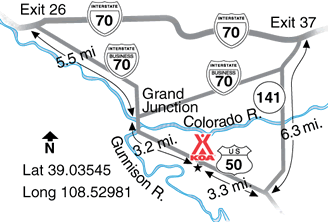 I-70 East Bound (from Utah)  Exit 26.  Right on Highway 50 also the I-70 Business loop.  Stay on Highway 50 (it could be US 50 on your GPS) by following the road signs to Montrose.  After you cross the Colorado River the KOA is about 3 miles on the right.
I-70 West Bound (from Glenwood Springs)  Take exit 37.  1 mile on the I-70 Business loop.  Left on Highway 141 (by Wendy's) it is about 5.5 miles to Highway 50. Right on Highway 50 (this could be US 50 on your GPS).  It is about 3.5 miles to the KOA we are on the left.  Go past us, make a u-turn at the Fair Grounds entrance
GPS: N39.034728, W108.529683
Get Google Directions
Sep 20, 2021
Staff was very helpful and friendly. Close to where we wanted to be.
Sep 19, 2021
Really like the KOA in Grand Junction. Good location, level pads. I particularly like the large shade trees. I will definitely visit again the next time we come to GJ, which is anually.
Sep 19, 2021
Nice clean campground. Very easy to get in and out
Sep 19, 2021
Clean. Great location.
Sep 19, 2021
Amazing helping staff! Sites are all clean and tidy!
Sep 19, 2021
Very clean and professional - we enjoyed our stay
Sep 19, 2021
Very clean well kept quite
Sep 18, 2021
We enjoyed our stay. The staff was very helpful and friendly.
Sep 18, 2021
This is a beautiful park. The grounds are very well maintained with beautiful green grass I nearly every type of site. We had a friend with us who utilized the bathroom and shower facilities and raved about them. Additionally the staff were exceptionally helpful and friendly.
Sep 18, 2021
Very nice park. Enjoyed our week in Grand Junction.
Sep 18, 2021
For us it was an overnight stay. Very spacious sites. I am not a fan of the river rocks or stones around campsites which this campsite has. To walk our medium size dog we used the back gate and walked outside of the campground and outside of the fairgrounds. During checkin I mentioned my KOA points and that I'd like to use them, the clerk said ok and failed to apply them, a bit disappointed.
Sep 18, 2021
All involved in running campground were friendly and on top of everything, sites were spacious so as not feeling crowded, would stay again!
Sep 17, 2021
Nice campground. Clean, well kept, easy in and out.
Sep 17, 2021
Good stay. Wish the pool was open
Sep 16, 2021
Grand Junction and this KOA is a little gem in CO!
Sep 16, 2021
This is the 2nd time I stayed there, next time I will upgrade to one of their "patio" sites to enjoy sitting outside
Sep 16, 2021
Upon arrival we were informed that the bmx rate/discount wouldn't be applied any further because the owners said there are too many issues with the bmx people. Super disappointing and offended.
Sep 15, 2021
Very good stay! WiFi is awesome ! Quiet clean staff very helpful!
Sep 15, 2021
Best RV park we've staying in…clean, friendly staff, level sites. Buying propane was a snap
Sep 15, 2021
The KOA is clean, neat and convenient.
Sep 15, 2021
Super clean, great amenities, very friendly staff!
Sep 15, 2021
Very nice and extremely clean. Friendly staff. Can't get over how clean the park was ���
Sep 15, 2021
Clean comfortable and convenient. We've stayed before and will stay again. Thanks
Sep 14, 2021
We just stayed for one night on our way to Yellowstone. Very clean, well kept KOA. Would be a good base camp for doing more in the Grand Junction area.
Sep 14, 2021
Wonderful surprise at KOA plus driving tour of national monument was spectacular. Deja Vuin
Sep 14, 2021
That's why we stay at KOA's. Good spots, level spots, clean restrooms and helpful staff when you need them. No surprises.. great stay
Sep 13, 2021
We've been staying at this koa for over 15 years and it's always been great!
Sep 13, 2021
Nice, clean, convenient campground for the night. Close to Colorado National Monument which was beautiful.
Sep 13, 2021
Everything and everyone was great
Sep 13, 2021
Great KOA with friendly staff and super clean!
Sep 13, 2021
We stayed three nights, visiting Colorado National Monument and Grand Mesa on two successive days. This KOA is well maintained, and staff helpful and friendly. Facilities such as rest rooms and showers were clean and in good condition.
Sep 13, 2021
Nice RV spots. Very clean. Friendly workers.
Sep 13, 2021
The staff were friendly, facilities were clean, and our children enjoyed the amenities. However, our tent site backed right up to the busy highway, so not a very restful nights sleep. We won't be staying again for that reason.
Sep 13, 2021
Very clean and nicely kept campground. Big trees with lots of shade. Extremely friendly and accommodating staff.
Sep 13, 2021
Nice facility!!
Sep 12, 2021
This campground was clean, well maintained. Even though the catalog said the pool was open through Labor Day weekend it was still open the week after Labor Day. It was very welcome since the temperature was in the upper 90's. The pool was clean and well maintained. The staff was friendly and helpful.
Sep 12, 2021
Clean park. Loved the shade at our site. Pool was chilly but we were happy it was still open a little after Labor Day. Nice patch of grass at each site. Quiet park and very friendly and helpful employees!
Sep 12, 2021
Roomy sites, helpful staff
Sep 12, 2021
Good staff and great stay
Sep 12, 2021
Stayed a couple of nights. Staff was VERY accommodating. Park was very clean and tidy. They were very busy too. Nice grassy areas at most sites. We will stay there again someday. Thanks, Mike and Brenda Agra, Ok
Sep 18, 2021
The Campground is well maintained and clean. You have a little traffic noise but not bad. Check in was very easy and informative with maps of the area. Really good water and pressure. You have access to a lot of rv supply stores, so if you are in need of parts or repair this is a good location. The only downside and it's not the Campground fault is how fast some Campers come through the park. Slow down people. We'd camp here again.
- George Borman on Google
Sep 11, 2021
Such a nice KOA, Staff was so friendly, laundry room was clean stayed open until 9. Bathroom was very clean. Site was clean and nice grassy area . Camp store was very well stocked. They filled our propane tanks. Pool was well maintained . Deserved 5star!!!! Thank you for your hospitality !
- Dianne Allen on Google
Aug 31, 2021
Loved it there. Too short of a stay tho.
- Gwen Hand on Google