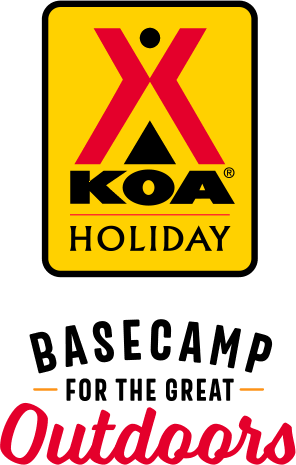 KOA Holiday Campgrounds
Whether you're exploring the local area or hanging out at the campground, KOA Holidays are an ideal place to relax and play. There's plenty to do, with amenities and services to make your stay memorable. Plus, you'll enjoy the outdoor experience with upgraded RV Sites with KOA Patio® and Deluxe Cabins with full baths for camping in comfort. Bring your family, bring your friends, or bring the whole group – there's plenty of ways to stay and explore.
KOA Holidays Feature:
RV Sites with a KOA Patio®
Deluxe Cabins with full baths
Premium Tent Sites
Group meeting facilities
Directions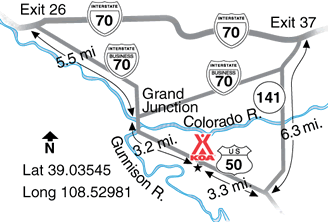 I-70 East Bound (from Utah)  Exit 26.  Right on Highway 50 also the I-70 Business loop.  Stay on Highway 50 (it could be US 50 on your GPS) by following the road signs to Montrose.  After you cross the Colorado River the KOA is about 3 miles on the right.
I-70 West Bound (from Glenwood Springs)  Take exit 37.  1 mile on the I-70 Business loop.  Left on Highway 141 (by Wendy's) it is about 5.5 miles to Highway 50. Right on Highway 50 (this could be US 50 on your GPS).  It is about 3.5 miles to the KOA we are on the left.  Go past us, make a u-turn at the Fair Grounds entrance
GPS: N39.034728, W108.529683
Get Google Directions
Oct 16, 2021
The deluxe cabin was perfect for the two of us. Very clean and provided everything we needed. Staff was friendly. Thank you!
Oct 13, 2021
We stayed in the deluxe cabin overnight and loved it. Only thing missing is a comfy couch instead of beds in the living room. Koa needs more deluxe cabin sites in all of their KOAs because that is the ideal way to travel as opposed to staying in a hotel. There is just not enough of the cabins because they are always booked. Also, would have been nice for the pup to have green space at the cabin
Oct 12, 2021
Thanks for making after hours check in and before hours check out easy.
Oct 11, 2021
I stayed in a trailer with a friend last May and rented a cabin for myself this October for 3 nights. Was a great experience. Lovely place to stay. Already booked for next May.
Oct 10, 2021
Campground was too crowded and noisy. Cabin was very cramped for 4 adults. Need hooks to hang bags and jackets on. Couldn't get to bathroom if people were sitting at table.
Oct 10, 2021
Everyone and everything was great! My online reservation was as read. No surprises. Staff very friendly, helpful, and organized. Grounds were well kept, store and laundry nice as well. Helpful and friendly staff. Great week at KOA. :)
Oct 10, 2021
Well Run super clean KOA campground. Staff very friendly and helpful.
Oct 09, 2021
Staff was super friendly and helpful. Bathrooms were clean and nice. But campground is right on highway so lots of road noise.
Oct 09, 2021
The pool was under construction. The location is hard to enter. The noise from the freeway was annoying. The fairgrounds campers were located directly next to our cabin. Their German shepherds barked and whimpered all night. The room smelled like the previous campers smoked. The room was clean and the frig was a bonus.
CAMPGROUND RESPONSE / COMMENTS:
Thank you for reviewing us, we just wanted to make clear that the pool is not under construction it is closed for the cold season. Please next time alert the office staff of any issues you have we are happy to move you into a cabin away from the fairgrounds, they were hosting a dog show that weekend
Oct 04, 2021
It was great!
Oct 04, 2021
The only thing we didn't like was the smell of the cabin.
Oct 01, 2021
Charming cabins, with our own patio, grills and yard. Staff was super friendly and helpful. It was very dog friendly. We would stay there again.
Sep 28, 2021
Friendly staff, great facilities.
Sep 27, 2021
We needed 2 night stay for the bike race "tour the moon" in grand junction. We rented a little Kabin and it was perfect. The staff was very friendly and helpful. The kabin was perfect for my wife and I. We will definitely be staying here again next year for the race!
Sep 27, 2021
Great cabin. Friendly staff
Sep 23, 2021
Stayed in the "Master" cabin as our friends RV was one space away. Cabin was clean, well stocked with everything working and quite comfortable. Enjoyed the large shower and restroom and NOT having to walk up to the front building for those visits. Our third time staying here and the first in the Cabin was totally enjoyable and we will be planning on staying there again. Very Satisfied...!
Sep 21, 2021
Nice facilities, clean and friendly.
Sep 19, 2021
Clean. Great location.
Sep 16, 2021
Grand Junction and this KOA is a little gem in CO!
Sep 16, 2021
Upon arrival we were informed that the bmx rate/discount wouldn't be applied any further because the owners said there are too many issues with the bmx people. Super disappointing and offended.
Sep 13, 2021
We've been staying at this koa for over 15 years and it's always been great!
Sep 13, 2021
Great KOA with friendly staff and super clean!
Sep 13, 2021
Nice facility!!
Sep 11, 2021
The Grand Junction KOA is a five star campground. We rented one of their cabins. It was sparkling clean... (thank you!) as were the showers/restrooms. We would stay there again in a heartbeat. I guess you could say we're a couple of happy campers! : )
Sep 11, 2021
Stayed in a 1 room cabin, had a nice patio in front of cabin with table & chairs, great stay.
Sep 09, 2021
We stayed in cabin K 14 which was outstanding. You were kind enough to let us bring a couple of extra dogs and they were very well behaved so they didn't cause any problems. Staff was helpful and everything was clean as usual. We are never disappointed when we stay at KOA Grand Junction
Sep 08, 2021
Always great! Love Gabby, John and Lacey!
Sep 08, 2021
Our Cabin was very nice and accommodating. We would have liked to have grass around our area like the camper sites had but that won't keep us from coming back.
Sep 07, 2021
Very friendly staff.
Sep 01, 2021
We had the best birthday weekend at the Grand Junction Holiday! We swam, made friends and watched outdoor movies! Everyone who works here is so nice!
Aug 31, 2021
The Deluxe Cabin was a private hotel stay but with better coffee, Keurig Folgers Cups! Two tv's! The park offers spacious areas for parking. We didn't have a pet but there are two fenced pet exercise/potty areas. The kids were enjoying an outdoor movie and many campers were taking in the warm evening at the pool. Would highly recommend staying here in a Deluxe Cabin over a hotel stay.
Aug 30, 2021
The staff was very accommodating.
Aug 28, 2021
Loved our cabin rental. Next time we plan to stay at the "Lodge" we needed more space. It would be nice if the dog run had grass. Otherwise, my dog loved KOA. Oh, the freezer in Suite 01 needs to be defrosted. Thank you so much.
Aug 26, 2021
We had a wonderful night in their cabins. They went above and beyond with their service. They were very detail oriented.
Aug 24, 2021
Very nice place, a little noisy from the road traffic but very clean and friendly staff!
Aug 23, 2021
Clean and comfortable. The staff was very polite as well.
Aug 22, 2021
The facilities were very clean and the staff was kind.
Aug 19, 2021
We stayed in the large cabin. Four adults and 2 dogs. Overall out 3 night stay was excellent. The cabin was clean and well equipped. There was a propane grill and table and chairs outside that got the morning sun, and late afternoon shade. The staff was excellent. The park was clean and well kept. If we are ever back in Grand Junction we will definitely stay here.
Aug 16, 2021
Great service taking care of air conditioner in cabin that wasn't doing its job! Thanks for the prompt and pleasant service.
Aug 14, 2021
Came in later with a car trailer they moved us spots just so we didn't have to un hook.
Aug 08, 2021
I was traveling alone and rented a cabin. It was very comfortable and the site was very nice with a patio, grill and firepit.
Sep 29, 2021
My first time ever at a KOA. Nice cabin, excellent staff, kind service, pet friendly.
- Charlino K on Google
Sep 18, 2021
The Campground is well maintained and clean. You have a little traffic noise but not bad. Check in was very easy and informative with maps of the area. Really good water and pressure. You have access to a lot of rv supply stores, so if you are in need of parts or repair this is a good location. The only downside and it's not the Campground fault is how fast some Campers come through the park. Slow down people. We'd camp here again.
- George Borman on Google
Oct 04, 2021
Oh yes it was so nice at the campsite we picked
- Trudy butcher on Google