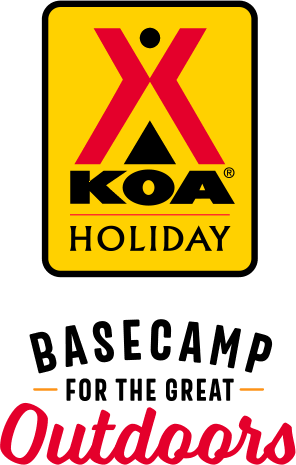 KOA Holiday Campgrounds
Whether you're exploring the local area or hanging out at the campground, KOA Holidays are an ideal place to relax and play. There's plenty to do, with amenities and services to make your stay memorable. Plus, you'll enjoy the outdoor experience with upgraded RV Sites with KOA Patio® and Deluxe Cabins with full baths for camping in comfort. Bring your family, bring your friends, or bring the whole group – there's plenty of ways to stay and explore.
KOA Holidays Feature:
RV Sites with a KOA Patio®
Deluxe Cabins with full baths
Premium Tent Sites
Group meeting facilities
Directions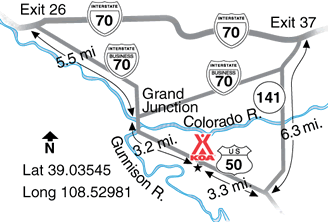 I-70 East Bound (from Utah)  Exit 26.  Right on Highway 50 also the I-70 Business loop.  Stay on Highway 50 (it could be US 50 on your GPS) by following the road signs to Montrose.  After you cross the Colorado River the KOA is about 3 miles on the right.
I-70 West Bound (from Glenwood Springs)  Take exit 37.  1 mile on the I-70 Business loop.  Left on Highway 141 (by Wendy's) it is about 5.5 miles to Highway 50. Right on Highway 50 (this could be US 50 on your GPS).  It is about 3.5 miles to the KOA we are on the left.  Go past us, make a u-turn at the Fair Grounds entrance
GPS: N39.034728, W108.529683
Get Google Directions
Oct 09, 2021
Wonderful as always! You do it right!! Thanks for another good stay.
Oct 04, 2021
Very clean facilities, safe environment, and great service!
Oct 01, 2021
Good restrooms great laundromat clean environment
Sep 30, 2021
I got there late, so i didn't interact with the staff, but the facilities were clean and the tent site in good order. The wifi connection was very strong.
Sep 23, 2021
Unfortunately, the tent campers in space behind me (T4) were using pot. The fumes were interfering with my rest and sense of health. KOA needs to let us know where it stands on pot smokers. It happened at night and early morning after the office was closed; it was uncertain who to contact or if would be understood/responded to effectively by KOA. Need clarification. Left earlier than plans.
Sep 17, 2021
Good stay. Wish the pool was open
Sep 13, 2021
The staff were friendly, facilities were clean, and our children enjoyed the amenities. However, our tent site backed right up to the busy highway, so not a very restful nights sleep. We won't be staying again for that reason.
Sep 11, 2021
Very good location. Close to the things to do in Grand Junction. Enjoyed the overnight stay.
Sep 01, 2021
Very clean restrooms. Well stocked store. The tent sites with picnic tables shelters and electric light worked out perfect for my stay. Close to restaurants for take out dinner.
Aug 25, 2021
I wanted to get out of the house for one night and just be outside and relax. The KOA in grand junction facilitated that perfectly and more! The staff was friendly and the people there were great also! Thanks for the wonderful accommodation!
Aug 17, 2021
The property is layed out very well. It is well kept and in very good condition. Facilities were clean and fantastic and has some great amenities. I can't say enough about how friendly and helpful the staff was. Absolutely delightful.
Aug 10, 2021
Would be helpful to move the tent sites to the back instead of by the road so there is less noise.
Aug 10, 2021
The gal at the front desk was very friendly and the bathroom and shower were very clean. The owner was horrendously rude. It was not clear to me that the upstairs patio was private - The sign should've been on the gate opening not on the bottom wall - and he yelled at me inappropriately. Would never recommend this place because of him.
Aug 04, 2021
Great location. Close to the CO National monument which is a fantastic little park. Staff was very helpful.
Aug 03, 2021
Campground is very clean. Loved the sheltered picnic table at our tent site.
Aug 01, 2021
Exceptionally well run and maintained KOA. Been to a number of them and this ranks as one of the higher.
Jul 30, 2021
We camped and all sites provided for tents were way too close together. Pool was great and the "place" was clean.
Jul 25, 2021
I loved the atmosphere, the employees and the camp site. It was so smart to have wood chips there to put a tent on.
Jul 21, 2021
Very clean, everything in working order. The pool was refreshing and the family friendly movie was a great idea.
Jul 19, 2021
I got there late, found my site without difficulty.
Jul 17, 2021
We stayed at several KOA's and each one was quite pleasant to stay at. The grounds were clean the personal were helpful and pleasant. I will use KOA again.
Jul 15, 2021
Our site was clean and ready, the staff was friendly and helpful.
Jul 11, 2021
We had a tent site with a gravel pad which was kind of not really good because of the steaks that you had to place in the ground so it would be probably a better option to leave it as either grass or dirt instead because the gravel is really hard and it's hard to place your steaks
Jul 06, 2021
Very nice people at the front check-in area. Excellent in the upkeep and cleanliness. Good facility for the kids even though I don't have any.
Jul 06, 2021
Highly enjoyable. Awesome management & staff. Pleasure staying. Thank you!
Jul 04, 2021
Everything worked great. Nice showers. Appreciate the service bringing us ice when it was sold out
Jul 02, 2021
Everything was perfect!
Jul 01, 2021
The staff is very friendly and helpful. The camp grounds are clean.
Jul 01, 2021
The check-in staff was very friendly and happy to answer questions. The restrooms were clean along with the pool and it had a nice playground.
Jun 30, 2021
Great people but man, so noisy. Right next to the road, trucks all night long, and neighbors starting a lawn mower right at 7. Wouldn't advise staying there!
Jun 29, 2021
Always a Great Place to stay in Grand Junction!!
Jun 28, 2021
Campground was clean and well maintained. Staff was super friendly and helpful. We were so happy with our stay
Jun 18, 2021
The campground was very clean. The one thing that would really improve the experience for the few tent campers there, like us, is to move the tent sites to the back of the campground. Having them right next to the noisy road makes for a rough night's sleep.
Jun 17, 2021
Good people there. Wonderful tent sights. Covered dining. One of my favorites.
Jun 16, 2021
I had a comfortable overnight stop. Clean and comfy.
Jun 16, 2021
Check in was quick and easy and the tent site was prefect for parking our truck and trailer.
Jun 10, 2021
We were just traveling through, our vacation was delayed by a day, they were able and happy to move our reservation one out! We liked it there so well we extended our stay!!! The facility was clean well cared for. The staff was extremely friendly! They have a nice play ground with swings and climbing toy, giant checkers and putt putt golf course. They even play family friendly movies at night!
Jun 07, 2021
The bathrooms were clean. The campground is next to highway 50 so tent sleeping in not a great idea. The pool is also adjacent to the highway. There are much better campgrounds if you are willing to travel up the monument further.
Jun 04, 2021
Loved it will stay again when I can stay longer
May 31, 2021
Was very disappointed with the bathrooms. There's no benches to put your stuff down and the showers are very small. The campsite itself wasn't bad, was clean.
May 25, 2021
Great campground, clean convenient, but a little loud since it is right next to a busy road. Overall great stay
Sep 29, 2021
My first time ever at a KOA. Nice cabin, excellent staff, kind service, pet friendly.
- Charlino K on Google
Sep 18, 2021
The Campground is well maintained and clean. You have a little traffic noise but not bad. Check in was very easy and informative with maps of the area. Really good water and pressure. You have access to a lot of rv supply stores, so if you are in need of parts or repair this is a good location. The only downside and it's not the Campground fault is how fast some Campers come through the park. Slow down people. We'd camp here again.
- George Borman on Google
Oct 04, 2021
Oh yes it was so nice at the campsite we picked
- Trudy butcher on Google