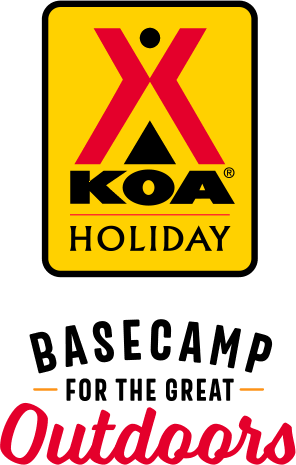 KOA Holiday Campgrounds
Whether you're exploring the local area or hanging out at the campground, KOA Holidays are an ideal place to relax and play. There's plenty to do, with amenities and services to make your stay memorable. Plus, you'll enjoy the outdoor experience with upgraded RV Sites with KOA Patio® and Deluxe Cabins with full baths for camping in comfort. Bring your family, bring your friends, or bring the whole group – there's plenty of ways to stay and explore.
KOA Holidays Feature:
RV Sites with a KOA Patio®
Deluxe Cabins with full baths
Premium Tent Sites
Group meeting facilities
Directions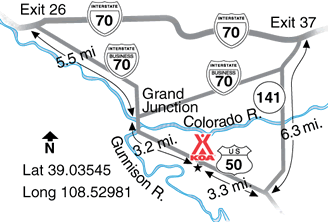 I-70 East Bound (from Utah)  Exit 26.  Right on Highway 50 also the I-70 Business loop.  Stay on Highway 50 (it could be US 50 on your GPS) by following the road signs to Montrose.  After you cross the Colorado River the KOA is about 3 miles on the right.
I-70 West Bound (from Glenwood Springs)  Take exit 37.  1 mile on the I-70 Business loop.  Left on Highway 141 (by Wendy's) it is about 5.5 miles to Highway 50. Right on Highway 50 (this could be US 50 on your GPS).  It is about 3.5 miles to the KOA we are on the left.  Go past us, make a u-turn at the Fair Grounds entrance
GPS: N39.034728, W108.529683
Get Google Directions
Oct 16, 2021
Truly enjoyed our stay. Very well organized. We will be back
Oct 16, 2021
The deluxe cabin was perfect for the two of us. Very clean and provided everything we needed. Staff was friendly. Thank you!
Oct 16, 2021
Quiet. Clean bathrooms. Convenient location.
Oct 15, 2021
Really enjoyed our stay. Location is very convenient and sites were a nice size.
Oct 15, 2021
The staff was very friendly and helpful during out stay. The park is very well maintained. We will definitely return.
Oct 15, 2021
We had a very nice time. The workers were very helpful and friendly. We look forward to returning in the future.
Oct 15, 2021
Excellent people and excellent facilities. Restroom spotless, nice game room, clean laundry room. Would definitely stay here again.
Oct 14, 2021
We love this place. It is CLEAN, staff are very friendly and welcoming! We love the environment and how close it is to bike trails and hiking! We will definitely be back!
Oct 13, 2021
We stayed in the deluxe cabin overnight and loved it. Only thing missing is a comfy couch instead of beds in the living room. Koa needs more deluxe cabin sites in all of their KOAs because that is the ideal way to travel as opposed to staying in a hotel. There is just not enough of the cabins because they are always booked. Also, would have been nice for the pup to have green space at the cabin
Oct 13, 2021
Your campground is always clean and organized, it has shade trees and your staff is VERY helpful! Thank you!
Oct 12, 2021
A most pleasant surprise for our first stay at a KOA.
Oct 12, 2021
Best campground we ever stayed in. We made a mistake and arrived a day early. Dispute being very full they were able to accommodate us. Very friendly and helpful staff.
Oct 12, 2021
We really enjoyed our stay at your campground.
Oct 12, 2021
First stay at a KOA ever, loved it! The restrooms were amazingly clean (though the shower heads make more of a mist than a shower stream so it was hard to feel rinsed off). Firewood delivery was cool. The playground was great. Too bad it was colder or we would have played a round of mini golf. Looking forward to more!
Oct 12, 2021
Thanks for making after hours check in and before hours check out easy.
Oct 12, 2021
freindly hosts
Oct 11, 2021
I stayed in a trailer with a friend last May and rented a cabin for myself this October for 3 nights. Was a great experience. Lovely place to stay. Already booked for next May.
Oct 11, 2021
Attending agility competition at County Fairggrounds and location was perfect. Great spaces, loved the small grass areas, privacy fencing and peaceful site. Was close to Hwy 50 so lots of traffic noise. Clean restrooms/showers and easy to get in and out of KOA.
Oct 11, 2021
Nice Park. Spacious sites. Friendly staff. Enjoyed the fire pit and patio.
Oct 10, 2021
Campground was too crowded and noisy. Cabin was very cramped for 4 adults. Need hooks to hang bags and jackets on. Couldn't get to bathroom if people were sitting at table.
Oct 10, 2021
Electrical hookup was 50 amps and we had to call them to bring us an adapter for 30 amps which fortunately they do not charge for this adapter.
Oct 10, 2021
Everyone and everything was great! My online reservation was as read. No surprises. Staff very friendly, helpful, and organized. Grounds were well kept, store and laundry nice as well. Helpful and friendly staff. Great week at KOA. :)
Oct 10, 2021
Well Run super clean KOA campground. Staff very friendly and helpful.
Oct 10, 2021
WAS VERY NICE UNTIL THE LAST NIGHT. SOMEONE PULLED IN A CAMPER NEXT TO US LATE AT NIGHT AND WERE NOT VERY QUIET ABOUT IT. SLAMMED DOORS, YELLED AT EACH OTHER, AND LEFT TRUCK RUNNING (WHICH WAS VERY LOUD). WENT ON FOR ABOUT AN HOUR. OTHER WISE, WAS ONE OF THE CLEANEST KOA'S WE STAYED IN ON OUR TRIP. STAFF WAS VERY NICE AND ACCOMMODATING. CLEAN SHOWERS AND LAUNDRY ROOM.
Oct 09, 2021
Great friendly staff. Well maintained. Great location.
Oct 09, 2021
Staff was super friendly and helpful. Bathrooms were clean and nice. But campground is right on highway so lots of road noise.
Oct 09, 2021
Wonderful as always! You do it right!! Thanks for another good stay.
Oct 09, 2021
Our stay was short - overnight but was quiet and peaceful and checking in was super easy !!
Oct 09, 2021
The pool was under construction. The location is hard to enter. The noise from the freeway was annoying. The fairgrounds campers were located directly next to our cabin. Their German shepherds barked and whimpered all night. The room smelled like the previous campers smoked. The room was clean and the frig was a bonus.
CAMPGROUND RESPONSE / COMMENTS:
Thank you for reviewing us, we just wanted to make clear that the pool is not under construction it is closed for the cold season. Please next time alert the office staff of any issues you have we are happy to move you into a cabin away from the fairgrounds, they were hosting a dog show that weekend
Oct 08, 2021
Very nice sites.. spacious with lush grass.. the whole grounds was very clean and easy to maneuver through.. very friendly staff and exceptional facilities .. highly recommend this Holiday KOA
Oct 08, 2021
Restrooms were very clean and well kept. Sites were good and level.
Oct 08, 2021
Very nice stay. The place is well managed and clean with good facilities. Please tell the folks that stay here to turn off the outside lights on their campers after the 10:00PM quiet time so we can sleep!
Oct 08, 2021
A great stop on our way west. Thanks for the recomendation of Aztecas mexican restaurant and how to find Walmart.
Oct 07, 2021
Everyone was friendly and helpful. Propane was easy to get. K9 Park was interesting with the trees but Nikky had a ball.
Oct 07, 2021
It was neat and clean. People were friendly and helpful.
Oct 07, 2021
Staff were friendly and helpful but this campground is VERY overpriced. The faculties are OK, many of the washing machines are out of order, right next to a busy, loud road. I would not stay here again, especially for the price and would not recommend.
Oct 06, 2021
Very quiet KOA, outstanding employees and the owner is GREAT! We have stayed here 2 times a total of 20 nights and we will definitely be back! My son lives in GJ so it's awesome to have found such a great place.
Oct 06, 2021
Very clean and well kept campground. We had an unexpected tire blowout and they were fantastic and not only helped us with a last minute reservation but also worked with us on a late checkout while our tires were being installed. Thank you! Definitely will be back!
Oct 05, 2021
I love the spot that we were park. All the amenities you offer. You made it very friendly and comfortable.
Sep 29, 2021
My first time ever at a KOA. Nice cabin, excellent staff, kind service, pet friendly.
- Charlino K on Google
Sep 18, 2021
The Campground is well maintained and clean. You have a little traffic noise but not bad. Check in was very easy and informative with maps of the area. Really good water and pressure. You have access to a lot of rv supply stores, so if you are in need of parts or repair this is a good location. The only downside and it's not the Campground fault is how fast some Campers come through the park. Slow down people. We'd camp here again.
- George Borman on Google
Oct 04, 2021
Oh yes it was so nice at the campsite we picked
- Trudy butcher on Google