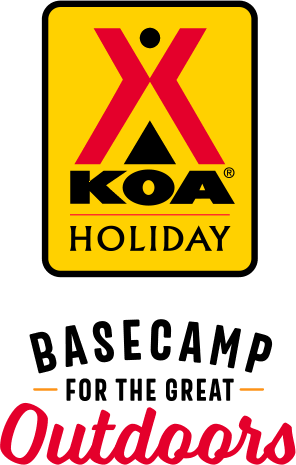 KOA Holiday Campgrounds
Whether you're exploring the local area or hanging out at the campground, KOA Holidays are an ideal place to relax and play. There's plenty to do, with amenities and services to make your stay memorable. Plus, you'll enjoy the outdoor experience with upgraded RV Sites with KOA Patio® and Deluxe Cabins with full baths for camping in comfort. Bring your family, bring your friends, or bring the whole group – there's plenty of ways to stay and explore.
KOA Holidays Feature:
RV Sites with a KOA Patio®
Deluxe Cabins with full baths
Premium Tent Sites
Group meeting facilities
Directions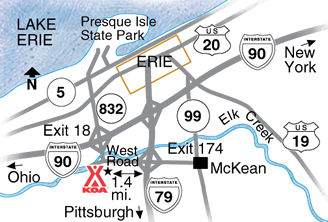 From I-90: Exit 18, go south 1.5 miles on Rt 832, turn left at KOA sign, go 1/4 mile KOA is on the right.
     Note: Going east bound on I-90, GPS's will direct you to exit 16. The better route is to take the next exit, 18 and follow directions above.
From I-79: Exit 174, turn west, go approximately 1.5 miles KOA is on the left.
Get Google Directions
May 06, 2021
Exceptional KOA. This was our 6th stay here....we will be back. Clean restrooms, clean cabins, campground is well-kept.The new owners are very friendly and accommodating...... as well as the staff in the office and on the grounds. Very convenient location for Presque Isle....15 minute drive to the park. Thank you for a great stay!!
May 06, 2021
Nice smaller KOA,Clean well kept.Been there 5 times in past years and will be back again.
May 05, 2021
The campground was very clean and all of the staff were friendly and helpful.
May 04, 2021
Great place to get away . Friendly staff . Clean cabins!! Highly recommend!!!
May 04, 2021
nice improvements Great Staff
May 03, 2021
FIRST TIME THERE. WAS WONDERFUL. CANT WAIT TO GO BACK
May 03, 2021
We'll see you again soon ...
May 03, 2021
Unfortunately this was only an overnight stay! This KOA is by far the nicest; cleanest well kept campground that I have seen in a long time. The owners and their staff were very friendly and accommodating. We walked around the immaculate grounds and did some laundry which was well maintained/clean. I would highly recommend this KOA to anyone .My only disappointment was that I couldn't stay longe
May 03, 2021
Very nice place with beautiful grounds. Friendly and helpful people. We loved the long pull thru spots. Once their store remodeling gets done (delayed by Covid shortages) and everything is open for the season I will probably rate it 5 stars. This trip was to shake down a new 5th wheel so we didn't check out the laundry but hope to return again in a few weeks.
May 03, 2021
Positive improvements, Great Staff
May 03, 2021
Before we could even get unhooked we had employees all over our group. They were fussing over parking passes, not parking on the grass and making a fuss over my disabled sons mobility scooter all before I was out of my truck. In the midst of the chaos they were causing I forgot a little detail while unhooking and did a small amount of damage. The playground is not toddler friendly either.
May 02, 2021
This was our first time out as we are newbies to everyone camping. The campground staff was exceptionally friendly and helpful. The grounds and amenities were clean and maintained. We are planning on returning at least one more time this year. Would definitely recommend spending time at this campground.
May 02, 2021
Fantastic site! Loved L5! Slept like a baby I'm the cabin! We will be back!
May 02, 2021
We arrived after a heavy rain. Our assigned site was under water. We made a call to the office and they immediately found another site that was fine. They were very accommodating. Would love to be there when warmer and drier!
May 01, 2021
Only overnight stay, but good clean facilities, everything is very well maintained. Definitely recommended.
May 01, 2021
Owners were gracious and helpful. Nice spot with good amenities.
Apr 30, 2021
Nice looking campground with friendly staff.
Apr 29, 2021
The stay was fine.
Apr 29, 2021
We were there In late April. The weather was pretty cold & not much was going on. The campground was nice & we would love to come back in warmer weather.
Apr 29, 2021
Beautiful, peaceful campground!
Apr 28, 2021
ABSOLUTELY LOVED OUR STAY! We have 3 young children who were completely entertained the whole weekend with other young campers fishing and playing on the playground! Staff were extremely friendly and helpful through the whole experience too! We will definitely be returning this season!
Apr 28, 2021
We were only there a short time, and before their regular season had started, but the park was very clean, and staff was very friendly and accommodating. Although the campsite is located on a main road, I was afraid that the traffic would be excessive, and it really wasn't. We are headed west but will be stopping there again, on our way back home. I am sure we will be back at other times.
Apr 28, 2021
We had a very enjoyable stay. It is a very nice park. Everyone was very friendly.
Apr 28, 2021
nice park, new owners are nice, only thing is road noise might want to think about putting up a 6 or 8 foot fence along the road
Apr 27, 2021
It is obvious that they are under a transition of ownership. Things aren't the same as they used to be but hopefully with time it will feel the same. Very limited activities. Camp store under renovation with very small selection of items available. Our cabin was immaculate and bathrooms were also very clean. Staff was pleasant.
Apr 27, 2021
The facility and interaction with the staff was great! My only complaint would be the water. There was a discoloration, I do use an inline filter which was new at the start of the weekend and now it needs replaced after 4 days. I also cleaned my water heater after noticing the filter and found a significant amount of fine silt that got through the filter. Not a big deal, just wanted to bring it t.
Apr 27, 2021
Cabin was a little small but overall it was close to all activities and close to our friends that we came up with.
Apr 26, 2021
We had a wonderful time!!!
Apr 26, 2021
Great Stay for a late April ! Everything was clean, well-maintained, and it was great having the bounce pad and playground equipment avaliable! Can't wait to see how the new campstore turns out. See you again in September!
Apr 26, 2021
We spent 3 nights there and were very satisfied. Would like the 'Exit' signs to a bit bigger. They were hard to see when you're trying to maneuver a 38' motorhome while towing a car.
Apr 26, 2021
We were only there for the weekend but had a great time. Owners are very friendly,nice campground definitely will go back.
Apr 26, 2021
It was a nice quick stay. The nice lady at the check in desk was delightful and very helpful. Everything was clean. No complaints. Activities for the kids were limited so we drove out of camp and into the city to find some options.
Apr 25, 2021
This is a favorite spot for us when we are on a trip this way. Always has been and still is, the best!
Apr 23, 2021
We loved our stay here. This is a very nice campground and the people that work here are very friendly and helpful. Restrooms were very clean.
Apr 23, 2021
Heater did not work in the cabin on the cold mornings of April 20th and 21st. Everything else was good.
Apr 22, 2021
We were there for opening day and I must say we had a great stay. The new owners were super friendly and hard working. I love their plans for the park in the future. Looking forward to coming back soon.
Apr 22, 2021
This by far is one of our very favorite campgrounds!! The new owners of Erie KOA are so nice as well as their staff! They are making great improvements also!! Well done Erie KOA! We will be back several times this year!! �
Apr 21, 2021
This was our very first camping trip and the staff made it wonderful. We will definitely be back
Apr 25, 2021
Camped here yesterday, safe and clean and peaceful.
- Aarti Jajoo on Google
Apr 24, 2021
Fantastic place. Very nice
- Dennis Hauber on Google
Apr 22, 2021
The campground is spotless. The owners take pride in ownership. Bring your fishing pole - some really big fish swimming around in their huge pond. Close to Presque Isle and much more!
- Scott Shaw on Google