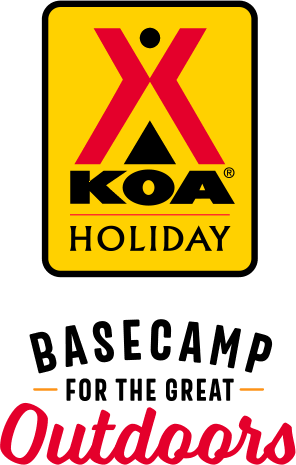 KOA Holiday Campgrounds
Whether you're exploring the local area or hanging out at the campground, KOA Holidays are an ideal place to relax and play. There's plenty to do, with amenities and services to make your stay memorable. Plus, you'll enjoy the outdoor experience with upgraded RV Sites with KOA Patio® and Deluxe Cabins with full baths for camping in comfort. Bring your family, bring your friends, or bring the whole group – there's plenty of ways to stay and explore.
KOA Holidays Feature:
RV Sites with a KOA Patio®
Deluxe Cabins with full baths
Premium Tent Sites
Group meeting facilities
Directions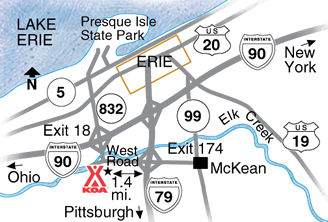 From I-90: Exit 18, go south 1.5 miles on Rt 832, turn left at KOA sign, go 1/4 mile KOA is on the right.
     Note: Going east bound on I-90, GPS's will direct you to exit 16. The better route is to take the next exit, 18 and follow directions above.
From I-79: Exit 174, turn west, go approximately 1.5 miles KOA is on the left.
Get Google Directions
Sep 17, 2021
Very clean and quiet location. The staff here is so helpful, and go above and beyond expectations.
Sep 17, 2021
Extremely helpful staff; new owner very thorough and enthusiastic at checkin. Well maintained campground.
Sep 17, 2021
Everything is always very clean. Met one of the new owners and he was very friendly and helpful. We will be back for another visit.
Sep 17, 2021
This was the best campground in the Erie area. (And we have stayed in several!). The sites were spacious and well maintained, everything was clean, and ALL staff members were helpful and pleasant. Definitely it will be our go to campground for Erie.
Sep 16, 2021
This is the 1st KOA that I don't plan to return to. I get, the owners like quiet but this is overboard. We was told to be quiet at 8:45 in the evening. Saying he had a noise complaint. Mixed feelings about that since we had been talking to the neiboring campers. No real activities to enjoy, jump pillow not aired up. The only thing they did was start a movie.
Sep 16, 2021
We love this campground! We understand staff shortages everywhere. We appreciate the accommodation for the sites we had.
Sep 16, 2021
Enjoyed the quiet..Hearing nature. FRIENDLY PEOPLE �
Sep 15, 2021
I previously stayed at this KOA with my family a few years ago with the other owners! I urge you not to listen to the negative reviews of this KOA! They were excellent anything you needed they didn't hesitate to help! We had some trouble with our stove and grill but after that we were good to go! My only complaint is we didn't have dish sponges or dish towels and we didn't have hand soap 100
Sep 15, 2021
Check in before 1pm was touchy as office was closed til 1pm. But at 1pm owner came out and gave us a welcome pack and site # and asked to settle up later in office, and was apologetic. Unfortunately, due to low staffing there was no pool, icecrm social or Sun Pancake breakfast. But we were still charged reg rate, even though we didn't get these amenities. Campgrd was clean & sites weren't close.
Sep 15, 2021
Excellent service as always ,staff is always helpful and courteous . The grounds are clean and safe as well as restrooms and showers.
Sep 15, 2021
We had trouble with the wifi. But we wouldn't hesitate to stay here again should our travels pass this way.
Sep 14, 2021
The staff was very friendly and the shower/restrooms were clean.. We had a great weekend. Thank-you
Sep 14, 2021
Very nice campground!!
Sep 14, 2021
Owners was helpful and kind. He told us about local attractions and gave good directions to the park. The park was clean and easy to move the rig. Awesome!
Sep 14, 2021
They checked us in fine stuff was very kind. But they said that their staff was short handed and I could understand that. There wasn't much for the kids but I have to say they very hard with what they had. Now the bad part shame on the campers. They where very messy when it came to the restrooms. They stuffed toilets,did not report to the desk. The staff cleaned them and the campers trashed them
Sep 13, 2021
Staff was very polite and courteous. Everything was clean and very peaceful. Very relaxing stay.
Sep 13, 2021
Disappointed that they didn't have any activities given it was KOA appreciation weekend. I noticed other KOAs had all kinds of activities for adults and kids for their appreciation weekend.
Sep 13, 2021
The staff was friendly at the desk. Our cabin and the site around it was really nice and clean. Even the fire pit was cleaned out. Beautiful campground.
Sep 13, 2021
It's pricey, but the area is beautiful and the staff are very friendly. There's unique ways to stay too: cabins and teepee's in particular.
Sep 13, 2021
The cabin was clean and fully equipped. It was so pleasant and relaxing. Just perfect!
Sep 13, 2021
Campground was clean and well maintained. Staff was wonderful and friendly. The jump pad was closed by the Dept. of Ag. but it wasn't a deal breaker for us. It was a perfect base to visit Erie.
Sep 13, 2021
It was awful it was like living under a dictatorship. Sites were advertised for small Rv and tents but when we set up tent with a Rv we were told we had to rent a separate site. I paid for 5 people it didn't make sense where did they think we were all sleeping. I was told if everyone had their own tenant everyone would have to rent a site all single people would have to rent their own site
Sep 13, 2021
Awesome campground very kid friendly
Sep 13, 2021
I've been coming there for 35 years. We are on a third generation. We love it! It's home away from home.
Sep 13, 2021
Customer service at the front counter was superb. Forgot her name, but she lives 3 miles from there. Very knowledgeable and friendly and was able to multi task with several customers needing things. Very clean facilities and nice set up.
Sep 12, 2021
Thought ownership over did the 11pm quiet time. Said that NORMAL voice is too loud, Also changing the park, throwing out seasonal and no children activities. Spoke to many Labor day, their fed up too! Its their park!!
Sep 11, 2021
We were here for only 1 night but upon arrival we thought it was a lovely setting….fairly spacious sites, nice and level too. There was a pond that people were enjoying fishing at. We did have a heavy rain burst and the drives did pool which made it a bit difficult to walk our dog but overall I'd rate this campground a 5 star. It would be a spot I would make a destination in the future.
Sep 11, 2021
3rd stay this summer!
Sep 11, 2021
The owner is very nice and helpful. The park is close for easy access from I 90, but far enough there is no highway noise. We stayed here two times and would definitely stay there again.
Sep 11, 2021
Nice friendly staff. Lots of green space. Did not use facilities as we were there only for one night. Would stay again though.
Sep 10, 2021
Very nice campground with level sites, grass, land clean laundry room. Nice shopping in camp store. Friendly owner. Short drive to Erie and Presque Isle. West Rd traffic a bit noisy. Need to expand K9 area but lots of grass for walks. Not far to I-90 so great overnight stop too. We stayed 2 nights. Will be back.
Sep 10, 2021
The campground was great from beginning to end. Nice check in. The owner/host was helpful and cared how I was treated. Great customer service. The camp grounds were clean and kept up well. The fishing pond was beautiful. We enjoyed our stay and hope to come back again. Thank you, Arvil N.
Sep 10, 2021
Although we didn't make an advance reservation, we were able to get a pull-through space so we didn't have to unhook. Staff was very accommodating and courtious. We have stayed here once before.
Sep 09, 2021
The Erie KOA is a nice, clean campground geared for family fun. Easy off I-79. Friendly staff. Nice amenities - pool during summer, pavilion for movie night, DJ, fishing pond, camp store, LP and others. The bath house is adequate. The off-leash pet area is very small. We booked a new pull-through site with a nice patio. About 15 mins to Presque Isle. Road traffic is noticeable for close sites.
Sep 08, 2021
17 people/7 sites coming for 15 years. No one booked again.New owners creep up behind you in personal space.Told us talking too loud.Literally were told to whisper not speak out loud after 11.asked why we couldnt talk and threatened with cops. 4 of us have NYS badges - not rowdy.Many campers kicked out no refund, some for laughing after 11pm Everyone upset all weekend. Check reviews - need refund
Sep 08, 2021
This campground is billed as a KOA Holiday but our experience was anything but. This campground is lacking in amenities and activities. We've been to other KOA Holidays that have theme weekends, kids crafts, games and more. They had a DJ one night and movie the other 2 and that was it. For a holiday weekend the campground was empty. Read other reviews about quiet hours and harassment- all true!
Sep 08, 2021
Excellent. Campground neat and clean. Took quiet time seriously and enforced it. Staff was very pleasant.
Sep 08, 2021
Been going there for years. Was family oriented. Don't know what happened. Told ownership changed. No scheduled activities for the youngsters. Told staffing issues. Police being called because people sitting around campfire. Heard no noise. Campers being asked to leave.Owners being disrespectful to campers.KOA's standards I will be dropping membership.Hope this gets to someone who can do something
Sep 08, 2021
Very polite staff. Large park, with lots of kids activities. Well laid out. A delightful place, overall.
Sep 08, 2021
Property is immaculate. Owner was extremely pleasant and helpful to find us the best site so we would not have to unhook overnight. Always stay here when traveling
Sep 07, 2021
We have been staying here for many years with a large group of friends. IF it weren't for tradition, we would not have returned...However this year has changed our mind. We immediately noticed the grounds were noticeably different. A new owner is investing sweat equity and it shows! Cabins were cleaned better than ever and common areas were beautifully maintained. Our stay was very enjoyable!
Sep 07, 2021
New management actions made customers feel very uneasy.
Sep 07, 2021
Very unpleasant experience! The customer service from the owners was beyond rude and unaccommodating. My family was extremely disappointed that we were unable to enjoy looking at the stars and roasting s'mores around our campfire due to being forced into our camper. The new owners have created an uninviting and hostile environment. Unfortunately, I will not be returning to this campground
Sep 07, 2021
If I could give this campground a 0 I would. We have been staying Labor Day weekend at Erie KOA for the last 5 years. From the moment we pulled in the new owners were antagonistic and unprofessional. They do not know how to interact with the public. They want to have a curfew not quiet hours. They have no activities for kids like previous owners. Will never go back until there is new ownership.
Sep 07, 2021
The new owners of this KOA are some of the rudest people I have ever meet. The campground is dirty and extremely unkept. Allowing them to partner with KOA is a complete disgrace to other owners who work so hard. If this continues, I worry that it could tarnish the overall KOA high quality branding. Please read Yelp, google, and Facebook reviews. You will see over 100 complaints in 2 months!
Sep 12, 2021
Stayed for 2 nights and had zero issues. Check in was quick and easy. Jamie explained the map to us and where things were located & what was closed. Told us about the sunset at Presque. We had our wood delivered to the site by a very nice guy (didn't catch his name) and then got another bundle delivered by Jamie on Saturday. Sue was very nice in the the store, as well. The cabin we had was really clean and nice. One of the things that I thought was above and beyond was that the firepit was 100% cleaned out! Been to many KOAs where they aren't even touched from the previous camper. We panned for gems and that was a fun time too. We stayed out by our fire past 11 with no issues. We respect the rules of every campground we go to. Definitely will plan a trip next year.
- Erin on Google
Sep 08, 2021
Great place to stop. Easy in and out.
- Danielle Whelsky on Google
Sep 11, 2021
Nice and neat.
- Floyd Hopkins on Google