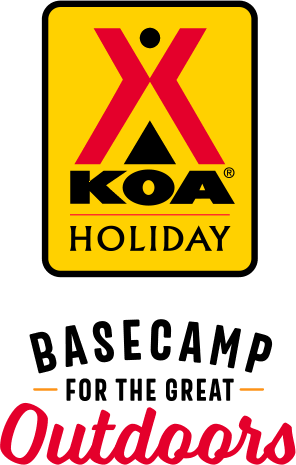 KOA Holiday Campgrounds
Whether you're exploring the local area or hanging out at the campground, KOA Holidays are an ideal place to relax and play. There's plenty to do, with amenities and services to make your stay memorable. Plus, you'll enjoy the outdoor experience with upgraded RV Sites with KOA Patio® and Deluxe Cabins with full baths for camping in comfort. Bring your family, bring your friends, or bring the whole group – there's plenty of ways to stay and explore.
KOA Holidays Feature:
RV Sites with a KOA Patio®
Deluxe Cabins with full baths
Premium Tent Sites
Group meeting facilities
Directions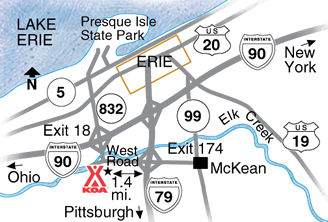 From I-90: Exit 18, go south 1.5 miles on Rt 832, turn left at KOA sign, go 1/4 mile KOA is on the right.
     Note: Going east bound on I-90, GPS's will direct you to exit 16. The better route is to take the next exit, 18 and follow directions above.
From I-79: Exit 174, turn west, go approximately 1.5 miles KOA is on the left.
Get Google Directions
Jul 22, 2021
Nice park that is clean and well maintained. Nice pool and other amenities. Low rating due to being put in worst site in park. Being right next to pool wasn't so bad, but so close to jumping pad that the blower noise made life outside miserable. Worse was living in the mud. Higher sites had good gravel but we were quite low and had little to none. Should not be a site. We will never come back.
Jul 22, 2021
In a word - vibrant! We stayed one night while enroute to another Koa, would love to stay longer. Remarkably clean, every corner is so clean, so neat and tidy. Kids playing, ppl walking around all over, campfires, friendliness everywhere, just a happy place. A great destination for families and grands and everyone.
Jul 22, 2021
I booked this trip for my son's first birthday. He is the last of five that my husband and I have. So, camping for us is a perfect vacation but, not at this campground. We were told, very rudely by Sharon, that if we cannot stop our baby from crying we would have to leave. Threatening to kick us out because we are not willing to drive around till he fell asleep is beyond insulting. Never Again!
Jul 22, 2021
The premises were fine Day 1. We paid for a grassy pad but got a gravel one just before it rained. The next day we had to move to a grassy one. However, the next morning (7/17) on M5 we woke up soaking wet in tent, all surrounded with snails. I asked for one night refund because of the site being drowned (can't eat, sit or sleep on the site). No refund, no other dry grassy site. Left unsatisfie
Jul 22, 2021
We loved our stay at this KOA! The restrooms were close by and clean. The staff was friendly and helpful. We enjoyed the activities (movies, Gaga ball, the jump/bounce pad). Our two children were happy and loved it!
Jul 21, 2021
We will never stay at Erie Kia again. The owner sneaks around in a black robe at night. She crouches down ON UR CAMP SITE! Hiding to see who's up so she can kick u out if u talk above a whisper. (says u have to whisper after 11pm) KOA, your name is on the sign, not Hitler. (What we learned the campers call her the first hour we were there!) if KOA thinks this is ok, my 30 years w/them are over!
Jul 21, 2021
My family have been coming to this KOA for over 5+ years and we will never go back. The new owners are very rude and ignorant.They yelled at both of my boys for riding in the grass with pedal bikes but allow cars and trucks to park in the grass. Then we where around our fire our daughter was giggling she said if we cant keep it quiet put it in the cabin. My daughter isnt a dog. We wont be back.
Jul 21, 2021
Jamie & his wife are doing a wonderful job!! Very impressed. Thank you, Kim & Jeff Seward Ps Enjoy your off season!!
Jul 21, 2021
Our five day camping experience was fantastic. Pool was very clean, playground with the hugh jump Pad kept my grandkids always happy. Things to do like the pancake breakfast and ice cream social. And a DJ one evening. Very family focused but something for everyone to enjoy. Bathrooms very clean. Thank you Erie Holiday KOA - we will be back.
Jul 21, 2021
Very nice, very clean! I had a chance to meet the owner. Very professional! I made a reservation to come back in the fall before I left the property.
Jul 20, 2021
It was very nice despite all the rain. The loft cabin is cozy and fun for all.
Jul 20, 2021
PARK WAS VERY CLEAN AND WELL MAINTAINED DISPITE ALL THE RAIN. /THE OWNER WAS VERY ATTENTIVE TO HIS GUESTS AND MADE SURE THEY WERE WELL TAKEN CARE OF.
Jul 20, 2021
My grandkids really miss the bubble machine , and pool is in need of a little bit of work. New mattress for the cabins. But a fun family atmosphere. We come every year at the 4 th of July. Wish we didn't have to rent for 3 days just because of holidays. It is quiet , friendly cozy place to be. Have been visiting there the last 5 years.. Absolutely Love it.. �
Jul 20, 2021
Very muddy, no gravel put out. Offered to move us to a better site but would doppel the price.
Jul 20, 2021
Relaxing stay.
Jul 20, 2021
Teepee was so awesome. Despite the relentless rain we had a great time! Thank you!
Jul 20, 2021
We only stayed for a night as we passed through on our way to Niagara Falls. The sites are smaller, but expected at a KOA, clean, nice pool, very friendly staff. We had no problems with the staff or the campground.
Jul 20, 2021
Very clean people friendly.
Jul 19, 2021
The new owners are doing a great job, but they are having staffing problems due to the pandemic. I would stay at this campground anytime. The owners and staff care and, are serious about offering a great campground experience for everyone.
Jul 19, 2021
I had high hopes after reading reviews, but we also got scolded for talking outside our campers around midnight. 6 adults (ages 30-60) were trying to enjoy our trip together despite the miserable weekend weather. We weren't screaming, blasting music, etc., but the new owners won't have any of it. No one was outside past 10 there. Our campsites and fire pits were flooded in the rain.
Jul 19, 2021
Our site was very swampy due to the rain, which we understand. But we felt that there should have been more gravel added to help this, there was hardly any. The bathrooms in the back of the campground were not very clean. At one point, there was no toilet paper in one bathroom. The shower head in the one stall seemed broken, as we couldn't get it to adjust to normal spray. Disappointed this time.
Jul 19, 2021
It rained all weekend and couldn't come out of our camper, but it still was a wonderful family trip. The convenience of everything there is great and the staff is wonderful! Definitely will be back!
Jul 19, 2021
We only stayed one night as we were passing thrones our way home. It is a very welcoming campground with beautiful plantings. Would definitely stay there again.
Jul 19, 2021
This was our 3rd stay at the McKean PA KOA this summer!! Unfortunately the weather didn't cooperate this trip but we still had a nice time. The staff are absolutely wonderful and accommodated us with a request I made about where in the campground we wanted to stay. We tent camp and my only complaint is that the bathrooms were closed at different times. But overall I give our stay a 9.5.
Jul 19, 2021
Even in a pouring monsoon we had and excellent stay. Highly recommend. Thank you
Jul 19, 2021
First time staying at a KOA. The owner was so nice letting us have two tents on our site for the Grandchildren. Even though it rained all weekend, the kids had so much to do at the campground. They had a blast. We will be back!!
Jul 19, 2021
It was a very nice and clean camp grounds the site 96 was good. The staff very friendly and and kind.
Jul 18, 2021
This was our first stay, in one of the deluxe cabins, and our whole family loved it! The cabin was clean and fit the 4 of us well, and great climate control! We appreciated the picnic table and fire grate on our site. Next time we'll bring our rods. We are looking forward to coming back every year from now on! Thanks for a great stay!
Jul 18, 2021
We have stayed at this KOA many years. It is currently under new ownership and they need time to make it their own. What we noticed most was the seemed short-staffed.
Jul 18, 2021
Had a great stay. We had a family emergency so we had to leave 1 day early. Which was no ones fault, but I thought they would of at least offered us some money back, they didn't all.they gave us was the 10.00 key return fee back
Jul 17, 2021
The site that we were on was fantastic, we love going up and stay, the staff was friendly and easy to get a long with. Can't wait to go back next year
Jul 17, 2021
Nice overall. The bathhouse connected to the store/ checkout is in need of a remodel. Would be nice to have a little ice cream shop/ snack bar in the store. A basketball hoop would be nice for the kids. More planned activities during the week such as crafts and candy bar bingo. Also very buggy around our site( pond sites) flies were terrible… could you spray / treat for that? Swampy grass/ mudd
Jul 17, 2021
The staff were very friendly and helpful. However they had no kids activities planned which is a main reason we stay at KOA's. They said it was due to being short staffed. I would probably not stay here again unless absolutely necessary.
Jul 17, 2021
We always get the deluxe cabin and it's always clean and the campground is very well maintained. They play a movie at night on the big screen, which the kids really enjoy! We will definitely be back again next summer!
Jul 17, 2021
It was good. However we've stayed at several KOA's and their are usually more amenities inside a basic cabin. We only had one electrical outlet. In the past there's been mini fridge, microwave and tv. A second outlet and mini fridge would make a huge difference.
Jul 17, 2021
The grounds were beautiful. We stayed in the Tipi and it was great. All of the staff were super nice. The only thing is the store needs to stay open later in the evening so families can do the kart rides, etc.
Jul 17, 2021
Loved the secluded campsite. Nice, quiet. Clean.
Jul 17, 2021
Beautiful site. Nice people.
Jul 16, 2021
We've been coming for about 7 years now, our stay was just as good as the rest, the new owners were very nice and helped when we needed it. The kids had a blast. The fishing was great with some big fish also. We will be back again!
Jul 16, 2021
Campground very well kept. Owners are ever present to help with any problem. Rained while we were there so we didn't get to use the pool. Breakfast and ice cream social good.
Jul 16, 2021
We loved our little spot in the woods. The downfall was the rain. We made the best of it.
Jul 13, 2021
Fish with Smiths hotdogs in the pond and you won't be disappointed 😁
- Shelby Skolnik on Google