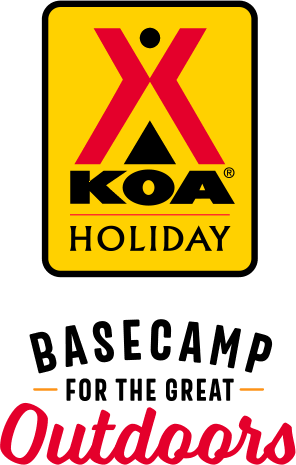 KOA Holiday Campgrounds
Whether you're exploring the local area or hanging out at the campground, KOA Holidays are an ideal place to relax and play. There's plenty to do, with amenities and services to make your stay memorable. Plus, you'll enjoy the outdoor experience with upgraded RV Sites with KOA Patio® and Deluxe Cabins with full baths for camping in comfort. Bring your family, bring your friends, or bring the whole group – there's plenty of ways to stay and explore.
KOA Holidays Feature:
RV Sites with a KOA Patio®
Deluxe Cabins with full baths
Premium Tent Sites
Group meeting facilities
Directions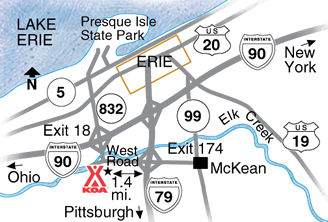 From I-90: Exit 18, go south 1.5 miles on Rt 832, turn left at KOA sign, go 1/4 mile KOA is on the right.
     Note: Going east bound on I-90, GPS's will direct you to exit 16. The better route is to take the next exit, 18 and follow directions above.
From I-79: Exit 174, turn west, go approximately 1.5 miles KOA is on the left.
Get Google Directions
Nov 14, 2020
We loved this campground, staff was friendly and it was not crowded for late Sept even with RVing supposedly on the rise. Lake Erie was only a stones throw away and loved Presque Isle Park... We'd like to visit the park again and will definitely stay at Erie KOA, just not at same site # as it was close to the road and a tended to be a little noisy even in the wee hours... Otherwise, great place!
Oct 27, 2020
Seasonal camper. Love our site and love the campgrounds. Always nice and very helpful.
Oct 27, 2020
We are seasonal campers. We love coming to Erie KOA.
Oct 27, 2020
Very nice place to stay.
Oct 22, 2020
The view of the pond was nice.
Oct 21, 2020
Very pleasant! We enjoyed our stay & walking around the park.
Oct 19, 2020
Not only was the campground lovely, as we've come to expect from KOA, but the staff was phenomenal!! Miss Beth was kind and so knowledgeable of the surrounding area and introduced us to a wonderful local business/restaurant. We can't wait for this KOA to open in the spring so we can go back to the area and stay at this superb KOA!
Oct 19, 2020
We were looking for a comfortable, relaxing family weekend and that is exactly what we got. Clean and very friendly!
Oct 19, 2020
Loved the new and improved pull-thru patio site!
Oct 19, 2020
amazing sight.... very friendly
Oct 19, 2020
excellent fall weekend! Lake just needs more fish!! See you again next year. Scott
Oct 19, 2020
very nice campground .need to extend checkout time. fishing was a little slow. will be back
Oct 19, 2020
The owner (Jamie) and his staff at the Erie KOA were incredible! Our accommodations were perfect and the park was beautiful! Well cared for! After having a reservation at another park be cancelled at the last minute Jamie and his staff took amazing care of us! Thank you Dennis and Aaron!Thank you Sue and Beth at the front desk!And thank you so much Jamie for your beautiful park! We will be back!
Oct 18, 2020
We had a great stay at the Erie KOA. Planned on one night in a pull through site on our way to New Hampshire, but we had alternator problems with the motorhome and needed to stay an extra day to get the rig repaired. The new owner Jamie is super helpful and friendly. Highly recommend this KOA. Will come back again for sure!!
Oct 18, 2020
We had a nice, clean, prepared site - easy in and easy out. The staff was ready for us when we arrived. We also enjoyed a nice walk around the camp to stretch our legs and relax after 300+ miles on the road.
Oct 18, 2020
Very friendly staff. Like level sites with cable. Very clean park.
Oct 18, 2020
Only stayed 1 night
Oct 18, 2020
The area was very well maintained. The setting was pleasant and quiet as there were hardly any guests camping. However, we saw only one other set of guests tenting in the whole area the three nights we stayed, and still guests were put directly beside our camping site. This was very disappointing to me as my husband and i would've liked to have had more privacy if it was at all possible .
Oct 17, 2020
Very friendly and accommodating staff. We especially enjoyed the quietness of the area. In a beautiful setting with some tremendous fall colors. We enjoyed the ability to be able to walk around the lake and the campground. We would definitely go back here again! Burrells from Bogart Georgia
Oct 17, 2020
We love this campground and stay there any time we are in the area. The Staff is extremely friendly and helpful in any of your needs! Lots of neat things for kids to do and a beautiful pond to fish in... Would highly recommend!!
Oct 16, 2020
Simply love this KOA!!! Beth and Mike are super being so helpful with anything you need! Met new owners who are very nice. Everything is clean and visually appealing. Site level and immaculate. Really appreciate gas grill! Despite getting ready to close for the season everything is still being well taken care of. Well done! Will definitely be back next year!! Thanks for a wonderful stay!!
Oct 16, 2020
Very nice sites,bathrooms clean. Staff friendly. I would recommend handicap ramp to get to office and at the bathrooms located by office.
Oct 16, 2020
The campground was beautiful. Very well kept. Level sites with easy in and out. The owner was wonderful. He help us with an issue with our rv. First time we were here but it will not be our last.
Oct 15, 2020
Erie is one of our favorite KOAs and we try to stay at least once a year! Great staff and owners.
Oct 14, 2020
Easy in and out. Nice camp !!
Oct 14, 2020
We stay in a cabin. We enjoy fishing in the lake and bike riding. The staff is always friendly.
Oct 13, 2020
It was a great experience!! We loved the area
Oct 13, 2020
We enjoy staying there. Everyone is very polite and helpful. Thanks
Oct 13, 2020
Very nice and relaxing place. Beautiful area, sites are all easy accessible.
Oct 13, 2020
We really enjoyed staying at this KOA. The owners are super friendly and it was very clean and quiet.
Oct 13, 2020
Great stay. I wish we were there longer! Wonderful staff and fantastic facilities! I will be back!
Oct 12, 2020
Everything was great, however, We have a 40 ft fifth wheel and the spot they wanted us in was extremely difficult to get into. Otherwise very awesome place and people.
Oct 12, 2020
We really like the Erie KOA bc there is so much to do with the kids. The campground was kept very clean and the amenities were great. The sites weren't huge by any means, but we never felt cramped either.
Oct 12, 2020
We love this place but my sons miss the goats!
Oct 12, 2020
It was relaxing. KOA store lacked essentials for camping. We were without a car so essential that we ran out of were not available. We.decided to pack double the next time we visit. Area is beautiful.
Oct 12, 2020
Very nice campground and nice quiet evening at the campfire. Our spot was nice but noticed some spots were very close and only complaint is the checkout time is way too early. Have stayed at many many campgrounds and have never had to be out of an RV spot by 11 or pay extra. That would be the one recommendation I would give for this campground.
Oct 12, 2020
We arrived after hours and our self check-in was greatly appreciated. Next morning the in-store host was very helpful with getting our VKR account renewed. Everyone we met was very friendly.
Oct 12, 2020
I love that you have dog freindly cabins! We love bringing our dogs. Cabins are perfect for out needs. We will be back!
Jan 27, 2021
We stayed at Erie McKean KOA in June 2020 and we have reservations for June 2021. The McKean KOA is a wonderful campground! We know we'll enjoy our stay again. The bathrooms are Always Very clean, the staff are all Very friendly and helpful and if you have kiddos there's a lot for them to do there. We especially love the catch and release pond! Be on the lookout for Big Mama, she's in there somewhere!😁 Lol We HIGHLY RECOMMEND McKean Erie KOA!! We can't wait for our return visit!
- A & R P. on Google
Oct 18, 2020
This is a nice, well run camp with lots of sites and lots of available activities.
- Craig Holstedt on Google
Oct 10, 2020
Definitely one of the nicer KOAs we've stayed at... we'll be back next season for sure.
- Aaron Taylor on Google