Erie KOA Holiday Recreation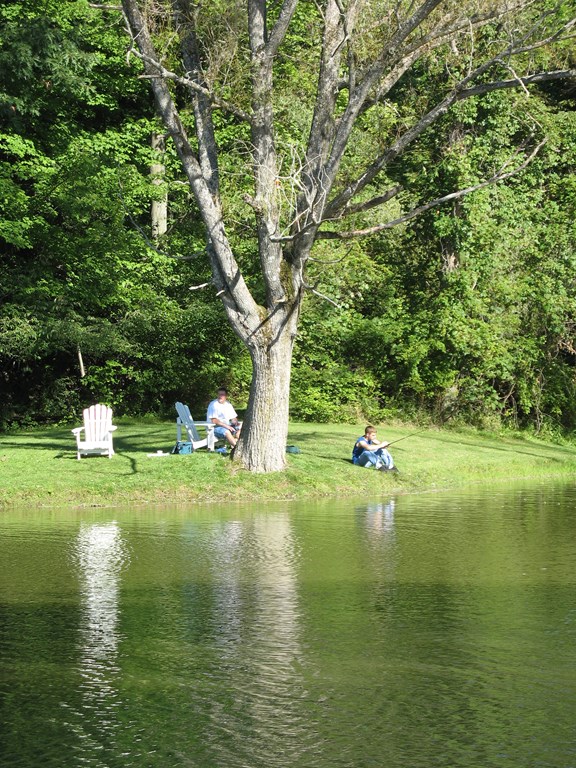 Fishing
Young and old enjoy fishing in our own catch & release Rainbow Lake right center of our campground. Didn't bring your gear - not to worry, our store has live bait and fishing polls for sale. Try to catch blue gill, catfish or bass. No license required. Theme Weekends
Go to the Events tab for our full season's listing. Sunday Pancake Breakfast
Temporally Suspended because of Staffing Shortages Ice Cream Socials
Temporally suspended because of staffing shortages - Every Saturday in season (except when special events change schedule). Build yourself a sundae or have a root beer float (fee). Daily Planned Children's Activities (some may require a small fee & available in season only)
See the full list of weekend activities under the Events tab. Evening Entertainment
In season enjoy one the fun activities scheduled nightly activities such as Chocolate Bingo, WII, Water Volleyball, Movies, Candy Hunt and more. Check the events tab for more detail. Mine for Treasure
You will have lots of fun mining for gems, minerals, fossils and arrowheads at our own Elk Creek mine (fee). Paddle Boat Rentals ** See Info Tab
Temporally Closed - Take out one of our paddle boats and cruise around our lake. It's a great way to enjoy a warm summers day (fee). Banana Bike & Peddle Bike Rentals
Rent one of our bikes and get to enjoy a great ride around the whole campground. It's lots of fun for the entire family. Game Room
Lots of Arcade games for all to enjoy, plus pool, Air Hockey and Ping Pong ball. Outdoor Recreation
Free and lots of fun for kids and adults of all ages our GAGA ball, giant checkers, 20 ft x 40 ft jumping pad, swimming pool, volley ball tether ball and more. Playground
Swings, slides, toddler spring toys and large sand box, tether ball, make up a safe & fun place for kids to hang out.