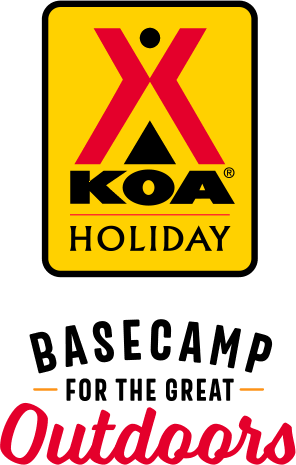 KOA Holiday Campgrounds
Whether you're exploring the local area or hanging out at the campground, KOA Holidays are an ideal place to relax and play. There's plenty to do, with amenities and services to make your stay memorable. Plus, you'll enjoy the outdoor experience with upgraded RV Sites with KOA Patio® and Deluxe Cabins with full baths for camping in comfort. Bring your family, bring your friends, or bring the whole group – there's plenty of ways to stay and explore.
KOA Holidays Feature:
RV Sites with a KOA Patio®
Deluxe Cabins with full baths
Premium Tent Sites
Group meeting facilities
Aug 25, 2020
Campsites are kept in pristine condition.....During my stay, there was a huge storm that did some major damage throughout the campground. What really impressed me was that the staff, once the storm subsided, were riding around to camper and asking if they were OK. The staff immediately began to work on all the downed trees and limbs that damaged some sites.
Aug 25, 2020
Campground was not empathetic as to how the storm impacted campers. Went for a bag of ice with no cash and was turned away because power was out and couldn't accept card. Also could use golf cart because it couldn't charge without power and did not get the day credited back. Very disappointing result for a very scary situation for my children.
Aug 25, 2020
Due to the weather this past weekend, we were without power for approximately 12 hours including overnight. While I understand it was nobody's fault, I got no sleep due to the fact that due to medical conditions, I couldn't use my necessary medical equipment. Leaving wasn't an option because an employee asked us to stay put for safety concerns. Nobody reached out with refund offer.
Aug 25, 2020
We still had a great time even with the Gail Force Storm on Saturday.
Aug 25, 2020
Microburst rolled through knocking out power and trees were down. This happened our first day and we decided not to stay. The folks at camp were great and began cleaning up immediately, but we were unable to appeciate the facility. Will try again.
Aug 24, 2020
We were disappointed on the way the staff handled the storm on Saturday afternoon. They appeared to be ill prepared. We witnessed several staff taking pictures of damaged trailors and making comments. Never did a staff who were taking those said pictures even ask the campers if they were ok or needed assistance. Very disappointed
Aug 24, 2020
Got hit with a major storm while there and while understanding it is out of KOA's control the campground showed little empathy to the guests. Primary concern was always sell, sell, sell. Wouldn't give me ice because I didn't have cash and no access to card transactions. Wouldn't credit us a day on golf cart rental even though we couldn't charge the cart. Very unfortunate response.
Aug 24, 2020
Nice campground, loved the highlands.
Aug 24, 2020
It was awesome until nature took over and ripped through the camp ground. No electricity and many downed trees. We had to leave early.
Aug 24, 2020
I loved the staff, store, restroom facilities, amenities. I could hear traffic from Rt 44 all day and night. Did not at all feel like I was away from the world.
Aug 24, 2020
Clean facilities. Friendly staff.
Aug 23, 2020
We loved our vacation at KOA! The cabin was very comfortable and clean. It was equipped with thoughtful amenities like dish washing detergent, coffee, and sugar. The queen bed was very comfortable! The service we received at the office was excellent. This was our first experience at a campsite, and we are sold. We have already reserved a cabin for next summer. Can't wait!
Aug 23, 2020
There were to many things closed that when we checked in we were given when we checked in that stated were opened .
Aug 23, 2020
We are really looking forward to returning to this campground. The staff was so friendly! Even the seasonal residents that were next door to us were so helpful and friendly. The campground is so clean and well maintained. We just wish we could reserve specific sites! But regardless, we will be back!
Aug 23, 2020
Highland area far too dusty even with no cars driving down the road. The slight breeze alone brought a cloud of dust. Combination of dust and pine pitch on the coach was disgusting.
Aug 23, 2020
Campsites are very very close together. There are no spots that have any privacy. The positives were being able to have wood and ice delivered to your site and garbage picked up daily, also at your site. The pool was nice. But the extra activities like mini golf-they didn't carry any of the equipment to play. So unless you have your own person mini golf club and ball, it's a waste.
Aug 22, 2020
Staff for the most part was good Came in at 3 like we were told and was in a line did not get in until 45 minutes later...other then that was a good time
Aug 22, 2020
We enjoyed staying in the camping cabin. Very clean and friendly staff.
Aug 22, 2020
Overall, a good stay; but I do have a couple of improvements: - The sites (RV) are VERY close. You can hear what's going on at your neighbor's place (TV, music, etc.) - The internet was non-existent. You shouldn't advertise b/c the likelihood of gaining access is very small. We tried at all hours, early morning, mid-day and late in the evening. We never got more than 2 bars, so very unstab
Aug 22, 2020
The fire ring was full of burnt beer cans on arrival The miniature golf is all torn up making playing quite difficult
Aug 20, 2020
I love the updates in the bathrooms! I was not a fan of the mulch tent pads.... my tent did not fit. My son and I stay at KOA every year for his bday. Always impressed!! Office staff this year were pretty rude, I chalked it up to Corvid stress... but I'm sure others will not. Hopefully next year we'll get the usual service with a smile and the bounce pad will be open! See you next year!
Aug 20, 2020
I was disappointed this year when we checked in. I had reserved a specific site..331 and was charged the $10. lock in fee. When we arrived, we were now on site 311...no one in the office was able to tell me why my reserved site was no longer ours....and that someone was on the site and there was nothing they could do for us. Free firewood and ice does not make up for not getting the site 331.
Aug 20, 2020
Though state COVID restrictions prevented some of KOAs activities from opening during our stay, we still had a blast. This is our 3rd time staying at KOA Boston and each time we never want to leave. Opted for a small cabin this time, and it was perfect for my son and I. The staff here are great, and so helpful and friendly. They really make you feel at home. Cant wait till next year!
Aug 20, 2020
My kids had a blast even with things closed because of COVID-19
Aug 19, 2020
Stay was great. Site was a little dusty but no rain will do that. Needs grass or gravel.
Aug 18, 2020
The campground staff starting with the check in were patient with my hard of hearing husband. The team in the store were super friendly. The only thing I would say needed addressing was the amount of grass on sites, but the weather and campers are rough on the ground. I did find a lot of people were letting their dogs poop and not cleaning f up after them, even if I offered them a bag.
Aug 18, 2020
my stay was great except for the online check-in.I had 2 choices on how to make my payment.First to use the credit card which I have on file (which I DID NOT want to use), or to pay at check-in using another method.I moved money out of my savings account to my checking account to avoid the interest charges associated with the credit card.This request was not honored.very disappointed.
Aug 18, 2020
Didn't care for the new staff and I think you should have give a price break for not having any activities send the kids
Aug 18, 2020
If I had to any complaint it would be the use of golf carts. Too many youngster behind the wheel driving definitely not 7 1/2 mph. My truck an few cars near our cabin was almost hit several times. And the fight that took place and was shut down, did not have to get that far. Those young people were walking around drinking, they were loud and obnoxious (horse shoe pits). Staff were present.
Aug 18, 2020
Thank you! Thank you!
Aug 18, 2020
Even though there were COVID restrictions, KOA still offered safe and fun activities.
Aug 18, 2020
We had a good time there
Aug 18, 2020
The cabin was beautiful, we had a nice time. Thank you!
Aug 18, 2020
it was OK , Cable TV was out for a period , my understanding from staff is that its an older system plagued with problems - maybe its time to upgrade and or repair correctly. water leak in the roadway adjacent to my site , made for messy muddy travel way forcing adjacent campers to cut through my site and adjacent site so as not to walk in the mud. Leak should have been fixed quickly.
Aug 17, 2020
My only issue is the Covid restrictions that took away some of the activities (i guess that was EEE as well) nothing KOA is able to do about that, so let's hope things are better next year. My best friends and our kids live close by and this is our favorite get together for the summer. We will be back!
Aug 17, 2020
HI, We had an enjoyable stay, was very quiet and peaceful. Much needed rest. Thank you for everything
Aug 17, 2020
We think it's ok. Had a great time but mini golf looks unsafe with carpet torn as a trip hazard, botchi court closed, no gem mining(This looked a safety hazard also). Although some things are not open due to Covid, this camp seems to be run down and tired. We may or may not return to this camp. We heard other KOA camps offered more and were better.
Oct 23, 2020
Pool, golf, basketball, wifi, TV, bbq pits, laundry room and garbage pickup! Great location! Great staff!
- Batt Mann on Google
Nov 03, 2020
Great place to go lodging if you don't have a RV or Mobile Home. People there were courteous and respectful. Too close to I-495 you can hear vehicles go by.
- Stuart MacGillivray on Google
Oct 29, 2020
We had a site across from the rest rooms/laundry which was good as it was quite on the very cool side. It was also the weekend for Halloween so plenty of decorations and trick or treat on Saturday. Well done
- Joanne Desroches on Google