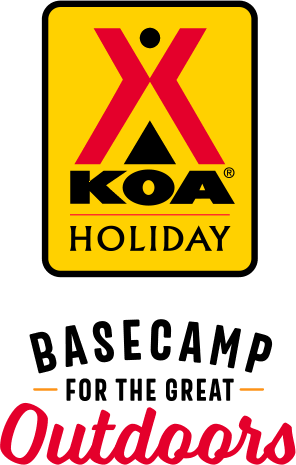 KOA Holiday Campgrounds
Whether you're exploring the local area or hanging out at the campground, KOA Holidays are an ideal place to relax and play. There's plenty to do, with amenities and services to make your stay memorable. Plus, you'll enjoy the outdoor experience with upgraded RV Sites with KOA Patio® and Deluxe Cabins with full baths for camping in comfort. Bring your family, bring your friends, or bring the whole group – there's plenty of ways to stay and explore.
KOA Holidays Feature:
RV Sites with a KOA Patio®
Deluxe Cabins with full baths
Premium Tent Sites
Group meeting facilities
Sep 11, 2020
Had an amazing time! So clean, staff was great and went out of their way!
Sep 09, 2020
We stayed over Labor Day weekend. It was completely full, noisy and smoky. The sites are pretty close together.
Sep 09, 2020
It was a very dirty park. Overcrowded how many ways to say covid. The pool area had over 20 people surrounding. My friends came to visit from Boston and they were told to pay $21. The rate was $7 per person with no excuses. They stayed for a very brief time and were $21 short when they left. They seem to welcome people that traveled in caravans and such making the visit unbearable. I would never a
Sep 08, 2020
The light outside our cabin was broken, I had to unpack in the dark. The gentleman who looked at the light said it wasn't the bulb and someone would be out in the AM, but I still had to go out to the office and ask them to fix it. In addition, I was trying to work onsite Friday and through the weekend and the WiFi was horrible. Even sitting right outside the bathhouse.
Sep 08, 2020
I was surprised to see so many campers allowed there during Covid. I was also surprised there was no discount per night rate since none of the regular Labor Day activities were no happening due to Covid. The bathrooms were gross. One of the ceiling lights had poop smeared on it. Every other stall was not in play which makes no sense during social distancing.
Sep 08, 2020
Another great stay. Cabin was clean and staff was helpful.
Sep 08, 2020
My favorite Campground ever
Sep 08, 2020
my only feedback would be to put some speed bumps in the first road in the highlands area. Our stay was in site H10 and cars/trucks and golf charts are traveling way to fast, well over the 7.5 mph.
Sep 08, 2020
We rented a deluxe cabin and were completely surprised to find bed linens, plates, cups, silverware, soap and the icing on the cake was bowls and treats for the dog. Centrally located to the grocery store and Plymouth - we did spend a day exploring and learning the history of Plymouth. We camped with family and had fun visiting each site for dinner.
Sep 08, 2020
Very clean, staff was on top of getting trash off the grounds, friendly staff, people driving to fast through site, staff attempted to enforce the fast drivers
Sep 08, 2020
Staff was very friendly and the entire facility was always clean and orderly. The amount of shade on all the sites is also phenominal. The only complaint that my family had was the closeness of all the sites. This was our first time at this campground and it wont be our last!
Sep 08, 2020
All the staff were super friendly and professional! It's our favorite place to camp
Sep 08, 2020
Great place but the site we were given for a 30ft camper was very tight.
Sep 08, 2020
Overall pretty satisfied. Would love to see the mini golf updated!
Sep 08, 2020
Good family times, good weather, great staff and campers. My kids wanted to leave our Plymouth adventure early to get back to the campground. But, Covid stinks!
Sep 08, 2020
Very courteous and nice staff very helpful site was kept nice and clean
Sep 07, 2020
Super loud with golf carts, kids, and cars going by constantly. One night a group blasted music until 1:00 am with kids partying. No security obviously. Put us right next to seasonal spot and by pavilion (loud music there too), bathrooms, dump station and pet park. So busy! I asked to switch spots I was told nothing was available and then watched empty spots sit all week! Highlands area nice.
Sep 07, 2020
Love this place. Staff is great. Clean. Normal interactions and atmosphere. Nothing crazy here.
Sep 07, 2020
Great time. Staff was amazing. Great location
Sep 06, 2020
Very well run clean campground. They are doing an excellent job with the Covid19 restrictions.
Sep 05, 2020
Too many people in one place, too dense -- hardly any privacy. But the staff was exceptional!
Sep 05, 2020
This was our first time staying at a KOA and it was ok. The pros: Dog parks, clean bathrooms, laundry facilities, pool, activities, amazing staff, and the store was filled with supplies. The Cons: golf cart rentals are advertised as $65 but charged $75, The facilities looked a bit old and in disrepair, a lot of people not masked up, sites were too close, pool heater was broken, and noise all night
Sep 04, 2020
We enjoyed a peaceful stay in our beautiful, clean cabin.
Sep 04, 2020
The campground is always nice to stay at. I wish the golf carts were cheaper. $79 a day is a little pricey.
Sep 03, 2020
We will be back!
Sep 03, 2020
I assume due to covid, it's hard to be as communicative, for it seemed they were unable to as helpful, I asked to be in the woods , not next to the highway .... and no mini refrigerator, no tv , girls milk went bad ..... and had to ask for a rack for fire pit, that was the only thing they were able to bring , I stayed in Stonington , mystic a few weeks before and they provided everything
Sep 03, 2020
Last-minute decision. We had a great time
Sep 02, 2020
Have been coming to KOA Holiday for many years and have never seen it looking better than it now is.
Sep 02, 2020
Stayed in a Deluxe Patio Back in gravel site with full hook up located in the Highland area of the campground. The site is a stone patio site with stone fire pit, patio swing chair, round iron picnic table & chairs, along with cable TV & Wi-Fi. The staff was very attentive, courteous, & friendly. All the guest we met were equally as friendly & this campground is dog friendly.
Sep 02, 2020
This RV Park is not satellite friendly. The so-called "free" WI-FI never worked for the week we were there. The sites are not gravel or paved, they are dirt. When it rains, there's mud everywhere. Golf cart rules are not enforced. Travel times to nearby points of interest like Cape Cod and Boston were convenient, 45-60 minutes.
Sep 02, 2020
Very noisy near the nearby highway. Saw many cars in the campground not doing the speed limit. All documents even at checkin said the jump pad was open, this was not true. Jump pad was closed due to covid. Need more showers in bathhouse.
Sep 02, 2020
The older lady who checked us in wasnt very warm and or friendly. Just the opposite! & snotty! But the cabins were nice, clean and accommodating. & all other staff we brushed into was pleasant, helpful, & smiling! All together great stay.
Oct 23, 2020
Pool, golf, basketball, wifi, TV, bbq pits, laundry room and garbage pickup! Great location! Great staff!
- Batt Mann on Google
Nov 03, 2020
Great place to go lodging if you don't have a RV or Mobile Home. People there were courteous and respectful. Too close to I-495 you can hear vehicles go by.
- Stuart MacGillivray on Google
Oct 29, 2020
We had a site across from the rest rooms/laundry which was good as it was quite on the very cool side. It was also the weekend for Halloween so plenty of decorations and trick or treat on Saturday. Well done
- Joanne Desroches on Google