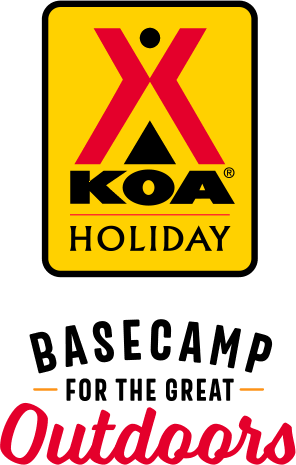 KOA Holiday Campgrounds
Whether you're exploring the local area or hanging out at the campground, KOA Holidays are an ideal place to relax and play. There's plenty to do, with amenities and services to make your stay memorable. Plus, you'll enjoy the outdoor experience with upgraded RV Sites with KOA Patio® and Deluxe Cabins with full baths for camping in comfort. Bring your family, bring your friends, or bring the whole group – there's plenty of ways to stay and explore.
KOA Holidays Feature:
RV Sites with a KOA Patio®
Deluxe Cabins with full baths
Premium Tent Sites
Group meeting facilities
Sep 21, 2020
Although the campground was very full, we had enough privacy with our fire and little cabin. Near the entrance and bathrooms, the back windows looked out to a lovely wooded hill. We love this location; take the train to Boston, visit Plimoth Plantation or King Richard's Faire, right nearby. This was my 6th stay at the Boston KOA and will be back next year!
Sep 21, 2020
Our stay was okay. The site was very uneven with rocks and tree roots. Our section was set up to pack in campers like sardines. Luckily, many of the sites were available (we were told we got the last site available!) and were not crowded in like the section shows it could have been. I didn't see any social distancing from campers. People were gathered in large groups with no masks!
Sep 21, 2020
Great layout with several distinct areas throughout the property. Very quiet after hours too, even though the park was nearly full to capacity. Staff was awesome too! No complaints at all. Thanks!!!
Sep 21, 2020
We were a late arrival on Friday. The guy at the gate helped a ton. However on Sat we realized the site wasn't great. No real place to put the picnic table so it was level. And we didn't have a fire ring, and with our truck parked in our parking spot? There wasn't a place for a fire. Very small.
Sep 21, 2020
Great job great staff
Sep 20, 2020
Great dog yards. Fairly decent space between RVs. But with covid when the weekend rolled around it was mass people, no masks, lots of groups together. I'm glad we left early Sat morning. Hopefully next year it won't matter.
Sep 20, 2020
Beautiful site. Even better staff
Sep 19, 2020
We love the KOA, we have been going every month from June- Nov. for 4 years and we will be setting up our dates for next year. Ryan and most of the staff are awesome and very helpful. See you in a couple of weeks.
Sep 19, 2020
The staff was absolutely phenomenal. I want to shout out to Greg who helped us with a electrical problem at our site which was rectified in minutes. Would definitely go back to the Boston / Cape Cod KOA. The staff was extremely friendly and every time we saw a staff member they stopped to say hello.
Sep 18, 2020
I had to leave early from my spot that I paid good money for because some drunk people behind me were banging on my cabin walls scaring my daughter so bad she was petrified and I had to drive to my house at 3:30 in the morning just so she can sleep and relax. Completely unacceptable. I paid good money for something I couldn't use because I had to leave early
Sep 18, 2020
I always stay there, everyone is so helpful and kind. Always clean, and everything I need. Thank u to all of you at Middleboro koa ��
Sep 16, 2020
Clean and comfortable with beautiful surroundings!
Sep 15, 2020
Fantastic weekend. Deluxe cabin was beyond our expectations, site was clean and quiet, staff very friendly and helpful. This was our first visit to a KOA, and I don't think we would ever go anywhere else now. Can't wait to go back!
Sep 15, 2020
Amazing stay- very clean, efficient and pleasant staff. We'll be back!
Sep 15, 2020
Very well organized, friendly staff and lots of activities.
Sep 15, 2020
Was the second time I had stayed there in a 2 week period and had a small cabin in which I was pleased with. KOA had plenty of activities to do with the family and had time to unwind as well. GREAT JOB .
Sep 15, 2020
Pleasant, helpful staff.
Sep 14, 2020
Every year we do a girl's weekend and it is always there as you are the closest campground to all of the us. We had a great time even though COVID-19 dampened some of the entertainment for us. But with everything going on it was a great stay. Everyone in the office very helpful. Love that you deliver wood! Will definitely see you next year to have more fun memories!
Sep 14, 2020
Despite ads for a vintage camper wknd, participants were too spread out. There was excessive traffic noise. Also, the staff woman who 'greeted' us was argumentative. We were told by phone we could arrive at 12:30. She said we'd have to pay $25 extra. Finally got worked out, but not a friendly welcome. KOAs are not for us - too much suburban camping. We won't be back.
Sep 14, 2020
We really enjoyed the vintage weekend. Only complaint is that sites are extremely small and close together. But the environment was fun. We enjoyed the band and the food trucks. We will definitely return
Sep 14, 2020
We always have a great time when we bring our grandson and his friends for his birthday weekend. Our grandsons favorite thing to do is mining for gems.
Sep 14, 2020
The only issue we had with our stay this time was that the grill provided on the site was dirty with food from the previous campers. Other than that, we love coming to the KOA!
Sep 14, 2020
Loved the live musict! Food trucks were great! Turned off by the number of golf carts. The campground is not big enough to warrant the need for golf carts - maybe for seasonal only? Annoyed by the group of rented golf carts doing drag races and 'donuts' on the road stretch to the Highlands. Also the younger kids driving the golf carts - one with adult in tow on a skateboard!???!!!
Sep 14, 2020
Very nice location, a variety of activities, easy check in and out, very helpful staff, a great experience.
Sep 14, 2020
Our stay was wonderful! From the minute we checked in and were escorted to our site, to our departure, everything was wonderful. Campground was clean, monitored and overall a great experience. Thank you!
Sep 14, 2020
mostly liked it. but the beds and pillows felt very old. also that mini golf was in total shambles, and it could be fixed for short money. the band was a nice treat during the day. bathrooms and cottage fairly clean and in good condition.
Sep 14, 2020
Great stay very clean campground. I will note it is a very busy and very packed campground but our stay was wonderful and although we did have some issues one night with some rowdy golf cart riders the hosts were very quick in acting to resolve the issue and send them on their way. Overall great stay and I loved the patio site. Thankyou.
Sep 13, 2020
It was awful! Staff was rude! Other campers across from us was rude! And our site looked like a hurricane came through with big tree branches everywhere. My 2yr old niece busted her whole face and split her lip open from falling over one. We did all the work and cleaned ourselves!!! That was not an enjoyable vacation!!!
Sep 13, 2020
Great job during Covid
Sep 13, 2020
Very clean and responsive staff. Proximity to Cape Cod, Plymouth and the many nice beaches made it ideal for us. Kids had a blast and we enjoyed some down time. A hidden gem honestly.
Sep 13, 2020
The cabin was nice. However, the heater came on continuously the first night (had to turn the thermostats to below 50 degrees), the circuit to the back bedroom kept tripping with the ac unit, and the hideabed matress was painful to sleep on. That said, the pool, the kitchen, the wheelchair ramp, and the sleeping 6 was a perfect fit. Please address the issues and we'll look forward to next time!
Sep 13, 2020
Peaceful. Lots of trees and some little trails in the woods. Great respect for Covid precautions.
Sep 12, 2020
We had no hot water on arrival. It took two complaints to get somebody to show up. After they told me it was fixed, I still had no hot water. He came back and fixed it again. When I woke up the next morning, I had hot water in the shower, but not the sink. I complained again, and another employee came back and checked it out. He came back out and said it needed another faucet. He never came
Sep 12, 2020
Everything was great for the most part. Wished we had the opportunity to recycle more, only had a trash bin in the cabin, nothing separate for recyclables. Covid put a damper on most all the activities, so the kids missed out on that, but we knew that going into it. Cabin was clean. Also would have been nice to have a change machine in the laundry room to get quarters.
Sep 12, 2020
Although brief, great location to our sightseeing destinations. Very quiet after road traffic settled down.
Sep 11, 2020
Had an amazing time! So clean, staff was great and went out of their way!
Jul 16, 2021
Been here multiple times, great place to camp and an excellent staff
- Steve V on Google
Jul 16, 2021
Our regular place to stay in Massachusetts.
- Donald Pearce on Google
Jul 13, 2021
I went to visit. Everything was clean. Lots of things to do for all ages! I'd definitely get myself a site here when I plan a camping trip!
- Erica McGrath on Google