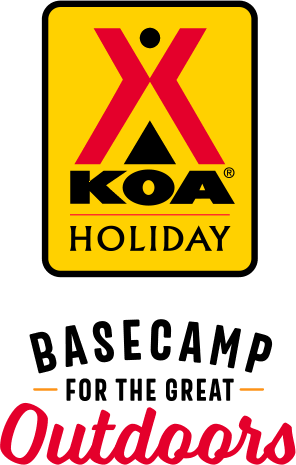 KOA Holiday Campgrounds
Whether you're exploring the local area or hanging out at the campground, KOA Holidays are an ideal place to relax and play. There's plenty to do, with amenities and services to make your stay memorable. Plus, you'll enjoy the outdoor experience with upgraded RV Sites with KOA Patio® and Deluxe Cabins with full baths for camping in comfort. Bring your family, bring your friends, or bring the whole group – there's plenty of ways to stay and explore.
KOA Holidays Feature:
RV Sites with a KOA Patio®
Deluxe Cabins with full baths
Premium Tent Sites
Group meeting facilities
Oct 18, 2020
We had a great time. We loved the cabin
Oct 17, 2020
Cabin smelled weird and could have used an extra outlet. Everything else was good.
Oct 17, 2020
this time was grest
Oct 17, 2020
Friendly staff and nice park.
Oct 16, 2020
No activities on a holiday weekend �
Oct 16, 2020
We stayed in campsite 170. We felt that the sites were really pack together. If we ever make it back that way again, I will definitely ask for a site in the far back.
Oct 16, 2020
The amenities at this campground are first-rate, as are the sites themselves. We really enjoyed our brief stay.
Oct 16, 2020
Awesome campgrounds!! Lots of room between camps and beautiful surroundings, the grounds were kept clean with lots is staff to take care of campers.
Oct 16, 2020
Nice average family campground that charges exorbitant prices. I have been full time camping for five years and I only stay at KOA campgrounds as a last resort. They are generally just as good as other private campgrounds in the area in general but charge a premium price for their name. If your campground was on a level with Normandy Farms Campground in Foxborough, MA I would happily pay a premium
Oct 15, 2020
Satisfactory
Oct 14, 2020
My stay was great except the fact that we had another family that was supposed to be next to us and they could not accommodate us when this was put in written months before .. very upsetting... then one lady in the office was extremely rude .. went to office again to make sure our families are put together for our next booking fo wish is gonna be 10/23 and that very rude older lady said no
Oct 14, 2020
It was a great weekend. I was very, pleasantly surprised when they told me that the firewood I purchased would be delivered to my site. They pick up your trash from your site between 10am-12pm. However, they even picked up later than 12pm when they saw it!! Free showers, with great water pressure. All around great weekend. We will be back!!
Oct 14, 2020
Staff was friendly, cabin was clean
Oct 14, 2020
Staff was very friendly. Place was very clean. Highly recommend
Oct 13, 2020
The stay was fine. The rates went up and with the lack of activities because of Covid, the rate hike should have been put on hold. It's disappointing. The staff are great as always!
Oct 13, 2020
Nice clean and friendly place
Oct 13, 2020
we had a great family weekend,we had 6 sites total and everyone had a good time. The only problem with Mother Nature and her gusty wind!!!
Oct 13, 2020
Had a great weekend stay but holiday rates are too expensive!
Oct 13, 2020
As always a very pleasant campground with very pleasant, helpful staff looking forward to next year's season!!!
Oct 13, 2020
Been to this campground a few times and will be going back again. My only complaint/suggestion...They now offer golf cart rentals which was not mentioned on the website nor when booking. You can only book a rental on first come first serve once you get to camp and they don't have many. Would be much nicer to be able to book when making making your reservation. Otherwise nice place.
Oct 13, 2020
Renting the deluxe cabin was the best camping decision I have made. Having 2 6-year-olds and a 10-month-old makes old fashion camping impossible. My kids especially loved the mining station and checking out their cool rocks and gems. The proximity to Plymouth and grays beach was perfect. Within 15 or 20 minutes you have chain restaurants and really good local locations.
Oct 13, 2020
We enjoyed our mini vacation and can't wait to do it again. The staff is super!
Oct 13, 2020
We had a great time and will definitely be back. All your staff ware very friendly and welcoming. Thanks for everything.
Oct 13, 2020
Was great. Just very dusty. Our site was so dusty and our camper was full of dirt / dust. We do the spring fling and the fall stay and play and both times we are given the dirtiest site. Wish they had rocks or woodchips. Can I place a hold on a different site for the spring when we are back? Otherwise everything was good.
Oct 13, 2020
Great other then the loud party at another camp site, that continued well after quiet hours
Oct 13, 2020
We usually have a pretty good time there. This time was marred byThe sewage alarm going off at 7:00 a.m. Saturday and Sunday and the smell of poop all weekend. But I understand some things are out of your control. But one thing I can tell you which is gotten steadily worse over the last years, is the the speeding it become very dangerous for children. I would never stay at the same site again.
Oct 13, 2020
Wonderful stay in Middleboro, MA. Friendly staff that are always there to help. Clean restrooms and facilities. A place you must stay at!
Oct 13, 2020
Thank you for having us this weekend. We had a wonderful time and hope to be back soon. We love the wood delivery service and how clean everything was. Thank you again
Oct 13, 2020
Great Camp Ground. Lot's of activities for the kids. Very clean and organized.
Oct 12, 2020
The staff were wonderful and welcoming . I felt that due to the Carona that there weren't steps taken. I felt the sites were to close and people were on top of each other. Everyone were all happy and enjoy themselves. The children all playing with other children and not wearing mask especially on the playground. Taking a nice walk with my wife and the golf carts moving fast with 7 kids on them
Oct 12, 2020
We had a great time staying here. We had a tent site, private and in a beautiful spot. We were close to the restroom and the grocery store had the things I forgot to pack. Everything was clean and staff was super friendly and accommodating. They also offered a tie dye activity for children on Saturday. This was the first time I used KOA and I loved it! Can't wait to visit other campgrounds.
Oct 11, 2020
We were thrilled with the Deluxe Cabin, and wanted to stay for a few more days! Everything was very clean, so we felt safe during COVID. We also found excellent restaurants, and a nature preserve. The Old Mill property was a gem! Tiffany was fantastic. Very friendly and helpful and enthusiastic. Thanks again for a lovely getaway. We need to come back so that we can enjoy the fire ring!
Oct 10, 2020
It was pleasant overall I was in an RV site and my sons family rented a deluxe cabin The only events that took away from the stay were golf carts racing around very late at night
Jul 16, 2021
Been here multiple times, great place to camp and an excellent staff
- Steve V on Google
Jul 16, 2021
Our regular place to stay in Massachusetts.
- Donald Pearce on Google
Jul 13, 2021
I went to visit. Everything was clean. Lots of things to do for all ages! I'd definitely get myself a site here when I plan a camping trip!
- Erica McGrath on Google