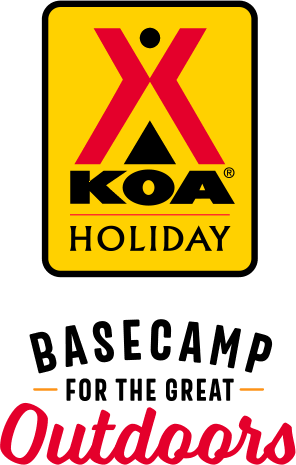 KOA Holiday Campgrounds
Whether you're exploring the local area or hanging out at the campground, KOA Holidays are an ideal place to relax and play. There's plenty to do, with amenities and services to make your stay memorable. Plus, you'll enjoy the outdoor experience with upgraded RV Sites with KOA Patio® and Deluxe Cabins with full baths for camping in comfort. Bring your family, bring your friends, or bring the whole group – there's plenty of ways to stay and explore.
KOA Holidays Feature:
RV Sites with a KOA Patio®
Deluxe Cabins with full baths
Premium Tent Sites
Group meeting facilities
Aug 17, 2020
Nice campground, easy check in and love the text messages. But our campsite was just dirt and I would not have wanted that for a prolonged stay. We were only there 1 night so it was fine with a small carpet outside the RV. Definitely need outdoor carpets there as I saw lots of people had.
Aug 17, 2020
Easily the cleanest bathrooms I've ever seen at a camp. Not a bug, web or leaf anywhere. Bravo to the cleaning team. One complaint would be the very poor wifi. I tried to work during our trip but could not get a stable connection which was very frustrating (I was sitting in the pavilion next to the bath house). If you are going to promote free wifi, it should be usable. A great camping experience!
Aug 17, 2020
This review has been removed by KOA due to profanity.
Aug 17, 2020
Had a premium site next to poo, it was very clean. Staff friendly. Only issue was front desk telling my guest they had to park in overflow parking (which was opposite end of park from our site) when we were allowed 2 cars at our site. Also a neighbor used our site number to get in their guests (3 of them) and had 4 cars at their site. No one confirms the guests with the site numbers.
Aug 17, 2020
Site was ready and clean. The pre-check in was quick and easy. We were met at the gate where the and offered an escort to the site. Great weekend, plenty to do without leaving the campground.
Aug 17, 2020
Unfortunately, it was way too crowded and loud for our liking. When I asked two staff members where the dishwashing sink was, they were rude and dismissive. We've had great experiences at other KOA's in the past, including earlier in the week in Acadia, but I would not recommend this particular one.
Aug 16, 2020
We were not aware of basically everything at the campground being cancelled. Not much for kids to do activity wise.
Aug 16, 2020
It's a beautiful place. Very well thought out. The only thing that was kind of irritating was dogs barking in rv next to us constantly. It started at 7:00 in the morning and they constantly told the dog to be quiet but it just didn't listen to them. I love dogs and do not mind barking, but this was chronic.
Aug 16, 2020
Just wish more avaliable would have stayed long et
Aug 15, 2020
While the deluxe cabin we stayed in was beautiful, there was some things about the campground itself that needed work. The children's amenities were all weathered and not properly maintained. The mini golf had huge tears in the green turf, the bouncy pad had huge lumps in it, etc... The pool was unable to be used do to being "overbooked". For the money... :/
Aug 15, 2020
Nice place overall, and staff is very courteous and helpful. Our reservation said our site would be on a grass pad. Instead, it was all dirt and rocks. The website advertises mini golf, but the mini golf course looks like it has not been repaired since 1995. Get some plywood and carpet and fix that thing. Bathroom has signs about distancing stalls, but the open stalls are side by side. Why???
Aug 15, 2020
The deluxe cabin was lovely, comfortable bed , plenty of pillows, very nice kitchen great full bath, nice grill and fire pit and IF we had stayed during April or October I may have given 5 stars, however our visit was during August and the air conditioning was very poor- the price we paid did not reflect this inadequacy
Aug 15, 2020
Dc cabins are over priced, since so many kids activities are unavailable because of covid 19 a discount should be given to people with kids, also price includes NO kids, overall nice place but prices are ridiculous, for the price it should be a luxurious campground and it's definitely not.
Aug 15, 2020
Under the circumstances, I packed extra material to clean the cottage. But it looked super clean so there was not much I had to do. Thank you. We will see you again.
Aug 15, 2020
First, I can't get over how rude the office staff was. Granted it's during Covid, there was also almost no activities. We had to reserve pool time, and the jumpy pillow was closed. Mini golf was in disrepair, and there were no camp activities going on whatsoever. Basically, the kids got to swim occasionally, and ride their bikes. Grounds crew were great however, and kept park clean.
Aug 15, 2020
Very nice and clean. Very friendly and cordial. We will be back
Aug 15, 2020
This time we tent had T9. It was an spot but the others wood chips to put there tent up. Wish this site had one. Went to the bathroom next day told cleaning girls. Some one put crackers on the sign etc. Threw cheese on the ceiling. After hours went again thanks to this other camper gave me toilet papper the stole was out, Called the after hours # to fill the papper/
Aug 15, 2020
had a nice time thank you
Aug 15, 2020
Awsome just wish more available
Aug 14, 2020
Staff is very friendly and nice. Great campground. See you soon.
Aug 14, 2020
The staff was unprofessional and rude. We were told we could not utilize the swimming pool on the day we were leaving, when we were not supposed to be checked out until 11am. There is nothing in the terms and conditions states you may not use the facilities the day you are leaving PRIOR to check out. I have been to multiple KOA's and usually have a wonderful time. Now I will book elsewhere.
Aug 14, 2020
Very nice lots of space people very friendly.
Aug 13, 2020
great campground. loved our site and it was quiet.
Aug 13, 2020
Check in was easy and safe. Cabin was clean and sanitary. Staff was pleasant and helpful.
Aug 13, 2020
We stayed in the Highlands portion of the park and loved the mature trees and the quiet atmosphere. The campground was neat and well kept, and the staff was great. We also appreciated the large laundry facility, and our dog loved the dog park!
Aug 13, 2020
So much to do there, even with covid restrictions. Employees were happy and helpful. Good about enforcing mask rules in buildings and in pool area. Bathrooms were well lit and clean. Will definitely be making a yearly camping trip here.
Aug 13, 2020
My family and I had a great time! The camp site was clean and well kept, we would love to book again in the near future!
Aug 13, 2020
Nothing but issues and lies and cost a boat load of money ! So not worth the money !
Aug 12, 2020
Very clean and well maintained. But office staff needs to be educated regarding tents on RV sites. They need to make it clear that dining tents are OK but sleeping tents are not. Daughter specifically asked about tents and was told it was OK. Luckily we were able to figure out alternative accommodations for grandkids. Would hate to see another family end up in a bad situation.
Aug 12, 2020
The campground was good about protecting guest from Covid. It was easy to sign up for a time slot for the pool. The cabin was uncomfortable at night because it was so warm. The fan didn't help much. Would stay again when it's cooler outside. Overall campground was nice except for the mini golf course that needs a lot of work.
Aug 12, 2020
Wifi was absolutely terrible campfire was a little far from rv slot otherwise great park
Aug 11, 2020
Todo muy bien como siempre, excepto que cuando pregunté en las oficinas porque en mi Cabaña Deluxe no tenía acceso a WiFi me respondieron con un simple "no todas las cabañas tienen un punto de acceso". Si es así no entiendo porque en mi brochure me proporcionaron una clave de WiFi si nunca tuve un punto de conexión
Aug 11, 2020
Don't advertise you have WiFi when it's obvious you need more bandwidth!We were in Cabin DC-10.Went to office Friday after not connecting.Given provider card.Turned off and on cell phones, tablet and laptop as the provider told us to do, then connect to Middle Bath 15 and nothing for ALL 4 days!Told by camp they were full and kids streaming probably caused it.Wasn't raining!Extra phone data charge
Aug 11, 2020
Only issue online it told me i was aloud 8 people in the deluxe cabin and was informed only 6 when i showed up. Other than that it was great.
Aug 11, 2020
Very nice clean site quite campground
Aug 11, 2020
Everything was super besides one thing. The shower in men's showers had no water pressure at all and the temperature of the water went from freezing cold to scorching hot. Other than this it was a great campgrounds and we had a entertaining weekend. All the staff that we encountered were friendly and helpful!
Aug 11, 2020
I do recommend to a friend! I did it today and they are going next weekend . I don't give 5***** just hecause they dont have much to do there, I wish they had more activities . Other then this! Perfect to rest
Aug 11, 2020
Very friendly front-desk workers. They put up with my phone calls every 15 minutes (for a plethora of reasons) with a smile. Mike from the staff was super helpful and informative to this novice RV-er. The other campers were amazing, and our neighbor helped us with a hose and a filter adapter for the weekend. The facilities are great.
Aug 10, 2020
Don't take customers for granted, as the attitude of some of the employees was disturbing. Your entire company is based on customer service, you should train your employees to act a certain way (AKA nice). Also you must fix your horseshoe pits and miniature golf area's. Either make them functional & inviting, or just remove them. They make your campground look very cheap and as if you don't care.
Oct 23, 2020
Pool, golf, basketball, wifi, TV, bbq pits, laundry room and garbage pickup! Great location! Great staff!
- Batt Mann on Google
Nov 03, 2020
Great place to go lodging if you don't have a RV or Mobile Home. People there were courteous and respectful. Too close to I-495 you can hear vehicles go by.
- Stuart MacGillivray on Google
Oct 29, 2020
We had a site across from the rest rooms/laundry which was good as it was quite on the very cool side. It was also the weekend for Halloween so plenty of decorations and trick or treat on Saturday. Well done
- Joanne Desroches on Google