Non-campers often have the misperception that camping is complicated and time consuming. But I've found on my motorcycle adventures that it takes less time to simply pull your bike up to your KOA site and unpack than to lug your suitcases into a hotel. Today's tents are lightweight and go up in a jiffy — and when you want to get out of the weather, KOA's Cabins are a real roadside luxury.
I enjoy the spontaneous camaraderie with fellow travelers at a campground pancake breakfast or ice cream social and have often changed my travel route based on their suggestions or the KOA staff's long experience in their respective regions. We motorcyclists always ask each other about the best roads we took to get to the campground — with "best" meaning those with the stunning views and the most twists and turns.
At KOA, you're assured of a laundry facility (which means you can pack light), as well as wireless access (which for me is essential, so I can stay in contact with clients and do work while traveling). I no longer pack food and cooking equipment on the bike because I can always get something to eat at the KOA store, along with firewood and other camping necessities. In short, planning my stops at KOAs gives me certainty, safety and a great deal of pleasure.
Here's a story about a trip I recently took that I'd highly recommend to the riders out there who want a great escape this summer or fall.
Quick! Of all the sites administered by the US National Park System, which one is the most visited?
The Grand Canyon? Yosemite? Yellowstone?
No, think east, not west, dear Reader.
The correct answer? The Blue Ridge Parkway, a two-lane ribbon of road connecting North Carolina's Great Smoky Mountains and Virginia's Shenandoah National Park. Imagine the bliss it offers — running 469 miles without a stoplight. The catch? A strictly-enforced 45 mph speed limit.
As a motorcyclist, I especially appreciate the Parkway's curving roads atop the crests of the southern Appalachians. There's something mesmerizing about the sweeping curves and glorious vistas, so much so that I once missed my turn off. I don't mind the speed limit because 45 mph is fast enough. I promise, it is.
No matter what you like to do — rock climbing, photography, golf, swimming, shopping, listening and dancing to music, learning how to throw a pot from Carolina clay — you'll find plenty of opportunities to do it all along the Parkway, which is also known as "America's Favorite Drive." I couldn't take it all in during the three days I'd allotted for this phase of my two-month road trip. Here are the highlights.
I met my friend, a fellow motorcyclist, at Mount Mitchell State Park (milepost 355) — which is the highest peak in the eastern US. We headed north past stunning views of the Blue Ridge Mountains (yes, they really look blue, thanks to the haze produced by isoprene, which the trees release into the atmosphere.)
After a late lunch/early dinner on the patio of the Little Switzerland Inn (milepost 344) — where we watched guests play a game of corn hole on a manicured lawn flanked by bright orange daylilies against a backdrop of the blue mountains — we headed to Linville Falls (milepost 316). The Linville River begins high on Grandfather Mountain (milepost 300), cascading through falls as it begins a 2,000-foot descent into Linville Gorge. I'm so grateful that our ancestors had the foresight to protect its beauty and the area's water supply by including it in our National Park System.
I'm not big on touring homes of the rich and famous, but my riding companion had visited The Moses H. Cone Memorial Park's Flat Top Manor (milepost 294) before and told me I would enjoy the mountain crafts for sale there — including pottery, fiber arts, photography, painting, wood turning, jewelry and carvings. She was right. Some of the items for sale at Flat Top Manor are also available at the Folk Art Center (milepost 382). Off the front porch of that gleaming white 23-room, 13,000-square-foot mansion, artist Jay Pfeil demonstrated her talents at etching and engraving. I love learning about the processes required to make any art form, and Jay was eager to talk about her work.
Had I known I'd have loved the Blue Ridge Music Center (milepost 213 at the Virginia state line), I'd have made it a priority to arrive with a couple of hours to spend there. The Center offers live music almost every day and frequently hosts concerts and jamborees. The interpretive center taught me a great deal about Southern history and culture through the lens of music, including how German group-singing and African slave music combined to form the Bluegrass genre. What I learned about the history and influence of the banjo also gave me an appreciation for the humble instrument.
That night, we stayed in a KOA lodge at Fancy Gap, Virginia (milepost 199), where I was introduced to KOA's "Alumni Kampsitter" program. The owners at Fancy Gap had a death in the family and a couple who owned a KOA in Bristol, Tennessee dropped everything to allow them to attend the funeral by running their campground. Evidently, there is a large network of such alums. No wonder every KOA I've visited is so well run — they seem to anticipate everything.
Fancy Gap was my first experience in a KOA Deluxe Cabin and the first words out of my mouth were, "I could live in a cute place like this." Situated on a pond, the lodge had a deck where my friend and I sat and reviewed the day. We left the windows open that night to enjoy the cool mountain air and a bullfrog serenade. My riding companion had never been to a KOA and hadn't been camping since her childhood but said she would gladly go KOA-ing with me on our next adventure.
The next morning we stopped by the Jacksonville Center for the Arts, just 8 miles off the Parkway in Floyd, Virginia (milepost 165). Housed in a former dairy barn, Jax — as the locals call it — is a symbol of the fusion of old with new, and agriculture with art, a fusion that is Floyd itself. Here's how the Visit Floyd website describes the community: "Floyd County has been a magnet for anti-establishment free-thinkers since the early 1700s. Independent-minded self-starters from Scotland, Ireland and Germany said, 'Just give me a spot of soil and some time, and I can do for myself.' They rejected urban offerings of the newly-settled New England and Eastern seaboard regions and settled the remote Appalachians and Blue Ridge Mountains, which was the 'frontier' of their time. In Floyd, you're either an artist, farmer, shopkeeper or combination.
Jax offers classes and exhibit space for those interested in a long list of media, including blacksmithing, which we learned is in high demand lately. The potters in residence showed us their studio, kilns and finished works, answering questions and generally making us wish we could stay the day and sink our hands into some clay. Instead, we motored another mile into the town of Floyd, where we enjoyed ice cream at the Floyd Country Store, which stocks brands I haven't seen since my grandparents' medicine cabinet. The tie-dyed shirts on display there are the best I've ever seen.
At the back of the store is a music stage that's part of Virginia's Heritage Music Trail. If you can make it to Floyd the last weekend in July, go to FloydFest, a musical extravaganza featuring internationally-known solo artists and bands.
Many of us are guilty of overlooking the treasures of home, myself included. Living just a couple of hours south-east of the Parkway for the past 24 years, it was always "something to do next time." While it might have taken me 24 years to really explore the Parkway, given my experience, I'll be looking for every possible opportunity to return.
---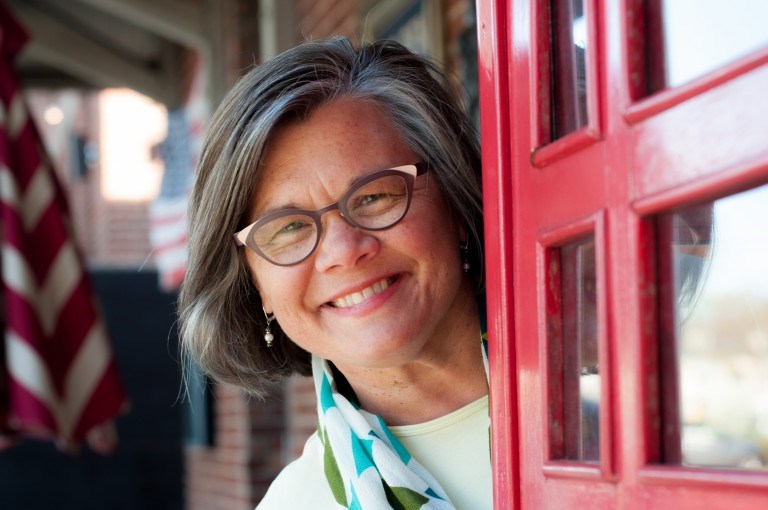 "American Road Trip Expert" Tamela Rich is an award-winning author, storyteller and adventurer. She began her love affair with the open road as a child, traveling with her family in the Vista Cruiser station wagon from Ohio to California every other summer. During her monthly TV appearances, Tamela shares family-oriented travel tips and itineraries for local, regional and national road trips. Visit her website: www.TamelaRich.com