It doesn't get more American than road-tripping to "somewhere in the Black Mining Hills of Dakota," …. as the Beatles have called it. And whether you are one to love history, nature, architecture, Americana, or all of the above, there's so, so much to do in the Black Hills of western South Dakota/Northeastern Wyoming!
This region of the U.S. has a fascinating history that dates back to prehistoric times when dinosaurs roamed the earth. It is rich in both manmade and natural wonders.
The History of the Black Hills
The Black Hills of the United States formed long ago, prompted by the movement of ancient rock and stream erosion. From a distance, the rounded hilltops, well-forested slopes, and deep valleys cast a dark hue, giving the Black Hills their name.
For many years these hills were the sacred territory and the hunting ground of the Western Sioux and other native peoples, including the Cheyenne, Kiowa, Arapaho, and Crow. The U.S. government guaranteed rights to the Black Hills to these tribes in 1868, but when the U.S. military expedition led by George Custer discovered gold in the hills in 1874, thousands of gold hunters and miners swarmed the area. The Native American resistance to that rush led to the Black Hills War in 1876.
While the Native Americans were victors in the Black Hills War, the U.S. government forced the Sioux to relinquish their treaty rights to the area one year later, in 1877.
Even to this day, the Black Hills is a stunning part of the country, rich in awe-inspiring geological formations, history, a couple of jaw-dropping monuments, and rarely-seen wildlife.
It's a great place to visit, as there is no shortage of places to explore. Here are some suggestions for things to see and do in the Black Hills!
Planning a Visit To the Black Hills? Here's 11 Things to See and Do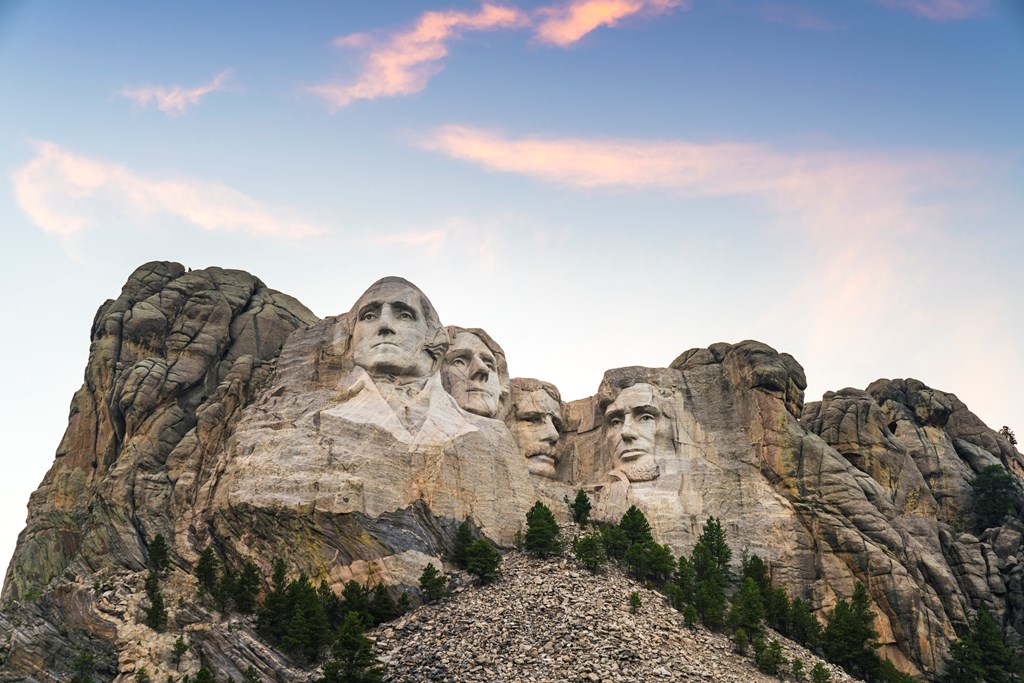 1. Mount Rushmore National Monument
We'll get this one out of the way first. Not because it's not amazing — it is, but because it's certainly what most people think of first when they hear "the Black Hills of South Dakota."
The faces of four U.S. presidents (George Washington, Thomas Jefferson, Theodore Roosevelt, and Abraham Lincoln) etched into South Dakota rock are iconic. Mount Rushmore has been featured in movies like North by Northwest, pop culture, and of course, history books. Here are a few things to know about the famous monument.
The idea to build the sculpture was drummed up in the 1920s to attract tourists to the state of South Dakota. Danish-American sculptor Gutzon Borglum, a friend of French sculptor Auguste Rodin, spearheaded Rushmore's construction; it was his dream to carve a sculpture out of a massive mountain.
The project began in 1927 and was completed in 1941, thanks to the work of around 400 men. Each president's face measures 60 feet high. What a magnificent feat!
You can learn all this plus so much more on a visit or tour of the monument, which is open to the public all year, seven days a week, except on December 25.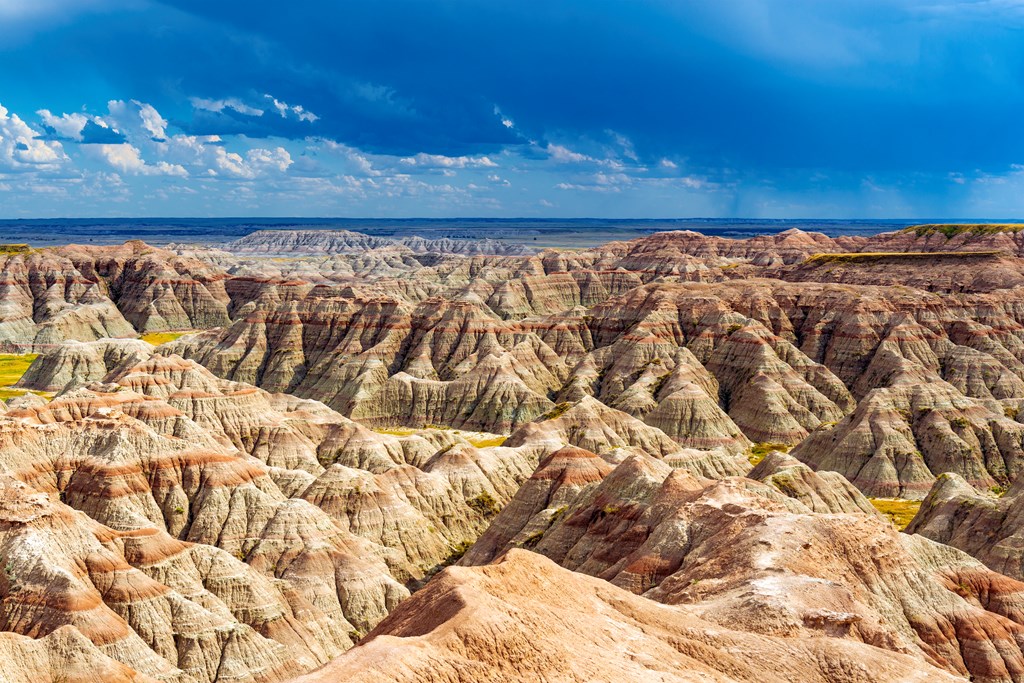 2. Badlands National Park
Hiking and camping at Badlands National Park is an unforgettable experience. There are a few things that set this wonderland apart from other national parks. First is the maze of buttes, canyons, pinnacles, and spires that make the landscape appear somewhat otherworldly. (Buttes are tall, flat-topped, and steep-sided towers of rocks. Pinnacles and spires are tall narrow rock formations that reach skyward.)
And if that rocky landscape isn't enough to make you want to strap on your hiking boots, the park is also home to a plethora of fossilized species, including saber-toothed cats and the skeletons of ancient three-toed horses. Yes, you read that right – three-toed horses.
To top it off, there's plenty of wildlife to see here, including some of the most endangered species in North America. Grab your binoculars to view a variety of animal species, from bison, big-horned sheep, and coyotes to prairie dogs, rattlesnakes, and birds of prey.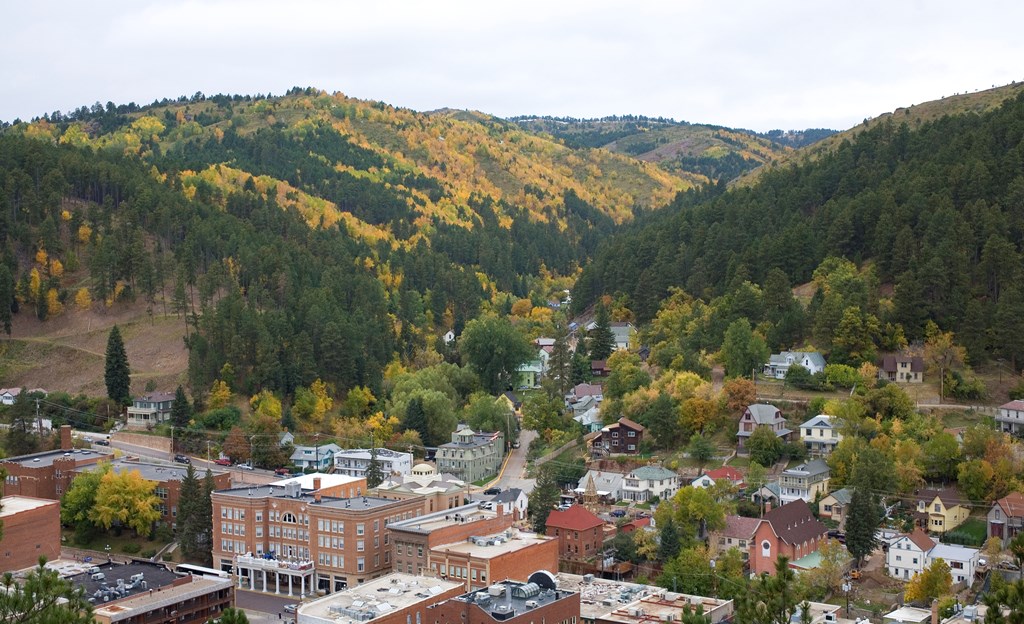 3. Deadwood, South Dakota
Historic Deadwood, South Dakota, is a great stopping place if you want to tiptoe into the past and get a feel for what a U.S. town was like more than one hundred years ago during the gold rush.
While a bit touristy, the city can be a fun place for families, as there are countless activities and immersive experiences — like hopping on a stagecoach or riding the 1880 train.
That said, there is plenty of fun for adults in Deadwood, too. Relax at a local winery or brewery, do a bit of gambling (as one does in the Old West), soak your cares away at a spa, try your luck at an escape room, or embark on a historic brothel tour.
If you have an hour or two to spare on your Black Hills odyssey, stop at one of Deadwood's many museums or souvenir shops. And be sure to check out the daily reenactment of a "Wild West" shootout. Then continue on to explore the nearby hills and some of these next destinations.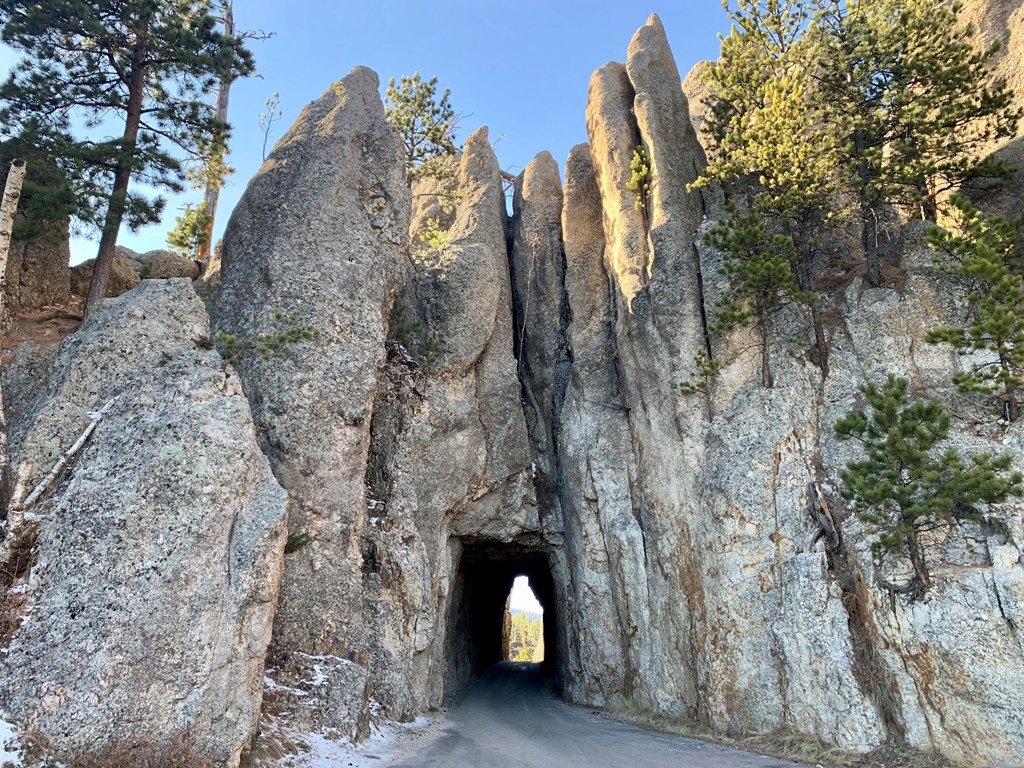 4. Needles Eye, Custer State Park
The Needles Eye rock formation is easily the highlight of many scenic drives in and around South Dakota. Picture this: you're in a car, climbing a winding mountain road, taking in the views when all of a sudden, this majestic form looms before you —  a granite rock formation with a hole in the top, much like the head of a great needle.
It's not just this one (most famous) rock formation that will take your breath away; on the epic drive, you'll also encounter rock tunnels as well as other spires and needle-esque formations, not to mention some great scenic vistas.
Rest assured, there are plenty of places to pull off the road and park for a snapshot or a short stroll.
A word of caution: some travelers say the drive here is not for the faint of heart — whether you're going by motorcycle, car, or truck, you will encounter steep mountain climbs, hairpin turns, and the aforementioned one-way tunnels.
Still, it's a drive that's doable. If heights don't faze you, this excursion is truly "one of the great U.S. rides" and something one must see to believe.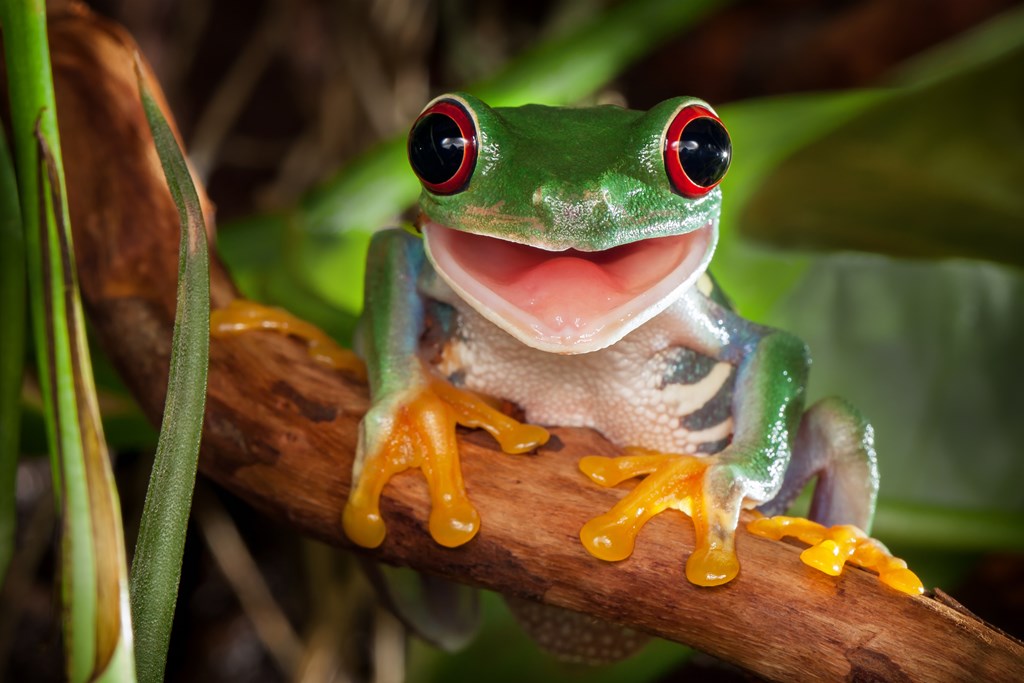 5. Reptile Gardens
Who wants to see a snake show? How about an alligator show? You can do both, all while enjoying a scenic jungle stroll among exotic flowers and earthy rocks right in Rapid City, South Dakota.
Reptile Gardens is a well-regarded attraction in the Black Hills. Visitors say the gardens are extremely well-maintained, and the proprietors do a great job of caring for the creatures that reside there. And on top of that, it's fun!
The gardens feature a ton of interesting reptiles, like giant turtles, free-roaming lizards, and, yes, lots and lots of snake species. Heads up: there are some birds and small mammals here, too. Playful prairie dogs, anyone?
Even if you don't love-love scaly creatures, Reptiles Gardens is a must-see stop in the Black Hills, especially if you've got little ones in tow.

6. Prairie Edge Trading Co. and Galleries
If you are someone who appreciates local art, culture, and a little shopping when traveling in a new place, this next one's for you.
Rapid City, South Dakota, has the Prairie Edge Trading Co. and Galleries, which is part Native American art gallery-part old-fashioned trading post. It's also just a lovely place to spend time.
The two-story building was recently restored to its original 19th Century glory, with policed hardwood floors and cabinetry.
The gallery-slash-trading post is a bit of a sensual experience, and the place is filled to the brim with treasures. Thumb through the hand-crafted cutlery, wind chimes, high-quality clothing and quilts, jewelry, herbs, and spices. You'll also encounter native hunting artifacts like buffalo hides and traditional swords.
More than just a great place to shop (which it definitely is), some consider Prairie Edge to be a mini-museum rich in Native American history, culture, art, and artifacts. The scent of sweetgrass lingers in the air.
So take your time, touch, ask questions, and enjoy this special store/museum/art gallery honoring native peoples and traditions.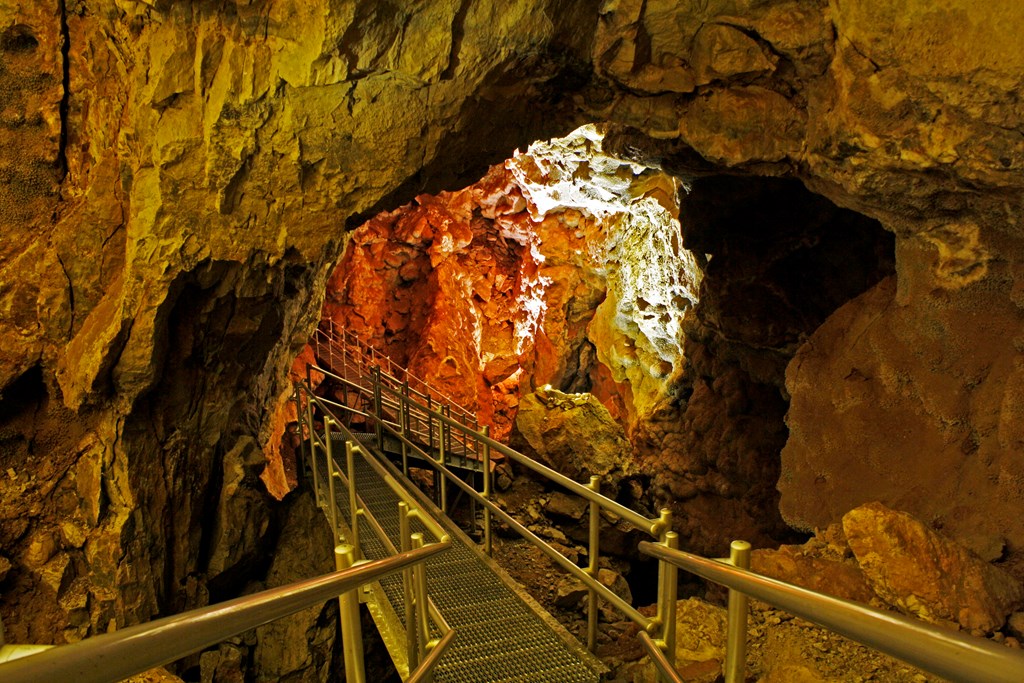 7. Jewel Cave National Monument
Spelunkers and cavers take note: Jewel Cave National Monument is one of the top five longest caves in the world and an excellent place from which to explore the Black Hills!
Two local prospectors discovered Jewel Cave in the early 1900s and set about expanding the then-small entrance with dynamite. They quickly found the cavern was lined with calcite crystals and named their discovered Jewel Cave.
President Theodore Roosevelt gave the cavern national monument status in 1908, and President Franklin D. Roosevelt's Civilian Conservation Corps further developed the cave in the 1930s.
Unlike many other caves, Jewel Cave was not carved by underground rivers but was mostly formed by slow-circulating, acid-rich groundwater. The cave is rich with flowstone, stalactites, and other awesome cave formations.
This underground monument is open year-round and has many different tour options available, including a scenic tour, a half-mile loop through a paved and lighted portion, a historic tour, a candlelight tour, and even a wild caving tour through an undeveloped section of the cave.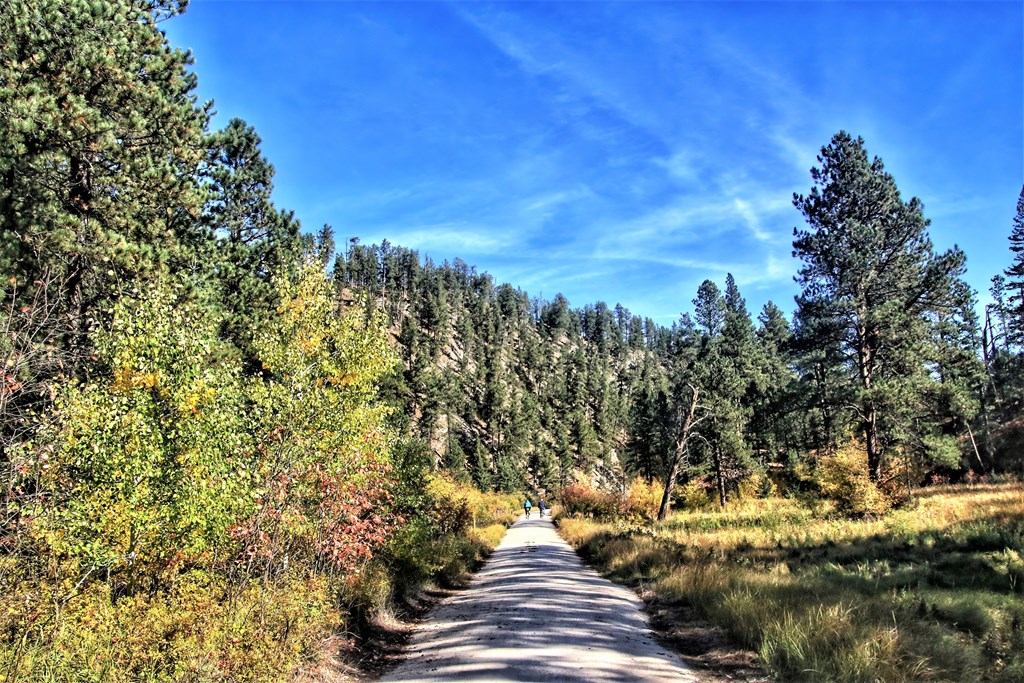 8. Bike the Mickelson Trail
South Dakota's George S. Mickelson Trail is now a historical trail in the Black Hills, popular with bikers, walkers, and even horseback riders. But at one time, it was one of the premier railroad trails in the American West.
The trail traverses over 100 scenic miles of the Black Hills, connecting Deadwood in the Northern Hills to Edgemont in the Southern Hills. During those 100 miles, the landscape gradually morphs from mountains and ponderosa pine to high mountain meadows and open prairie.
The Pathway is made of crushed limestone and incorporates over 100 converted railroad bridges and four rock tunnels. Cruising past national forests and private land, cyclists can expect to travel the length of the trail in approximately four hours (mountain bikes, fat tires, hybrids, or cyclocross bikes will fair the best on the crushed limestone and gravel terrain of the trail.) The section between Hill City and Deadwood, with its lush forests, is often cited as the most scenic part of the ride. Naturally, that's up for debate!
A quick note: visitors must have a trail pass to travel the Mickelson, which can be purchased at any trailhead.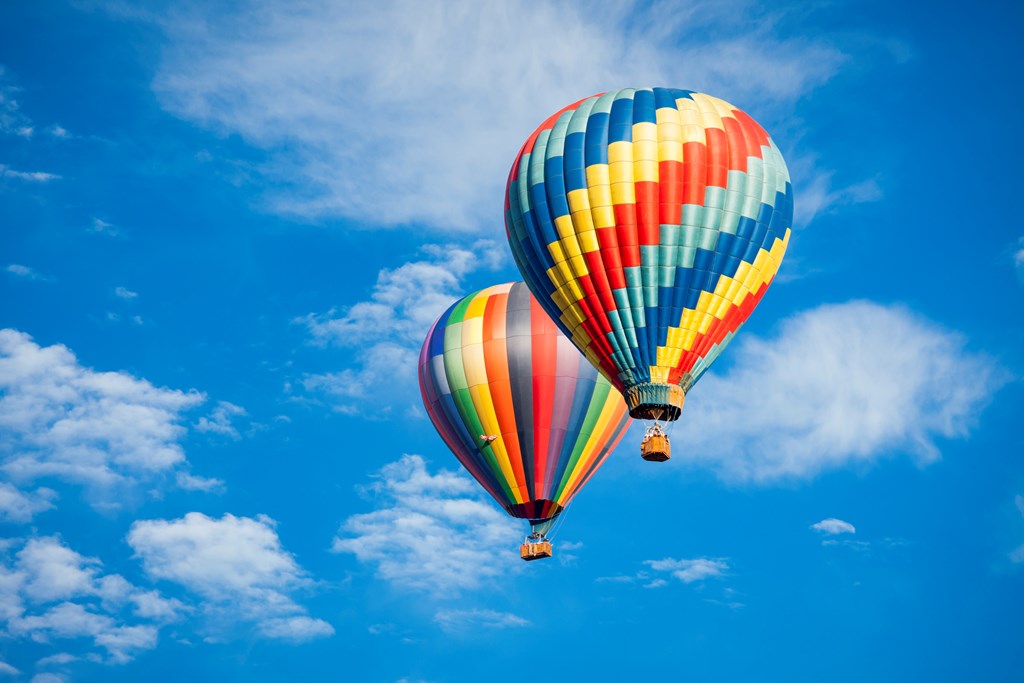 9. Hot air balloon quest over the Black Hills
Did it ever occur to you to tour the Black Hills … by balloon?
There are a good many companies that offer tours of the Black Hills via hot air balloon. And if you think about it, it makes perfect sense; this expansive region is chocked full of large-scale monuments, mountains, and rock formations.
Sure, you could catch some of these out the window of an airplane as they zoom by … but viewing them from a balloon slowly and peacefully floating thousands of feet in the air feels closer, more personal, and more magnificent. It is an adventure.
Something about seeing a hot air balloon drifting in the distant skies can make even the crustiest adult's heart skip a beat. After all, hot air balloons are so colorful, so magical. They are equal parts art, skill, and science.
Every hot air balloon outfit has a trained crew that carefully measures wind directions and speed before each launch. The balloon pilots are well attuned to take-off and landing procedures, as well as passenger safety.
In the sky, riders get a once-in-a-lifetime birds-eye view of collective forests, famous formations like the Crazy Horse Memorial, Cathedral Spires, and Black Elk Peak, the highest point east of the Rocky Mountains. While floating high in a balloon, you just might even spy the fluffy white tails of deer galloping through a forest.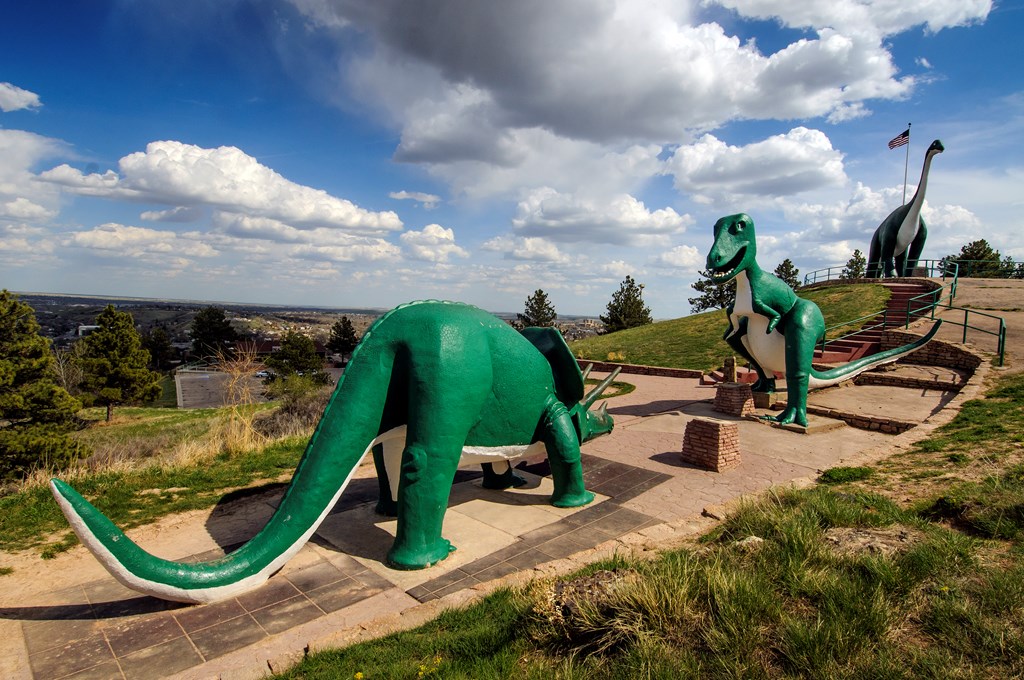 10. Dinosaur Park
If you're in the Black Hills and thinking to yourself, "A touristy pitstop would be just the thing right now," then head straight to Dinosaur Park in Rapid City. The park is free, easy to find, has a great view, and is so fun for dinosaur-loving kids (okay, and adults, too).
The park features seven large cement dinosaurs on a hill overlooking Rapid City. It makes for a great place to walk around, stretch your legs, and get some gift shop goodies.
As you wander amid the stationary giants, though, you might think to yourself, "This feels like more than just a pit stop." And you would be kind of right. This park is actually on the registry of historic places in the U.S.
Dinosaur Park was dedicated in 1936 and was a project of the Works Progress Administration and Rapid City, designed to capitalize on the new influx of tourists heading to the Black Hills to see Mount Rushmore. The dinos represented at the park are an Apatosaurus, Tyrannosaurus Rex, Triceratops, Stegosaurus, and Edmontosaurus annectens.
Sure, the large, green 1930s-era cement dinosaurs are not exactly scientific specimens, but they are a kitschy and beloved piece of the Black Hills experience.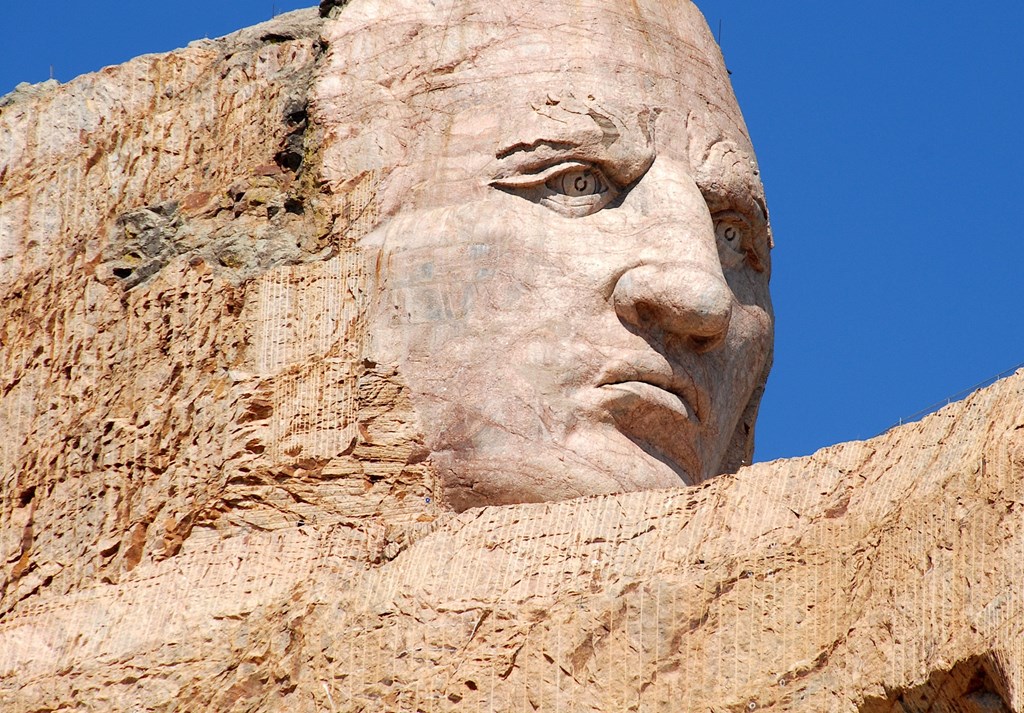 11. Crazy Horse Memorial
It's referred to as the "eighth wonder of the world in progress," and visitors to the Crazy Horse Memorial in Custer County, the heart of the Black Hills, can see history being made. This yet-to-be-completed memorial depicts (or will depict) the Oglala Lakota warrior Crazy Horse, riding a horse and pointing to his tribal land.
But who was Crazy Horse? Crazy Horse was a Lakota war leader who took up arms against the U.S. Federal government to fight an increasing number of encroachments on native territories and preserve his people's way of life. He was famously part of the Battle of Little Bighorn in 1876.
Things to know about the memorial: The carving is 75 years in the making, and work on it continues today.
Oglala Lakota Chief Henry Standing Bear commissioned Polish-American sculptor Korczak Ziolkowski to build the memorial in 1939. Later, Ziolkowski's widow, Ruth Ziolkowski, oversaw work on the sculpture after her husband's death in 1982.
Now the Ziolkowski children — including Monique Ziolkowski, a sculptor — are carrying on the work of their parents alongside the Crazy Horse Foundation.
So why hasn't the sculpture been completed yet?
It's important to understand that the memorial foundation has never accepted government funding, and all the work that takes place at the memorial is privately funded from donations and also the price of admission. Furthermore, any funding received the memorial receives goes to other programs and outreach in addition to construction costs.
You can see what the sculpture looks like now, as well as the intended trajectory of the project, here.
If you haven't yet visited the Black Hills of South Dakota, what are you waiting for? This is a truly unique and breathtaking place with a captivating history. And there are so many ways to explore! Soar over those spectacular mountain-carved monuments in a hot air balloon or travel through rock tunnels on horseback via an old railroad trail.
Whatever way you choose to enjoy the Black Hills, you're sure to cross a few items off of your bucket list and come back with stories and memories to last a lifetime.
Where to Stay in the Black Hills
Custer / Mount Rushmore / Black Hills KOA Holiday
Mount Rushmore KOA Resort at Palmer Gulch
Rapid City / Black Hills KOA Holiday
Hot Springs SD / Black Hills KOA Holiday
Deadwood / Black Hills KOA Holiday
Spearfish / Black Hills KOA Holiday
Badlands / White River KOA Holiday
---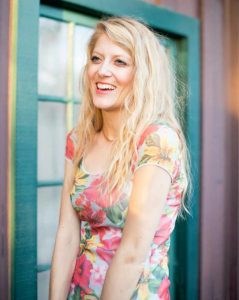 Leslie, a.k.a. Copy Girl, is a copywriter who gets butterflies from telling stories through words.
Her voice comes from a place filled with passion, dreams, and lots of sugar. "Cake over steak" is her go-to motto.
With over 10 years of experience in crafting words, and years of embarking on travels that have taken this Montana girl to some incredible places, Leslie love the adventures of both body and mind her writing takes her on.
Everywhere she goes, she takes this advice with her:
"Hold on to your divine blush, your innate rosy magic, or end up brown." – Tom Robbins, Jitterbug Perfume
To see what Leslie's up to in the writing world, visit her website here.
Save