It's that time of year when everyone is clamoring to maximize their time outdoors, basking in the summer sun, and there's no better way to make the most of the season than with a nice picnic—especially at one of America's national parks. From pristine beaches and serene lakes to canyon-side hideaways and shaded forest alcoves, there's no shortage of picture-perfect picnic options across the country. If you're looking to do a little hike with a picnic basket in tow, here are some of the best national parks to visit this summer.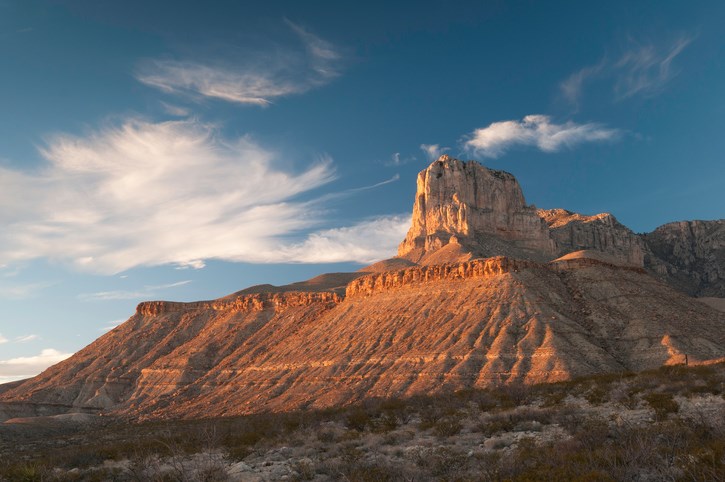 Guadalupe Mountains National Park
While most of the trails and terrain at this west Texas park are pretty arid and exposed to scorching sunshine (and potentially strong wind gusts), there's a peaceful little paradise hidden away at the end of the McKittrick Canyon trail. Located on the northeastern edge the park, the route is one of the most popular at Guadalupe Mountains, thanks largely to its maple trees providing shade, and the fact that the only year-round stream in the park runs through the heart of it. About three miles in, you'll reach the apex of this mostly-flat trail: the Grotto. As the name suggests, it's a tranquil nook covered by a cave-like cliff face, which is actually part of an ancient, fossilized reef. There are also tons of bright green trees, and rustic bench seating for enjoying a picnic.
Nearby KOAs:
Carlsbad KOA Holiday
El Paso West / Anthony KOA Journey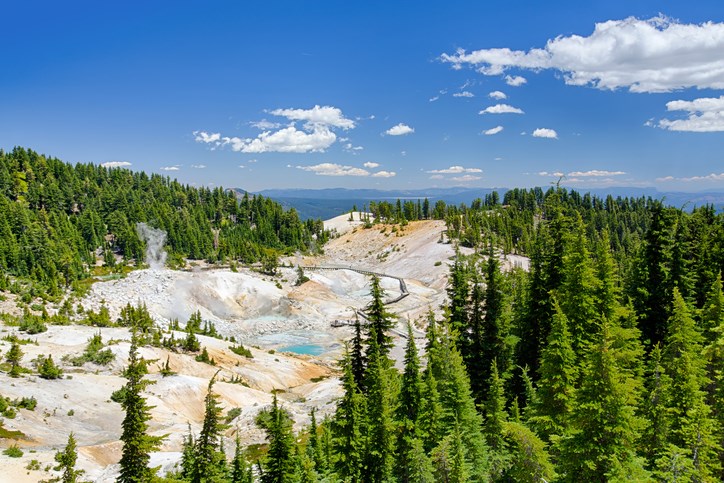 Lassen Volcanic National Park
After you're done hiking to the summit of this California park's namesake Lassen Peak, unwind and recharge with a picnic at Manzanita Lake. With the peak looming in the distance, the lake is a shimmering, sun-soaked oasis lined with trees and surrounded by an easy—and incredibly scenic—loop trail. There are endless nooks along the trail to stop off for lunch, or you can relax at one of the picnic tables by the camp store. When you're done eating, this is the perfect spot for renting kayaks or paddle boards and getting out on Manzanita Lake.
Nearby KOAs:
Mt. Lassen / Shingletown KOA Holiday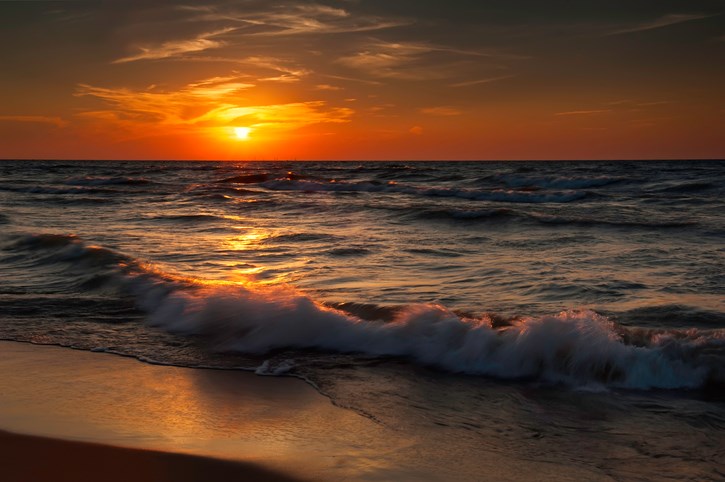 Indiana Dunes National Park
America's newest national park is also a picnic paradise. With 15 miles of sandy shoreline along Lake Michigan, there are numerous beaches on which to linger and nosh, or there are several picnic shelters to choose from, too, each equipped with modern restroom facilities. These include the West Beach picnic area, located right along the beach so you can go swimming after you're done. Or hike through the West Beach Trail System, which includes stunning lake views from atop the Dunes Succession trail. If it's more hiking you're after, head to the Glenwood Dunes area, with a picnic shelter and numerous trails to choose from, like the equestrian-friendly Glenwood Dunes Trail and the 4.4-mile Dunewood Trace Campground Trail.
Nearby KOAs:
Kankakee South KOA
Indiana Beach / Monticello KOA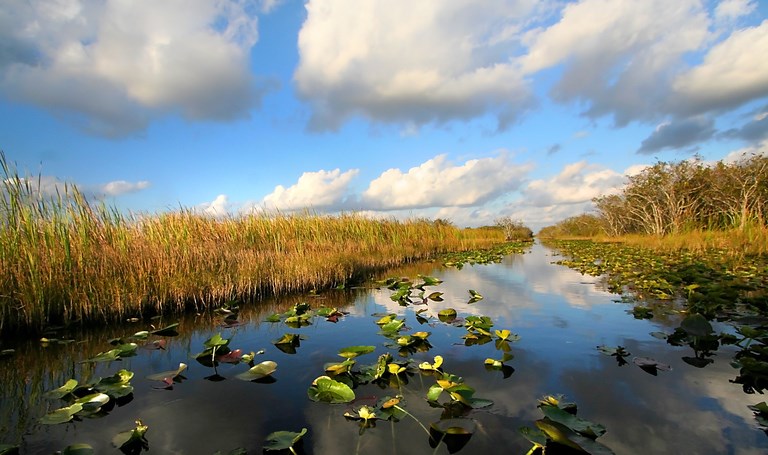 Everglades National Park
For a picnic with a side of wildlife, you can't do better than Everglades National Park. The fact that this park is mostly flat makes it easy to haul any size picnic basket, too. And there are plenty of locations with tables at trail heads and along the sides of lakes and rivers. Your best bet is to park it in the Flamingo area of the park, about 40 miles southwest of the main visitor center along the ocean shore. Not only is there a camp store with plenty of potential picnic provisions, but the main marina is expansive and surrounded by grass. The best part? The marina is regularly visited by manatees and even the occasional crocodiles, so you'll have plenty of entertainment while you chow.
Nearby KOAs:
Davie / Ft. Lauderdale KOA
Hollywood KOA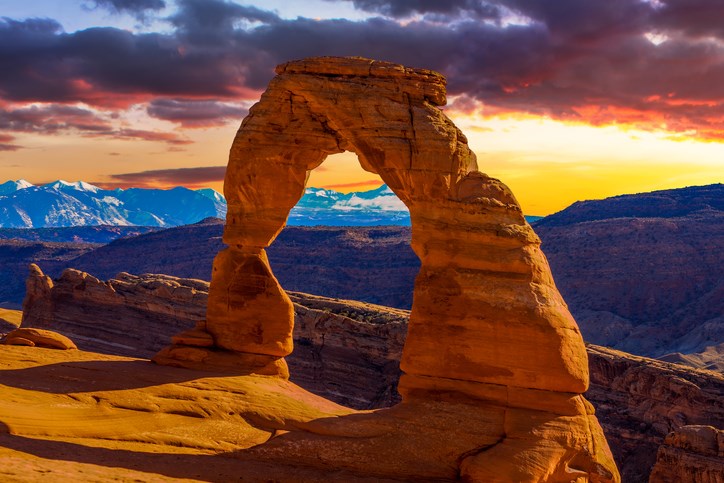 Arches National Park
Located in the town of Moab, a community loaded with shops and stores in which to stock up for a high-quality picnic, Arches National Park offers a show-stopping backdrop for any al fresco feast. The best idea (and rightfully, the most popular) is the Delicate Arch Trail, a moderate hike that winds up rocky terrain and along a cliff or two to reach one of Utah's most iconic sights. Delicate Arch rises like a beacon on the mesa top, with snow-capped mountains lining the horizon behind it. The hike isn't very strenuous or long, making it a worthwhile locale to tote a picnic and sprawl out. While popular, and frequently filled with visitors, the end of the Delicate Arch Trail is spacious enough to accommodate crowds, and there's always plenty of room to roll out a blanket.
Nearby KOAs:
Moab KOA Holiday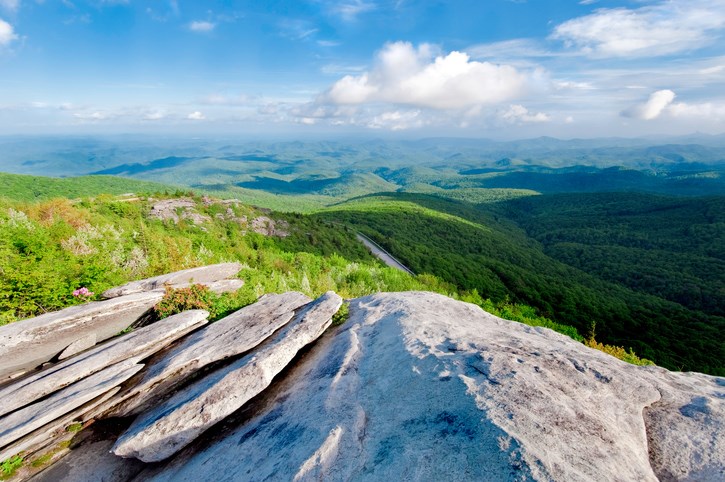 Shenandoah National Park
Riding along Skyline Drive, one of the most spectacular scenic drives in the U.S., there are ample stops along the way that scream "picnic time!" The visitor center and camp stores that line the drive all are equipped with tables, modern restroom facilities, and most importantly, incredible views of the sweeping Shenandoah Valley. If you're looking to amp things up a notch though, why not bring your picnic to the highest point in the park? As daunting as it may sound, the summit trail to Hawksbill Mountain is not too long or as strenuous as one might assume. And it's well worth the added effort for the panoramic views of the mountain crest, the sea of green trees, and Skyline Drive. There's a shaded wooden structure up here with seating, or there are plenty of picnic-perfect forest alcoves lined with trees.
Nearby KOAs:
Harrisonburg / Shenandoah Valley KOA Holiday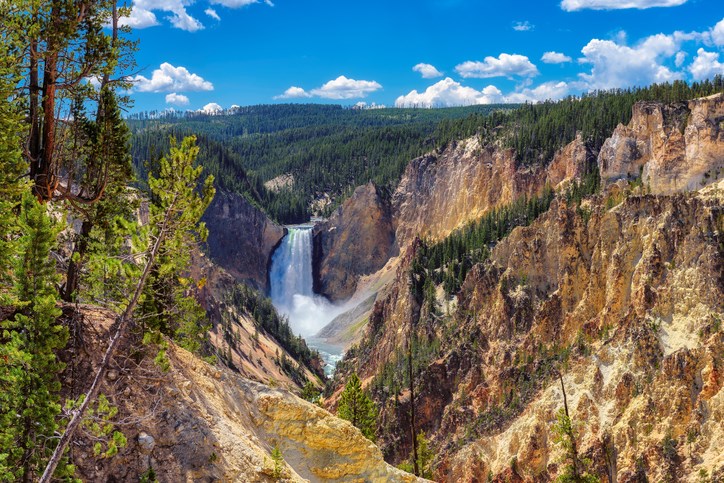 Yellowstone National Park
In the summer months, America's first national park fills with visitors from across the globe. Yellowstone's popularity is not unfounded, with so many otherworldly trails to take and sights to behold, unlike anywhere else on Earth. It's also prime picnic territory, with endless arrays of distinct scenery. One good option is to park it alongside Yellowstone Lake, near the gorgeous Lake Yellowstone Hotel. The views of the glistening glacial lake are unbelievable, and incredibly serene. For something a little tougher, hike into Lamar Valley and bring some food to enjoy in a quiet meadow. Many of the trails here are less crowded than some of Yellowstone's buzzier destinations (e.g. Old Faithful, Grand Prismatic Spring, Grand Canyon of the Yellowstone), and they're relatively easy to do. Keep an eye out for bison especially, and remember to pack out all your food so as not to entice any hungry scavengers.
Nearby KOAs:
Yellowstone Park / West Gate KOA
Yellowstone Park / Mountainside KOA Journey
---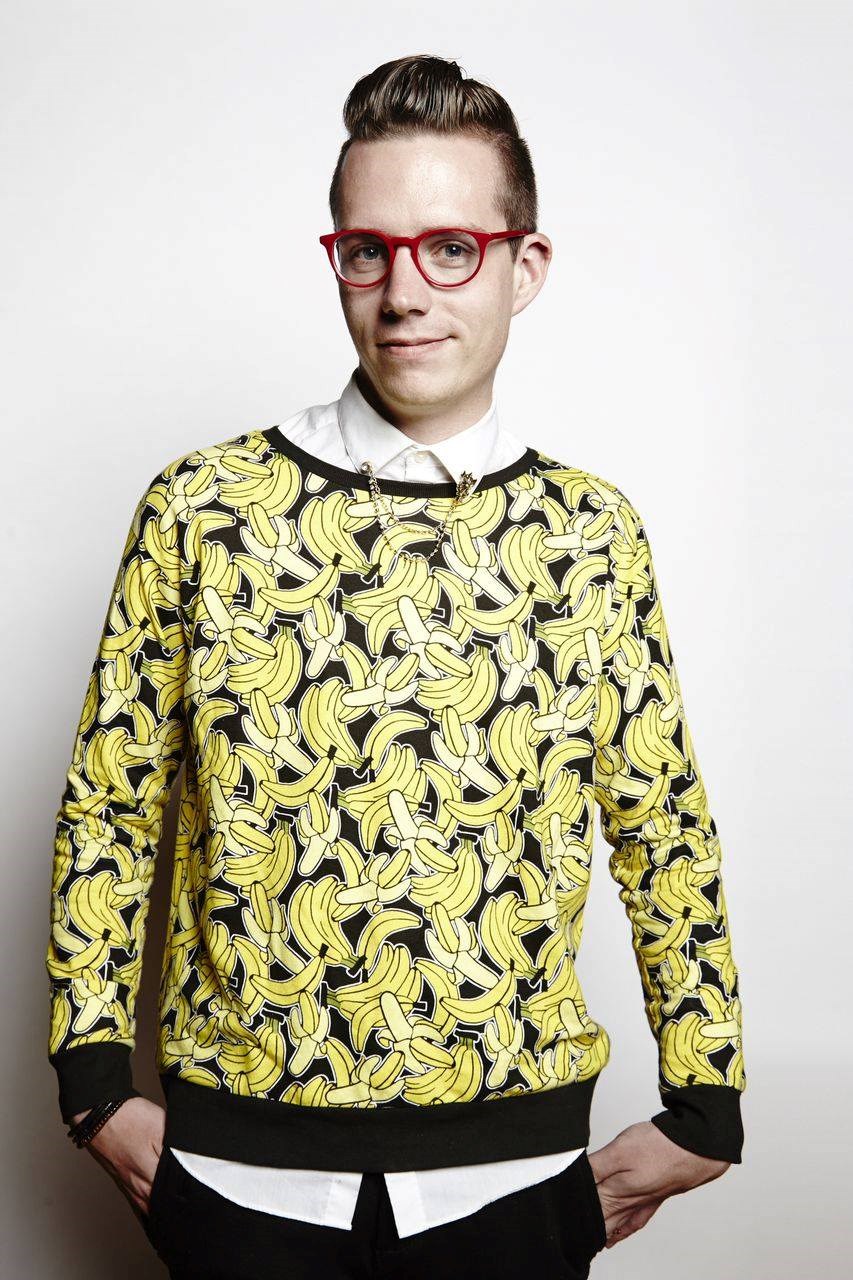 Born and raised in New Hampshire, Matt Kirouac grew up with a love for camping and the outdoors. Though he's lived in Chicago since 2006, he's always on the lookout for new adventures. He writes about travel and food for outlets like TripExpert, Money Inc, Upventur, DiningOut, Food Fanatics magazine, Plate Magazine and Zagat, and he currently serves as Chicago editor for What Should We Do?! He's the author of The Hunt Guides: Chicago (2016) and Unique Eats & Eateries of Chicago (2017).
---