Stuff You Gotta Have: The Coleman Instant Tent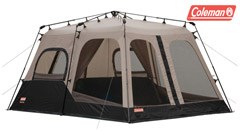 We asked campers to help us put the Coleman Instant Tent to the test. Can they really set it up in a minute or less? Is it the kind of quality that Coleman is known for? See what they can do—and hear their thoughts about this phenomenal state-of-the-art camping gear.
Interested in picking one up for yourself? Here are some of our favorite features about the tent:
1. Size: At 14' x 10', this tent has tons of floor space, but that's not all. Its vertical walls give tons of headroom, too—more than 6 feet of it, in fact. Plus, a hanging divider actually lets you separate the space into two rooms. Very handy, in our book.
2. Quality: The Instant Tent is made of heavy-duty fabric and can take weather that other, lesser tents simply could not. It's also fully taped, so that you don't need an extra rain cover in order to say dry. And it comes with a one-year warranty, which campers always appreciate.
3. Breathability: It's always great to air out the tent during the day, and this tent makes it easy. There are seven windows that can be uncovered to let breezes blow through, as well as front and back doors.
4. Price: The MSRP on these tents is $199—which, although more than some other tents on the market, is still very good given the product's quality and ease of usability.
For information on where you can purchase an instant tent in your area, or to buy one online, head on over www.coleman.com.
Wouldn't you love to have an Instant Tent? Well, tell us about your favorite (family-friendly) tent experience and you could win a $200 gift card from our friends at Coleman to buy one of your very own!