Stuff You Gotta Have: Great Coffee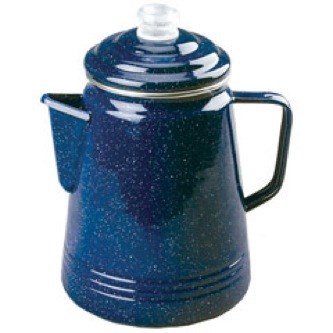 ---
---
The percolator: classic coffee goodness!
If you've read this month's article about the things that campers won't leave home without, you know the number one response from our Facebook fans was this: coffee. And they're pretty darned specific about the way they want to make it.
The Perks of Coffee
Some, like Michael Lundy, go the old-fashioned route. "We use an old percolator that my mother-in-law had when she camped," he wrote. "We perk our coffee over a Coleman stove and it is great." Bob Reid agrees. "I have an old stainless steel percolator with the glass dome on top so I can see when my coffee's done. It takes awhile, but sure is worth it."
Nan Ziegler shares her secret for terrific percolated coffee: She says, "Use an 8 cup stovetop percolator, use coffee that is 1/2 Boyers French Vanilla Coffee and 1/2 regular coffee. I then use sugar and a creamer made with 1/2 Mocha Mix (cream substitute) and 1/2 International Coffee Chocolate and Caramel. It is soooooooo good. Plus, I use almost 1/4 less coffee than called for. I like coffee a tiny bit on the weak side, plus really flavourful!"
Not to be outdone, Giuseppe Lipari brings an international flair to his cup. He says, "I bring my Espresso Percolator with Italian coffee and make it in our tent trailer or on the fire. [I] can't live or speak without it."
Pressed is Best
Other folks like the ease and flavor that a French press provides. Karen Scott says, "[A] French press is the only way to go." Nancy Green couldn't agree more, recommending grinding the beans at home for peak freshness. According to Nancy Junker using the press is easy: "Boil the water in a teakettle outside on grill, firepit, or inside on stove if poor weather. Fabulous for camping mornings!"
"I use a Jetboil Java Pot," Michael Dyer says. " It's a French press with built in burner on the bottom! It will boil two cups of water in a minute. Add the coffee and four minutes later you have two great cups of coffee."
Dream Machines
"My Mister Coffee." That's what Cindy Barta—who also says that she likes her coffee straight black and steaming hot– told us she brings with her every time she camps. "[It's] not fancy, but it gets the job done. Then I go out and sit in my lawn chair and enjoy the great sites and sounds at KOA campgrounds." And Cindy's not alone. "The Mr. Coffee is always packed in the camper," says Melissa Simpkins. "My husband would go crazy without his daily coffee intake."
And for those who love the machine but want to make things even easier? We were stunned by how many folks wouldn't even think about camping without their Keurigs.
"We bring our Keurig and have a selection of about 20 different coffees," says Mike Ritchie. " Neighbors have even noticed and liked the idea."
And a Whole Lot More
What else did campers tell us? Well, we got a fair number of folks, like Kelli Allred, who turn to the KOA kampstore when they need their coffee fix, whether it's steaming hot in a cup or a cool bottle of latte from the fridge. Others, like Stephanie Danford, opts for single serve instant coffee because of their small size and portability. And still others head out for a drive to pick up a cup from a local barista.
In truth, it didn't really matter how they got their coffee—our campers just know that the great outdoors just isn't the same without it.
Now it's your turn to share your coffee preferences with us. How do you brew it? Do you take yours with sugar, or are you a plain java sort? Have any secret "add-ins" that make your coffee even tastier? We can't wait to hear 'em!