Snowbird Q&A: Donald and Sharon Ehlen @ Okeechobee KOA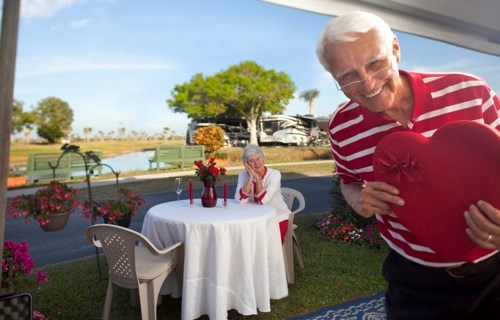 In this new series, we're asking snowbirds (people from the US and Canada who spend a large portion of winter in warmer locales, for you newbies) what they love about the lifestyle and how KOA fits snugly into it. We caught up with Donald and Sharon Ehlen on the sunny shores of Florida's Lake Okeechobee for our first insider look.
Q: Tell us about yourselves, how long have you been official "snowbirds?"
A: We've been snowbirds for 30 years. Traveling with a "pop-up trailer," we stayed in Texas, Arizona and California, eventually finding our permanent place at Okeechobee KOA.
Q: Where do you live during the rest of the year?
A: We stay in Okeechobee for about 4 months, the rest of the year we live in Minnesota.
Q: What type of RV do you have?
A: We started our adventures in a pop-up trailer but upgraded to a travel trailer a few years ago.
Q: How do you start planning your annual journey south?
A: We start planning and packing for our winter stay in the middle of October. The mistake we made the first years was that we took too much "stuff." Now, we're much smarter about it.
Q: When creating your "home away from home," what do you like about KOA?
A: We look forward each year to seeing our KOA family and enjoying the amenities at KOA. The pool, golf course and tennis provide the physical activities to keep one "young." All of these are very well maintained. In fact, just last year the tennis courts were resurfaced.
Q: What is your favorite thing about Okeechobee KOA?
A: The friendliness of the manager and staff make our stay happy and enjoyable, as evidenced by the fact that we've been returning to Okeechobee KOA for 25 years.
Q: Can you tell us about the snowbird lifestyle at Okeechobee KOA? What types of activities do you enjoy? What's the social scene like? How do campground owners add to the festivities?
A: A large community room hosts the special events — Valentine's Day, Mardi Gras, St. Patrick's Day and numerous other events. Dancing and food accompany these events, as well as the residents "dressing up" for the occasion. There are activities provided by the KOA activities director — card playing, movies, classes of all sorts, and a variety of booked-in entertainment. The "shanty" provides a great place to rehash your golf score. On Friday and Saturday nights, music is provided and the place is jumping.
Q: What advice do you have for people thinking about heading out on their own snowbird journeys?
A: Take only the minimum amount of clothes and "stuff" — there are stores where you can buy anything you've forgotten.
Travel to various parts of the country to experience a variety of situations before you decide on a more permanent site.
Don't be afraid to go to a location where you know no one. You'll be surprised at the enjoyment of meeting new friends.
Find a campground that offers a variety of activities. The social nature of campers is such that you will develop lifelong relationships.
We are so looking forward to again meeting our "family" at Okeechobee KOA. See you down there!
#####
Donald and Sharon Ehlen have been snowbirding at KOA for 25 years. They were even featured in a KOA photo shoot in 2010 (see photo above). You can find them enjoying the good life all winter long at KOA, Okeechobee in Florida.